Having done tons of business through affiliate marketing, I've seen it's benefits first hand and how it's vastly better than other options, including drop shipping.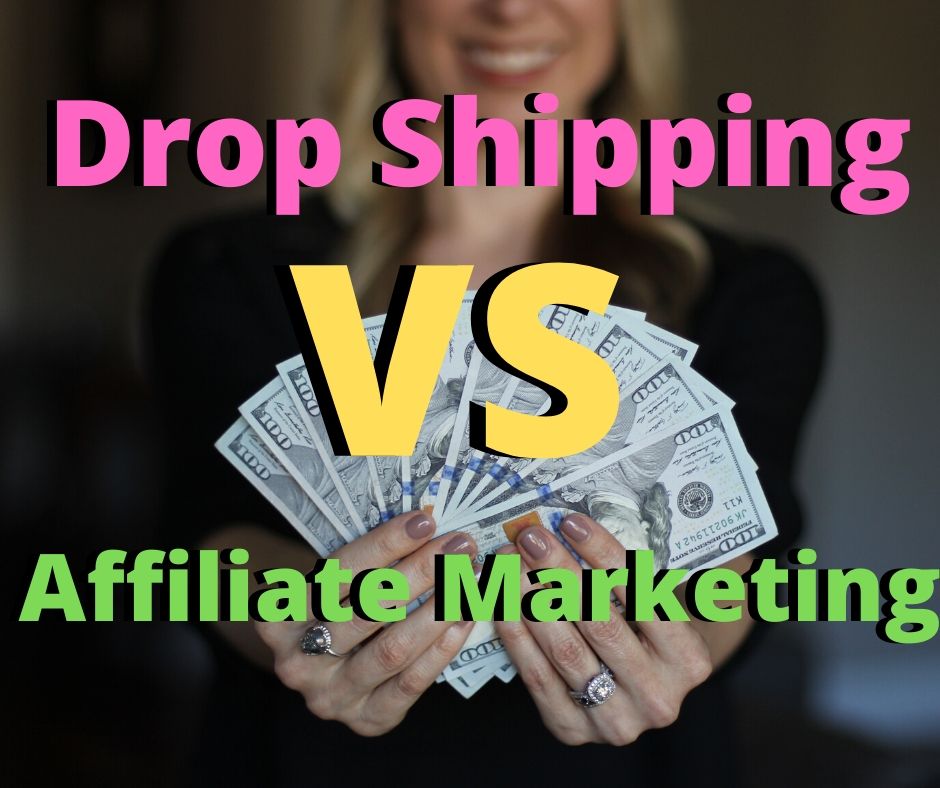 In today's article, I will be putting drop shipping against affiliate marketing and explaining why I much rather recommend affiliate marketing to you if you're looking to make money online.
For those who are truly interested in both these options, I have created a comparison and realistic things you will experience should you try one of these options or both, below.
Before I compare drop shipping vs affiliate marketing, let me explain each business model:
Firstly, if you are unfamiliar with drop shipping, here is a summary of it:
What drop shipping is and how it works:
Here is a summary:
Drop shipping is the process of promoting products you don't own, but making it seem like you do. To successfully do drop shipping, you need to have a website and checkout cart that promotes products on it that aren't yours.
When people visit your website and order the product, you order that item from a wholesale website, and send the customer the product, but charge the customer more so you keep a profit.
For example:
You sell a drone for $100.

Customer buys it.

You buy that same drone from a whole seller for $50 and send it to the customer, but keep $50 profit from the exchange.
Note: You used to be able to do drop shipping on Amazon and eBay, but today that is NOT possible due to new rules. You need to have your own website now. See why drop shipping doesn't work the traditional way anymore if you want more info.
What affiliate marketing is and how it works:
So affiliate marketing has a similar promotional element to it because you also promote products that you don't own, but with it, you don't actually have to buy the product for the customer.
Instead, when someone visits your site and buys a product you are affiliated with, they are connected directly to the product owner, and the product owner sends it to them directly. You don't have to do any shipping and once the sale is done, you will make the commission from the exchange.
For example:
Person comes to your site that promotes drones.

They buy from a link you provide to get the drone.

They are taken to the checkout page of the official site selling the drone.

The purchase is made.

The sale is recorded as being yours and you get the affiliate commission from it.

Want to see an affiliate marketing success story that is actually based on this exact example? That link will show you that case study.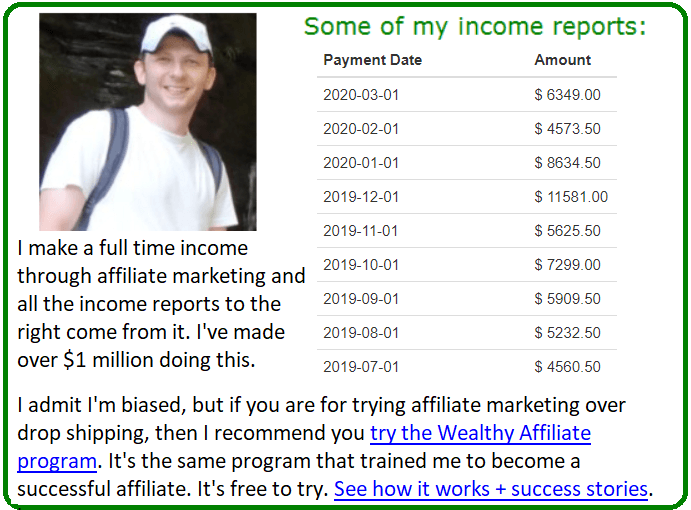 Here's the thing: Both affiliate marketing and drop shipping are similar:
Drop shipping and affiliate marketing are actually the same thing if you look at it from a broad perspective because in either case, you are not the owner of the product, but you are technically promoting it for commissions.
But there is also a difference and it is VERY distinct:
The difference comes when you look at how each method operates:
With classic drop shipping, you have to order the product from the product owner, but charge a higher price from the customer who comes to buy it from you so you can profit from it. Then you'll tell the vendor to send it to their address. There's more meticulous steps here, but there are programs which help you automate this process. 
Which option can make more money?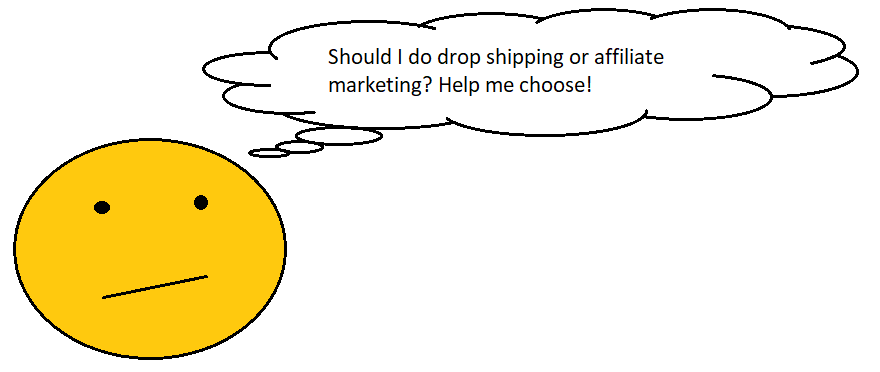 Theoretically drop shipping is more profitable and the main reason that is, is because you can technically set the price of the product you're promoting.
But hang on to that because there's risks with this. Let me explain that risk:
Should someone want to buy say a smart phone which normally sells for $500.
If you wanted to sell that same smartphone through drop shipping, you could. And to do that, you'd need to make your own sales page, set up a deal with the company that sells the phone and then you could go ahead and try this. 
You can charge something like $700 for it, and once the sale is made, then buy it for $500 from an actual company, send the customer the phone, and keep $200 profit.
But this will work CONSIDERING the customer doesn't already know there's a better deal out there (remember, the real price of the phone is $500, not $700). So while you can charge more for selling it, whether or not a customer buys it is another story and many times, they won't, so you will either have to lower YOUR price for that phone or consider another product to sell.
And that's the risk of doing drop shipping.
Whereas with affiliate marketing:
You can look at the same $500 phone, but depending on the commission rate, you can earn about 10%, meaning a $50 commission.
Now there's definitely a big difference in potential commission here, but considering the customer is ready to spend the $500 on the phone, you'd make that commission with affiliate marketing, whereas with drop shipping, they wouldn't want to buy a $700 phone that they can get for $500, so in that case, you would make $0.
Now this is certainly a biased argument for affiliate marketing, but realistically, people do research on products they buy and getting a better deal is certainly a HUGE factor for them. With affiliate marketing, you don't have to play with numbers. You just have to focus on the marketing and selling the product.
But at least you're making sales for products that are sold are market prices, not inflated ones. Overall, I want to say this:
Here's 4 reasons why affiliate marketing is better to do than drop shipping:
Let's start with how it affects you:
1) There is far more convenience. 
Let us say that you have a website which promotes a particular brand of products.
Considering that it actually converts and does well, you are looking at a much more automated and convenient system where a steady flow of visitors comes to your site and buys the product.
You as the middleman have little to worry about because as long as the sales are coming and there are no refunds, it means the customers are happy and you can technically sit back most of the time and let the site run on it's own.
There's no need to micromanage most of the time with the buyer unless they leave a specific question and if there is a problem, the vendor gets to handle it, which actually brings up a very important point (#2):
2) If something goes wrong through drop shipping:
Such as the product is not available, your reputation is affected in many cases, not the company which officially owns that product.
I used the smartphone example because awhile back I had an issue in which I was trying to buy an exact copy of a phone I really liked having and because I didn't have any interest in testing out the new ones on the market, all I wanted was the SAME phone. 
However, the problem was that in many stores, the model itself was no longer in production so finding it forced me to look online.
Through doing so, I had found several options on Newegg, Amazon and eBay on which the individual sellers who promoted that phone there said they had it, but when I ordered it…
That's when I was informed that they actually didn't have it and that they could have sent me a different model instead. That's when I knew I wasn't actually dealing with an authentic distributor but rather a drop shipper.
I told them no and from that point on, I remembered who they were and made a note NOT to do business with them. I also believe people who make frequent purchases online also develop this kind of habit.
I was very disappointed because I felt like I was tricked despite me not losing any money (although some of the people charged more than others…). 
The people who said they had this phone probably knew they wouldn't be able to get it and as a plan B would just try to retain their reputation by selling me a different one. That just doesn't work with someone who is obsessed with getting the specific model like I wanted…
Now that is actually a problem that happens pretty often especially with items like my phone which were available. I don't mind doing business with a drop shipper. As long as they have what I want and for a good price, I'll buy from them, but when they don't because they never actually had it, that destroys their reputation, and possibly their seller account.
Now in affiliate marketing, you can definitely hit a point where what you promote gets bad feedback, but it is up to you to figure out if what you're promoting is going to make customers happy or angry and I'll tell you what, even in the worst case, if the customer isn't happy, they'll have less to blame on you as an affiliate marketer if you didn't charge them extra like you would have with drop shipping…
3) Pricing options make a huge difference. 99% of customers want better deals, period.
That example of charging $700 for a $500 product sounds good, but when you have a regular customer who knows what the market price is seeing it for $700, good luck making them buy it (unless they are obsessed and don't care which is very rare). This kind of stuff would only work if there's a hot selling product and people are WILLING to pay that extra money to be the first to get it, but that happens rarely.
By the way, there's 2 ways I look for hot selling products:
A) I look them up on Google Trends.
B) I use Amazon and see the best selling items for the categories.
Then with whatever product/s I find, I can write a blog post and/or do a YouTube video review like this to get the sales.
But that's for affiliate marketing. And even if I could find the hot product, there is a limit in drop shipping for the amount of money you can charge over the top of the regular price until it starts to work against you and the customer just won't pay that extra amount. 
To me personally who does affiliate marketing, I just don't care about it because the price of the item will always be the same when I promote it and I know that I am NOT ripping of my customer in doing so.
4) I feel like there's too much hassle

that's

necessary with drop shipping.
To me, in many cases this whole approach personally feels more like a hassle than a stable business because you're constantly looking around for items to sell and manage prices such that you attract the customer. 
Selling 1 very expensive item with a little over the top will make you a lot as long as that product is popular. To me, I was ready to buy my phone for $100 over the top because I wanted it so much so if a new popular product comes out, people will be willing to spend more on it.
However for smaller charged items, because you can't really price it TOO much over the top, you need to make sure that you figure out the right price and sell in the right bulk so you actually make something.
But here's the thing, even on popular items, people know the price and rarely pay more for it so as an affiliate marketer, I could make more in volume and probably in profit over a hot item vs if I were to individually sell that same item through drop shipping and most of it would be, again, automated.
I just don't like going through all that pricing math of profit margins and fees and then separately buying all the products to send to each customer. There's just more stuff to (again) micromanage than in affiliate marketing and I prefer not to do all of that.
The 1 area where drop shipping is superior to affiliate marketing:
When I talked about affiliate marketing working better, I pointed out that provided you have a good working website, that it'll be superior. The fact however is that MOST people who get into affiliate marketing do NOT have that. 
And they don't have it either because they are new and haven't even started one or they do, but it's not working. In those cases, especially if you are brand new, drop shipping may be a better way to start to make faster money, but this is only in the short term. 
It doesn't take a website and other factors to make a sale via drop shipping. What it does take is picking out an item that is selling well and putting it up as a seller on popular networks, then hoping someone will order. 
Long term wise however, I feel affiliate marketing is FAR better in terms of convenience and even profits when you add everything up.