Today I want to share with you all an extremely successful affiliate marketing case study from someone I've been following for a long time on YouTube.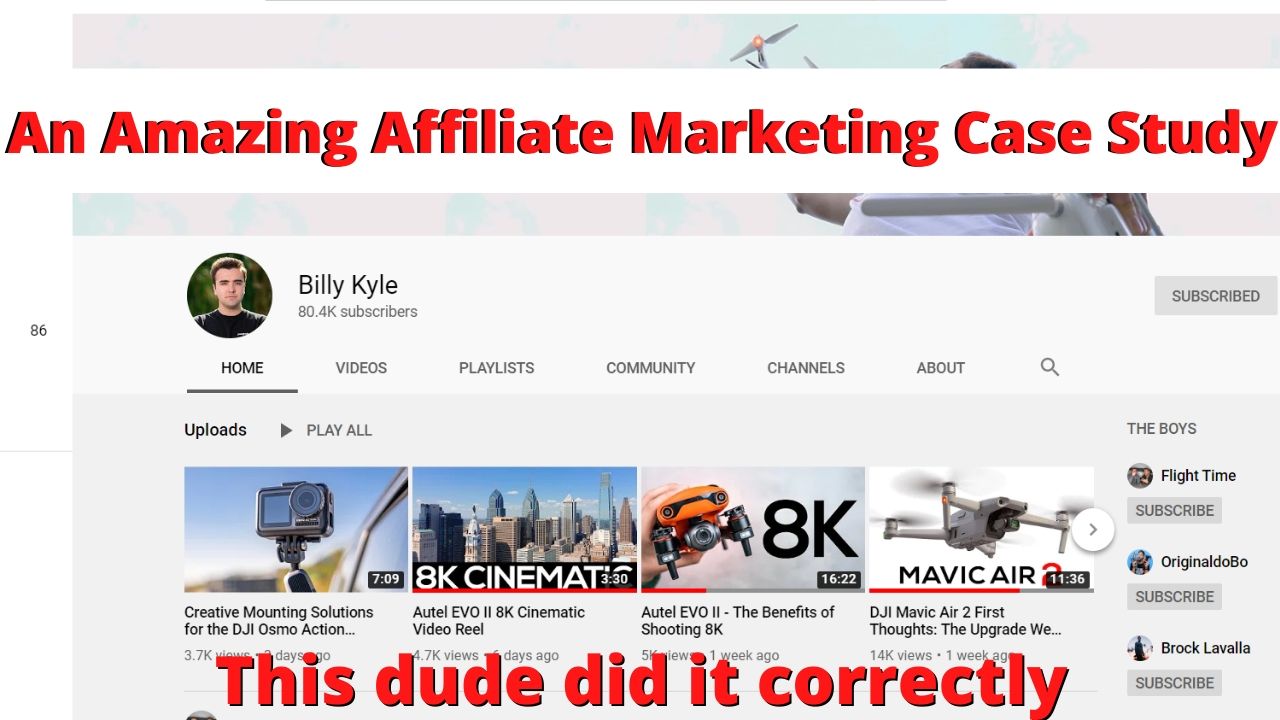 This person has a channel that I subscribed to pretty much when it first began and from that time to today, has grown to:
Over 80k subscribers.

Over a million views on the videos he makes.

Tons of affiliate commissions from the products he sells on the videos.

That exposure and growth has opened up more gigs for him (jobs and freelance gigs).
As a result this person has become independent and is a very popular name in an industry that is rapidly growing in popularity, and that is the drone industry. And also he started very early which makes this all even better for him.
I actually have my own drone affiliate site, and here's how that went:
One of the reasons I subscribed and started following this person on YouTube (his name is Billy Kyle) was because I got into the drone industry myself and very early on, had a lot of questions and issues. This led me to research the topic on YouTube, and that ultimately led me to his channel (here is a link to Billy Kyle's channel).
And by the way, if you're into drones, I highly recommend that dude's channel as it provides awesome insights on many topics related to this stuff. It's helped me avoid a lot of mistakes and solve a lot of problems I used to have.
Because the content this person delivered was so great, I stuck around and kept watching his future videos (even re-watching some). This helped grow my experience with drones, so much so that I started my own affiliate drone site on it about a year ago.
This site also grew and did make numerous sales, but not so much that I could call it a massive success. In addition, because I was busy with other projects (and still am), I had to cut down on the drone site, even to a point where I just didn't have time to focus on it as much.
The site is still around and still making money and I do still focus on it, but I just can't put in as much time anymore, because my main blog, that makes the real money (how much does my website make?), needs my attention so my business can continue to help me work online full time…
In any case, the bottom line here is that the person I am mentioning in this case study is doing what I wanted to do and because he is doing it very successfully, is why I am talking about it here, and perhaps you can use this case study as an inspiration…
How Billy started and grew a full time affiliate business:
Firstly, this person began what would become his full time gig, on YouTube. And as far as I know, he doesn't run a website, so all his affiliate work comes from YouTube and if you're wondering about the possibilities, yes it is absolutely possible to do affiliate marketing without a website. That link provides my own case studies on doing so.
But in regards to Billy, he started by doing reviews on drones he owned and provided affiliate links for people to buy it (and it was always in the description box of each video he did). Here is an example: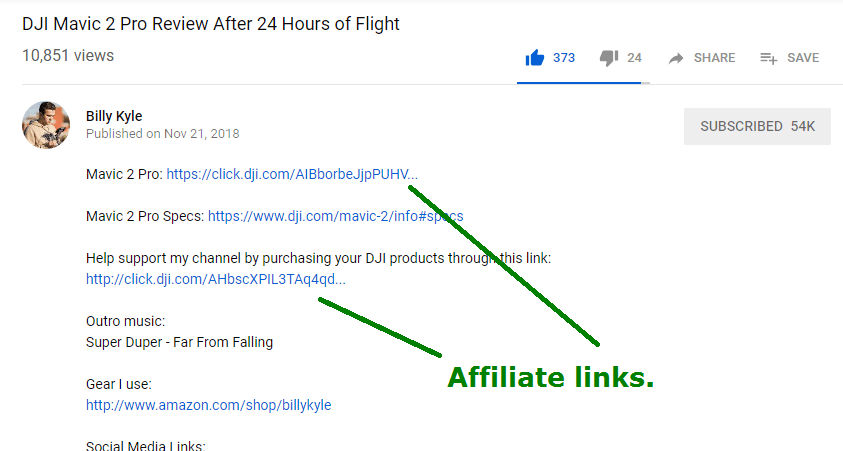 And by the way, I have no issues buying my stuff from these links.
From what I understand, the sales did come in (because the content was excellent) and this allowed him to further buy more drones, do more reviews on YouTube and keep growing his channel.
I stopped watching his new videos for awhile due to me focusing on my own projects, but a few months went by and I saw a notification of him doing a new review on a drone which costs about $7,000 and it's also been a drone I wanted to get since I got into the business.
When I saw that he purchased this expensive drone, I knew he was doing very well (good for him!). While looking at his review of it, I also saw that he moved into his own place and started getting gigs like this:
He was getting requests to do projects for clients. This is common in the drone industry where people who own these things get hired to film weddings, real estate and other projects. This sometimes offers a great side/full time income for them.
Additionally, he also started an Instagram account that he steers into the YouTube channel. 
The massive increase he's had in exposure also allowed him to get hired to write freelance articles on a popular drone blog.
And all of this had stemmed from the YouTube channel he started. It led to the affiliate marketing success he's had and continues to have, and it led to more doors like the ones I just explained opening.
Overall, Billy has become one of the most popular reviewers in the drone industry.
What does Billy's success story as an affiliate marketer teach us?
Well a couple of things:
Firstly, the affiliate business is a profitable one (having your own place and a $7,000 drone is no joke).

You can start it without a website (in his case, through YouTube and I've had my success there too).

The fact that he enjoys this hobby and has passion is what created the following he has today.

The success this person had led to other doors opening and leading to more income being made.
Can you replicate the affiliate success Billy has? Absolutely.
I don't want people who read this blog to think they need to go out and start their own drone blog. If this is something you don't really see yourself doing, don't. Instead, start an affiliate marketing business in something that you are truly interested in.
Here's how you can do this:
In Billy's case, the interest he has in this hobby and turning that into an affiliate marketing business is what helped him create it in the first place, so your first job is to find your own passion and make that your business.
Here's an article for you to read regarding how to do that.
Next, the goal would be for you to take that passion you discover and to follow the next steps to start doing something this person did, and turning it into an online business.
Fortunately, if you're in this spot right now and wondering where to go next, I've got exactly what you need, a program called Wealthy Affiliate, that'll help you replicate in the same manner what Billy did. They'll start you off on blogging and help you improve your business through YouTube. 
A bunch of the training they have on this stuff is free to check out and try, learn more about Wealthy Affiliate here and check out the other success stories of people like Billy who also chased their own passion and turned that into their own gigs, including myself.
Update: Want to see more affiliate success stories?
Not a problem! Here are 10 from people who are Amazon affiliates.
That link shows the different kinds of topics people can create affiliate businesses from and while that article shows 10, I can tell you that there are at least 50 affiliate marketing niches (and far more) niche topics you could make your own business with.
The above link will give you some great ideas to become you own success story with and you're welcome to ask me questions on this too.