Affiliate marketing can 100% be done without a website and I'll show you how to do it through other means, some of which produced me over $20K in sales.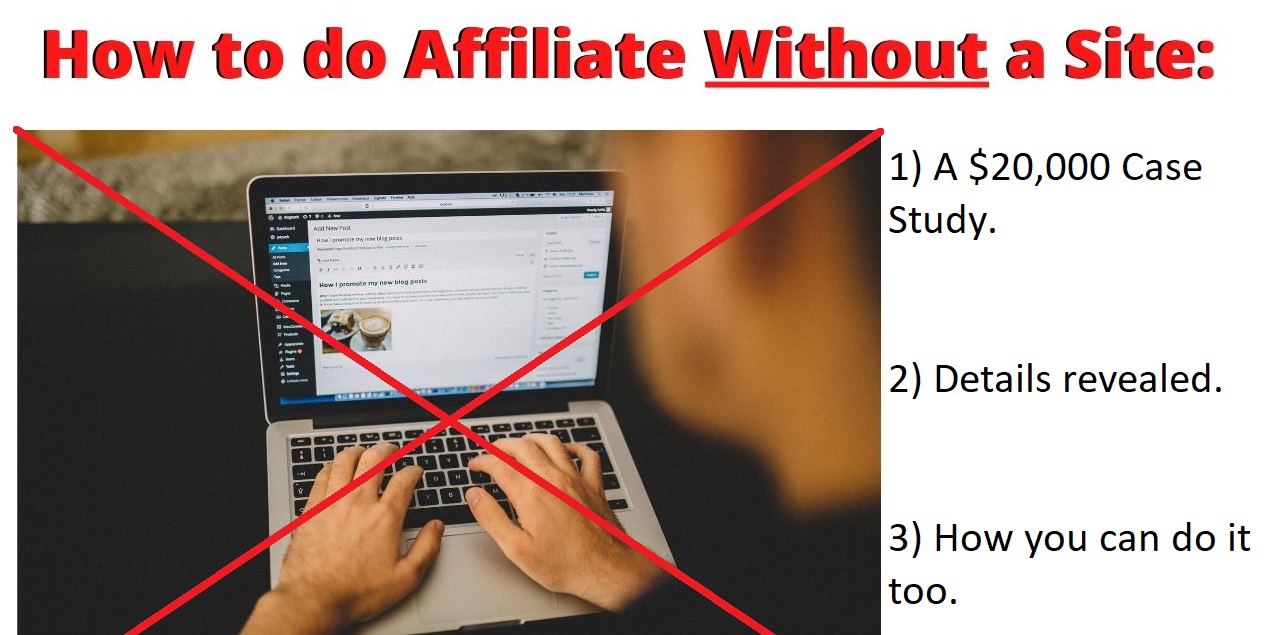 Before I explain how to do affiliate marketing without a site, here's a quick backstory:
One of these methods I'll show you in this article actually produced me sales of about $250,000 in sales, more than 10x what I mentioned in the title, but these means "technically" involve making a page, but it's so simple, that not mentioning this option would be insane, so you decide if it's "Cheating or not".
Now I've done articles on a similar, tie in topic to this where I explained 10 ways you can actually profit online without having a site.
However, that page specifically talked about ANY method of generating sales online, from owning your own product to creating third party pages like through FB to drive leads and sales through. 
These articles (this one and the one I linked) are updated for the year 2020 and I can tell you, you can use the methods in both for at least another 5 years to come because the model and it's legitimacy are in high demand.
This one however is going to discuss affiliate marketing specifically and the ways you can make some awesome sales through this approach without the page. 
Now I'm going to be discussing the following in this article:
1) The 3 best ways to generate an income through affiliate marketing WITHOUT a website.
2) 3 case studies of my own, which generated me over $20k in sales which uses one of the 3 methods. 
3) Additional case studies from other people (myself included) who have had their own success through one or more of the 3 methods in making money online.
4) I'll help you with generating your own sales online without a website, but I will (spoiler) be recommending you consider going with a website, because it's not as tough to do affiliate marketing on there, and it can be more profitable because it will be place where you can drive more leads and make more sales from.
Part
1: The 3 best ways revealed:
When it comes down to it, I can name quite a few ways you can make money through affiliate marketing without having to have a website. However, there are 3 which in my opinion are the most profitable and here they are:
1) YouTube videos.
This is one of the EASIEST and fastest ways to get affiliate sales online and my $20k sales case study actually involves ONLY using this method. The $20k case study actually comes down to this method alone and I'll be showing you 3 videos that generated this income for me.
2) Promoting expensive companies.
I once promoted a law firm that was ready to pay me $300-$500 a lead.
But while I didn't focus so much on that project and it eventually fell through, I can tell you that from other experiences where you talk to companies that have a lot of money and are ready to pay you big are very much worth promoting.
You can set up social media pages for these guys, make websites (but for them, so it doesn't violate the rule!), and give them consultations to get leads and even drive them to their site in exchange for commissions.
I'll give you another example, I have friends who are very successful marketing geniuses, and they are never too busy to get an extra lead or more to their business to charge for services, which I can easily do and in the process, we can work out a deal where promoting their service and getting them leads, I can make $1,000's from a single one.
One of the ways I can do that is by networking, and even making YouTube videos promoting the same company and people.
3) Setting up one page funnels.
Ok, so we are "technically" breaking the website rule, but the ease of setting up a 1 page funnel is so easy, it won't even feel like you're making a page to begin with.
With this method (and I've done it) your goal is to find a large, but laser targeted niche audience, run paid ads across different popular platforms (Google, Bing, FB, YouTube), funnel the audience into a one page site, then sell them affiliate marketing products or services there. 
The MAJOR risk with this method is the money spent on ads and the risk of not converting enough leads to generate a profit, which is why this method is best left to experts who understand sales funnels, but to those who do, it can truly be one of the easiest ways to make sales without getting into affiliate marketing.
This project can be set up in under an hour and can even produce 6 figure income results (I have at least 2 projects that managed to do this and in each case, set up took under an hour to create).
Now I said in the title of this article that I made $20k through one of these 3 methods. Well this last one, if you include the 2 projects I've had, produced for me…
$250k in earnings.
But being that we are technically making a page in these cases, I won't include that in the final numbers, but as you can see, those are some insane numbers.
Part 2: The 3 case studies, which generated the $20k in affiliate sales (Without a website):
All 3 of these case studies involved me making video reviews and promoting a company called Wealthy Affiliate. Sales for this program go anywhere from $20+ a month, $108 every 6 months or $175 every year, and these are recurring…
A) The actual video promoting WA:
Now a breakdown of this video is explained in the more detailed YouTube case study on this video, where I explain how it earned $10k in sales and to be fair, it has been over a period of years, so not really much if you break it down into months, but:
With the little work I had to put in to actually make it (it's a really bad quality video by the way).

With the fact that it does affiliate marketing without a website.

And that it's been up and working for me without me having to touch it and making sales…
I'd say it's a pretty decent result. Thus far, here are the numbers (some are estimated, because I can't really get analytical data to give you a precise number):
21k views.

92 sales so far.

With a $100+ value of each sale (each member stays for about 7 months).

92 sales x $100+ value is equal to about $10k in total. 

Being that this video has been up for years, that $10k added up and more sale also came in.

I estimate there's about $15k in earnings from this (some people left, new ones joined over the years).
B) Another YouTube video review:
This one doesn't have the views my first one got (it's still new), but because the sales trickle in, the sales from this will add up. It's called Six Figure Mentors and in addition to this video review, I also made a blog post on my site for it as well (this one also ended up producing some sales too):
Stats for this:
It has close to 2k views (made in 7/9/2018) so it's under 1 year old.

Made 18 sales with $100+ in value, so $1,800+ in revenue thus far (and growing).

All I really did was talk about the program, and promote WA (all fairly by the way).

Being that this video is still actively getting visits and sales, it will rise.
C) And one more profitable YouTube review:
I reviewed a program called Global Affiliate Zone. It is also known as GAZ.
I found out about this program and like Six Figure Mentors, made both a blog post and video review, both of which produced sales.
Currently, the GAZ video is the newest of the 3 videos, but it is also producing some profits and it will be trickling in as time goes on:
Stats:
Currently it's also around 2k views and it was made on 7/21/18.

Only 4 sales made thus far, but more on the way ($400+ value currently).

Same approach in terms of promotion as SFM (video review and lead the viewers into WA, ethically).
D) Other miscellaneous videos:
I have a lot of other videos I've produced on my YouTube channel here, and honestly speaking, MOST of them don't really get a lot of views (but some others make the extra sales to push the revenue to over $20k).
I have to be upfront in saying that doing affiliate marketing without a website is not something I am too focused on.
Most of my $500k-$1 million+ sales from this business model come from promoting stuff ON a website and this is where most of my attention and effort goes into. Like I said, I will be showing you how to get stared on this stuff and make sales like I do.
Part 3: Additional case studies: Promoting expensive companies/products:
If you are going to make a lot of money with affiliate marketing, but without a page, you may want to look at the option to promoting high ticket products and through YouTube videos.
Another option is getting training on affiliate marketing (get it here, it's free to try) because being knowledgeable with how to promote and make sales online is something you can take to big companies and offer your services to.
The second option is something that requires a good resume on your part, a good marketing resume that is. You need to be good at affiliate marketing and there need to be people who KNOW you are good at affiliate marketing.
As word spreads about your knowledge and skills, you will be offered opportunities to work with companies and people, and it's actually another reason I do suggest you consider making a website, so if people want to know what you're all about, you can link them somewhere, rather than saying, you have nothing to show them…
2 examples of this model:
A) People promoting drones.
I personally love this topic and it's perfectly suited for this context because if you look around YouTube and check out drone videos, you'll find some gets 100k+ views and these videos ARE promoting the drones they are talking about. See an affiliate marketing success story example of a guy who makes a full time living at it.
These drones are of the ethical high ticket caliber (There's high ticket programs and products that are unethical), cost $1,000+ in most cases and provide a commission of about $50+ for each sale. 
I estimate someone who has a 100k views on his YouTube video that sells drones, probably makes a $1,000 from the video ads they run on it, and from the affiliate offer (the actual drone they are promoting), likely 1 in 100 people buy it. The better the review, the better the conversion.
So at $50 a drone (hypothetically), a 1% conversion rate and 100k views, the person may be making around…
$5,000 in affiliate marketing sales. Not bad at all, considering that person doesn't run a page.
Furthermore though, the same people who do video reviews on this topic, also do other reviews, on other drones and promote them, as well as grow their own YouTube channel and get more sales down the road, and again, this is without them having to run or own a website.
B) Promoting, consulting or steering leads into companies that pay big.
Again, you need time, a good affiliate marketing resume to pull this off, but I have a number of examples of this from my own experiences and at least 1 more, of a guy (Dave) who was offered a $100k job to help a company get more leads, traffic and a better page.
For my own experiences, I can cite numerous six figure case studies of my own.

I can show and cite my websites that get traffic.

I can also cite my own experiences and results I've gotten people I've consulted.

I cite my own coaching on this stuff so people can see I teach people/companies and help them get results.
With the proof I can provide for these 3 things, I can pretty easily get companies and people asking me to help them and this has actually happened over the years, but like I've said many times before, I don't like working with companies because I enjoy the freelance aspect of affiliate marketing and doing it under my own terms, on my own website (or without one).
In some cases, I'll make less, but I prefer this route for the freedom of it but if I ever change my mind, I've got a number of people who keep the door open to contact them, but I managed to get to these points because of my experience, knowledge and reputation. This is what you'll have to do as well if you seek to get the same opportunities.
As for Dave and for reference to this case study, I've listed his success story here, which you can read about (he is listed as #9 on that list, Dave), as well as 9 other success stories (the others do run websites though).
Part 4) One page sales funnel sites.
Here we are crossing over into the website creation realm, but not as deeply as you may think or worry. I think a lot of people who seek to promote things online without a page think the process is difficult or takes too long and the truth is that it's likely less complicated than you think. 
In the case of one page sales funnels, you're simply looking to capitalize on one of two things:
The goal after you find one of these things is to create 1 page that aims to talk about whatever topic/product you found and to give a good case (a sales pitch/review basically) to buy whatever you're selling (the affiliate promotion). 
Then the next key is to use paid ads like I described in the beginning of this article to find the audience that is talking about this topic or product and run ads so they can see them. This will lead to them coming to the one page site, looking over your sales pitch and buying it if you make a good enough case.
To date, the BEST example of this is my 1 page site that generated over $100k from this very method I'm talking about. I've been able to replicate this 3 times throughout my years and each time, the sales were insane, they came in almost multiple times an hour, daily, weekly, monthly and lasted a little under a year to OVER a year.
Overall, the combined total of these 3 success stories for this method are around $500k and the profits all came from promoting Clickbank products.
Part 5: Now it's time to learn how to do this yourself…
For a majority of MY cases, the ones which worked best (and fastest) were the YouTube videos. The key to making these work is as follows:
Find a hot topic (it could be a popular product, program or trending topic). 

Make a YouTube video talking about it and using keywords that cite the hot topic (so you can rank for it).

Make a good (Clickbaitable) title so it gets clicks/views.

Add an affiliate link within the description of the YouTube video that is relevant.
In my cases, whatever topic my videos were about, there was an affiliate link pointing to a relevant offer. Example: Make money online program review video has a link pointing people to a program that teaches making money online.
Why I suggest you consider making your own website for affiliate marketing:
99% of all the money I have been making online has come from owning a website. If you know how to run it, that page can become one of the most stable income generators for you.
Here's some examples:
I generally find that people who seek to do affiliate marketing, but without a website tend to look for the "easy or fast methods" and don't really want to work too hard at making a website. And also that page is updated for 2019.
I can understand this if that's the case, but I can also tell you that making a website, building it up and marketing it is not as difficult as you may think it is.
To do affiliate marketing with/without a website. Read this advice:
As someone who has done both options, you already know my suggestion, but if you decide to go the other route, here's the BEST way to get the best of both options: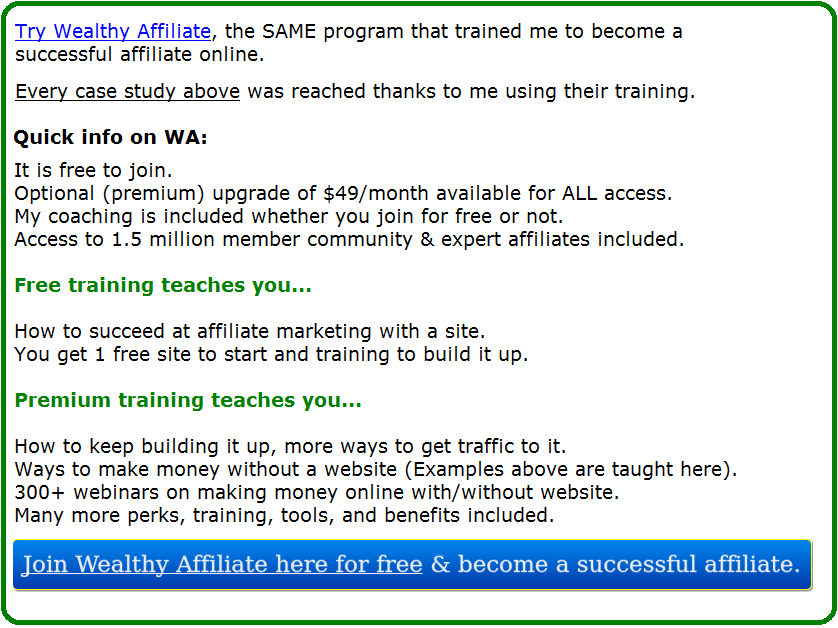 Like I just mentioned, you'll get the ability to do either, or even both if you like. I certainly do both, and through this, my affiliate commissions have been high enough for me to work from home at this.