I briefly joined Six Figure Mentors and after going through one of their memberships decided that it wasn't for me. Read this SFM review to find out what happened and if it's a scam.
So let me spoil why I left Six Figure Mentors. It was because:
1) I personally felt the value I got out of the free membership was not enough to justify buying further into the program (it was VERY little).
2) If you decide to join, perhaps you will feel differently but I'm going to share my opinion in this review.
3) Buying further into the program meant I'd have to invest at least a few $100 and possibly $1,000's or far more. My experience in this overall money making business is that you can get started making money for way less and I'll show you alternatives in this review.
4) There IS legit training in SFM and I do not think the program is a scam. In fact, I liked what their upgraded membership called Digital Experts Academy showed, but that would cost me a lot money to truly see and fully experience.
5) I do believe you can make money with SFM, but in my opinion, the REAL value & opportunity is in the pricey upgrades SFM has to offer and while those areas based on my opinion are legit, I believe that…
This is the most important thing:
6) The alternative, far less pricey program called Wealthy Affiliate is a better investment in my opinion because of it's value offered as well as my results with it.
Whether its Wealthy Affiliate or SFM, I'm going to be objective and let you personally decide which is more suitable for you, but if you're tight on money, you can join either program for free, but do know that both programs have upgrades, and while SFM's is pretty expensive, WA's is in my opinion more affordable and their free membership in my personal opinion has a lot more value to provide.
You can get results from both places.
Quick Report on Six Figure Mentors:
Price: There are 3 memberships:
Student Access: $25/month.

Essential: $297 one time fee + $97/month.

Elite: $2,500 BUT you need to be an Essential member first.
Note: When I tried them, they had a 4th membership which was called Affiliate Access: It was free for 30 days. As of 2020, I do not see this membership available anymore.
Either way, if you join SFM, later on they also pitch you an even higher tier program called Digital Experts Academy and I'll also explain it in this review. And that upgrade has value based on the first impressions I got when I saw it.
But again, that huge pricing is a big deal breaker for me personally. I didn't buy further into SFM, nor Digital Experts, so I am being transparent here.
Overall Rating:

3 out of 10 stars

.
Based on what I saw inside the free members area, this program starts for free, and then tries to get you to upgrade and high tier memberships. That does offer opportunity and like I said before, there is value, but that price also has it's own risk as I'll explain.
Overall, I wasn't impressed very impressed with the free training I got from SFM (and I will explain what the free training provided shortly) and while I totally get that free programs give you a glimpse of what they offer to get you to upgrade (even my #1 recommendation does this), the value of that free training has to justify me upgrading.
In SFM's case, I personally didn't feel I wanted to do that because the value of the free membership didn't justify it. But you can judge this by joining SFM here and finding out if you want to go further.
In the case of Wealthy Affiliate, the program I personally think is better, I really believe the value they offer in THEIR free membership is far higher and the upgrade afterwards is very low cost. You can check out more info on Wealthy Affiliate here, join them and also see if you wish to go further.
Let me just say this:
I'm glad I got to experience SFM for free and regardless of my review, I do recommend seeing which of these programs in your mind offers more REAL value (don't let hype be mistaken for value, just my recommendation) and then going with one.
Do I recommend SFM? 
I want to, but I can't.
I don't like recommending very expensive programs personally. But overall, I still stick to recommending the following alternative for this major reason: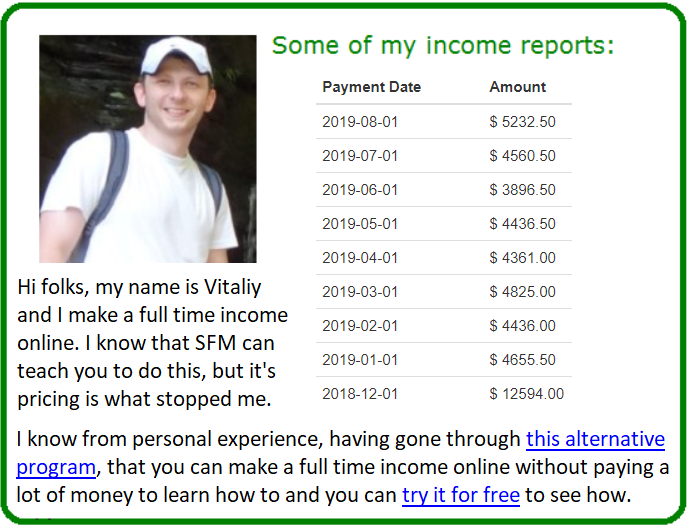 Note:

I have 2020 and 2021 income reports on the page showing the alternative program.
Six Figure Mentors review (SFM explained):
When I first tried it, it was a high ticket program with 4 membership levels. Then it switched to 3 membership levels that teaches people to make money through creating an online business of their own via list building mainly. 
However based on the training I personally went through (on their lowest membership level which WAS free) felt more like they were just trying to sell me their upper level memberships, all while offering me very little in terms of ACTUAL training and I did not like that.
Again, there's contrary examples of programs that offer great value in their free membership and Wealthy Affiliate is the best example of this.
But in any case, you have a choice to either create your own online business through their training and/or promote the SFM program itself as one of their affiliates, which I must say, I personally felt they really did push a lot on me as I progressed through their training modules.
Today (as of 2021, last I looked basically), there is a free membership known as:
The Extraordinary Online Business Startup Bundle: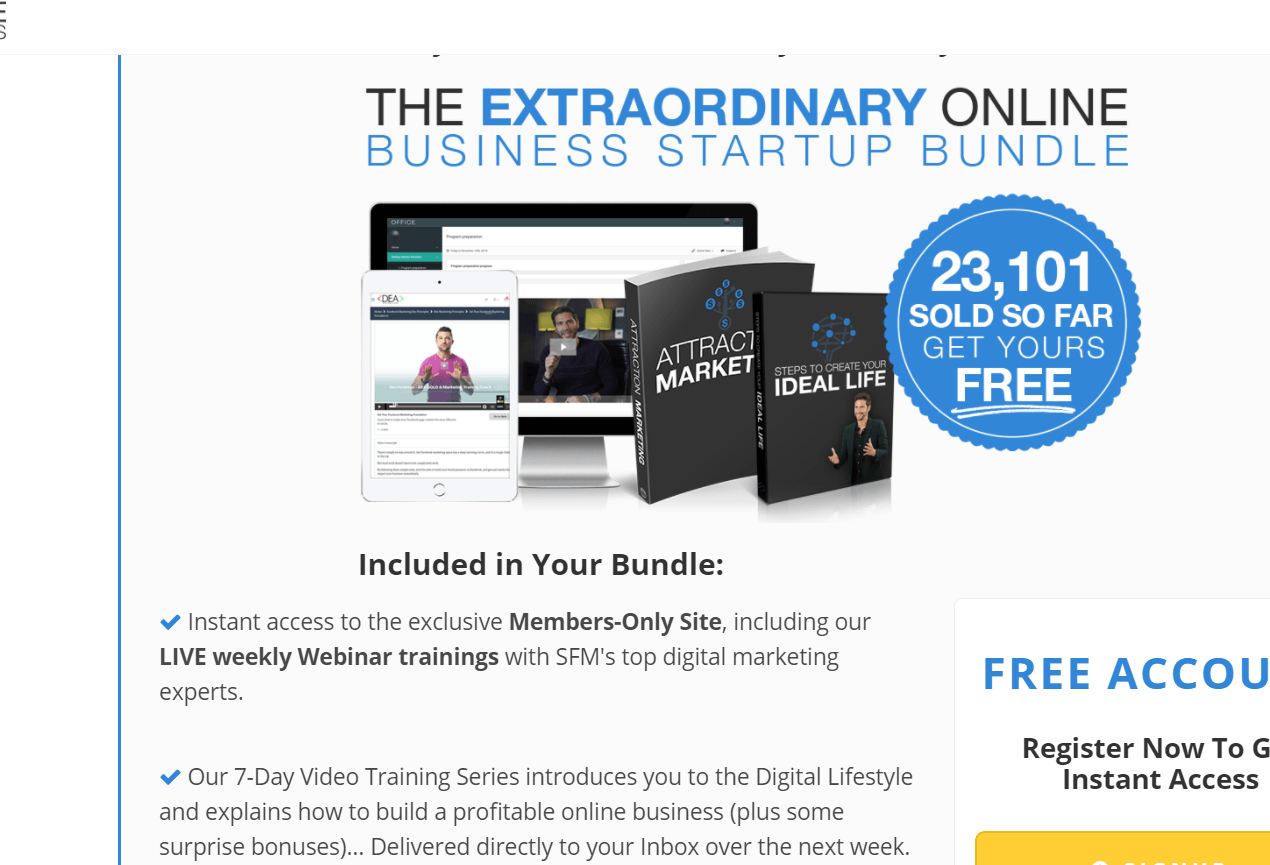 I haven't tried this current one yet and I honestly plan to. It probably leads into a more expensive funnel anyway. But here's what I want to talk about now:
Pros of Six Figure Mentors:
1) Very organized site.
2) It feels like there is a professionalism to the program as you go through it. The video "training" is very high quality.
3) I will assume the training is pretty good in this program, but I have to say, you will have to buy the upper level memberships to get anywhere.
4) As far as I have seen, SFM has been around as early as 2013.
Cons:
1) I personally don't like that there are 3 level memberships (when I first checked it out).
The problem with that is that each membership of Six Figure Mentors has it's own restrictions on what you can see inside the overall site, and if you want to see it all, you need to buy their most expensive package ($2,500 on TOP of the existing $97 a month membership):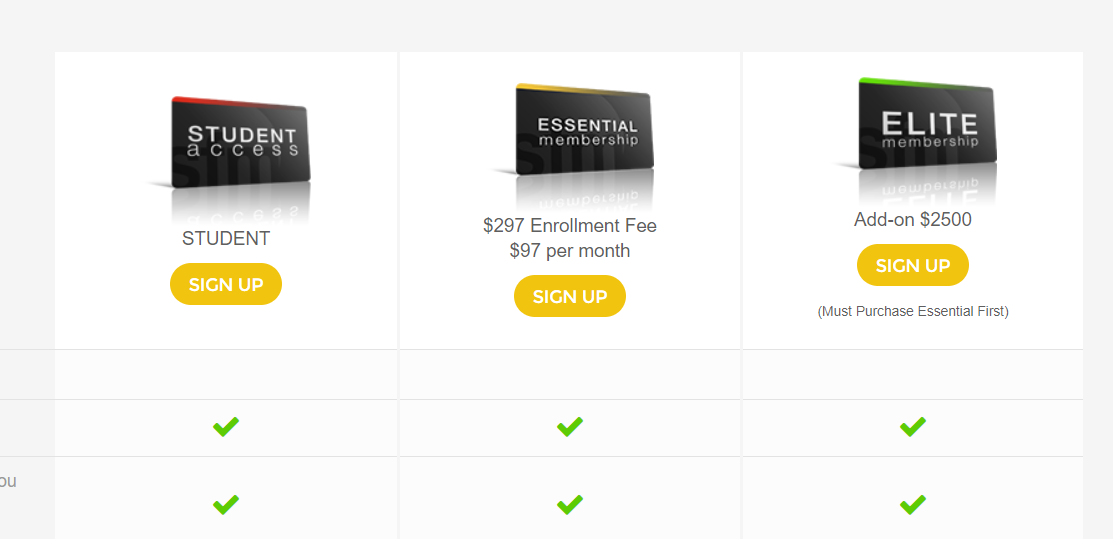 2) Very expensive as you go further.
The membership prices speak for themselves, but paying $100's and $1,000's for training is not acceptable, especially after the disappointing training I went through. 
3) Further upsells beyond SFM itself exist.
They also later on attempt to try an pitch an even more expensive system known as Digital Experts Academy, which I assume they are partnered with, and the prices of that system dwarf SFM's prices.
Now I have reviewed Digital Experts Academy and have to give them credit based on what I saw which was transparency on what they teach, which is basically online business encapsulated in the sense that they provide training and courses on various different make money online models.
The issue I have though is that this too is expensive, very expensive…
The most important points I have to say about SFM:
I personally believe I've become pretty good at rating the value level a program provides.
When there was a free membership at SFM, I did like that and was happy to join that to estimate it's value and while of course, most if not all free to join programs have upgrades, including Wealthy Affiliate, the justification to actually upgrade has to only come IF 2 things are present in my opinion:
First: The free membership has to provide a lot of valuable training and content. And like I said before, it's VERY important to separate hype and TRUE value and because I am experienced, I can do this. 
Second: With upgrades, I will only recommend it and actually do it if the first thing is present, but also if the PRICE of the upgrade is in my opinion WITHIN means.
So if I join for free and see value, but then notice to upgrade that I would have to pay $1,000's, it's a no go for me. But if I see that there is value in the free membership and the upgrade is of a reasonable price range to upgrade to, I will recommend it.
Now for me personally, this was not the case with SFM's free membership (and again, it's no longer available). I saw a lot of what I believe to be hype, and not much in terms of what I consider real training and the upgrade pricing was very high. 
And again, I don't deny that SFM's upgraded memberships are legit and have value. If they were cheaper, I might have even recommended them.
But it's just that after experiencing legit programs like Wealthy Affiliate, which meet those 2 criteria s I listed above (and exceed them frankly), I just find that as a reviewer, it is better to recommend it than SFM. In fact, here is a preview of the free training in Wealthy Affiliate (which is still available by the way):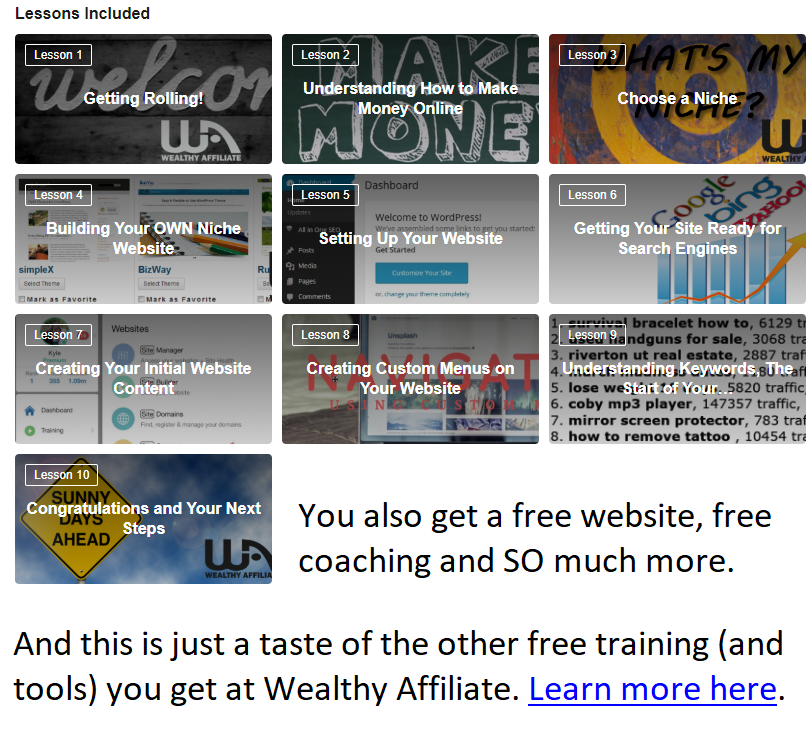 Unfortunately in Six Figure Mentor's case, the opposite was true in my personal experience when I joined. The free membership of SFM (which isn't around anymore as of 2020) was in my honest opinion a big sales pitch to upgrade your membership.
Many of the "training" videos inside the free membership, which are called modules are honestly just general talks about list building, internet marketing, mindsets and rarely is there actual training offered.
There were no tools provided.

You got no free sites.

There's were a lot testimonials from existing Six Figure Mentor members talking about how awesome the site is and to join them.

I went in there to get training, but in hindsight, after being there, what I mainly got was one giant sales pitch after another in each module.
Because I knew where this was going (and yes it proved to be true after I finished the free training inside Six Figure Mentors), lo and behold, they pitch their upgrade page and to become an affiliate for them to make high commissions.
That's when I knew I had to leave because the training centered around promoting them, not so much making your own online business and that is always a major red flag…
And so I left Six Figure Mentors and decided to stick to Wealthy Affiliate instead:
And I see a lot of high ticket programs doing similar things nowadays and I very much dislike it. Now again, I'm not saying SFM is a scam, but those 2 criteria I listed are the most important for me when reviewing ANY program.
More reviews from other SFM members further adding to my points…
Today someone joined Wealthy Affiliate and wrote this comparison about it and SFM: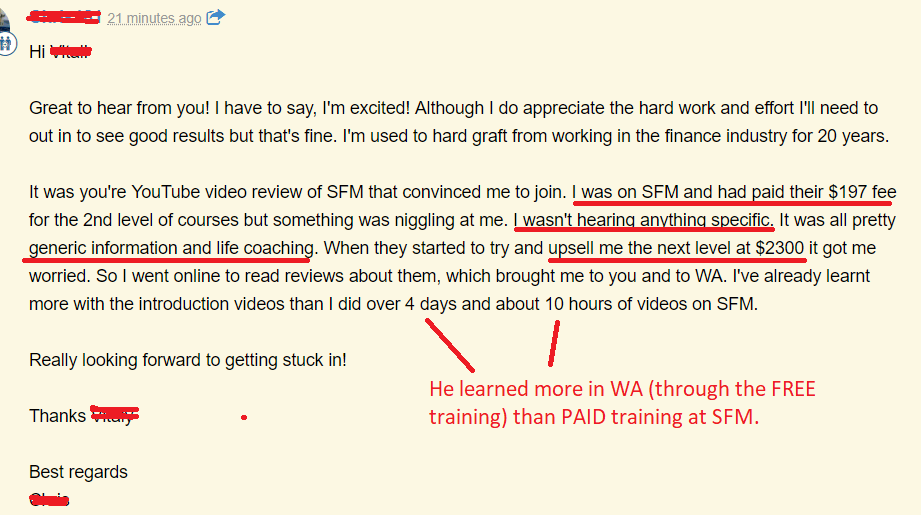 Now of course this review was one example and I'm sure you can find just as many positive/neutral and negative reviews, so that is something I have done:
Here are some mixed reviews on Six Figure Mentors (SFM):
I want to honestly provide you with different viewpoints on SFM besides my own, so here are links to both positive reviews of SFM and ones that are a bit neutral and contrary to that:
My final Rating for Six Figure Mentors:

Yellow Flag (Caution).
3 out of 10 stars. This program may indeed still be good, but it costs too much to find out and the way they pitch their other memberships inside their free one is really what drove me away from them. 
My final thoughts: Six Figure Mentors vs Wealthy Affiliate (WA). Why the latter is worth joining:
I've been a member of WA for years and with all the high quality stuff they offer (I'll explain it a moment), it has become the gold standard for what to expect in a good company that teaches people to make money online. 
And there is no training program that has come close to it since I started. Believe me, I am open minded in looking at other programs, but because they set the standard so high, nothing comes close to this day. Let's talk specifics though:
5 reasons I picked Wealthy Affiliate over Six Figure Mentors:
There are actually more, but let's keep to the main reasons:
1) Wealthy Affiliate's free membership. A clear advantage.
SFM used to have one, but even if it still did, Wealthy Affiliate's is in my opinion levels above SFM's because it offer REAL value. SFM's free training like I said before felt like a lot of hype, and not much training.
2) WA's simple membership levels (there's only 2).
WA only has 2 memberships, the free one and the premium one. The premium one is $49/month and everything is included, and I mean everything.
With SFM, the opposite is true. There are 4 membership levels and each has it's own restrictions, with the exception of the last which is $2,500 + other money. Then there's also Digital Altitude which has it's own levels too, and even though they have good training, it's still a lot of levels to pay A LOT to enter…
And like I said before, I believe in there being good value in SFM, but the price to get it, is not one I liked…
3) The free membership in Wealthy Affiliate gives you:
Free websites, 100's of lessons in making money online, including a main blueprint for it, free support, live chat and more.
Value: 10 out of 10 stars.
With Six Figure Mentors's free membership, for me, it was a small sample tutorials on list building and general things about internet marketing.
Value: 3 out of 10 stars.
You're looking at books of value in WA, even in it's free training.
When you get so much for nothing out of one program it's easy to see why I pick WA.
4) You do NOT need to spend gigantic money to make good money online.
WA shows you this and I am someone who (no pun intended) HAS made six figures through their training, as have many others who have done it.
See Wealthy Affiliate success stories and many more of my personal income reports.
The training in WA is beyond high quality, it is the best there is, without question and anyone who has been a member of both these programs will quickly tell you the same thing I am now. 
5) Wealthy Affiliate exceeds my standards.
As I said before, because I have 2 main criteria by which I determine a program's value and if it's worth joining, in WA's case, both were met and exceeded.
Overall, let me say one last time, that I do believe SFM's later memberships, training and value are probably huge, but likely come when you upgrade and the gap between the free membership, and it's value I got, to the pricing I'd have to pay to see if this was true was not a risk I wanted to take.
With Wealthy Affiliate, the opposite is true and I personally think it's a great program with lots of free value and a more than reasonable upgrade price that offers even more. You can see this for yourself (or join SFM for free) and determine which is better for you.
Six Figure Mentors
$0 and up.
Pros
There are people who succeed with SFM, I can't deny that.
I do believe upper levels of SFM's membership have great value.
Cons
Very expensive higher tier packages ($1,000's).
I personally didn't feel like I got much out of the free membership.
I believe WA will have you spend less to build a successful online business.
I feel like to get the real value out of Six Figure Mentors involves you probably having to pay a lot to learn the good material (which they have).