Quick Report: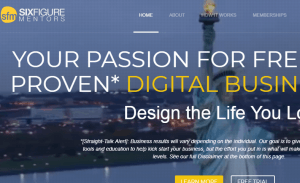 Name: Six Figure Mentors.
Price: There are 4 memberships:
Affiliate Access: Free for 30 days.

Student Access: $25/month.

Essential: $297 one time fee + $97/month.

Elite: $2,500 BUT you need to be an Essential member first.
Overall Rating: 2 out of 10 stars. Based on what I saw inside the members area, this program appears to just be a massive high ticket system and they try to get you to join their upper memberships very quickly. Overall, I wasn't impressed with the "training" I got. Thank goodness I joined it for free to see this because I was disappointed. 
Recommended? No!
What is Six Figure Mentors (SFM)?
It's a very big high ticket program with 4 membership levels that teaches people to make money through creating an online business of their own via list building mainly, although based on the training I went through (on their lowest membership level), it felt more like they were just trying to sell me their upper level memberships, all while offering me very little in terms of ACTUAL training…
But in any case, you have a choice to either create your own online business through their training and/or promote the SFM program itself as one of their affiliates, which I must say, they really do push a lot on you as you progress through their training modules…
Pros:
-Very organized site.
-It feels like there is a professionalism to the program as you go through it. The video "training" is very high quality.
-I will assume the training is pretty good in this program, but I have to say, you will have to buy the upper level memberships to get anywhere.
-Free to join to see what's inside.
Cons:
-I don't like that there are 4 level memberships. The problem with that is that each membership has it's own restrictions on what you can see inside the overall site, and if you want to see it all, you need to buy their most expensive package ($2,500 on TOP of the existing $97 a month membership):
-The free membership is a two way thing. On one hand it's nice to have this kind of access, but on the other, it's extremely limited, the training is VERY little and the information is quite broad. It feels like the info I saw in their affiliate membership was even more of a sales pitch for their upper level programs than any kind of actual training and I don't like that at all.
-Extremely expensive as you go further. The membership prices speak for themselves, but paying $100's and $1,000's for training is not acceptable, especially after the disappointing training I went through.
My personal experience with SFM and why I quickly left them:
I always like to give programs a shot and find out if there's any good reason to recommend them. Since I know how online business works quite well and what a GOOD program should offer it's members, there's a sort of "expectation" of what's good and what's not.
When I joined Six Figure Mentors, I really expected, at least based on their sales page and all the info they wrote about there to at least get a taste of what's inside this program. I was hoping they'd show me high quality lessons on internet marketing, how money is made on the internet, things like affiliate marketing, case studies, and so on.
This is what a high quality program should have. But this was not the case…
I actually came to expect all this stuff because the comparison I drew SFM's free membership to was Wealthy Affiliate's free membership and all the things I just listed that are considered high quality, Wealthy Affiliate provided me, for free and even more so than that (websites, a GREAT starting point and stuff I could actually use).
Unfortunately in Six Figure Mentor's case, the opposite was true. The free membership is just in my honest opinion a big sales pitch to upgrade your membership. Many of the "training" videos inside the free membership, which are called modules are honestly just general talks about list building, internet marketing, and rarely is there actual training offered: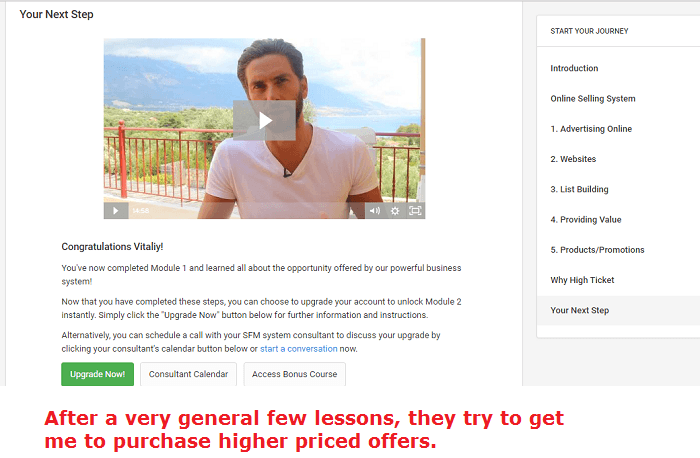 There are no tools provided, you get no free sites, it's just a lot of hype and testimonials from existing Six Figure Mentor members talking about how awesome the site is and to join them. It almost felt like I was tricked to get in there hoping to get training, when in fact, what I mainly got was one giant sales pitch after another in each module.
Because I knew where this was going (and yes it proved to be true after I finished the free training inside Six Figure Mentors), lo and behold, they pitch their upgrade page and to become an affiliate for them to make high commissions. That's when I knew I had to leave because the training centered around promoting them, not so much making your own business.
And so I left and decided to stick to Wealthy Affiliate instead.
And I see a lot of high ticket programs doing this nowadays and I very much dislike it. When a program centers it's training on promoting itself, it is a bad sign. I'm not saying it's a scam, but it's certainly not a sign that this is a high quality program…
Wealthy Affiliate, the contrast to Six Figure Mentors DOES teach you to make a business in ANY field you wish AND/OR to promote them if you wish. They don't center it around themselves, they allow people to do their own thing if they wish since the training Wealthy Affiliate has fluidly applies to any niche market that you want to make an online business in.
Final Rating: Six Figure Mentors.

Red Flag
2 out of 10 stars. This program may indeed still be good, but it costs too much to find out and the way they pitch their other memberships inside their free one is really what drove me away from them. I really felt like I was being deceived.
My final thoughts: Six Figure Mentors vs Wealthy Affiliate (WA). Why the latter is worth joining:
I've been a member of WA for years and with all the high quality stuff they offer (I'll explain it a moment), it has become the gold standard for what to expect in a good company that teaches people to make money online. 
And there is no training program that has come close to it since I started. Believe me, I am open minded in looking at other programs, but because they set the standard so high, nothing comes close to this day. Let's talk specifics though:
5 reasons to pick WA over Six Figure Mentors:
1) Both have a free membership, but WA's actually has training you can USE. SFM's free training like I said before seems like nothing more than a big sales pitch.
2) WA only has 2 memberships, the free one and the premium one. The premium one is $49/month and everything is included, and I mean everything. With SFM, the opposite is true. There are 4 membership levels and each has it's own restrictions, with the exception of the last which is $2,500 + other money. 
So it's a simple comparison:

3) The free membership in WA gives you: Free websites, 100's of lessons in making money online, including a main blueprint for it, free support, live chat and more. Value: 9 out of 10 stars.
With Six Figure Mentors…it's just a small sample tutorials on list building and general things about internet marketing. There's really no comparison here. Value: 2 out of 10 stars.
You're looking at a book of value in WA vs a single page of value in Six Figure Mentors.
When you get so much for nothing out of one program, but so little in another, it's easy to see which way one would sway (the former option).
4) You absolutely do NOT need to spend gigantic money to make good money online. WA shows you this and I am someone who (no pun intended) HAS made six figures through their training, as have many others who have done it. 
The training in WA is beyond high quality, it is the best there is, without question and anyone who has been a member of both these programs will quickly tell you the same thing I am now. 
5) As I said before, in WA you can promote it OR any other product, business you like, in any niche topic you wish. In SFM, that is the message they send on their sales page, but the more I went through their training, the more I felt they were trying to get me to promote them. I don't like to have a lack of choices, with WA, I have it and this allows me to follow my passion.

Overall, as disappointed as I was with Six Figure Mentors, if nothing else, it strengthened the belief I have in WA as being the best there is in the business of teaching people online business. I'm sure there are happy members inside SFM, but I have to say, if those same members saw what WA had to offer, they'd probably switch over very quickly. The money they would save would just be one of the plethora of benefits they'd get from that.