WordPress allows you to easily add affiliate links on various parts of you website. While there are many places and modifications available, I will show you 4 very basic areas where you can add them. 
It is important to know than when you do start adding links, whether they be affiliate links, links to other websites or just basic re-directs to other parts of your site, you should try to keep it to a minimum. I personally follow a rule where no more than 1% of my any page or post I put up contains links. It is very annoying to the eye when people put up way too many links and it can also cause a penalty from search engines. 
Overview of your website and where you'll be placing your links:
If you have a WordPress site, chances are regardless of which theme you choose, your layout will look something like this: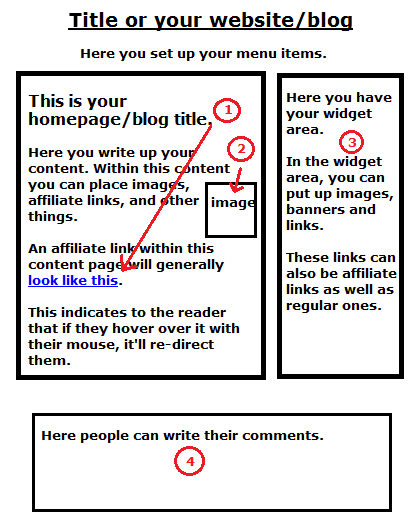 You will also notice I have numbers on this example. Each of these numbers represents places within your website where I'll be showing you how to place affiliate links. Keep in mind that there's really more than just 4 areas, but if you know the ones I'll show you, you have pretty much most of your potential link space covered.
In order to understand how to use this tutorial, you will need to already know the following:
You must know how to access your WordPress dashboard area. If not, it's simple: Just log-into your website and it'll take you directly into the dashboard area. This is going to be the area from which you will be able to edit your content and place links. 
You will already need to have your affiliate links ready. 

You will also need to know how to upload images to your website when you are writing new posts or pages. 
Let's look at #1, probably the easiest place to put links:
In the first example, we have one of the most common places where you'll find any type of links: The content area. Placing links here is very simple to do. To start doing this, you will need to be in your post or page editing area:
The area I circled is where we'll be putting an affiliate link. When you do this for your website, just know you can change the words. The object here is to "hide" your affiliate link within the text.
It makes it look a lot better and all you're going to do is just "hyperlink" your text:
Highlight the text as you see in the image above. Then:
So far it's very simple. Now prepare your affiliate link because this is where you'll need it:

Now that same area we highlighted will look like this:

And now that text will be your official affiliate link. As long as you have a link and text ready, this step will only take a few seconds to do. In order for this link to appear to the public, you have to click the publish button on your page so it becomes official. 
Note: Sometimes when you add the link and publish, it won't show up in the right color. If this ever happens, just edit the link with the color you want: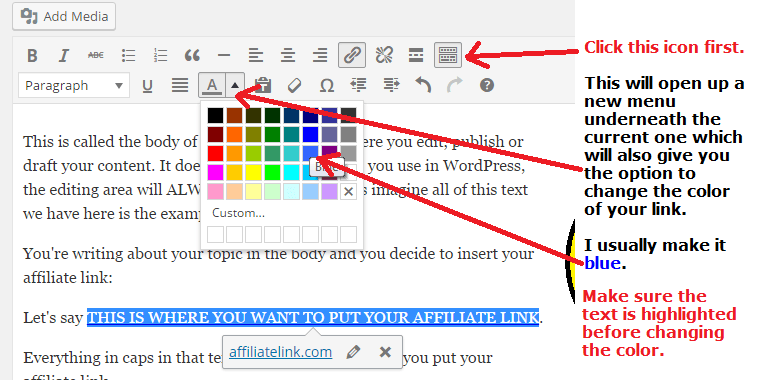 Now we have #2, inserting affiliate links into images:
This is just as easy because we're still going to be on the same editing page we were before, only instead of highlighting text and inserting the link, we will now be uploading an image and putting the link inside the image. The first thing you need to do is actually upload the image:
As I said before, you must know how to upload images. If you have a picture prepared, you will be able to find it when you click on the "add media" button. I will be using one I personally drew 🙂 
Before I put the picture up however, I always align it to the right side of my content. When it shows up, I will hover to it and a menu will show up above it. One of the buttons will say edit (click it). This is where you'll put in your affiliate link: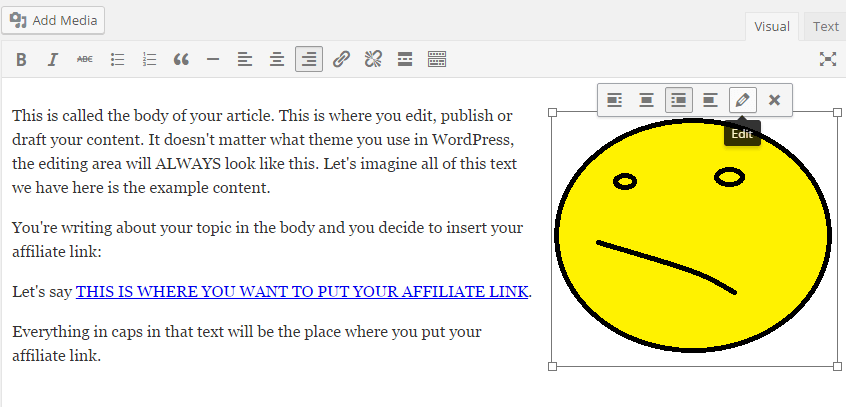 There are many things you can do with the image, including changing it's size. At most, I do not go beyond 800 x 800. I find that if you go over the image becomes too big to fit on the page and it makes the text look smaller.
When the link is added to the image, it won't show up in blue like with the regular text, but people will be able to click on it if their mouse covers it. 
Your should pick out images that use "call to action" gestures in which people will want to click on them. Usually images that do that are those that tell them to click on them. Yes you CAN put text on images and I recommend if you own the image you use to do that.
Also on the topic of images, be careful not to break the rules. And if you notice that link I just placed will take to another page I wrote up and I used the same method as in #1 to put in the link. Remember not every link you put on your website should be an affiliate link. Very often you will want to put up ones that take people to other pages you wrote. This is VERY important if want your site to have higher positioning on search engines.
Part 3: How to add affiliate links to widgets.
If you look back at the layout of your website I put up at the beginning of this post and look at section 3, you will see the word "widget". In this section of your site, you can also put up images as well as menus. 
You will find a lot of websites have images show up on every page that you visit. This is an example of widgets. You can link whatever you put in this area either to a page on your site or a direct affiliate offer. 
For this part, I will only show you how to add images in this section. You will first need to install a plugin called "Image Widget". To do this:

When it installs, you will need to go to the section in plugins where it says "Installed plugins". Once you are there, find where it says "Image Widget", click the box next to it and then click "activate".
Now you will be taken to the main area where you edit widgets. The "Image Widget" will become available.
When you drag it there, this will show up. I am using the same image.
When you save and the website appears to visitors, this is how they will see it (everything except the red parts):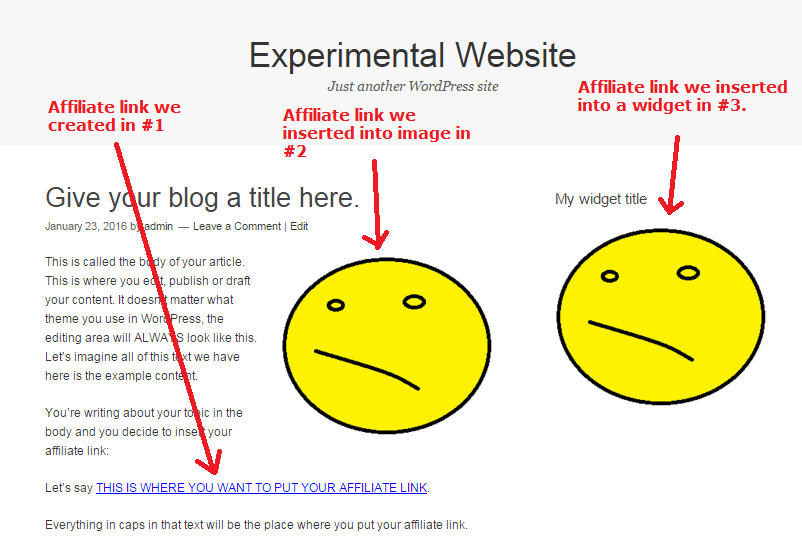 And finally, the 4th way to add links (your comments):
In case you didn't know, you also have the ability to add links to your comments! While editing comments entirely is not a good idea, you can find certain words in what people write to you or in your responses to them and edit certain words, hyperlink them and use the SAME exact method we did in #1. 

I do not recommend linking multiple times in one comment or doing this often. When I get comments, once in awhile, I will provide a link back to particular pages and in rare cases to an affiliate link.
Just practice 1 or all 4 a few times:
None of this is difficult to do. Just make sure when you are ready to place links, that you have the link itself prepared to save you time.