A website's position on Google is determined by many ranking factors, but the following 5 I'll be telling you about today are absolutely necessary if your site has a shot at making it to the top.
If you have them, you will make it more easy to get spotted by Google and rank well on it.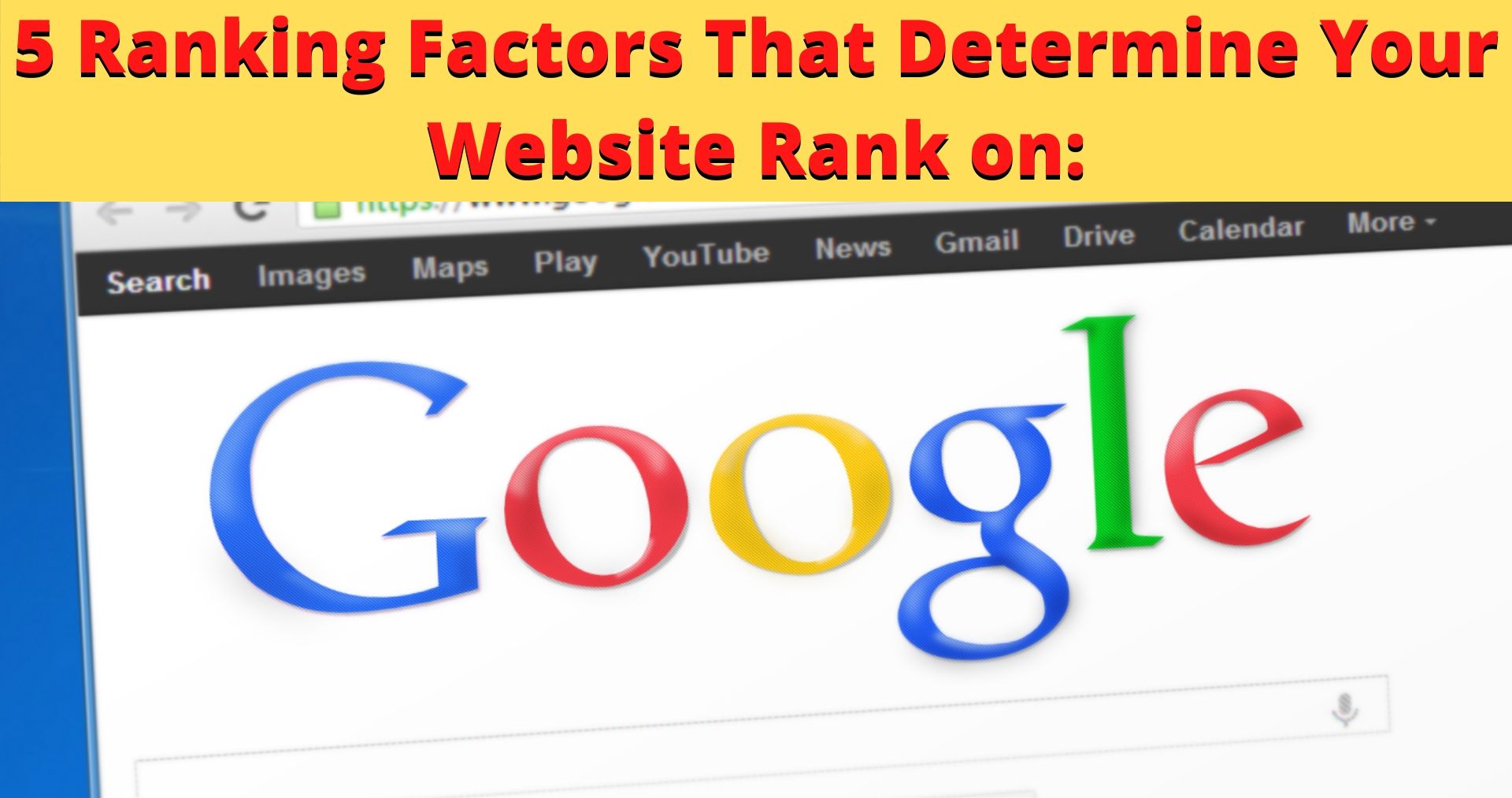 These are the 5 most important ranking factors today:
Quality content.
User interaction such as comments on the site.
The speed of the site, mobile friendliness of it and security of it.
The meta data it has to rank.
The website's age.
How many ranking factors does Google really have for websites?
Honestly, I do not know. I've seen articles say there's as much as 200 but honestly, I never pay attention to those types of claims because in all my years of doing SEO, I have found that just a select few, which is honestly the 5 you'll learn about here are probably the most important. 
Having those in place really eliminates the need for however many others are possible to even concern yourself with, plus if you worry about the X number of factors out there, you're going to be missing out on the KEY ones that really make your site do well in Google so I'll cover the 5 I've personally seen as being the most important.
Do ranking factors change year after year?
This is a common question among SEO enthusiasts and the answer is yes, but the core basics (such as these 5 ones still remain the most important).
Because Google is known to change it's algorithm every few months and sometimes every year, people also tend to think that when they do this, they also change their ranking factor criteria for websites. For example: Penguin is a name for an update had that worried many, but because I had the 5 factors I will be showing you here, I was fine.
But is this true that Google's changes in it's algorithm are confusing and constantly require people to change their approach? The answer is not really. What Google does it constantly tries to update it's algorithm to deliver the best results for browsers.
Now this does change certain MICRO elements that help pages do well, but at it's very CORE, the MACRO, things stay the same, which is why again, the 5 things I will explain shortly are going to be fine to abide by in the foreseeable future of SEO.
Let's unveil what these 5 ranking factors are:
Note: I want to point out that even pages which follow these 5 things may not necessarily see incredible success, but I'm going to try and clarify each of these as much as I can because there are circumstances under which one or more of these factor may or may not be important. 
Don't let this confuse you, just read on and I'll explain.
1) Your domain age (website authority).
How old your page is does play, both a BIG and SMALL role in your ranking because it's one of the ways your website's authority is determined. I know I sound like I just contradicted myself, but as I explain this, you will understand why just a moment ago, I mentioned that there's circumstances that affect these factor's weight…
Typically, the age of a domain to reach "maturity" with Google is 6 months. What does this mean? It means that by month 6, your page should see a large number of articles indexed and ranked on Google. One way to tell if this is happening is by using Google's webmaster tools. 
Now this is actually a circumstantial thing and I will explain this by offering 2 opposing examples shortly. We will compare 2 pages, one which has a great amount of content and one which does not, but both are the same age, let's say 6 months.
Which one will do better? 
The former. And this is why I said each factor's weight depends on other things. In the case of these 2 sites, the one which will absolutely do better in the SERPS is the one which is old enough and has enough content. 
Now if you use the other one (less or no content page), even if it has a little bit of content, it's ranking will NOT improve because of it's age. And I have actually proven this on the following case study on domain age and SEO.
This point about domain age ONLY works if it correspondingly has content going along with it. Therefore…
Here's tips to maximize ranking factor 1:
As your page grows in it's age, make sure it also grows with it's content base. With both things rising, you will get greater attention from the search engine and better rankings. 
2) High Quality Content.
I guess I should have put this down as #1, but it's ok, because these 5 things are in no particular order. High quality content is really the core of a website's success, provided it also works hand in hand with keyword targeting. If nothing else, and all other factors vanish from Google's list, quality content will still remain at the top if not #1. 
Here's tips to maximize #2: 
Write an article (post or page) on your site every day if possible. Getting lost in writer's block is common here 
In addition, ensure that every new piece of content you release chases a keyword in it's title, and the keyword itself should have little competition of site's also aiming to rank for it.
Make sure you write great content that has this many words in it. Frankly, the more there is, the better it'll be for you.
Write engaging things on each article you write with the intention to help people out with a problem or whatever topic you're writing about. You shouldn't be writing boring things that get no interest or comments. Be sure to write stuff that intrigues people. Read blogs and pages where the writing attracts you to keep reading and wanting to see more and try to mimic that kind of style on your articles.
Really make sure your content is not about a wide range of things, but a specific topic or niche.
3) Comments/visitor interaction on your site.
Naturally if content is good enough to get readers and getting them actually read what you write, they will want to comment. Comments are also a very important ranking signal for Google because they are also a reflection that your writing is good and other people enjoy reading it. That tells the search engine it's OK to rank your page high.
Tips for maximizing #3:
I have a good tutorial on getting comments here, and it's provided me with some great responses from readers. 
Always know that GREAT content leads to engagement.
4) Meta tags (title, description).
I have a whole thing about that in this article on meta tags, but think of meta tags as an identification for an article you write. Let's say you're writing about the healthiest fruits on the planet and your title says that, but your permalink doesn't. If the title and permalink do not match, it can inhibit ranking. 
Ensure that meta tags match in order to "align" your article's identification with Google, which will help it do well.
5) Speed, security and mobile friendliness of the website.
In 2020, this became a huge thing when a Google core update hit the internet. One of the biggest things you'll want your website to do is load fast, be secure and be mobile friendly to it's users. Having these 3 things is really going to propel the site higher in the rankings.
If you don't already have all 3 things, I can recommend the Wealthy Affiliate program to you because it offers hosting that provides ALL 3 of these things for users.
Putting together all 5 tips (in a mixed order):
If a website.
Has at least 50 articles.

All of which target a different, low competition, typically long tailed keyword, but all pertain to one kind of niche topic.

All the article's meta tags align.

Loads fast, is secure and mobile friendly.

Has comments flowing throughout the page.
Then you can safely assume that your page will do well with Google, because those 5 specific factors are in my experience the keys to the page doing well. 
Now it is not a 100% guaranteed and there are other things I'd also recommend you check out, such as an SEO checklist I've provided here, but I would say those 5 things above will really put your page above 90% of competing sites out there.
Important scenarios to consider:
Is your page/s are filled with great content but not ranking well? Then add more content, more articles and ensure they are long.
Having problems getting comments? Read my tutorial on comments above and this should help you out.
Do you have a lot of content (over 50 articles), but still aren't seeing 1st page rankings? Odds are, your page hasn't passed that maturity age level yet. Give it the 6 month range, but do not slow down on content production or getting comments. In short, keep the page growing, you're only going to help speed up the maturity process with Google.
Have a scenario I didn't include here? Let me know below.
Don't bound yourself to just focusing on ranking factors:
Like I said originally when I started this article, there's a wide range of things that impact your rank with Google but if you focus on those tiny little things, you're going to miss out on the 5 main things I focused on.
The main point:
Your website's goal is to provide the very best information it can on whatever niche topic you're focused on. If you do that, Google will notice and they will reward you and that frankly is the most IMPORTANT factor I can recommend you focus on.
If you want to build a website that does all 5 of these things, then again, the Wealthy Affiliate program will do that. The tools it provides will help your website grow in the necessary factors such as speed, security and more, while the training will help you produce the content that Google will appreciate.