Wealthy Affiliate holds over 2 million members as of 2020 and many of them are success stories. Today I'd like to share with you 10 who openly blog about their results. 
Spoiler: I ended up sharing more than 10…

And these aren't the only 10. First let say that there's a lot more, but…
Many of them are in hiding and that's really because once you publicize your success in this business, you're going to get a lot of people bugging you about how to do it too. And while it's natural for people to want to gravitate to successful people and mimic them, this attention can really become too much for people and I've personally experienced this too.
Now specifically, I blogged about 10 other Wealthy Affiliate success stories and it just so happened that every single one of them started with Wealthy Affiliate as well, but some of them moved into other businesses and do their own things now, like Dom Wells who created Human Proof Designs and Ian Pribyl who made FIMP. Both companies are very successful thanks to the training these 2 gentlemen got from WA and I know them personally.
Then there's people like Russell Brunson who is currently one of the top internet marketing success stories in the world and guess where he got his start? That's right, Wealthy Affiliate.
Then there's me, another one of Wealthy Affiliate's biggest successes:
Let me briefly state that I, Vitaliy am indeed on this list of successes.
The training I received to make it to this point comes Wealthy Affiliate as well, but specifically, some of the longest running success I've personally had is promoting WA itself and thanks to their bootcamp course, and here is a personal video I made explaining this: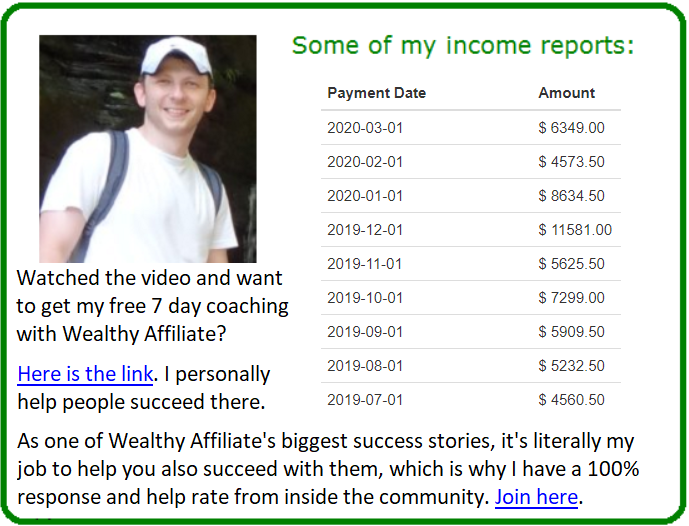 Before you read the success stories, here is how you can become one yourself:
Besides joining and getting my help with that (click the link above for that offer), all of the stories you're going to be seeing today, including those names I mentioned above became pros in the internet marketing business by following the same courses within WA.
Here is a review of Wealthy Affiliate that explains what you learn within the program and how it leads to you succeeding in this business.
But having shown all of this, let me say that:
Today's article is going to cover 10 other Wealthy Affiliate success stories (from existing members):
And here they are:
1) Grace, aka Littlemama.
Grace has been a member of WA for sometime now and I actually got to meet her recently in Las Vegas (twice), when we both attended the annual Wealthy Affiliate Vegas Conference.
She is a very kind lady and it was a pleasure to meet her. She basically got her results by following the Wealthy Affiliate bootcamp course and became a super affiliate for the program.
You can read one of her blog posts where she discusses how she earned $40k in a year promoting WA to others here:
In addition, if you wish to visit Grace's official site and possibly even join through her link, and/or want check out what she does, here is the link to her blog.
Now the $40k is one of the many results Grace gets from this platform and becoming a member in WA (which you can do for free), you can check out all her blog posts.
2) Eric.
I met Eric last year in Vegas and we reconnected this year too (along with Grace). He's been promoting WA for a long time as well and is also one of their biggest promoters.
Here is one of his blog posts where he explained how he earned $7,000 in a matter of a few days of promoting WA during it's Black Friday event:

I also want to note real quick that some of the success stories featured here are from people who do NOT promote WA and run their own businesses promoting other things. Like I have said throughout my talks about WA, they do NOT only teach you to promote them, but how to build an online business from any topic.
And of course, here is Eric's blog where he actually brings in the traffic and money.
3) Craig's Amazon success post.
I have to be honest, I don't really know Craig, but I did find the following post (and info on the member) from looking WA's success post area. One of the posts this gent has is on his results promoting things on Amazon and getting to near $1,000 in affiliate earnings from it:
Now as for Craig's site, I currently don't have a link, but I did reach out to him to see if he wants to share it (he might be one of the private success stories I talked about). If he shares it, I will provide it here with an update.
What I can tell you though is that Craig's results come from promoting something other than WA.
4) Brandon.
I don't know much about Brandon, other than the following post I'm about to share with you where he talks about selling a site and making over $10,000 on the sale. As far as I know, Brandon does NOT promote WA, but here is that post where he shares his results:
Believe it or not, flipping websites (sounds like real estate, because it technically is, digital real estate that is) is a legit business and if you can grow a website to get a lot of traffic and sales, then you can also elect to sell that site.
For example, my website earned over $50k last year (report), and if I decided to sell it, I'd probably get $200k+ for it Even though I have no intent to sell my site). Either way, this is another way you can make money online and WA will teach you how.
I don't have a link to Brandon's site either (he probably practices selling sites) but if you're reading this Brandon, congratulations on the success and if you have a blog you'd like to share with myself and my readers, please let me know below. 
5) John.
John is also a massive success story in WA. To be honest, I didn't really see what business model he uses to make his money, but it sounds high ticket and consulting related, meaning he probably consults with clients and gets paid big money for this (it's a legit business model, people like Sam Ovens practice that and teach it).
Anyway, here is a post about how much he made from a single lead in 1 day:

I do believe John has a multi promotional business where he not only promotes WA, but also promoted other things like Bitcoin.
Here is a link to his blog. Congratulations John!
6) John Cruz.
John happens to be one of my closest WA friends and we met several times in Vegas throughout the years, but recently even started doing a hiking trip every time we meet.
Last year we visited Zion National Park and in 2019, we hit up Mt.Charleston near Las Vegas. Both trips were incredible and we aim to only continue doing this every time!
It's become a tradition that many of our Vegas colleges were skeptical of (because we woke up early to go and it was very far!) but now are more and more on board. We're marketing our trips to marketers here! 
Anyway, John runs a blog also promoting WA and here is one of his success stories:

John runs an awesome blog called Askdads.com where he promotes products to help dads raise their kids including making money to support them. And he does this by promoting the WA program to them. Here is a link to his page. 
Update: John also started a new website called BrokeVeteran.com which is a more updated site he now runs to also promote WA.
7) Melody.
Melody is also someone who like to sell websites, and her story is a "bit" larger than Brandon's above. She made an over $30k sale on one of her sites she sold. Here is a link to her article:
Unfortunately, I don't have a link to Melody's official blog. It's possible it's the one she sold above but like I said to the others in this post, if you wish to share a current blog on this site, feel free to let me know below.
8) Jerry. 
Jerry runs a blog called SmartAffiliateSuccess.com and I do believe he is the youngest WA super affiliate so far. At about 20 (could be 19), he made his first Vegas trip this past month and it was nice to meet him. 
Here is one of his many case studies where he cites some HUGE revenue numbers for his blog:

Jerry does also promote other things on his blog you're welcome to check out in the link above.
9) Dave.
Dave is an interesting story.
He basically landed a gig and added a extra $100k to his income by helping improve an existing site that he doesn't own. And this is certainly one of the possible ways one can generate a six figure income online, and I have my own six figure stories like this.
The ability to consult and help other businesses improve their site's look and reach (marketing) is a huge industry and Dave, using the skills he got from WA landed him to get this job. Here is his post explaining that:
I'm not sure if Dave owns a blog or he's just a consultant, but either way, I congratulate him on landing this gig and quite honestly, it doesn't require a lot of work either based on that blog post he wrote.
10) Mike.
Mike, the last one on this list, is also another person I ran into in Vegas during the WA conference there. He was a former trucker, turned full time affiliate marketer and he too runs a great blog you can check out here. 
Here is one of Mike's posts about what he managed to get done thanks to WA:

One of the awesome things this dude has done is taken the affiliate marketing business he learned from WA and applied it to traveling across the United States. He has some awesome stories he shared with me when we met and you're welcome to check them out on his blog I linked above.
Ready to become another success story at Wealthy Affiliate?
Then try the WA program here for free if you're ready to go.
But if you need to know more about this place and read even more success stories, check out the review of Wealthy Affiliate here.
In any case, I had to sift through more than 10 stories while doing the research on this topic, and there were numerous ones I wanted to include, but I wanted to keep this list to 10, to keep this article "short".
If you have any questions on the stories mentioned here or myself, do let me know 🙂