Human Proof Designs is certainly not a scam and I'd like to give you my take on this site in this review, because I happen to know the owner pretty well. 
Despite our friendship (and good history), let me say that I will not be "going easy" on Dom (the owner) and his site here, but I will give factual reasons WHY this site and it's services are legit and help you decide if you need to use it:
Human Proof Designs. Let's get this review started…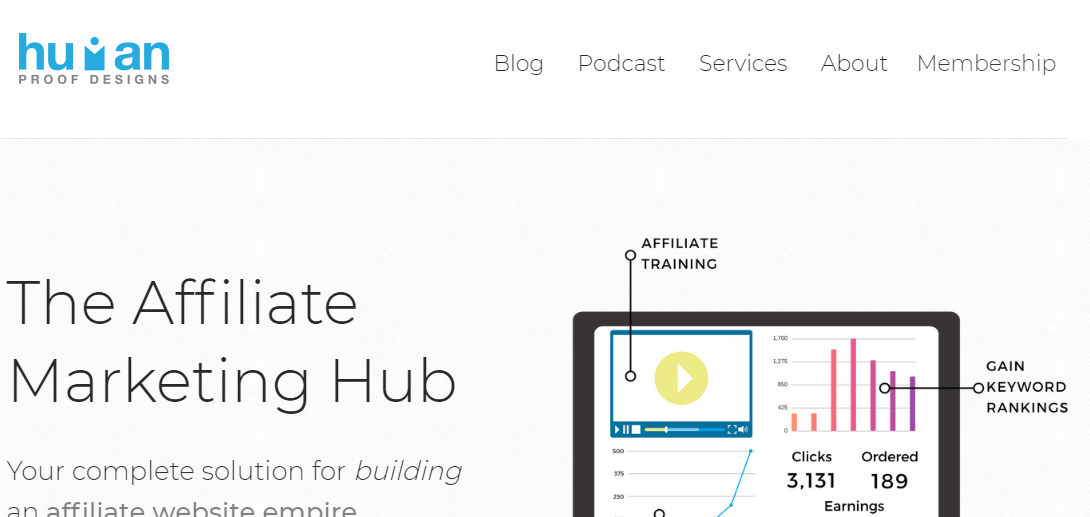 So as I just mentioned, the owner of this site is Dom, and he and I actually have quite a good history together.
Basically, we come from the same training program that led us to become successful online marketers (it is called Wealthy Affiliate), only Dom went in a different direction in creating Human Proof Designs, which is his own service while I focused on different things, which is affiliate marketing, and we're both doing well in these fields.
In any case, Dom is a legit individual and though I am not in anyway affiliated with him, I'd like to explain for who his program and services are best for and help you decide, but if you're at a point where you already heard about his page but the only question you have is about it's legitimacy, put that to rest, like I said, it's legit, so go forward with it.
As for the rest who may have heard some things about Dom and his services, but don't exactly know the details or if it's for them, keep reading this article, because I'll explain what you need to know:
What is Human Proof Designs? 
It's a quasi program that promotes products for people doing online marketing as well as services that people need if they are also in the same business.
For example, if you're doing online marketing, there are numerous components that need to be taken care of…
You need to have these things (at least):
People who are just getting started with their first site, as long as they have good training, like Dom and I both got through a program called Wealthy Affiliate, can do this on their own, but eventually, the site and requirements to keep growing can get to a point where you will not have the time to micromanage everything.
For example, you may find that writing content often is VERY difficult and let me tell you, it IS and you may need to start looking to outsource.
Or you may want to start a secondary site but may not have the time or energy to have something up.

Or perhaps you're not very good at keyword research and just need someone to do that for you.
Or perhaps you're just getting started with trying to make money online and need a little help with starting that first website that'll work well (here is info on my personal help in that regard).
Basically, there may come a point where the above essentials are things you won't have the time or energy, or confidence to take care of, but through Dom's Human Proof Designs, you can purchase things like that to save that time and that energy.
Let's go over what Human Proof Designs has to offer…
There's a number of pros and benefits:
1) One of the great things about that site is it's free content that Dom puts out on his blog.
There he shares his tips for things like sales, SEO, traffic and other stuff, which he personally tests and explains in case studies. One thing I know about Dom is that he likes to truly test out the stuff before he turns it into a service he offers.
This means that you can either use Dom's free tips for your own site, or you can be assured that if you purchase one or more of his products and services that it'll be based on factual things that truly work.
I know Dom doesn't do ANY black hat marketing, and it's rare to find a service these days that doesn't, and this makes his stuff a safer buy than going with other programs.
2) Dom also has a podcast series worth checking out. 
Again, this is free content you should be checking out if you're looking for expert advice.
3) Now for the services you get from Human Proof Designs…
First up is his article packs, where you can buy anywhere from 8,000-20,000 words for 3 different price plans. The prices are a bit high, but knowing how legit Dom is, you can bet that you'll get great content.
You can divide up the plan you buy into specific numbers of articles. For example, if you buy the 8,000 pack, you can break it up into 8 articles (1,000 words each) or 4 articles into 2,000 words each, it's up to you.
4) Then you have a monthly article service pack.
This is a bit more of a recurring content creation service offered by Dom, where you pay monthly to get articles written for you. Additionally, other things such as SEO optimization are included as well as pictures (royalty free) and great content are added in.
On a side note, I know full well how tough good article writers are to find these days, and I know Dom has gone through the hassle of training his employees and writers to write unique, great content for clients.
5) Keyword packs.
Dom also offers various options to get highly targeted keywords to create content off on your site if you can't afford the article services. 
6) PBN linking. 
Dom and I have some differences of opinions when it comes to PBN services, but he's been successfully using them for years, so it works for him and he helps your sites with this service as well.
7) Ready made niche sites.
Typically anyone who is BRAND new is not going to have a website, but you can buy a fresh, NEW website from Dom to get a head start.
The sites you buy are niche sites and have pre-made, unique articles on them ready to go for you, so when you publish it, it'll get you a faster start in the rankings.
This is one of the most expensive, done for you services at over a $1,000, but it's worth it if you don't have the time to start a new site.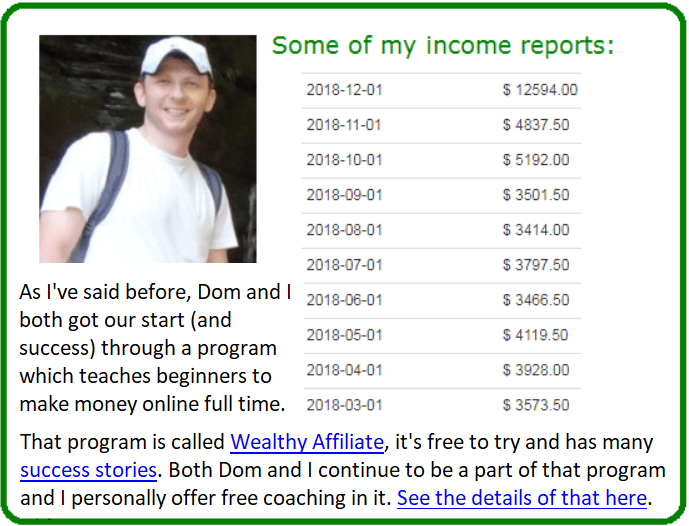 My final thoughts on Human Proof Designs:
This is a great service and like I've said before, I've known Dom for years. He's one of the most ethical businessmen when it comes to doing work and providing services and I know this carries over to his program.
As I said before, you should feel 100% confident in getting his services if you can afford it, but if not, the free content he provides is excellent too. I don't always tell people to ONLY stick to what I teach, and to look at other sites and people, and Dom is certainly one of them. Here is a link to Human Proof Designs.
In my personal opinion, everything Dom offers can be done on your own too, if you're new and have time to spare to create your own site.
I value self education and self action when it comes to building your first online business, because that is the cheapest way to go and if you want to become an experienced online businessman like myself and Dom, I would recommend you go with the same service where Dom and I learned to become who we are today: Wealthy Affiliate.
All this being said, if you have any questions on Dom, or Human Proof Designs, do let me know.
Again, I am not affiliated with him in anyway and I just wanted to let you all know that there are great services out there for creating online businesses, especially now that there's so many and few are trustworthy.