I was a member of Global Affiliate Zone (GAZ) for under 24 hours. I quickly left because of the reasons I'll explain in this review. Let me explain if it's a scam.
The great news is that in this review, I'll actually show you what's inside this place and offer a video tour (my personal tour) so that you can understand why I left so quickly and sadly, the reasons I given why are good reasons…
Quick Report on Global Affiliate Zone:

Name: Global Affiliate Zone (Aka GAZ).
Price: $99/month, but there is a 14 day trial in which you can refund this amount and I gladly took that offer after I saw what I saw.
Plus inside the membership there is some sort of sales funnel to join a program called "Enagic" which charges several $1,000 to become a member off and it lets you become an affiliate for it.
Overall Rating:

1 out of 10 stars

.
Compared to the fluff I saw on the sales page, I expected something good from this program and I was surprised and extremely disappointed by what I really saw in there. This review is going to take you inside Global Affiliate Zone and explain my experiences with it…
Recommended? No way. But this is:
What is Global Affiliate Zone (GAZ)?
So I joined this program thinking it would be some sort of training center for becoming a successful affiliate marketer. I assumed I'd learn about making websites, running Facebook ads and basically learning to create my own online business in topics I'd be interested in.
This is something I've come to expect from GOOD programs like this, that offer real training, real value and a good reason for me to pay a monthly membership.
Unfortunately, this program did not meet this standard in my opinion. In fact, in most cases, it was the complete opposite.
My personal video review of Global Affiliate Zone (inside look):
So as you can see, I reviewed this program on this blog and on YouTube. You're welcome to read/watch both, but essentially both options basically say the same things…
Here's my text review from inside Global Affiliate Zone:
Instead of getting high quality training which is what I naturally assumed was going to be the case…what I basically got was this:
It felt like an overwhelming majority of the content within the members area was nothing more than them trying to prepare me to spend more and promote them.
Just hype, questions about how serious I am about making money online, and success stories. Seriously, there's very little ACTUAL training on being an affiliate within this program.
Note: As an update, I am getting more and more comments from other people below who have tried this program and they seem to pretty much confirm the same experiences I had, which is unfortunate.
Details on what you get inside GAZ and why it's not much:
Once you join, here is what they run you through:
Here's a screenshot of the steps you go through as a member of this place. I marked down (in red) my personal notes and summaries of each area: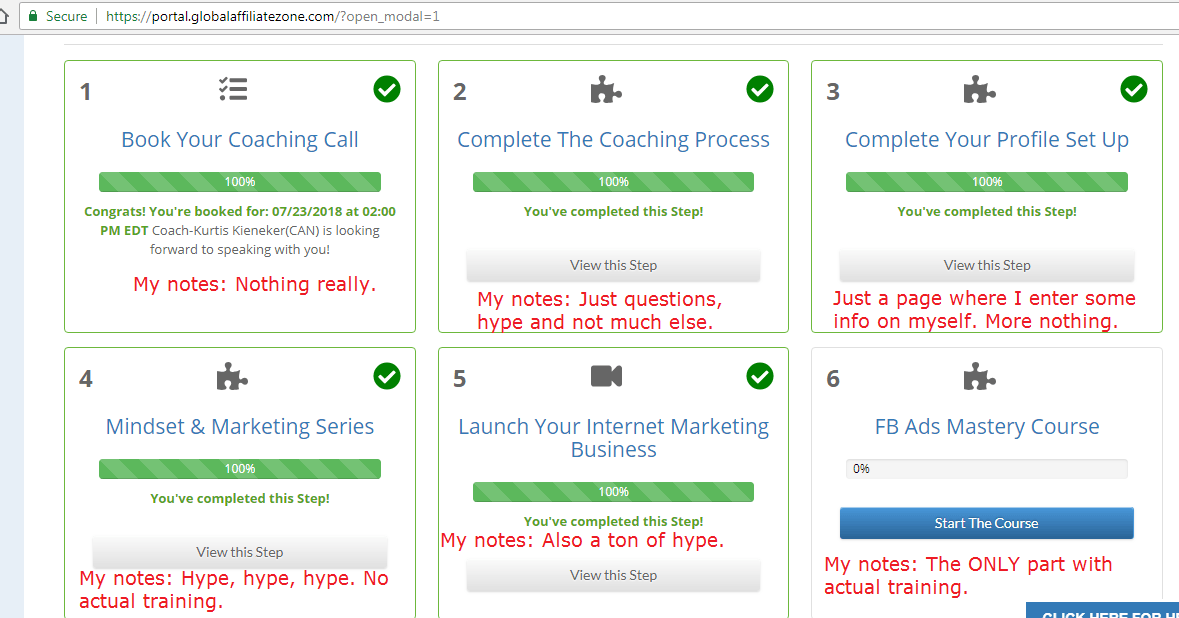 So you can see why based on those notes alone, I was very disappointed with the program, but now let me explain the members area screenshot in a bit more detail and how they start you off and what you end up learning:
1) A welcome video.
2) Then the next step FORCES you to schedule a call with a coach. Not doing so means you can't unlock the other training. 
3) Then after the coach call is scheduled, it runs you though a series of 10 questions asking you about how much you want to make and how awesome it will be when you do…
4) The coach is supposed to use your answers to make a "plan" with you. By the way, as an actual internet marketing coach myself, I don't like this system at all! For instance, if you check out my personal coaching offer, I don't force anyone to go through any specific funnels or high pressure tactics…
5) Then you run through another series of videos that are just really talks of success stories and hyped content (no real training).
6) Then as you keep going through this, they start pitching this water system, coolant thing and give you some sort of compensation plan. What I though was going to be training on how to be an affiliate marketer turned into some kind of sales pitch for a system I had no interest in and they started talking about how it can cost $1,000's but you can make a lot, so on and so forth. The type of stuff being pitched at this point in the GAZ sales funnel was entering into a realm of high ticket systems and I stay away from those…
7) This optionally leads you to learn more about this side system they are pitching and they discuss the compensation plan behind it.
8) And finally, after all of that nonsense is done with, THEN and only then do you get training, and that training is a series of lessons on "everything" Facebook related, ads, fan pages, ect… and that's basically the program for you.
9) And ladies and gentlemen, that's basically 90% of the content within GAZ, which if not actual training. Why then pay the $99? 
10) And a quick note on this "forced coaching" stuff, I have had experiences with systems like that before (Super Affiliate Network) where this annoying policy in my opinion existed. I felt that on one hand, it was meant to help me move forward in the GAZ program, but on the other hand, being that it felt like a big push to up-sell me, what could the coach actually teach me? 

In short, I feel like I literally just paid GAZ $99 to hear about more opportunities basically.
This is nothing close to what I expected to see from this program.
They made their sales page seem like this was a legitimate training system that would help me make internet sales and you know what? Considering their point of view, it actually is.
The problem though is that with a lack of training, the focus on promoting them and that water system, this program quickly becomes one of those systems I have warned people to stay away from because they don't really teach you much.
You join to basically learn how to make others join them too and then they run through the same online sales funnels I just did. And looking back at the sales page, this would explain why they said they have done for you funnels.
It's because the system of GAZ is self promotional. You join, you get the ability to promote them, you do, more people join and become members, and you as the affiliate get paid.
You know in some cases, if they offered some sort of good training, that was open ended, I could see reason to give this program extra points, but as of now, it really seems like I'm run through a chain of hyped content with very little value offered, just "opportunity". That's something I've seen in many scam programs.
Final Rating: Global Affiliate Zone.

Red Flag
1 out of 10 stars. Overall, I was very extremely unhappy about Global Affiliate Zone. It was not what I expected and the stuff inside the members area really made me mad. I also later experienced similar programs like CEO Movement which tried to follow this same selling strategy, but thanks to reviewing and seeing GAZ do this, I didn't make the same mistake.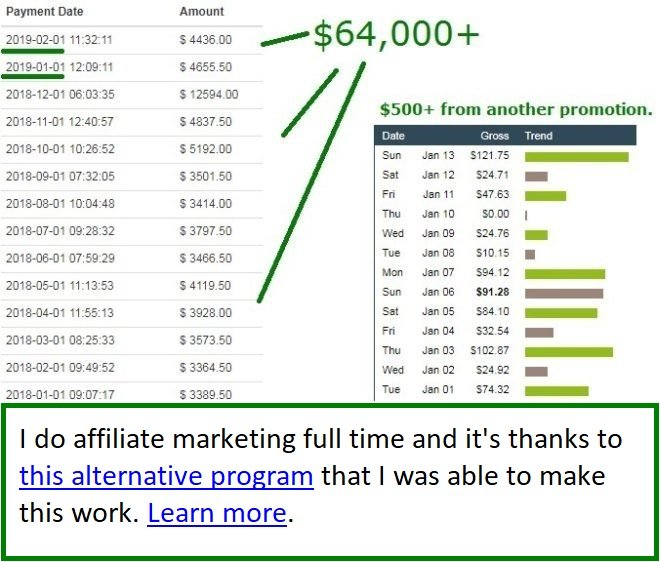 My personal thoughts: GAZ is not what a good system is supposed to teach…
When I started this review of GAZ, I had mentioned how good affiliate marketing programs that teach making money online and affiliate marketing in general are "supposed to work". I've seen a lot of them and I have more than enough experience and information to know which training programs are worth spending money on and which ones are such that you need to get a refund ASAP and/or stay away from them.
I want to share this experience by offering you an alternative program to GAZ which is quite the opposite in that it does things correctly compared to GAZ. Let me explain:
I'm recommending you try a program called Wealthy Affiliate, which contrary to GAZ actually does do things that a good program is supposed to do (actually teaches you to make money online and doesn't continually give you hype videos like GAZ).
Let me give you a 7 examples of why WA is levels beyond GAZ:
For starters, the training there is one of the very first things you do when you join. They don't waste your time and give you hyped videos to give you some false impression. The training straight up gives you the info on how to make money online and gets you started on that.
Secondly, the starting membership is free so you can see that training for yourself. There is no $99 charge or something like that, you can enjoy WA without risk.
Thirdly, there is no FORCED steps for you to do. You are free to browse around the site as you wish, and while I do recommend you do the main training I just discussed, you are still free to check out the site as you like.
Fourth, you don't have to join some private FB community like in GAZ, once inside WA, there's a live chat and other options available for you to communicate with people.
Fifth, no scheduled calls with coaches necessary (nothing is forced!).
WA does do coaching, but it's in coordination with the training there. I for example, give coaching to members, but I don't require they speak to me. If they have questions, they're free to ask me anytime.
Sixth, there's no crazy up-sell into some strange, unrelated water or arbitrary program in GAZ. In WA, you are recommended an upgrade in membership, but you are not pitched some crazy, high ticket stuff.
Seventh and last, there is no nonsense in the form of one hyped video after another which makes up the MAJORITY of the membership in GAZ.
Instead, WA focuses on providing it's members with actual, valuable training so they can be on their way to make businesses. And on that note, members aren't forced to promote the WA company, they are free (and the lessons show this) to promote whatever they like.
It is because of these experiences that I've determined what a good affiliate program does and when I see GAZ trying to do what it currently does, I know it's not the place for me. So in short, after seeing all of the things I saw and measuring how invaluable that was to me, I left.
Last thoughts: 
I know I sound very angry in this review, but unfortunately I have good reason to be. I really had high hopes for GAZ and really though it would be a good system for making money online. I rarely get to see and review good programs. But GAZ not only under delivered, but it also disappointed me in ways that made me think I really wasted my time there. 
I don't know how you feel, but if you're a current/former or possibly future member of GAZ, I'd love to know what you think.
Note: I have found certain reviews saying that GAZ has changed over to a program called Affiliate Institute. Get the review of that program there.