A commenter asked me about CEO Movement, so I joined it to see if it's a scam, and didn't take me long to leave it. This review will explain why I did.
Quick Report on CEO Movement: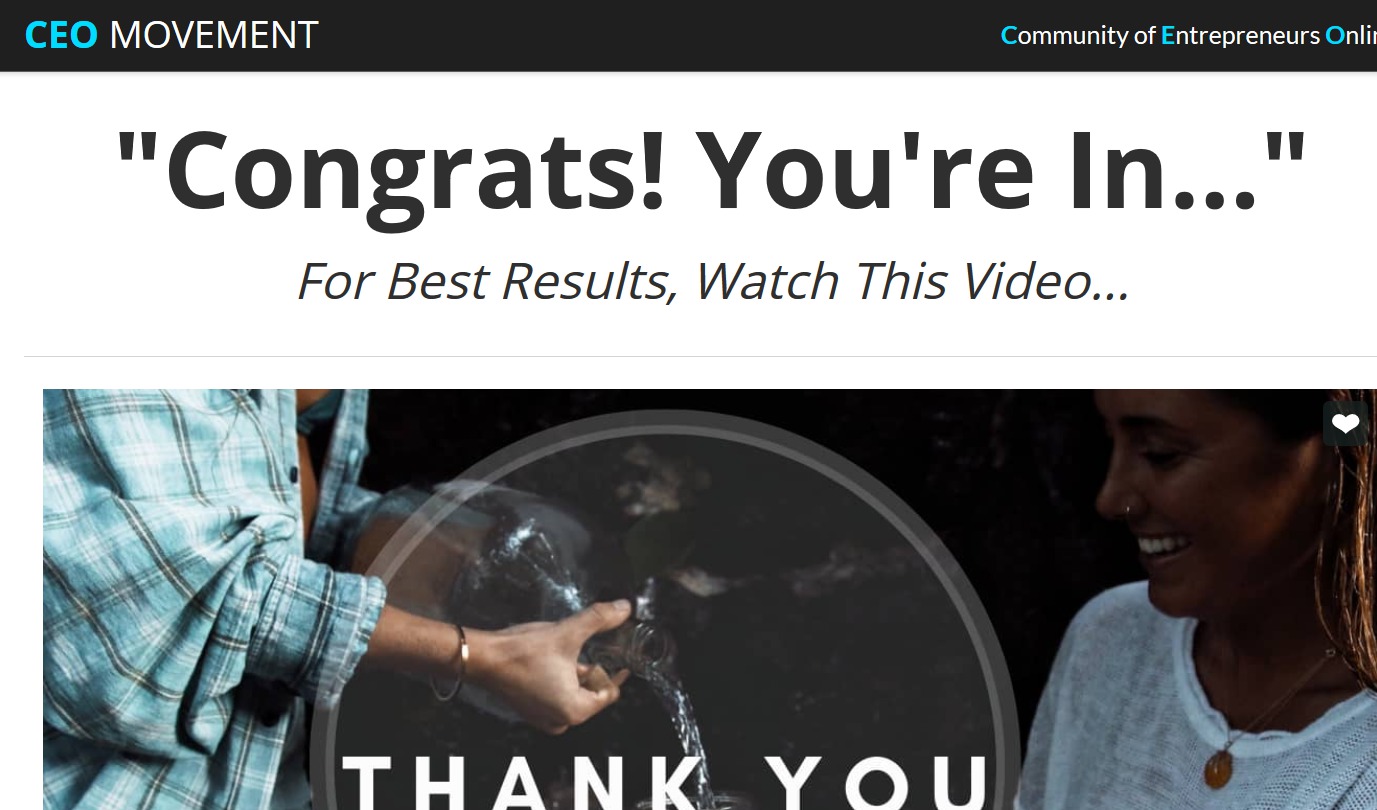 Price: $79 and this charge is every 28 days, not every 30 (which is strange).
There are also other possible miscellaneous charges/up-sells, one of which is to promote a Kangen Water filter which can cost $1,000's. 
Summary of program: This program teaches you how to build an online business generally by promoting the very same CEO Movement program and possibly their Kangen Water Filter promotion through Facebook Ads and Instagram.
After going through much of the members area, this is in my opinion what the system is about. This program does appear to be legit and has success stories though, but let me explain why I gave it this rating:
Overall Rating:

3 out of 10 stars

.
While their FB ads and Instagram training was OK, I wouldn't justify paying $79 every month for that.
The MAIN issue I have with the program is that in my opinion and the experience with it, it seems to overly teach how to promote itself and there's a lot of potential for this promotion to lead you to buy one of those Kangen water filters, and those have a notorious reputation for being scams.
I don't think CEO Movement is a scam, but I have a hard time believing in those Kangen water filters and this makes it hard for me to recommend CEO Movement itself.
So I recommend this alternative instead:
Let's take a deeper look into CEO Movement (A detailed review):
When I paid the $79 to enter it, I was greeted by a lot of welcome videos and like I said earlier, the training on FB ads and Instagram seemed to be decent.
There's also a lot of generic business advise videos, but those don't really give me specific instructions like the FB ads and Instagram training videos did. 
The problem is that while watching many of these videos, I felt that the context of this learning material was meant to help me promote CEO Movement. Here is how the members area looks: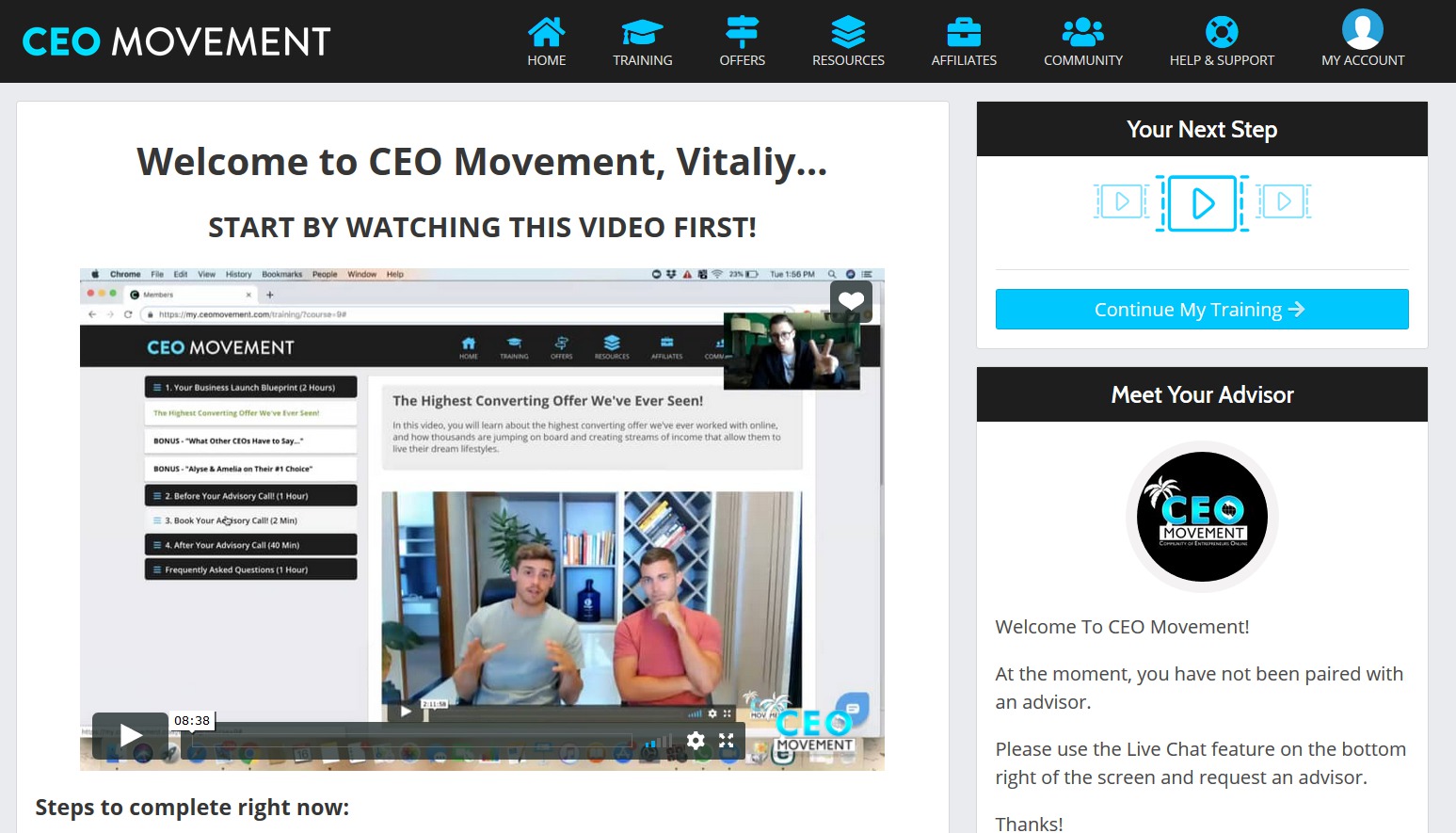 Now of course, the training can be used to promote your own business that is not related to CEO Movement, but in my experience, there are better programs for doing that and if you're a beginner, here's the best one, its called Wealthy Affiliate.
I'd much rather recommend this program to you that would teach you to create your own online business without being "indirectly" pushed to promote only 1 thing and that one I pointed to, will do that.
And I say this because, the training in this program was really a minor thing I got out of the members area. A whole bunch of it was videos trying to sell me the idea of great lifestyles and giving me questionnaires about how much I am ready to spend to have a great lifestyle.
In my experience, such videos and questions typically happen whenever there's some sort of big high ticket up-sell coming in my experience.
Here's some perfect examples of this:
AWOL Academy. They basically led me through the same lifestyle sales tactics, then hit me with a $10,000 up-sell.
Legendary Marketer. Same thing. Small price to get some FB ads training, then boom, big ticket upsells.
Global Affiliate Zone (GAZ).
Honestly, CEO Movement seemed almost identical to GAZ because it operates the same way:
You pay to enter the members area.

You get training on FB ads.

Then much of the members area talks about promoting GAZ.

And then they try to get you to buy a water filter system (Notice how similar this sales funnel is to CEO Movement!).
And by the way. I also left GAZ for the SAME exact reason I decided to leave CEO Movement too. I will admit, the latter program gave me more training material, but still not enough to stay.
I am basically giving these examples to showcase how often I run into programs like this one I'm reviewing and how quickly I know what the sales funnel is aiming to get me to do. It is because of this that I proceeded very carefully with the program, until I saw enough to decide to stay or leave (and like I already said, I left).
One other big reason I left CEO Movement (The Enagic Water filter thing):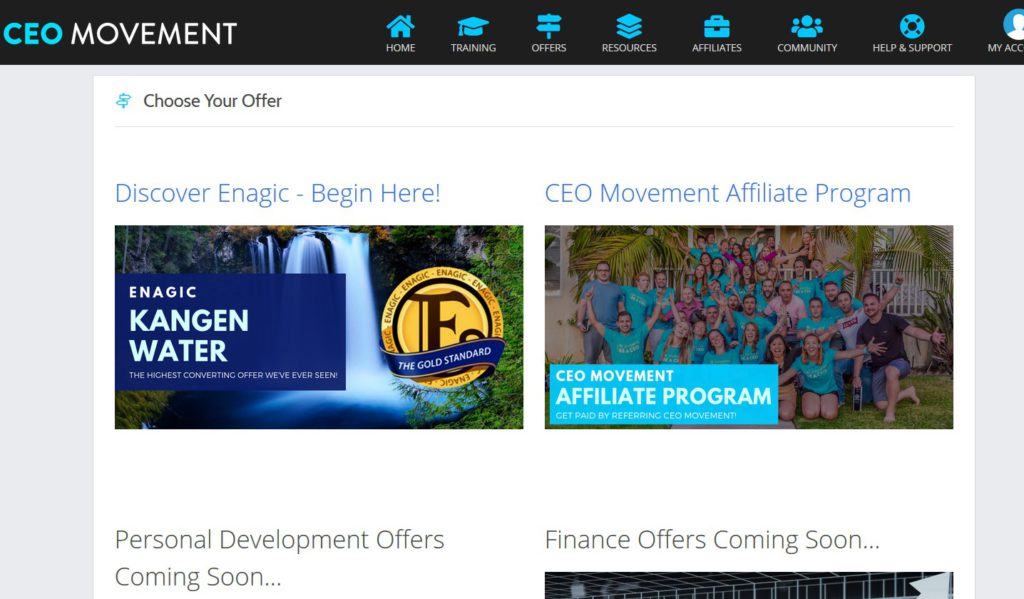 So before I purchased a membership into this program, I had looked up this program on Google and some of the reviews kept talking about this Enagic Water Filter up-sell that was $1,000's and how this is was part of a "big scheme and scam".
Here is an article on these kinds of water filters and the risks (besides the money investment).
Well what I can tell you is that this is a product that people can market, but they need to buy it first from my understanding and the part where it's called a scheme by people is that it is believed that this product is overpriced and there's many promoters and companies that are pushing it, and talking about how it's awesome for health and that if you spend $1,000's to get it, not only will you be healthy, but you'll also help make people healthier who buy it from you.
That sounds great, but if you've heard as many MLM and high ticket pitches as I have, this is usually nonsense in my opinion because you can truly buy these kinds of water systems for less and if you know about alternative ways to promote it as an affiliate marketer, you'd know you don't really need to buy these things to promote them.
I can hop on Amazon right now, find a nice water filter system and promote that without spending a penny on it.
And since I DO affiliate marketing, and do it well, I would aim to promote the best possible one for my customer. And that would be a simple, cost effective online business model.
Being that I have heard enough bad tales about Enagic Water Filters, I'm staying away from them and if a company I am part of starts pitching them to me, I will become cautious. Such a thing appears to be happening with CEO Movement.
Overall Rating: CEO Movement.

Yellow Flag
3 out of 10 stars. Again, SOME of the training is good, and I do believe this program is legitimate for the most part, but a majority of the stuff there appears to persuade you to promote the company itself and possibly get involved with the controversial Enagic Water Filter stuff, and being that I went through this same stuff with Global Affiliate Zone, I decided to leave.
I prefer a program like Wealthy Affiliate which doesn't do that sort of stuff and helps you choose which type of business you want to create online by giving you tons of options to choose from, and then offers you training to actually create that based on the one/s you choose and you don't have to buy high ticket upsells to start an online business with this program.
My final thoughts on CEO Movement:
As an online businessman who has seen his share of MLMs, high ticket programs, scams and very few legitimate options to get started, I don't believe that a good place to start your first successful online business is with this. It costs too much and I really think the training, while good at places is not very beginner friendly…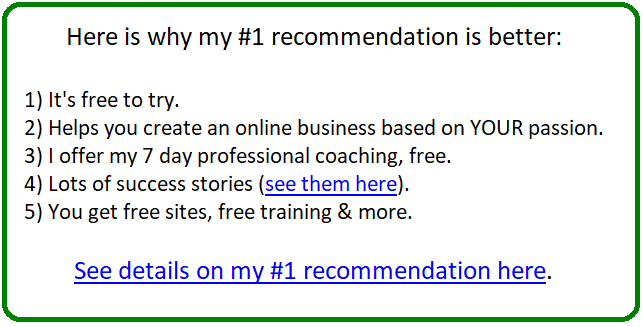 I want to thank the commenter who asked me to check this program out, because I did find that there's a lot of people who wonder about it and I did also discover other systems also promoting the same type of Enagic Water Filter stuff, so I will be reviewing those (GAZ was one of them).
If you have a personal review or experience with CEO Movement, Enagic Water Filters and/or other programs that pitch this particular product, please let me know, so I can review them as well!