If you're looking to make money online, odds are you've probably comes across one (or many) work from home "opportunities" being advertised out there.
Unfortunately most of them are absolute scams and in addition to providing you with a list of them in this post, I'd also like to help you uncover how to spot them as well as which ones can really be trusted.
First, let me quickly explain a little bit about myself and what I do: I've been doing online marketing for many years and know what it takes to make it in this business (about me). A lot of people who look for WFH type programs generally fall into these categories:
They want to make fast money.

They want to make a lot of money.

They just want a simple job that can earn them something extra while they're at home.
Now I pointed out the above categories because A LOT of programs have been sprouting left n right lately that promise you these things: fast money & a lot of it and all you have to do is pay them an X amount of money to get in on the action. There are also those which promise you great paying wages for "simple tasks".
This pitch gets more people than you can imagine and it's very important for you to understand that if you're going to avoid being scammed online, you need to know that there is NO such thing as a get rich quick scheme. Any company which promises you this is in my experience is a scam 99.9% of the time.

Now with that said, let me give you the list I promised. I actively review work from home programs and let you know if they can be trusted or not. 
A list of work from home (WFH) scams you need to avoid:
Online Profit Stream.

Careers at Home University.

Work From Home University.

Home Profit System.

Home Internet Careers.

Home Internet Cash.

Online Home Careers University.

Online Income Solution.

Profit Web System.

EStore Builder.

Replace Your Job.

Online Profit System.

Internet Income Commissions.

Online Success Plan.

Internet Home Careers. 

Direct Online Income (Earn at Home Club).

Secure Online Work.

37 Clicks.
To be honest, I stopped updating this list a long time ago because it grows so much, so fast, that you'd end up scrolling down forever if I were to add every single scam I've spotted, so if you have one you'd like to add. You can actually see an updated list of scams here.
Just as well, you can let me know about them on my scam report page. Even though it's really a big list, this is really nothing to compared to how often these places keep appearing. As long as people know what to look for within these sites, they'll never get scammed by them.
Note: I've posted reviews on each of the above places so if you wish to learn more about them, you can type them into the search bar of this website and get more info. Also a lot of these same places disappear and reappear under different names. You'll often find the websites look identical.
Most of the scams I've been able to identify have been from looking those above places, but when I did find them again, they were named different which to me means it's been remade, but with a new name, most people won't question if it's the same scam as it was before (it still is!).
And these are just a small list of some of the many WFH scams out there. A couple of things I noticed about most of these scams is this:
1) They almost always advertise themselves through websites which look like this: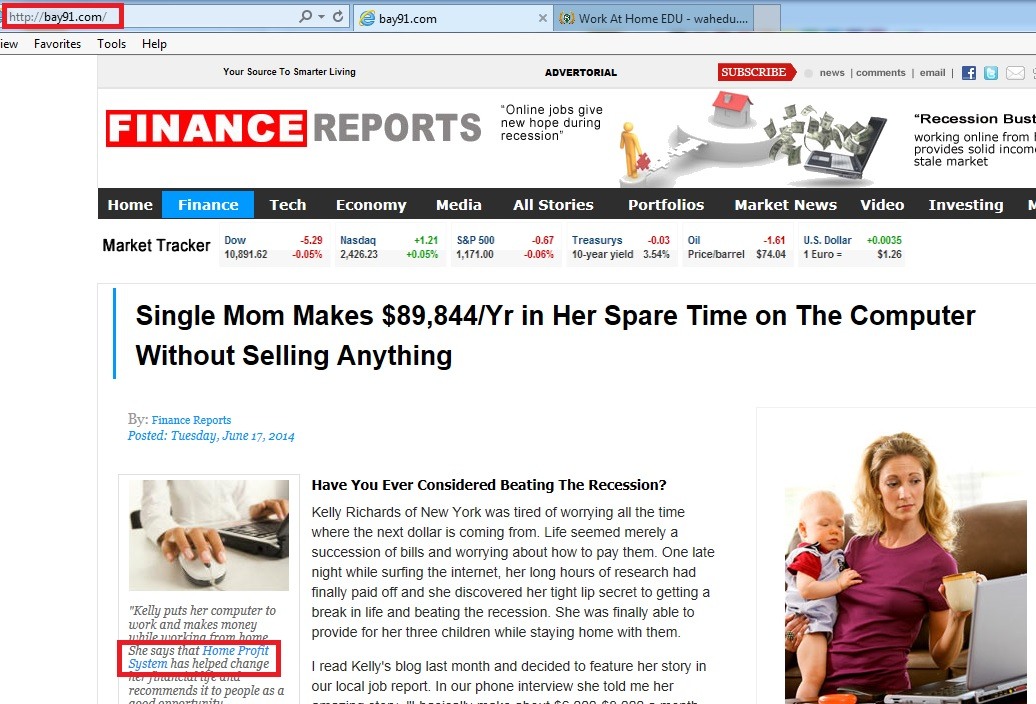 If you're ever going to avoid being scammed by one of the above companies or others like it, remember the way this website looks (I call them the work at home special report scams).
I have noticed that a TON of the scams I listed above all advertise themselves through these types of sites. So if you notice a page which looks VERY similar to this one, be VERY careful. In addition:
2) These sites usually show of the "As seen on" and show popular networks to give you the impression that they are legit.
This is absolutely NOT true and they are using deceptive advertising to give you this wrong impression.
The truth is that what these scams do is put a video on their site showing people who make money from home, but not once do these videos actually say the WFH report is based on the actual program being advertised.
In other words if the current site we're looking at is advertising "Home Profit System", the video that shows people making money from home will never say it's actually Home Profit System. Get it? 
But it's a VERY tricky way of advertising because most unsuspecting people make that wrong connection and trust the company as a result.
3) These programs are in many cases clones and/or copycats of each other.
If you notice in the list above, A LOT of the names sounds eerily similar and I believe this is because they are made by the same person/persons/organization and what they actively do is switch up their names to keep people guessing whether it's the same or not.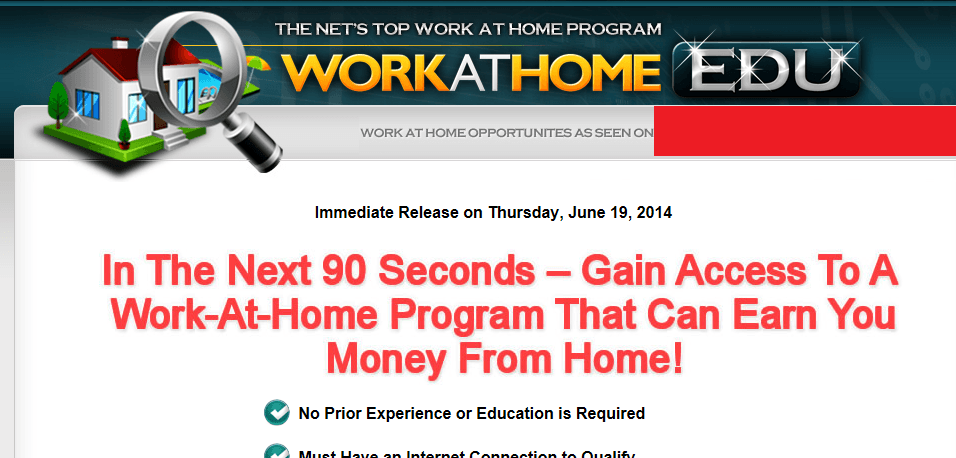 HOWEVER, they are pretty lazy and that's because most of the actual sales pages where these programs are advertised also look very similar like the image I posted above. Here is an example (Work at Home Edu):
Try to remember the layout of the above image, because most of the scams I showed you above (and probably many more like it) always look like this (in one way or another). The only thing that's really different is the name of the program. Other than that, it's all pretty much the same.
4) They say you can make easy money posting links for big name companies.
 This is also an example of deceptive advertising. They never tell you the real story behind this claim (what posting links really means) and give you the impression that it's simple to do. Either way, if you see any program say you can make easy money and/or post links to do it, stay far away from it.
5) Be careful of the "discounts" they offer.
In many of the examples above, if I tried to leave their page, they tried to get me to stay by offering some extravagant discount. This is just a hook to reel you in. BUT if you do join, odds are you'll have to go through up-sells which you're not told about.
I've heard horror stories of people losing $1,000's through these types of WFH programs because they were offered some internet marketing coaches/training, but it's never worth the price they set.
More work at home scams you need to be aware of:
Another very popular WFH type scam going around these days is MLM companies. Not all of them are scams, but in my experience, most of them are pyramid schemes and should be avoided. Here is a list of places I recommend staying away from:
Empower Network.

Pure Leverage.

Profit with Michael.

MOBE (My Online Business Empire)

Big Idea Mastermind.

Wake up Now.

Profit Clicking.

Neucopia. 
All of these are places I am STRONGLY opposed against because I feel they are not just scams or pyramid schemes, but also ponzi schemes in the making. These programs also allure you into joining them with the promises of fast money, but through the process of working with them, most people end up being in financial ruin. 
Got scammed by one these places or another? Do this to get your money back from a scam.
Is there really any legitimate work from home opportunity out there?
I can tell you the overall answer is yes, and here is a post on 10 legitimate work at home opportunities you can check out. For me, I do online business through affiliate marketing for a living and strongly believe that if you wish to earn money from home, this is arguably the best way to do it. 
It is not a get rich quick scheme by any means, but it offers you the opportunity to do what you love and the flexibility to work when/how you want. The only thing needed to succeed is this:
Proper guidance. A lot of places, including the ones I mentioned above love to preach about how they'll help you start a profitable online business, but they don't and only work to enrich themselves. 
In all of my years experimenting/reviewing and trying different programs to help me make an online business, there was only 1 place that taught me truly legitimate methods to succeed. It is NOT an MLM or some type of shady company. It is called Wealthy Affiliate.
It teaches you to succeed online through 4 basic steps and you actually end up helping people. This is my personal view, but I believe that if you're going to seek financial freedom online, then online business is the best way to do it. 
If you have ANY questions about the list I posted above or have other companies you feel are scams and should be added in, please let me know!