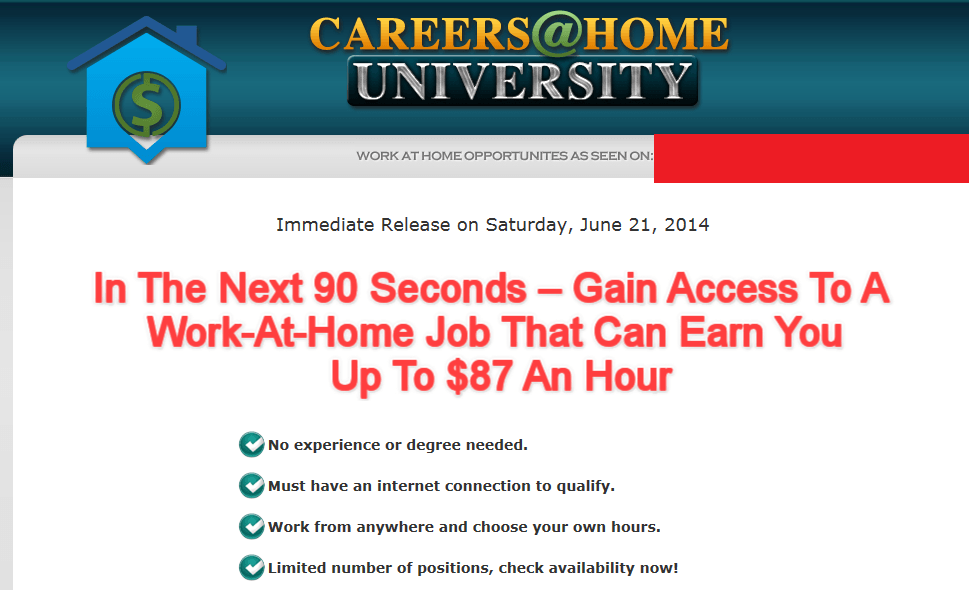 Yes, I have very little doubt that Careers at Home University is a scam and in this review, you'll why I say this.
Quick report on Careers at Home University:
Price: $197 (potential up-sells after purchase)
Final Rating: 0 out of 10 stars (scam)
What you need to know about Careers at Home University:
If this is your first time seeing a program like Careers at Home University, I want to warn you to stay away from this scam.
It is a copycat program that been duplicated from different sites/programs and keeps changing names to confuse people into thinking it's legit. But regardless of the name, the program, it's promises remain the same and they are pretty much lies.
I try to stay on top of all these scams and actively monitor websites which usually advertise these places. Whenever I spot a new name for the scam, I immediately write up a post on it to warn people. With Careers at Home University, the way I spotted it was very funny:
The other day I did a review on a place home Work at Home EDU. I found that program through a website called Bay91.com, which is a commonly seen work at home special report site (it's fake). Today when I looked at the same website and clicked on the links that were provided, instead of taking me to Work at Home EDU, it took me to Careers at Home University and I knew that once again the copycat scam had struck.
Furthermore, not only do they keep switching up the names of the programs and running the same scam, but they change the pictures from within the site to give you the impression that the people they show in their pictures are the ones behind the program. This is absolutely false and here is proof:
Proof Careers at Home University is a scam:
Whether you are looking at the Work at Home EDU main page or the Careers at Home University main page, when you enter it (don't enter your name/email), they will take you to a page which advertises a video about people making money online & from home.
This type of marketing is VERY deceptive because it gives unsuspecting visitors the impression that this video is somehow directly related to the program. This is completely false and that video is not associated with the site or program. It's just a news report that was once seen on TV which they took and put on their site to make that false connection.
But what about the proof? Well when you scroll down under the video, you'll see a sales letter from a woman named Melissa Mayer. With Work at Home EDU, it's a woman named Michelle Robinson. In each website, the picture is different, but I am almost certain the photos aren't the real person, but rather they purchased it to hide their true identity. 
Furthermore, if you read the text, it is nearly identical which leads me to believe both programs are most likely made by the same person. Here is the screenshot from each place:
First, Work at Home EDU:
And now, Careers at Home University: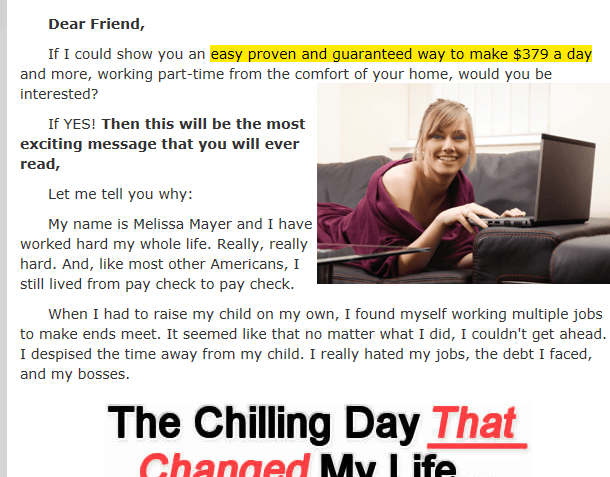 I see this sort of stuff all the time with other websites, not just these two. I have come to the conclusion that there is probably 1 organization or group of people behind these scams who actively make different websites, just copy the same information, but name the program differently.
I assume they do this stuff because after awhile, some of these programs receive tons of complaints and people become aware of what's going on, so all they do is switch names and continue the scam under a different website & program name.
Want more proof? Well here's a number of other websites I assume are associated with Careers at Home University which I've already reviewed whose home pages look nearly identical and inside their page (where you see similar text I just pointed out) also looks identical:
I've done reviews on all of these places and in every instance, they almost ALWAYS look alike. Also notice how similar all of their names are.
The people behind these scams are getting pretty lazy in that they just switch a few words around here and then and repeat the whole scam. I've been doing my best to keep up with these scams because there's just TOO many people falling for this stuff.
By the way, if at anytime you wish to read reviews on the above programs OR there is a program you may have read/heard of that you want to find out is a scam or not, you can search for it on this site. You can simply comment anywhere on my site and I'll check it out.
Pros:
Cons:
Deceptive marketing practice.

Potentially VERY expensive up-sells & internet marketing training for $100's if not $1,000's after you purchase the initial program.

It's NOT as simple as posting links as they claim. 

Potentially just another copycat scam like the other programs I've reviewed.

If you ever see sites like this pitching these programs, it's a big warning.
Final Rating: Careers at Home University
0 Stars
Red Flag (Scam)
0 stars out of 10. Just another link posting scam. I would advise staying far away from it. See Wealthy Affiliate which I said is my top choice if you want to learn how to really earn real money from home, legitimately.
My final thoughts:
I may actually be making some headway here. Just 1 day after I warned people about Work at Home EDU, they switched it up to Careers at Home University. It could be a coincidence or it may be that they are being spotted faster than before. If that's the case, then it's a good sign places like these are finally being exposed for what they are.
I've said it before on many of the other copycat scams like it: Be VERY careful with programs that promise you easy/fast money. Such a thing is NOT possible in internet marketing.
This is NOT a lottery and no program/service will ever give you a handout. They are simply saying what they are saying just to sell to you, period. Do not let your emotions get the best of you! 
If you have experience with CAH University or know of any other programs you assume are copycats like it, please let me know.