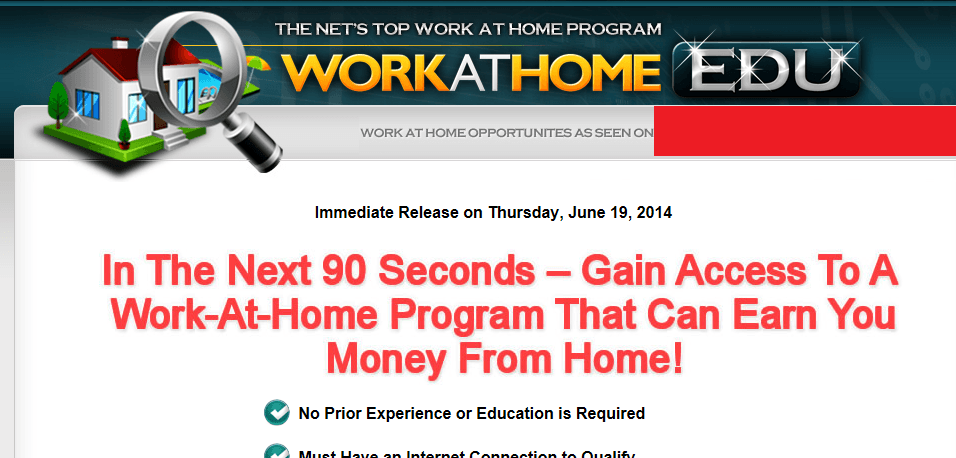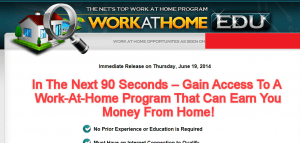 Whatever you think Work at Home Edu sounds like, read this report on it first, and I will show you what it really is (a scam). 
And the reasons why are pretty clear, so be sure to read this review fully, and I'll also show you real alternatives.
Quick Report on Work at Home Edu:
Name: Work at Home Edu.
Price: $97
Final Rating: 0 out of 10 stars (Scam!)
Work at Home Edu might seem like a golden opportunity to the unsuspecting customer, but for me, being someone who has spotted these copycat scams more times than I could count, I want to warn you why I believe this place is a flat out scam.
This is based on me spotting more than 10 other companies like it before and them all using the same method of marketing to reel people in. And I have a big list of popular work at home scams here if you want to see them.
Work at Home EDU explained:
Just another one of those programs that claims you can post links for big name companies and make a lot of money. What these places constantly do is give you the impression that making money from home is easy and all you need to do is pay them up front to gain access.
Just like the other dozen programs like it I've reviewed before, the text is the same, the layout of the website is the same, the promises are the same and I've done reviews on programs like Work at Home Edu before and received tons of comments from people who said they tried it. Not one of these comments was positive. They all said it was a scam.
If you don't believe me, read the comments on my review of Online Profit Stream, another copycat company like this place. You will simply be shocked at what they say.
How I discovered Work at Home Edu:
I actively monitor the internet for these types of scams and when I spot them, I warn people about it on this blog. Often times, I spot these types of programs through fake work at home special report websites dealing with work at home opportunities being advertised and these scams are found through ads on these websites.
However, with this program, it was a little bit different:
When I first discovered Work at Home Edu, I was browsing a website and reading the comments section. As with many of these places, a lot of people use popular blogs to spam and one such comment I spotted was talking about a website called "Bay91.com" and how through it they were able to make $1,000's easy. 
Knowing in advance that this was probably a scam, I decided to visit the website just to be sure and here's what I found: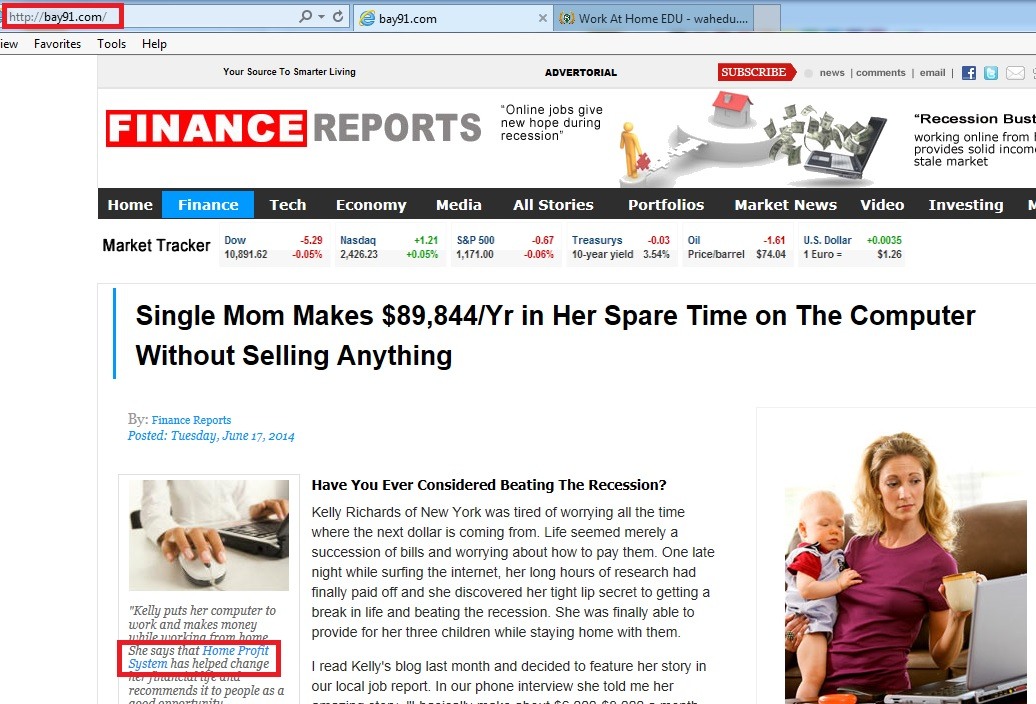 Now for someone who hasn't dealt with these copycat scams before, the screenshot of the site you are seeing might look legitimate and quite professional, but nothing could be further from the truth. In fact, just take a look at the small red square on the bottom of the page. It says Home Profit System.
It just so happens I recently did a review on Home Profit System which I came across through a different domain name. It took me a website which looked exactly the same as the one you see above. Now this is one of the most common things these copycat scams do:
They make duplicate websites, but make them appear under different domain names and link them to the same type of scheme, which is often named differently. 
In the case of Work at Home Edu, after visiting the above website, I was taken to this page: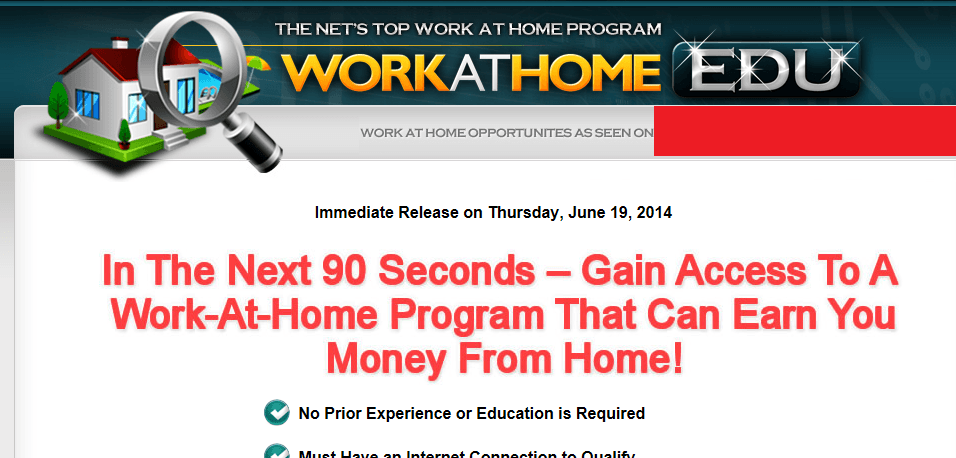 In the previous case of Home Profit System which I found through a different website (but looks exactly alike), I was taken to this page:
Except for the title in one being different than in the other, the pages look pretty much the same. This goes back to what I was saying about what these types of companies/programs/scammers do:
The make duplicate websites and promote the same promises:
Making money by posting links for big name companies. An in nearly every instance, they use purchased photos and what I believe to be fake names. In the case of Work at Home Edu, the supposed person behind the program is called Michelle Robinson (yeah right):
I see this exact same text, website layout and promises being made on the other scams I've already reviewed. In each instance, they either use the same photos, different names or vice versa. In any case, I don't believe any of it. 
Is the idea itself really possible?
The concept of posting links for companies is truly possible, but the problem is that the way these websites make it sound, it's effortless which isn't true. Posting links for companies is another term for "affiliate marketing" in which you have a website and get visitors while promoting products from the big name company. It works, but you need a program like Wealthy Affiliate to get it done right.
No place is EVER going to pay you to "just place links". It will pay you if you make a sale for them however.
Possible up-sells after purchase:
In my previous reviews of programs like these, I believe the $97 they initially charge is just the start. Companies like these are notorious for then trying to sell you VERY expensive internet coaching courses/training to the tune of $1,000's and they do it aggressively. I'm not sure if Work at Home Edu does this, but I wouldn't be surprised if this were the case. 
Pros:
There are never any pros with these scams.
Cons:
Another copycat scam.

Possible expensive up-sells after purchase.

A lot of misleading advertising.
Final Rating: Work at Home Edu
0 stars.
Red Flag (Scam)
0 stars out of 10. Just a flat out scam. I am recommending you stay away from it. See my #1 recommendation, Wealthy Affiliate if you wish to find truly legitimate alternatives to make money online.
My final thoughts:
Scams like these come and go much faster than you can imagine. When I reviewed another one of these places before, I said it was almost like playing the whack a mole game trying to find and expose these scams, because once I find one, they just rename it and move it to a different website. Then the search starts all over again.
So while I can't find all of the scams like it out there, what I can do is give you the warning signs and what to watch out for. If you've seen other places like this, let me know about it below so that I may warn others about it. And in the future, be very careful with places like these. Do your research and if it sounds too good to be true, it may very well be!