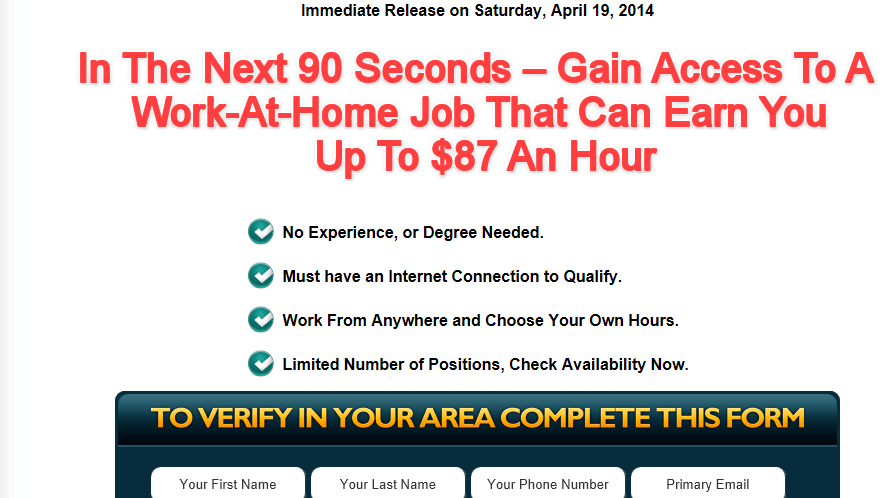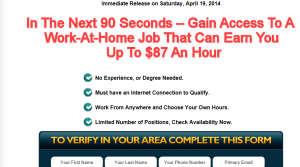 In my opinion, Online Home Careers University is a total scam and let me tell you why:
I've already spotted about 7 other websites like it and when I say like it, I mean they almost look identical, but they have different names, yet are promoting the same idea: that you can make easy money posting links for big name companies. 
This is simply deceptive marketing (among other things these sites do) and I want to warn you about it.
How I came to the conclusion it's a scam:
As I said, I've already reviewed a number of other programs like Online Home Careers University. What happens with programs like these is that they always promote themselves in similar ways but after getting too many complaints change their name/website, restart it under a different name and do it all over again. 
Online Home Careers in my opinion is the latest they've switched to. Whether or not it's 1 or multiple people doing this is something I don't know. But what I can tell you is all the places I've reviewed before and this one share very similar things:
They almost always claim to have been seen on big name networks. 
This is false: These networks never endorse this product, nor any of the other ones I've already reviewed. What happens is that when you enter your information on this website (which I strongly advise against by the way), you'll enter into a page which shows you a news report on people making money online. 
To many unsuspecting people, they will then make the connection that somehow Online Home Careers University is endorsed by TV networks. This is not true. It's a very vague video which this program took and put it up on it's site to give it false credibility. Again, there is NO direct connection between the TV networks you see on their home page and the networks themselves. 
They claim it's simple to make money online. You'll simply be posting links for companies. 
This is false: The only time link posting works is when you have a personal website up and running and it's getting visitors. Then if you post links that promote products from companies, only then can you make money doing this. 
As for the way they describe it, I have a VERY hard time believing companies are going to pay you so much money for "simply" posting links. This is simply too good to be true and in my experience no such thing exists.
They always say there's a certain amount of positions available in YOUR area. 
This is false: I believe there's some sort of software installed on this site that tracks where it's visitors are from and then provides a default "X amount of positions left in YOUR area" to give you the impression that it's legitimate. 
I've already seen this in other programs and even tested it out by providing several different emails/names. Every time they would give me the same number. In Online Home Careers University, it's always going to show 8 positions available.
Don't fall for this. It's simply a method of selling to get you believe time is running out.
The person who supposedly created this is called Melissa Mayer.
This is false: Oh boy this is a good one. Some of the previous programs I've reviewed including Online Profit Stream & Work at Home University all have the same woman shown once you enter the page, but under different names.
Here is a screenshot I took:
In Online Home Careers University, it's Melissa Mayer.

In Online Profit Stream, it's Cindy Carter.

In Work at Home University, it's Michelle Withrow. 
But no matter which program it is, the picture is the same. On a side note, I've been checking up these scams and saw that they are starting to change pictures of the women. It doesn't give it anymore credibility but I though you should know.
Also out of all the reviews I've done on these copycat sites, Online Profit Stream is the one which receives the most popularity. I had tons of people who have left their complaints on this company. I have yet to see a SINGLE positive review on it. That kind of stuff tells me these places are likely not different.
This program looks nearly identical to Work at Home University, which I rated a scam. 
Take a look at the side by side comparison of both sites. This is a screenshot from it's homepages:
Oh and by the way, if you look at Work at Home University's page (WAHU) as well as what's inside, pretty much most of it is VERY similar to Online Home Careers. 
At least not in the traditional sense. Please don't let the clever title of this program fool you. The same thing happened with people who were interested in WAHU. 
Final Rating: Online Home Careers University
0 Stars
Red Flag (Scam)
o out of 10 stars. There is absolutely NO way I'm ever going to be buying this or recommend it to anyone. There is only 1 legitimate place I recommend.
My final thoughts:
Since I first spotted these scams like Online Home Careers University, I've been actively monitoring them through their affiliate websites and places where they are usually advertised. I do this because if I check those places out and see that they are linking to a new company or site, it means it's changed names (again) and in my opinion because they've had too many complaints and decided to name themselves differently to make people think they are completely different.
This is exactly how I stumbled onto Online Home Careers. Before their affiliate networks were linking to Online Profit Stream, then Work at Home University and now this place. But once I do find out the scam has changed it's name, I immediately update it on my blog to keep you up to date.
I hope this review of Online Home Careers University has helped you. If you have personal experience with this program and would like to share it, I'd love to hear about it.