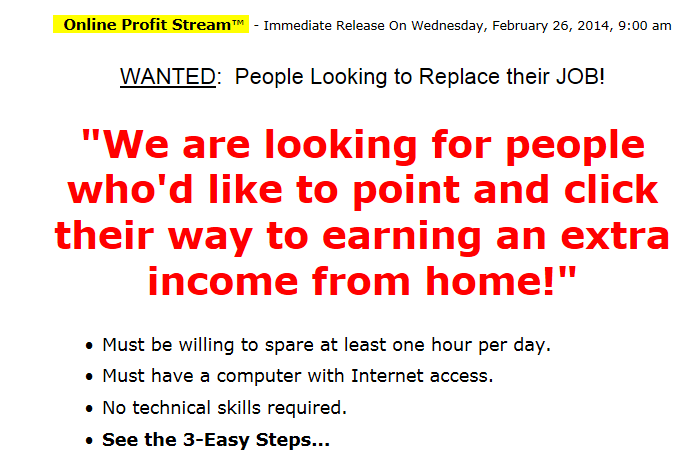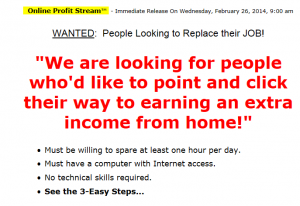 As it turns out, I've actually reviewed Online Profit Stream before and it turned out to be a scam.
So why am I writing this twice? Well because the first time, the name of this program was different, but they've changed it, probably because too many people became suspicious.
So let explain what you need to know about this program.
Online Profit Stream in a nutshell:
You basically sign up and are told you'll be placing product links for large companies and earning money. This is absolute BS as I learned before and there's tons of complaints you'll find below that prove it.
This program goes by many names, yet is the same scam. Here are some other names I've found that I believe are basically Online Profit Stream:
Online Income Access. I was actually looking for reviews on this company, stumbled onto an affiliate website promoting it, clicked to see the main website and it took me to Online Profit Stream. So I guess we can safely assume it's the same site. Here is a screenshot:
Work at Home University (WAHU): This is another name I am almost certain is associated with Online Profit Stream (let's just call it OPS). If not, it uses a nearly identical form of advertising which is a scam too.
I've actually reviewed WAHU before (it's not really a university) and when I found OPS, I immediately though they were the same. In fact, if you look at both websites, you'll see they look alike, but most notably:
A) They ask you to enter your name/email/phone in a box below to gain instant access. I entered 4 different credentials, NEVER my real email or phone. In fact, I entered letters for numbers at one point and still had the same answers:
B) Both programs told me there were the SAME amount of limited positions in "my area" (which I didn't even tell them) and led me to an almost identical sale's page telling me about how I can make so much money posting links for companies.  Here is a screenshot:
C) In this program, the sales page was written by someone name Michelle Withrow. In Online Profit Stream, the name of the person is Cindy Carter. The same MO is used in both sites: The single mom who found a work at home opportunity but I honestly believe neither person is real. 
Now that we've established that this company uses other names, let me explain why this happens and…
Other things you need to know about Online Profit Stream (OPS):
From my experience programs like these are basically copycat websites. What happens is that a person or company comes out with this sort of scam, makes a website out of it, puts the "As seen on…" labels to give you the impression that it's credible (It is not).
But eventually after the program/website gets too many complaints, the owner shuts it down, re-opens it under a different name/different website, but still keeps the same business model and promotes the same scam all over again. This fools people into thinking it's not the same company. 
Such I believe is the case with Online Profit Stream. I've seen way too many examples of this kind of stuff to know better (At least 7 other examples). It is my advice that you should absolutely avoid this program at all costs.

Even if OPS is a unique company (which I doubt), there are WAY too many red flags to watch out for. I could repeat them, but you can find them all in my review of Work At Home University. The same red flags apply because both that and OPS have tons of similarities. Sometimes I think they are made by 1 person…
They sorts of sites come and go very quickly, but keep repeating this same business model because unfortunately it works. People fall for the glamorous promises of easy money and that it takes no experience to earn it. That is why it's suitable and cost efficient for companies like this one to:
Keep remaking & changing the site/product name & selling the same type of product.

Raking in the money.

Closing it down when it gets too many complaints.

Re-opening it under a different name.

Repeating the same formula all over again.
I honestly don't think I need to go through any pros/cons of this program because frankly there are no pros to be mentioned and far too many cons which you already know. With that in mind, let's give this scam a rating:
Final Rating: Online Profit Stream
O Stars
Red Flag (Scam!)
0 out of 10 stars. Worst possible score. Scam. Too many copycat companies like this one. If you're looking for a truly legitimate way to succeed online, see my #1 recommendation.
Final Thoughts: 
Rarely do I ever give a program 0 stars unless I have absolute confidence in that it's a scam. With Online Profit Stream, I believe it absolutely is and that you should stay away from it. 
In fact if you ever encounter a company who has the same type of labeling on it's website but looks or is labeled similarly to this one or the others I mentioned above (Online Income Access, Work At Home University), I think it's safe to assume it's all the same and should be treated as such (a scam). 
Update: 3/28/14
I recently noticed the OPS website changed it's look with a new image of "Cindy Carter" which is a completely different woman than the original one. My guess is that the picture was taken from somewhere and is not the person itself. So be careful and on the lookout for this sort of stuff! 
As I've been saying before and will continue to: Do not fall for get rich quick schemes like these. It's so easy to fall prey to these programs with all the fancy sale's tactics they use, but don't let your emotions overcome your rationality, otherwise your wallet will weight less. 
I do also want to mention that in my review of one of the copycat companies like this one, I also saw that people may even get sales calls from third party companies trying to get them to buy certain products and training. I'm not sure if this will happen with this program, but I would NOT be surprised if it did. These programs rarely change their business model and I believe they do get paid for giving out your email/phone number to other companies. More reason to stay away from it.
I could keep going on about OPS, but there's no point in beating a dead horse here. The company is a scam in my opinion. Avoid it and any others like it. That is the bottom line. There are honest ways to make money online, but Online Profit Stream isn't one of them. This is.
If you have experience with OPS OR know of any other copycat companies like it that I haven't reviewed yet and would like me to take a look, please let me know in the comments section below! The more informed we are about these places, the less chances we'll get scammed by them!