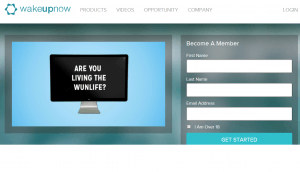 Wake Up Now is advertised as a money making opportunity and basically a "all in one" place for all your shopping needs.
Yet if you run the numbers yourself and look into their business model, you'll see that it's basically a scam and even a pyramid scheme in my opinion. 
Update: Wake up Now (WUN) no longer operating (it was a scam).
I don't like being right about these things, but it turned out WUN was a scam and people lost a lot of money. I have a review breaking down the operations it was doing, but if you came here looking to see if it's legit, you got your answer folks.
Now if you're wondering about other potential companies to join that are legit, just try this, it's the best.
Wake Up Now in a nutshell:
It's basically an MLM company which hooks you into it by promising major sales/discounts on pretty much anything and everything you could imagine: Airline tickets, hotel stays, food, clothing, shoes.
In addition it also features a promotional program within it that allows you to refer others into the company and earn money in the process. 
In theory it is designed to be a one stop destination for everything you'll ever need to buy online and while the idea sounds good, as I said earlier, if you run the numbers, you'll quickly realize it's promises don't exactly add up to the discounts they promise and the biggest reason for that is that you're paying a monthly membership which even in spite of it's rewards program still leaves you in the negative when compared against other companies which sell the same/better services & products.
Let's examine this further:
Wake Up Now (WUN) price:
Here a screenshot of their pricing plan:
Keep in mind these are monthly plans. As you can see, you're encouraged to buy the most expensive one because it will yield the most benefits (as they say). But even if you take it's lowest price, you're going to see why in most if not all case, it is NOT cost effective to buy products from this company. 
1. The Products/Services within Wake Up Now
While I am a bit confused as to who would honestly sell products through this program (if that's how it really works), I found that even if you take some of the products they show in the sale's video on their home page and compare it to other places like Amazon which sell the same things, it's either pretty much the same and in some cases a little less/more expensive.
Here is another screenshot:
Let's do some VERY simple math:
Let's take the yellow croc shoes above. On WUN they sell for $19.99. As you can see on Amazon it's around the same price more or less. 
But if you add in the monthly membership of WUN, it's obviously a worse investment to buy the same product from WUN. The same could be said for the other shoes above.
You can make the same case for many of the other low cost items they sell there, add in the monthly membership and in pretty much all instances, it's worse if you buy it through WUN, even if you factor in their "cash back" rewards.
So to summarize, most of the products you buy through WUN will end up costing you more when you factor in the monthly membership charges. So why may I ask would anyone ever want to join this program? Enter the next problem…
The ability to make money:
Wake Up Now is an MLM program. MLM means multi level marketing. Within this business model, every person you refer, you make money through. Every person your referrals refer will also make you a percentage. On their site they boast how you can make $600 a month and more with their program. But here are a couple of problems with this:
1. It's very difficult to refer anyone to this company. It's basically the equivalent of being a salesman. I promise you, if you have no marketing experience, you'll be lucky to even refer 1 person into it and they are probably not going to be happy.
2. Less than 1% of all it's members make a profit. I looked at their income charts. Apparently, 96% of it's members make next to nothing yearly while less than 1% actually make good money on it. 56% make $0.10 a year. Yes that's right, a year. I don't even think the poorest countries in this world have such low earnings a year. Here is a screenshot: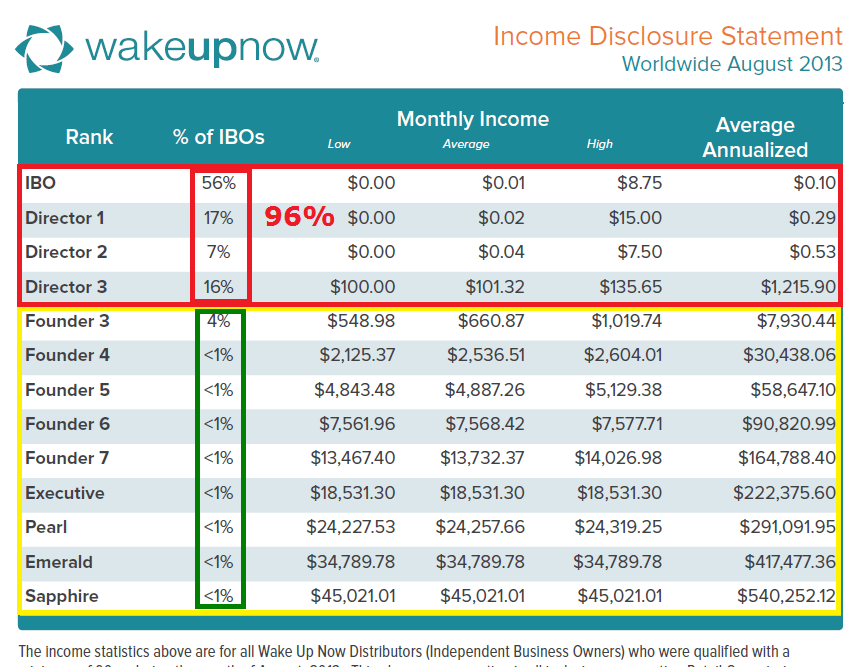 3. It's basically a pyramid scheme. One of the biggest indications of this is that so few people actually make a profit in this business. Also there is no actual product, it is an MLM company, and what you pay for this company is in my opinion beyond what I consider fair value for what is offered. These 4 characteristics lead me to the conclusion that WUN is a pyramid scheme. 
Naysayers to this argument will say that the reason so few make money with this program is because they don't put in the work needed to succeed, but in my experience MLM companies like these almost always have these low profit turnouts and almost always because they share the characteristics of a typical pyramid scheme.
4. You've already seen that through this company, buying products is not a good investment, so how can you ethically promote this business to someone else? If you really feel that this business model is fair, then you need to re-think how you define honest earning. 
Pros:
You can make money through this business. 
Cons:
Most likely a pyramid scheme. 

What you pay for products in WUN is usually going to cost more than if you purchased it elsewhere.

You can get a lot of things for free that WUN charges money for. 

There's a lot of people who in spite of loving this program cannot explain what it is! When you have a business that's not clear, it makes me wonder why this information isn't available!
Final Rating: Wake Up Now
Red Light (Scam)
1 out of 10 stars. I believe it's a pyramid scheme and just a flat out scam. Also not an honest way to make money. Agree or disagree with me, you'll find it's very hard to back this place up especially when you understand how it really works! 
Is there anything I recommend instead of WUN? Well I could name quite a few places but the one which gets my pick is a program called Wealthy Affiliate. I believe that place to offer a much better opportunity. You make a REAL business and there's a whole bunch of other reasons, including:
Final Thoughts on Wake Up Now:
Whenever I see claims that you can get so much for less than what typical places offer it for, I become interested, but the skeptical side of me also becomes aware.
Through looking into WUN, I found way too many red flags that make it impossible for me to ever recommend using this company, whether for it's "Discounts" or "opportunities" to make money. This kind of business model just strikes in the wrong ways.
I've seen companies like WUN in the past who advertise discounts on similar types of things to people in hopes of hooking them in, which does happen. Then as it turns out, what you pay for is either not what was advertised or there are hidden charges you're not told about until you purchase. I'm not saying this happens with WUN, but I wouldn't be surprised if it since the business model seems similar.  
You've seen why it's not cost effective to buy from this company.

You've seen why this company is considered a pyramid scheme.

If you're thinking about making money through this program, I hope this review has reversed that. I recommend honest places like

this one

above all else. 
You can certainly have your own position on this company and if that's the case, let's talk about it, but I think it's going to be VERY difficult to convince anyone, including myself that this company is legitimate. Also those who are defending this place, do me one favor:
Explain to me very clearly what WUN is. And saying "It's a program which offers freedom" is not an explanation (I hear this a lot), it's a deviation from the answer.