After taking a look at Peng Joon's Work From No Home program, I've gotta be honest, it's not a scam and I like it.
But at the same time, having been around the block more than once when it comes to investigating the overwhelming amount of make money online programs, this one has holes which I will be pointing out in this post. 
Work From No Home in a Nutshell:
It's a very in-depth guide on promoting Clickbank products via setting up websites and following some mainstream and non-traditional ways to get visitors to your website. There is a lot of detail within Peng's program and from what I've heard, he's also famous from promoting other types of products through Social Networks.
What I like about Peng Joon: One thing's for sure, he does know what he's doing. In his sale's page he shows off a certificate from Clickbank which basically certifies that he was one of their top earners (screenshot to the right). It just so happens I too have one of these certificates so I can attest to what Peng says being true. 
As for the program, Peng lays out a 30 day "action plan" in which he details how to get started with affiliate marketing and become successful doing so. This brings us to the next phase of his program…
Inside the "System"
You're basically going to be creating niche websites that are targeting products that have not "yet" arrived to the market or are still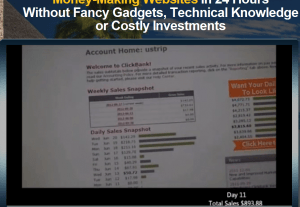 brand new. This system is actually quite brilliant (though not exactly new) and I've personally seen success from following this approach to online marketing.
The most important component that's on your side within this strategy is that these products are not too competitive yet and you can create a website to rank highly for targeted keywords related to it. Once the product does become popular and people start looking for it, your website will appear high, gaining much exposure, a lot of visitors and potentially a lot of money.
As I said before, I've witnessed the power of this approach. Though my exact steps/methods aren't identical to Peng's, the idea is still the same and I can tell you it DOES work, though results are never going to be 100% guaranteed and there are sustainability issues that come with it.
Never the less, this approach works. One of my most profitable online marketing projects came as a result of implementing this strategy. Case study. 
Besides the theory of the system, there is an action plan to implement it all. It consists of 35 lessons which cover:
Finding the product to promote. It could be on Clickbank or other places.

Creating a website to promote this product.

Using strategies (SEO tactics) to get the website ranked high. Tactics such as content creation and backlinks (I'll explain why this is red). 
Once you have the "System" down, you can technically apply it to any product/niche. Basically rinse/repeat. And while it sounds full proof, speaking from experiences, there are missing pieces to it. 
The Missing pieces:

Missing Piece #1: In spite of the fact that this program does have some great information, many of the tactics it uses are…well…outdated. The sale's page you see is from 2012 as is most positive information you will find on this product. The problem with the gap in time is that it's 2014 and many of the tactics Peng Joon advises are simply not realistic anymore.
Some of the SEO strategies he suggests are just downright dangerous for your website and may end up getting it Google slapped which means you lose all your traffic as well as profits. Since late 2012, Google has become very cautious with how they rank websites. For the most part what determines high rank nowadays is how well your content is written.
A lot of what Peng Joon advocates are strategies that in a way try to "trick" search engines into thinking your website is that good and while it may very well be that way, using things like backlinks to rank your site high is something I am completely against, having experienced the backlash of this approach to SEO firsthand. 
The problem is that unless I'm mistaken, the information in Work From no Home has not been updated, meaning people who buy this system are going to be following a strategy which has a high risk to it. 
Missing piece #2: Lack of sustainability. If you think it's easy to find new products, build sites around them and just make money when they become profitable, you're about to be disappointed. 
I've tried that approach and while it did work in the pre 2012 days and I made A LOT,  now it's a whole other ball game. You can't simply create multiple websites and have them rank high. It's all about content creation which takes time and effort. You will simply not be able to have enough time to devote to doing this to every site you make under this system.
I tried this approach before: One hot market arises, I make money off it, then as it inevitably dies out,  I hope another one pops up and while they do, like I said before, it is NEVER a 100% guarantee you'll always be able to profit off it. I learned this the hard way and almost ended up being broke as a result. Rarely will you ever be able to strike gold within this approach.
You need to have a sustainable business if you're going to succeed online. Just promoting Clickbank products over and over isn't going to cut it. Nowadays it's better to focus on ONE website and devote your time into that. You need to build an online business if you hope to succeed. 
Missing piece #3: It's really just a guide and nothing more. If you're going to be doing online marketing, you need more than just a guide. You will undoubtedly have questions/concerns as you get into this business and when that happens you absolutely need support. 
In addition, the approach to making money online Work From No Home follows is really just a small part of the many ways to succeed within this business. I don't like to limit myself to just 1 approach to making it, because if it doesn't work, I don't have a plan B. What then? 
This is where you need to have access to support and guidance to help you figure out where to go. This is why I always recommend this place above all for that because when the questions/obstacles comes, you will always be able to find an answer on what to do.
Pros:
Good quality information.

Designed for beginners to online marketing. 

Peng Joon has a good reputation within the online marketing community. 
Cons:
The "system" has sustainability issues and other missing pieces as I mentioned above.

I think the price for just a guide is really too much. $37

There are some up-sells within Work From No Home. I always advise against buying up-sells.

I don't think this system will work well in 2014 and up, unless it gets updated. 
Final Rating: Work From No Home

Yellow Light (Caution)
4 out of 10 stars. Borderline. It's really a legitimate product, but because it isn't up to date and there are issues I find with it, I just can't give it a green light. See #1 recommendation.
My final thoughts on Work From No Home:
The program is founded on legitimate methods and I do believe Peng Joon genuinely wants people to succeed through it, but because it's really outdated in certain areas, that can really limit your odds of success with this program. I just can't give my approval on something I have doubts with and there several I found with Work From No Home. 
I do know that Peng is associated with John Chow, another internet marketing guru whose system I actually did give a green light to, even though my #1 recommendation was rated much higher than either program. I do like that both John & Peng have delivered good products to the world of internet marketing, though I do question some of their methods.
Most of the time when I review products, they are nothing but scams. If you look at my avoid list, you'll find PLENTY of examples. I am a strict grader of programs that teach people to make money online, mainly because I have been through the hardships that come with this business, including being scammed myself and I am trying to help people avoid these same bad experiences.
If you want to succeed, as I've said before and will say again and again, you need to understand that this business is NOT a get rich quick scheme. While it can be incredibly profitable and rewarding, this doesn't come easily and takes work as well as proper guidance. 
Overall, I like the Peng Joon's program. It's not scam, but I just can't recommend it, sorry. If you have a different opinion, I'd love to hear it!