Well it happened, the FTC has finally intervened and put a stop to MOBE. This has been an event that many have speculated would occur for a long time, especially since not too long ago, a similar program, Digital Altitude suffered the same type of fate at the hands of the same organization.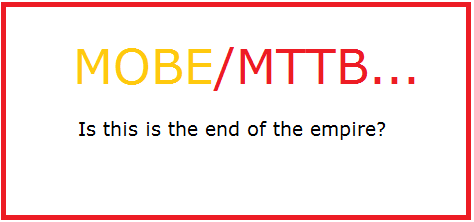 What happened? 

Is this the end of MOBE?

Are there any alternatives to it? 

What should you do if you're an existing member there, someone who invested/lost money there and/or someone who though about joining. Can a refund happen?
I want to answer all of these questions in this post, since I have a lot of experience with this company but I'd also love to hear from any former/existing members of this program, please tell me your experiences with MOBE below!
Now let me share my personal experiences with MOBE:
1) Many years ago when I first discovered it, I called it a scam because I considered many of it's claims and promises to be over the top, and after joining that company for $49, I found out the sales funnel that was occurring was simple:
2) The price was originally $49, which took me through a series of steps in a program called MTTB (it's 21 steps altogether). That series ended at step 6 with a big $2k up-sell and offer to join their affiliate program. And should I have decided to expand even further, I would have been offered up-sells that would amount to even bigger numbers.
3) This experience is one that many people who joined the company have gone through as well, except some actually went further, paid more and now some are profitable and many are not.
4) Now when I did it, I called it a scam because I didn't like the fact that $49 just got me a series of feel good videos on how I could make six figures promoting the program, only to then be pitched that $2k offer (and then more).
5) As time passed, I became less radical about my assessment of MOBE and to the point where I didn't call it a scam, yet never recommended it. But I would continue to encounter the program through other, third party sites, people and companies who would sneakily promote it to me and let me tell you, there were a lot of programs that hid that fact from me until I joined, only to find out, I was right back in MOBE all over again. 
6) And each time, I'd have to call or email them to get my money back or cancel my trial. Now I didn't blame this on the company, but on the third party promoters who decided to promote it that way and I called them the scammers, not MOBE.
7) Now you may be wondering why in the world a fool like myself would continue to buy make money programs and keep coming back to MOBE over and over, and the answer is that I was checking out different make money programs to test their legitimacy, as it's part of what I do as an online businessman.
I have a few good programs I recommend to people (stick around, the recommendation is coming up, but here it's called Wealthy Affiliate if you can't wait) and part of my work is to help as many people as possible find the good ones and often times, that involves getting involved with the bad programs to find out if they're really bad.
When it comes to MOBE, I've had many comments on my site regarding it, some good, some bad, but I can only give you an honest assessment of my own experiences with it and now that you have it, let me move onto the big event that took place in early June of 2018:
The FTC shut down of MOBE is permanent. Or is it?
An official press release was made (you can view it on the FTC page here) where the FTC announced it was halting the company's actions which basically leaves it hanging at the mercy of the FTC, and after what happened to Digital Altitude, in which the FTC entirely shut it down and it's not longer in business, I doubt the outcome of this event will be any different.
Now say what you will about MOBE, that it's bad, that it's good, but the FTC has determined that it was not doing the fairest things to say the least and decided to get involved. Here is a snippet from the FTC site regarding the shut down:
If you're currently seeking to become a member, it's just not possible. Every affiliate site which is currently promoting it is likely down too, or changing their tune to another promotion as we speak.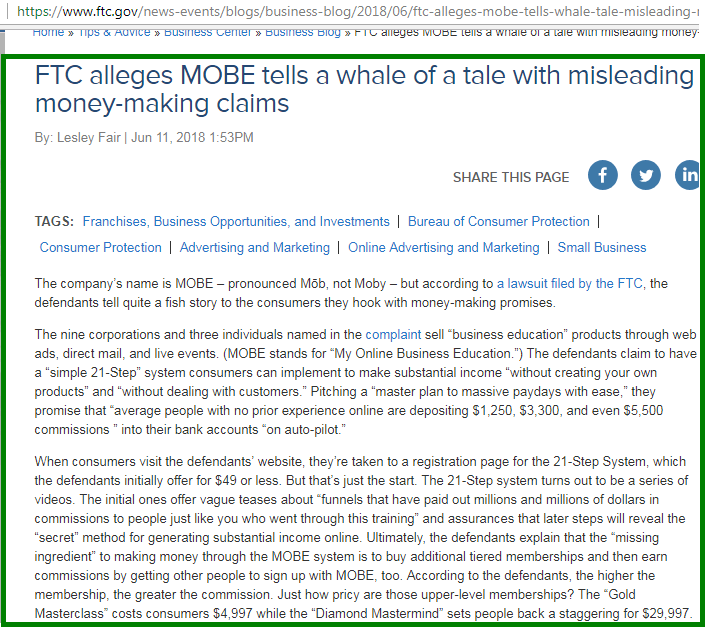 Are there any alternatives to MOBE? 
The answer is yes and there were plenty of similar high ticket programs popping up during MOBE's reign and after it.
However, many of these companies are basically functioning under the same exact formula MOBE ran, which got it shut down, so I tell people to be very careful about any program that claims to give you high ticket commissions and to beware of high ticket schemes.
I don't recommend the high ticket programs out there, but the whole business of selling high ticket stuff can be ethical if you promote actual products that carry that value.
And again, the Wealthy Affiliate teaches this material (the ethical approach). I also run a page where I talk about how to ethically sell high ticket products.
All I'm saying here is: Don't join a company like MOBE because there's many out there.
Legitimate alternatives to MOBE and programs like it:
Learning to build an online business that makes good money as I said before does not require that you put in so much money to learn that process. Let me explain:
Since 2005, I embarked on the internet marketing journey. In 2007, I was fortunate enough to find a good program that nearly 12 years later as being a member off with over a million made in sales, still stands as my top recommendation for the best place to learn this stuff. And thankfully, it is NOT a high ticket program:
Now let me quickly explain some things regarding Wealthy Affiliate:
Now the difference in going with a program like this vs another high ticket one that's bound to pop up on the internet is this:
By trying a program like this, you invest little to nothing and therefore open up more doors to run your business the way you want to. High ticket buyers typically head in the route of promoting the same high ticket program to people and if the program is bad, that means you're funneling people into a bad business that is bound to screw them over. 
I can choose to promote Wealthy Affiliate, I can make a site that sells health supplements, I can make a site that sells computer hardware, whatever, but the point is, I can decide on what makes me happy, make a site on that through the training Wealthy Affiliate provides and then reach a like minded audience and make them happy selling that same stuff to them.
I would honestly not get that opportunity had I been involved in high ticket programs. 
Wealthy Affiliate actually fought against MOBE (and won).
It just so happens that the very same program I am recommending to you was engaged in a gigantic legal battle with MOBE for at least 2 years, when it was still around. You can read about the Wealthy Affiliate vs MOBE battle here, but the short story is that MOBE was attempting to silence affiliates from Wealthy Affiliate who were writing negative reviews, and in many cases (from my understanding) not based on the merit of the review, but simply because the review was negative (even if it was true).
This led to the domino effect that got the FTC involved eventually.
For naysayers who want to "make a lot, quickly" and need another high ticket system, here's another

warning

:
I know there are going to be tons of internet marketing gurus and people who were part of MOBE, who weren't, who have their own email lists and so on who are taking advantage of this recent event (I guess I am too).
But what many of these guys are going to be doing is recommending just another high ticket system (a big financial hole) in MOBE's stead and I have to warn against joining any new programs like it as well as having this way of thinking because you're going to go down a ladder which will lead you into the same hole MOBE did. And here are the main points of that (again):
1) Another high ticket system that works pretty much in the same manner the FTC has already penalized numerous companies for.
2) You are likely to lose even more money, rather than recover it.
3) You are basically starting an online business in a big financial hole.
And this leads me into the final part of this post:
What if you were already a member of MOBE, made money and lost it?
What's next?

Can you get a refund?
From my understanding a receiver is being called upon to investigate the company and perhaps return the money back to investors. Now I don't know this for sure, since at the time I'm writing this, there hasn't yet been a receiver appointed yet, but normally, when big companies like this go down, this is the next step, so be sure to follow the FTC's announcements for this and if and when the receiver is announced, make sure to sign up and fill out your info if you were a member of MOBE. This is the best way you can get your money back.
Update: Here is the official post by the FTC regarding refunds. As of now, members who LOST money on MOBE and want it back do not need to do anything. The FTC is looking through all the records and transactions to identify who lost what, so they can retrieve the funds.
While this is happening, I would encourage all existing MOBE members and/or those who though about joining to consider the alternative program I mentioned here:
While I know you may be skeptical especially after hearing this news, I can assure you of 2 things:
1) Wealthy Affiliate is NOT a high ticket program and is completely safe to join.
2) It's a risk free thing since as I said, there's a free membership, so you can check it out without worrying about anything. 
The link I provided you will send you to a review I did where I explain the whole program to you guys and what to expect from it.