I see it again and again, 99% of the time, every affiliate marketing newbie that enters this world and/or comes to me with questions, keeps asking me the same things and making the same mistakes. What are they?
Well you're about to find out and I'm telling you, if you can correct these issues and do the right thing, you're going to be successful:
10) They're looking for that "fastest" and "easiest" way to make money.
Some call it shiny object syndrome, some call it laziness, but in my experience this is just a normal hurdle every affiliate marketer has to go through and the reason why is because most programs that "say" they teach about this business, give off that impression.
I have never in my life met any newbie or affiliate marketer who entered this business with this intent in mind that has actually done it. And if you think you're going to be the exception, let me ask you this:
Has this mentality worked for you yet? If not, then abandon it, please. Not only will you actually clear your mind and focus on real work, but you'll stop looking for cheap ways to make money, which will result in cheap ways you lose money.
Expecting to make easy money through cheap labor is a very faulty mindset. If you think you can make a website, sell an affiliate program with little or no effort, then you really need to put yourself in the mind of the person who will be visiting your site and ask if you would trust yourself if someone was trying to sell you something in a cheap way.
Odds are you wouldn't trust them. This and a plethora of other factors is the reason why a get rich quick mentality 100% of the time FAILS.
9) They don't focus on 1 approach to marketing (for starters).
I blame this in part of the plethora of bad training programs out there that keep saying their method is the best. Affiliate marketing is a single type of business, but to make it work can involve going through different options. I am going to list the most popular ones and briefly explain why they are good or why they aren't:
FB Ads. Not good for beginners, it's also pretty complex if you're starting from zero.
Bing Ads, Adwords. Same type of stuff as FB ads, and thus the same thoughts.
Pinterest. Ok for beginners, but still not good enough for total beginners.
Article Marketing through directories. Dead option, forget it, here's why article directories are bad.
Forum Marketing. Good luck getting your comment with a link to your site approved, it just doesn't happen anymore. Forum marketing is also very much useless.
Paid online surveys. This is one of the worst things you can become involved with, trust me. Just forget it, you're going to close the doors on your success if you get involved with this. Here's why paid online surveys don't make you good money.
MLM programs. 99% failure rate. Also very often, you're dealing with pyramid schemes. Here's why I don't promote MLM programs as an affiliate marketing
High ticket programs. 99% failure rate and high costs, not recommended. High ticket programs, particularly educational ones are usually bad. There are ethical high ticket products you can promote, but you have to know the difference.
List building. No point in getting involved with this unless you have a real, good traffic source. Most programs teach this approach, but fail to mention the plethora of other factors that will make it a success, so don't get involved in this UNLESS you have a good online business, traffic and profits coming in. Read this post on list building to understand what it really takes to succeed.
Solo Ads. ROI is generally very low for solo ads and you spend too much on clicks that generally don't convert.
Ad swap. Same advice as Solo Ads. 
And there's others, but generally the plethora of programs I've looked into have taught one or more of the above methods and frankly, most of them suck for beginners.
What do I recommend?
Good old, niche marketing with SEO and YouTube.
Yes it's hard work, and yes it takes awhile, but success in this opens the doors to use more advanced methods like FB Ads, Adwords, Bing and many other LEGIITMATE forms of marketing to drive more traffic and affiliate sales to your site.
In my opinion, a solid niche site and YouTube channel with SEO optimized content is the BEST way for beginners to start. It is very inexpensive and very rewarding. The best program that teaches this method is Wealthy Affiliate.
8) They stick to the wrong approach.
With the options I mentioned above, that are taught in vague ways by the many bad programs out there, people who buy and study these programs often don't know the reality of how hard it is to make them work, but they stick to it and keep parroting the methods they are taught.
With the Wealthy Affiliate program I recommend every newbie start with, I find many people ask me questions about for example, email marketing and the best way to collect a list, neglecting the many realities of getting a list and making it work (targeted traffic, good offers, valued content in emails, ect…). But because they were taught this wrong stuff in a bad program, they figured this must be the only way and thus go into other programs (Some good) with this mindset of the wrong training propelling them. 
7) They don't promote affiliate programs/services/products that they actually know about.
Affiliate marketers are very quick to promote the most expensive product or program (like high ticket schemes), or find the most "profitable niche" in a flash. But…
Do they know about it? No.

Have they tried it? No.

Do they have even a shred of experience in it? No. 
Is it any wonder why when they go out, make their sites or promote to their list, that the content they produce sucks? So yeah, don't make that mistake, find your niche here. 
And here are at least 50 niches to consider.
6) They get their traffic from the wrong sources. 
Most of the bad programs I come across teach list building and buying traffic from traffic exchange companies. This usually results in the affiliate marketer mistakenly buying lots of traffic packages for high prices, sending them to an opt in page or worse directly linking (another mistake I'll mention) and getting little to no sign ups/sales.
The lesson here is: Don't buy traffic from traffic exchange programs or any place for that matter until you know the difference between regular junk traffic and targeted traffic and how to get the latter, and where. Even when you do, I'd still be conservative about it and stick to Bing Ads. 
5) They directly link to a check out page.
I knew better and I still tried to pull direct linking off several times. Each time it's failed. People simply don't buy right away in 99% of cases. Always lead them to a quality page that reviews whatever you're selling before you actually send them off through your promotional link and make sure your review is good. Get tips on how to write a good product review here.
Quick recommendation: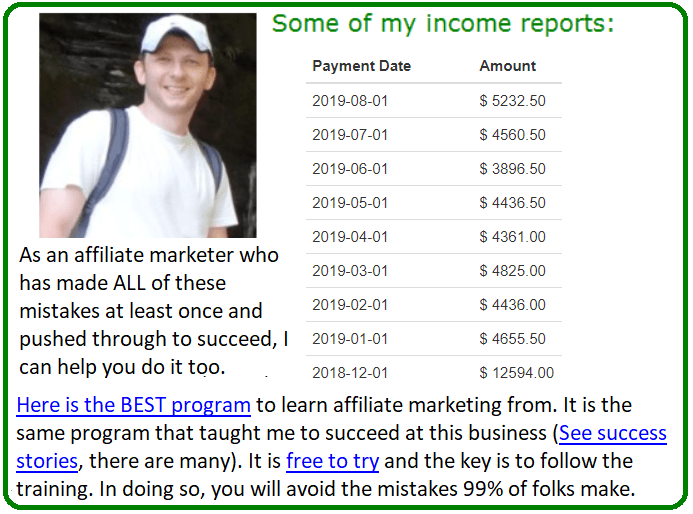 4) They don't understand that affiliate marketing is an actual, long term business and treat it like it's short term.
Sure exceptions happen, but let me tell you, if you expect to make a little site and have it make you $1,000 a month out of nothing, you're looking at this business in the short term. A real affiliate marketing business that makes serious money, for the long run is made by a person who has that mindset and works hard and by the way…
3) Working hard is a part of being a successful affiliate. 
This may go back to the get rich quick point, but generally, people seeking easy money or fast results aren't ready or even willing to work hard. Therefore, their results will be cheap, wasted and a fruitless. 
2) They look for too many automation tools and accessories they don't need.
Backlink programs, Moz stuff, competition spy tools, the best auto responder, and generally flashy stuff for "internet businesses". Believe me, you don't need most of that. All you need is:
A) A good training program. Again, it's Wealthy Affiliate.
B) A keyword tool.
C) A site and hosting.
You need that to start, then when it builds, you can decide on what you need to add to the business. At most, I'd go with a better hosting plan (if you need it) and then an autoresponder, but never backlink packages or spy tools.
1) They don't try to connect/befriend their leads/traffic/customers. 
People who sign up to your list, who receive your offers/promotions need to know you're someone they can trust. A trust worthy person is someone who a lead is ready to hang their money to. 
Now you should apply this tactic ethically, but you need to understand this relationship you're having and why trust is going to lead to sales. 
Update: I have a second site on affiliate marketing specifically, where I not only explain more affiliate marketing mistakes, but more importantly how to do it right. It's called HelpingHandAffiliate.com and you can learn more there.