Lately I have been on a posting spree, but much of that posting has been focused on helping people find their niche topics.
I've been providing tons of case studies, examples of which topics can make the most money and really trying to help people settle on a topic they like and can live of if they make a business through it. 
Today I want to address the BIG question on niches and finding the one in YOUR life. It is said that doing so can really be one of the best ways to achieve happiness in life, that to find something which you can profit off and love doing is the best way to secure a fulfilling life.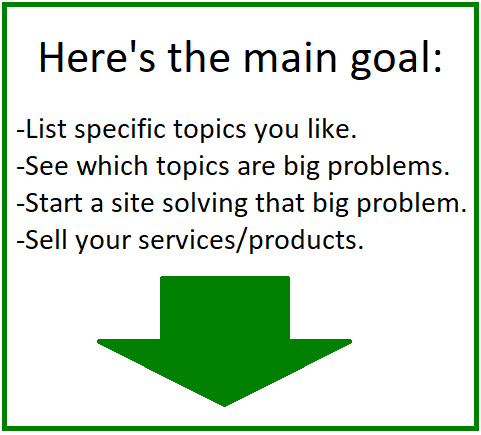 And I honestly believe that is true from my own experiences, but with all the knowledge I have attained through doing business through the internet for so many years, I have seen how people can really take things they love, build websites of it and enjoy a life where that website makes them a full time income and more.
However, I have also seen many people who have tried heading in this direction but make the wrong turn in the niche choice because they didn't choose the correct topic they really enjoyed or at least knew about.
In short, while I don't claim to have the perfect answers for people who are seeking to find their niche, I will be sharing with you today the lessons I have learned in finding my OWN niche topics that helped me build businesses of them and how you can follow my tips to find your own. 
The 7 lessons of finding your niche in life and making some off it:
Follow these 7 lessons in the following order:
1) Start by creating a list of the following things:
A) Things you love in life and know a lot about (hobbies, activities, you've done, ect…).
You can really go crazy here and put down topics that aren't even niches at all. Later on, you will be able to narrow it down if necessary.
For example: 
You may be a family person and love them. Perhaps you grew up in a good, loving family and know the keys to sustaining happiness and closeness to them. Perhaps your niche later on could be a training site on helping fix family relations. 
B) Things you don't love in life but know about (maybe a bad experience/s that still gave you knowledge and helped you grow).
Example: 
I had a period where I was balding and I decided to create a website where I document ways I've tried to regrow it. This is an example where something that is bad and gave me stress is something I can flip, turn into a business, possibly solve and help others solve too. 
Perhaps you were bullied in life and took up self defense classes, now you can build a website where you teach people to protect themselves. Again, out of a negative experience comes a positive outcome.
Just some things for you to ponder…
C) Things you've done in life such as hobbies or new activities you've explored. 
Example:
Say I tried online dating, and perhaps I gained some good experiences on it, so I made a page helping people succeed in it. It's a growing market so there's immense potential there.
I have turtles and researched how to take care of them and what to buy, perhaps I can make a page which helps turtle owners take care of theirs.
And on and on we go…
Note: With every new activity, topic, hobby you enter into, you gain knowledge and with that knowledge comes the ability to create a niche site of it.
You should go crazy with this list if you want, but prioritize the list by first focusing on A's topics, then B's, then C's. There is a reason I've put them in this order, because ideally, you want to work on a site and love it. But if that isn't your thing, then you have option's B and C to fall back on.
2) Of the list created, put 2 scores on each topic you've made. 
The scores are as follows:
1-10 on the passion scale. You basically give a number to the said topic/s you've listed and the higher it is, the more passion you have for it. 
1-10 on the knowledge scale. If there's anything I learned, it's that love for something doesn't necessarily translate into knowledge of that something, which is why I've kept these 2 things separate. In this case, even if it is a topic you don't like, perhaps you've been involved in it so long that you know more about it than the ones you love.
Be honest, here and judge the scaling according to the knowledge you think you possess on the said topic. 
Now the goal with these scores is to see with which topic you have the biggest passion and knowledge for. It is that topic which I would recommend you pick your niche choice of.
3) Select only 1 topic (for now) and put the right kind of work to make it thrive.
The topic you choose is the one you need to be fully behind and be prepared to work hard on so understand that when you select whatever it is you selected, that you're going to be working on it for a long time so really think about the passion and knowledge score you gave it and if you really are ready to commit that far into it.
If you have and are fully energized and read, the next stage is to begin building the business and while I can't give you a blueprint for doing it in the offline world, I can absolutely give you one for making that topic you chose a successful online business.
For that, do the training in Wealthy Affiliate in accordance with the niche topic you chose. This is the best blueprint I have ever come across for creating a single and multiple successful online businesses. 
4) If your business begins to thrive, either.
A) Keep building it and/or.
B) Move into a new topic which also carries a high passion and knowledge score. And this is something you will probably start doing if option A starts to pick up (but make sure not to drop option A!). I have personally made a few niche sites from this. For example:
In life it is very common for people to move from one interest into another. Not everyone will have the same passion for their whole life and it's normal for new experiences to change our minds about things. I, for example am always learning about new things (and frankly, we all are) and if I feel a new passion coming on for a new topic, I just may choose to build a site of it.
If that is the case for you, always remember that you will absolutely need your first choice to work at first, so that "winning formula" you created can be recreated by the secondary topic you choose. I wrote extensively about why this is absolutely important here.
5) Understand that the higher your passion and knowledge for the topic you chose.
The better the longevity of your interest for it will be and the better the odds that it will become profitable will be as well.
Here are 100 niche ideas you can use for reference and you may find that some of these interests may align with this tutorial I gave you.
Despite making more than a few niche sites in my years online, few have made me money due to the lack of interest and knowledge. For example, the hair site I mentioned above is still kind of in a hibernation period. The running in mud site too, but I have always remained consistent with this site on making money online and a few others that have always been able to keep my interest.
One thing I will add is that if you do see money coming into a site, that your interest in it will rise even if your personal interest in it will fall (money can do that…).
My final thoughts:
Now I want to add some more ideas for you to add to your list and think about and see if you possess knowledge and more for it.
Here is a tutorial where you'll find 10 niche markets which can help you brainstorm niche ideas better and possibly use for your own own lists. 
Worried that you don't know enough about the topic you chose? Well then you may be underestimating what you really know about it (read why you may be an expert at a niche and not know it) and if not, you can always study up on it through Google.
Is my topic of choice profitable enough? Odds are it is if you narrow it down enough and do the right research for it. I've also basically debunked the whole idea of saturated niche markets here.
Those 3 tutorials on their own should really help filter out the likely doubts you may have since they were the type of doubts I personally had as I was learning this…
But either way if you follow the 5 steps and really put in the work through the training manual I recommended to you through Wealthy Affiliate, I have no doubt you will find your niche in life and build something out of it you can truly be proud of!