I spent $99 on Cash Finder System to bring you this review. Let me explain what I learned from inside the program and if it was a scam.
Quick Report:
Name: Cash Finder System.
Price: $99 for initial training (12 modules) and up to 3 up-sells:
One price is unknown as they ask you to call a number.

Another is $995.

And the last one is $195.
These up-sells are basically training, coaching and extra tips to help you build off the original Cash Finder System program. And I would recommend none of them.
This review only covers the initial, $99 training I purchased and here is the proof of it:
Overall Rating:

3 out of 10 stars.
There is actually some interesting training on real estate (yeah spoiler, that's what you learn about) and I did learn many new things, but the major problem with the program (The $99 one) are going to explained a bit further down. I am doing this because I want to first explain how the program is set up and what you're actually learning before I explain the holes of the training that I personally saw. 
Overall, I am actually not disappointed by this program, but I do feel it was a bit overpriced by the information I got and unless the holes I am going to address would have been fixed, I do not feel this program is worth the $99 (and I will suggest a better one very shortly):

So what is the Cash Finder System?
In short, it is 12 training modules on how to make money in real estate, but not through the normal approach of flipping houses or you personally becoming a real estate agent, no.
The strategy here (I actually have heard about this before) is that you basically find owners of houses who are not living there but are looking to sell them. Perhaps they are looking to get rid of it, but want to make money of it, perhaps it's badly damaged, ect…
Your goal through what the Cash Finder System teaches is to find these people (there are marketing strategies they teach), pitch to them an offer to basically help them sell the house, then approach a landlord who will buy it for an extra amount than what you and the house owner agreed on. Then if the landlord buys it, you will keep the difference.
Example: 
You find a house and negotiate that the owner will sell it for $100,000. Then you find a landlord who will buy it for $120,000. You will basically be the middleman who arranges the transaction and keeps the FINDERS FEE (this is the term they used in the sales page an in the training) and make $20,000 through this. 
Certainly this sounds like an awesome strategy and the training within this system will show you in a bit more detail as to how this works. And that is what I'd like to briefly cover now…
Want to know what Cash Finder System teaches? Here you go:
The information I'm about to give you cost me $99 to find out, but you get it here for free!
As I said, there are 12 training modules. They are mostly just a video, but there is never an actual video presentation, it's just Power Point slides with words and the person reading the is the narrator. He adds his own words every now and then, but sticks to the script. Also the slides are available in PDF. 
Anyway, I will explain the training modules briefly, but essentially, they cover the main point I stated above about those finders fees you make money through the modules are basically the training that teach you "in-depth" how to do it. 
Modules 1-3: 
Essentially an introduction to real estate. You don't just learn about the finder's fees, you really get into real estate 101. I personally learned a lot of new things including terms like "Fair market value", "Maximum allowed value" and whole bunch of other things.
Fair warning, you may want to watch those videos and/or read the PDF's and take notes because there is some terminology to study on here but overall, this sets the frame for the next thing…
Module 4-6:
Here the training becomes more detailed on spotting your first deal and finding people who want to sell their houses, situations which can arise and another important thing which is marketing.
Marketing is really emphasized in this section because that what will get you deals and people who own the houses you will to get finder's fees off coming to you. Things like Craigslist and mailing is as an example is used and the goal is to identify the people who are most RELEVANT to your customer base, in other words, finding people who reply to your mail and are most ready to do business.
Then it's from those people that you begin negotiations and other things. This section was pretty much a form of affiliate marketing to me in which through the internet, you find buyers for whatever it is you're selling.
In this case it's real estate.
Modules 7-9:

This is really a continuation of the same details on finalizing the deal and moving forward from the above modules (4-6). 
Module 10-12:

This also finishes up on the deal, how to move into the next ones and how to have a positive mindset to keep this going and making money. 
And that is the summary of Cash Finder System's training. Some parts are very detailed so like I said, be ready to listen/read the slides more than once…
Final Rating: Cash Finder System

Yellow Flag
3 out of 10 stars. Generally speaking, the idea and theory works, but a business within which a lot of money can be made usually comes with problems and questions, many of which were not addressed in this training, so while the mindset going into this business after viewing the videos of Cash Finder System is positive, what will happen when you hit your first problems and don't know how to deal with them?
My final thoughts: The 5 big problems with Cash Finder System:
The problem I saw with this program is that it seems to be more generalized on how to go about making money through real estate and getting finder's fees and while there are details on how to get started, the problem is that there are:
No screenshots. Where's the proof, hello!? Anyone can theorize ways to make money, but where is the proof your expensive program and training works!?
No images. Again, same thing as screenshots, where is the proof of this stuff working. I don't doubt the system, but please show me YOUR personal results with this Mr. Creator of the Cash Finder System.
No case studies. A case study (like this for example) is supposed to illustrate why something you preach works. There is no case study here, only PowerPoint slides with text…
No proof of earnings. Back in circles we go. Please show me proof of this working…
No talk about other common problems you can encounter while engaging in this (what if the buyer doesn't want to go through you and wants to directly speak to the seller to save themselves money for example?). This and other questions just weren't covered…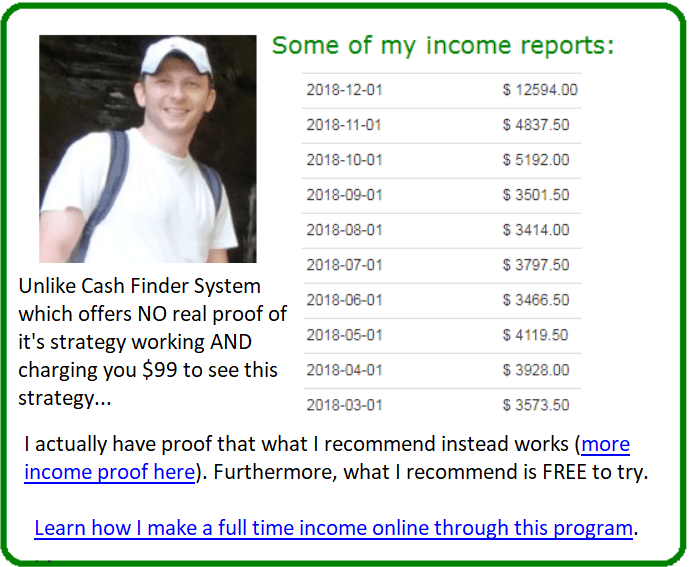 While I am optimistic about this system and like I said I have heard about this stuff before, without there being any real evidence behind it, how can I go further. I feel people who try to do this stuff will go a distance, but if they hit a problem not pointed out in the training, how are they supposed to be prepared?
There are so many more details that I feel were missing in this training that there should have been many more modules dedicated to just that.
Could it be possible that the up-sells I talked about in the very beginning of this article help solve those problems/questions? If so, then no thank you. I will not be paying an extra $200 ($195 really) and almost a $1,000 ($995) for extra training…
I would not invest crazy money into this system, I would instead:
Put time into a system that is far less expensive and dare I say teaches you more about marketing and making a living from home, which CAN be applied to real estate and that's the beauty of what I'm about to explain…
Like I said a bit above, I am part of a program called Wealthy Affiliate by which I basically make money online. The skills I learned from this program are that they basically teach you to take ANY knowledge and turn it into an internet business.
So if you know real estate for example, they'll show you how to make a business out of that, but through the internet. For example, you'll be able to create a blog where you discuss ways people can make smart real estate choices or if you're an actual agent, they'll show you how to get more clients coming to you, so you don't have to travel constantly to get clients yourself.
Money wise, you can try it for free. With the Cash Finder System, it's $99 to learn the stuff I just summarized for you.
The training inside Wealthy Affiliate, the free version is far more extensive than the one inside Cash Finder System in my opinion.
And…there's no crazy up-sells of $100's and $1,000's here, another bonus. 

Long story short, I believe in Wealthy Affiliate's ability to help you earn money than Cash Finder System's and by a LONG mile recommend it over that. And also a good program relies on practicality to work. There's a lot of theory inside Cash Finder System and actual proof in Wealthy Affiliate.