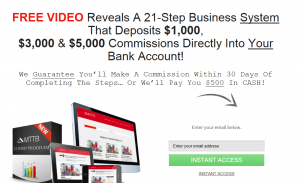 Before I discovered My Top Tier Business (MTTB) by Matt Loyd, I had reviewed another one of his programs called MOBE.
I gave that program the worst rating possible because I felt it was an absolute scam in spite of it having potential.
With MTTB, I believe it is the same story and will explain why I recommend you avoid it. I want to point out that everything I write here is my opinion, but I know I'm going to get a lot of backlash from those who love this program. So be it. 
2018 update: Yes it's been proven to be a scam, and shut down by the FTC.
When I first discovered this program in 2014, I had more than enough reason to stay away. 4 years later, this place has been taken down (MOBE included) due to it being a major scheme that surpassed $100 million. Read more here about MOBE and the FTC.
This program was also embroiled in a war with my top program recommendation called Wealthy Affiliate and in the end, my option won out because it was and IS a legitimate program.
From this point on, I will continue with the old review of this system in case you are interested to know why I personally though and still think it's a scheme. But again, all the updates and links have been placed above so you know what went down and where to find legitimate options.
Anyway, I'll leave it there:
Continuing the review: My Top Tier Business (MTTB) in a nutshell:
This part of the review is OUTDATED and was written when MTTB was still around (before the FTC did what it did). So if you wish to continue reading, just keep this in mind:
It's a 21 step program designed to help you promote Matt Loyd's main product: MOBE which stands for My Online Business Empire. The MTTB program is designed for beginners and takes them through the process of becoming successful as a MOBE affiliate.
Once you purchase entry into MTTB and start going through the steps, you will learn how to promote not just MTTB itself, but MOBE and it's products to others.
Why I am not going to be recommending MTTB:
1) The up-sells.
One thing MOBE was really good at was pitching some crazy expensive up-sells. How expensive? Well if you purchased everything, it would end up costing you $20,000+ with monthly charges too. 
In MTTB's case, as you go through the 21 step course, eventually you will hit a point where you will be "asked" to buy an up-sell of $1,997. Now I'm not sure if you need to buy this to go further within the 21 step course, but it is required to buy IF you want to earn higher commissions as well as promote the same $1,997 offer.
This is why I say they are good at pitching these offers. Even though it is optional and you can make smaller commissions of just referring people into the regular MOBE/MTTB program, the fact that you can make so much more money through purchasing the high priced products is the main reason people go for it. 
This is something that is VERY uncommon in the affiliate marketing world as you can promote most products online from places like Clickbank, Amazon, ect… for free…
I am strongly opposed to the approach MTTB is taking to get people to buy their products. I find it disingenuous and wrong because you aren't told about these up-sells until you join for the low cost. And it's something I see happen quite often with programs like these & most notably MLMs. 
2) The MOBE connection:
I didn't give this program a favorable score when I reviewed it. Frankly it is my opinion that it is a pyramid scheme and to promote such a program to other people is wrong.
Therefore in my opinion MTTB and the fact that it's connected to MOBE is already a major red flag in my book. Oh and by the way, if you haven't already checked out why I am so critical of MOBE besides the pyramid scheme and EXPENSIVE up-sells, here's a full review of MOBE. To date, I have never seen a program charge so much.
Is the training worth it? I don't think so. You can absolutely find excellent training for far less in legitimate places like Wealthy Affiliate.
But what about the money? If your main goal is to make money online, regardless of the price, then MTTB may be for you. As for me, I can't find it ethical to promote a company I have so many problems with to other people. 
I would rather promote a company that pays me less but makes my customers happy than promote a company which gives me a lot of money and has a lot of angry customers. Which leads me to my last point point…
3) Issues with refunds?
This one is a bit confusing. Technically on the MTTB sales page, Matt says if you don't make a sale within the first 30 days of trying the 21 step program, he'll give you $500. And if you don't believe me, here is the actual screenshot from his page:

Pretty strong claim no? But I've been looking through places like the Warrior Forum and saw some people claim that they've had issues with refunds for different reasons. Matt Loyd also posts in this forum and said that if you can prove that you followed the steps, that a refund would be issued.
His main reason for this policy was because he didn't want people "abusing" the $500 claim, which technically makes sense to me. Ok Matt, I'll give you credit there.
But there is the other side of the coin no? This other side being that as you go through the steps, you are likely going to be investing the initial $49 + the $1,997 up-sell. 
Can the MTTB system make you money?
If it was still around, I'd say yes, but what happens if I don't want to buy the $1,997 up-sell and I don't end up making money or I do make a little and it wasn't what I expected.
How do I prove that I followed the 21 steps? The answer is I can't and odds are I'll likely have refund issues here. This is my assumption and I could be wrong, which if is the case, please correct me.
Pros:
You can technically make a lot of money with MTTB & MOBE.

Very high commission potential (consider you purchase the products!)

Some decent training within the members area, but I still feel there's

better alternatives with Wealthy Affiliate

.
Cons:
I believe MOBE is a massive pyramid scheme and MTTB is connected to it. 

You aren't told about the high priced up-sells until you enter the members area.

Membership initially is not free and you need to pay $49. 

In order to make the high commission #'s, you need to purchase them first.
Final Rating: My Top Tier Business
Red Flag (Scam)
0 out of 10 stars. I do not recommend it. I find many of it's tactics wrong and believe MOBE is a pyramid scheme. And in hindsight, I was right since this program got exposed for being a total scam.
So where can you go from here?
There is a program called Wealthy Affiliate which provides a real platform for building a business and doesn't do it via ripping people off. If you're still considering getting involved with online marketing, I'd recommend it because of that, plus these BIG reasons:
My final thoughts:
While the potential to make a lot of money through MTTB & MOBE is possible, I question the legitimacy of these programs for a number of reasons, including the ones I mentioned above. It is because I don't believe them to good ways to help people make money online that I ultimately do not recommend them.
Most if not all of the training within MTTB & MOBE revolves around showing you how to make money with these programs by promoting them. And once you learn how to do it, you are going to get others into the same system, who will then have to repeat the same things you did.
At some point in time, someone, somewhere is probably going to invest a lot of money into this program and come up empty handed. And while it is true that in most business ventures, a small minority end up being successful, in this case, the business is based on a model I consider to be a scam and therefore would NEVER recommend it to anyone.
Whenever I promote a program/product to people, more importantly than how much it pays me is the belief that it will bring people satisfaction. I just don't feel this is the case with MTTB or MOBE. 
If you think I am right/wrong on this review of MTTB, I'd be more than happy to hear your thoughts.