I'm a real veteran in affiliate marketing. Let me show you how to get into it the right way and avoid the pain and waste of money I did.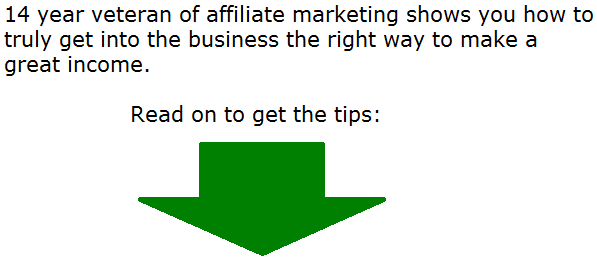 I wrote this article in Aug of 2013, when I was just a beginner (with 8 years of failed experiences). Now quite literally, I am coming back to it  6 years later, in 2020 and updating it because I managed to break through it and see incredible success. 
That success came from joining a specific affiliate marketing program called Wealthy Affiliate, and that's how you need to get started with this business, but don't click this link yet.
First read my history with this business and do not make my mistakes!
Firstly, most people get into this business and make the mistake of falling for what is known as the SOS syndrome, known as shiny object syndrome. 
This syndrome takes them through various get rich quick scheme programs that waste their time and in regards to affiliate marketing, teach it to them incorrectly. 
It's the reason why when I wrote this article originally in 2013, that despite being an 8 year veteran, I was not making a full time income.
I did have a few breakthrough moments where I was making six figures such as in this case study, but it was absolutely NOT because of the same get rich quick programs I was bouncing back n forth from. It was because of Wealthy Affiliate, the same program I mentioned earlier that you guys need to start this business from.
Nowadays when I meet the countless people who are also looking to get into affiliate marketing like I once did and I see they are about to fall for that same SOS trap I did, I do my best to warn them, but if it doesn't work, I already know what's going to happen:
They are going to get ripped off by the bad programs and quit.
Or they are going to get ripped off and go into the next bad program, with the same mindset, and get ripped off again.
Eventually, they will either quit or go through enough money and dead end programs to come to the conclusion I did after years of failure.
Here is the conclusion I reach after failing for so long and if you NEED to read this so you don't have this happen to you too:
Next I want to explain that despite those 5 tips that came about from years of making mistakes in this business, that there are likely people who are going to question whether these 5 steps are the best ones for getting into the business. 
I know because I got these same tips when I was deep into this business and I still tried to find a "better way". So here is what I hear most commonly used as a retort for my tips:
I just want to build an email list.
Fair enough, it works and I've made money with email lists too (here is one example of what I did wrong with an email list). The problem is, the keyword in context to this article is "getting into" this business, meaning you are a beginner. 
If you have made a few sales or none, you are not an experienced affiliate marketer and list building which is the most commonly taught method for affiliate marketing is way harder and more expensive to figure out than you think (see why list building is overrated), and again, this is if you're a beginner.
Do not start with email lists, it's too complicated and there's more work involved than you think, because it's not just list building, it's also traffic generation, sales funnels, knowing your list and a lot more software issues like knowing how to run autoresponders, things which frankly, beginners should absolutely NOT be doing.
Just start here if list building is not for you.
I just want to make a little site generate a "little bit" of money.
There's nothing wrong with aiming for small results. Some people prefer to go the passive income or side income route when it comes to affiliate marketing. 
Understand that if you're a beginner, when you aim low, you are naturally preparing yourself to work little, because you don't want to be too involved with this business and the problem is, this actually is what creates the lack of results.
People who enter affiliate marketing in the beginning have to work truly hard to see results. This new experience they get into involves learning a lot of things and taking a lot of action, and this is something most people are not prepared to do.
You HAVE to be if you're going to make a little bit or even a lot.
Some people just want to make that quick money with affiliate marketing.
With this problem people engage in 2 things. First, they set their mind to work little and they are looking for a way to learn to do this through a product that ends up being a poor quality product. In other words, the people who seek these results, are the ones who fall for SOS, the same issue I mentioned before.
These 3 points are the most common I've seen from fellow people in this business and they are also mistakes I've gone through my years. I know what happens when you don't have the proper training to ensure these scenarios happen: You fail.
Believe me that the 5 points to getting into affiliate marketing above are truly the best. And that link I gave you will take you deeper into the AM world and help you get started there successfully.
Like I said earlier, I completely re-wrote and updated this article. Not only is the current version updated to give you tips from a truly experienced marketer who is a success story, but with that added experience and success to prove it, you can now avoid the same problems I did.
Just to make it clear, 5 years go when this was first written, I had success, but minor moments as I mentioned earlier. Updates to important topics like these need to be made and I can tell you because I've followed the same 5 tips I gave you, I had the following results:
Just remember, the published date of this article is still listed as being in 2013, but in reality, it was rewritten and updated for 2018.