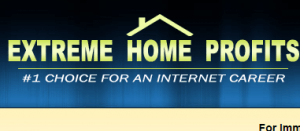 Quick Report:
Name: Extreme Home Profits by Michelle Robinson.
Price: $97. Then 1 up-sell for almost $200 that get's down sold 2 times, all the way down to $47.
Overall Rating: 3 out of 10 stars. Barely acceptable training for the most part and some offers they provide are scams.
This is a the second version of the original review I wrote up for Extreme Home Profits. Prior to it, I encountered problems buying the program which at first I though was due to the program having technical issues, but it turned out my credit card was blocking the purchase from happening so I went ahead and purchased the program under another card.
In the previous review I was very vocal about the program being a scam, but I turned out to be wrong on several points I made for which I apologize. Yet, looking at the big picture I was right about the program not being good enough to buy. This review will explain why.
Extreme Home Profits in a nutshell:
Most of the site's training deals with PPC and SEO tutorials (I've got legit ones for you here). There are also 44 bonus ebooks offered which to be honest, I never checked out, but they are just an added spice and most of your attention should be focused on the main training anyway. 
Besides that, there's a bunch of little things within this program that I could call a scam: The sales page, the hosting "offer" they give you once you join and the way they try to get you to call a specialist to "help you". Those things I'll talk about later.
But a majority of this review will only focus on the non scam part of the program which is the training. There is a lot of it, but even though it's the highlight of the program and there are a number of good things I could point to (and I will), I can just as easily link you to some of the training I've written up on this site that will give you just as much information and actually in my opinion serve you better. 
You may have some problems joining the program (which I wouldn't advise anyway), because for some reason there's this bug apparently which takes you back to the homepage after you try to buy it. It happened to me 3 times, 2 under the credit card which declined the purchased and once for the credit card which did approve the purchase. 
I'm sure there will be people who will get confused by that and just leave…
Beware of a few more hidden sales before you reach the training:
If you do manage to get in, and avoid the 1 big up-sell, you'll enter the members area, from which the main training is on the left hand menu, but before you reach that, there's 2 things to worry about: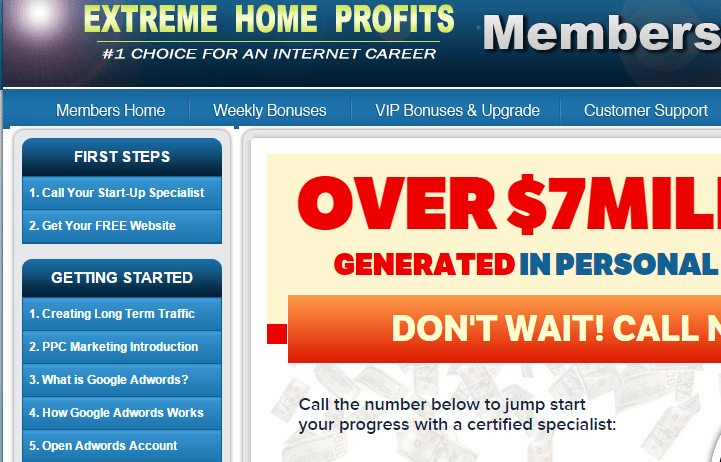 You may notice the $7 million heading. That's the first page you'll see you start from the top end of the menu and work your way down. That heading is associated with a page on which there will be a recommendation to call someone to help you. 
Should you call that number? I don't suggest it. Read my review on a program called Replace Your Job and you'll understand why those numbers and specialists may not be what they appear. I also worry that if I'm right, that by calling them up, I may open up my number to be shared with other companies…
The second thing is a link to get your own website. I knew exactly what this was before I even clicked on it. It's a hosting scam. Stay away from them. If you want to have a free website without some required hidden fees, try the Site Rubix option.
Then we finally see the official training:
The next set of menu items is part of the getting started section which has 5 sections. It is the beginning of the training. All of them deal with PPC, a
 form of marketing online which uses advertisements to attract customers, but you have to pay for that. You learn about Bing ads and Google Adwords, how they work and what you can accomplish by using them. 
Some of the tutorials included videos and really, I can't say it's bad. It's average on some areas, but nothing too good or bad.
Followed by those 5 tutorials is the next section of the menu which has 8 training modules. They are also in regards to PPC, but specifics like setting up ads, bidding, keywords and other training. Very detailed stuff in certain areas and again, stuff I can't complain about. In fact, one of them that talked about writing headings was done very well. 
All of these training tutorials are going to require that you pay for it but before you jump onto this, there's reasons why you may want to hold of on any paid advertising before hand. 
Next we have training on SEO:
This is the part of the training where you learn strictly about free marketing. There are 13 lessons in this section.
Personally, I disagree with what Extreme Home Profits did here in terms of organization. They should have placed this training at the top, and then put the PPC training underneath. I think the way they do it now is going to confuse people. 
There's also another menu under that, but I didn't find it all that relevant to the training. Then on the very top menu we have the bonuses, parts of which are the 44 ebooks I talked about. 
Final Rating: Extreme Home Profits

Yellow Flag
3 out of 10 stars. I was pleasantly surprised that this program didn't turn out to be a total scam, just a few areas, but 3 stars is still far away from being considered good.
My final thoughts:
The grade I'd give the training in Extreme Home Profits is a C+. That's based on the fact that I know about the topics they cover and they just are NOT good enough to see results from. And this C+ training is what they are charging you $97 for!
Instead of paying that money, let me recommend a smarter course of action: The training in Extreme Home Profits covers SEO and PPC right? Well aside from getting information on those topics from other sites, I have my own articles written on them you can check out:
1. My SEO training guide. I think this one is more direct than the one in Extreme Home Profits and is much better suited for the general public. There will be more understanding and more importantly, there are steps listed that you can easily follow. 
2. I also have a PPC article that's written based on real experiences I've had using paid advertising to make money. The problem with Extreme Home Profit is that I didn't see any indication of that training being applied to the real world. My training does reflect real life case studies that I've had. Read the guide on paid advertising.
And both of those articles are free.