Fake creators, expensive costs, upsells, coaching scams and more. This is what I would classify Replace Your Job as if someone were asking me to review it and I will do that right now for you.
Quick Report on Replace Your Job:
Creator: Kelly Scott (She is not real, that's 1 of the red flags).
Price: $97 and then probably a whole bunch of other expenses.
Overall Rating: 0 out of 10 stars.
What a nice name for a program, but what a terrible scam. I did buy it by the way.
Replace Your Job in a nutshell:
In my opinion, if you think this program is literally going to help you replace your job, it won't. You'll spend a lot of money in hopes of doing that. I prefer you learn what this program is right now before any money is spent or lost.
What you're seeing with this program is the repeat of the old "post links and make money" scam which always sounds like the easiest gold mine you've ever hit. But it's not. 
Too bad they screwed up and put Kelly Scott as the name behind this program, because as soon as I saw that, that's all I needed to know that I was reviewing a scam. There is no Kelly Scott probably…
And Replace Your Job is just masking for another program, Online Software Solutions. You only find this out after you buy it. That program isn't actually bad, but it's still far from anything I would have liked to see.
2 other scam programs that were made by "Kelly Scott" before this one:
Or whoever really made it. For a moment, let's forget about the dozens of other work at home scam programs that look like Replace Your Job's website that I found. Let's focus ONLY on the ones out of those where the name Kelly Scott appears and for now it's just 2:
1) 37 Clicks. Kelly Scott is also the person supposedly behind the program.
2) Home Internet Careers. This is one of the most popular scam programs I've gotten feedback on from real people. There's somewhere between 5-10 commentators saying it's a scam and a bunch of people who commented on that page also did buy it, with very unfavorable opinions afterwards. 
Again, Kelly Scott is the name and this program.
So if these 2 programs have the same person, pushing the same stuff, across work at home special report sites (they are also fake).
What's going to happen when a third program (Replace Your Job) with the same person and the same type of site shows up? It's going to be assumed that it's the same scam, which is why I said it repeats itself. 
But this is normal weekly/monthly and yearly changes these sites go through. There's no better way to wash out a bad reputation than by just changing your name.
But next time, try not to forget to also change the names of the "make believe" person. People don't usually forget those things. You're making it too easy to spot you.
To further prove it, I actually bought Replace Your Job. Here's what happened:
The first thing that occurred after purchasing is an up-sell for $67. It's some sort of thing that submits your website to search engines: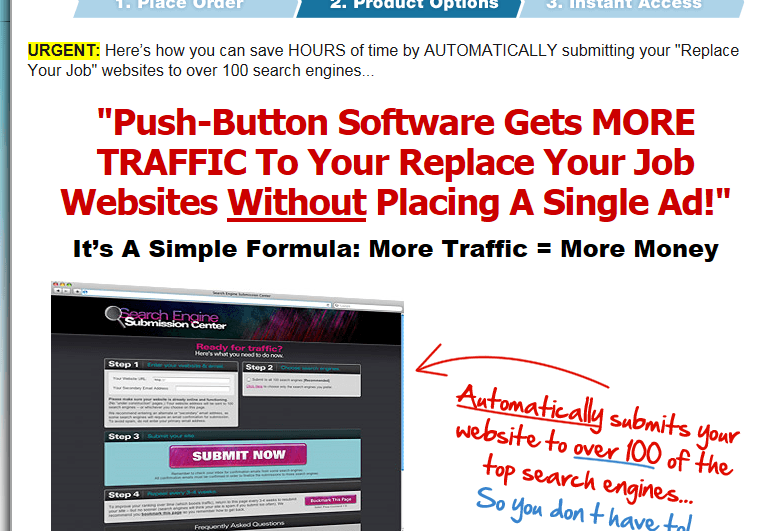 In my opinion this is NOT a good thing to buy because you don't have to submit to search engines through this type of tool. When you have a website and create new content that is published, you will be found by search engines and ranked, for free.
It's a good thing there was a link on this up-sell page to exit out without having to buy it, but sadly, it only took me to another up-sell: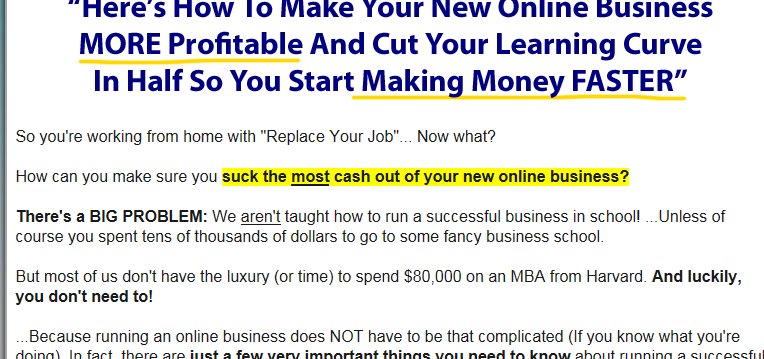 This is some sort of training to create an online business and it's $37. I decided not to buy it because I already know how to run an online business
So back to Replace Your Job. After I declined the second up-sell, I was taken to my receipt page:
Now before I log into the site, I want to point to the step 1 instructions they are listing to get me to call someone. This call in my experience is going to be more of a how much more am I willing to spend than actually helping me. They've already gotten me this far…, but I won't be making that call.
So I finally logged in to the members area of Replace Your Job:
Apparently, Replace Your Job as I originally though isn't actually the program you get when you finally access the site, it's called "Online Software Solutions" and based on everything I've looked at, I'd say it's got good information in very few areas, but it's still too much information for the beginner.
No way in my opinion is this going to be learned quickly. I was even overwhelmed:
Here's the inside of Replace Your Job (Online Software Solutions):

Back to Online Software Solutions:
The first thing is a short video (by the way, it says 37 clicks on the title!) where you're introduced an given a small tour of the site. The person in the video recommends you call up their number to get a consultation. As I later saw, this would be pushed on me several times throughout the site.
In the video, you may also notice a short part with 3 steps: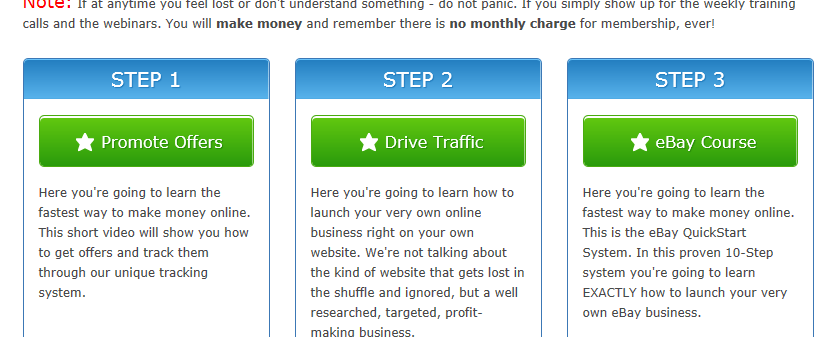 3 steps sounds like simple stuff, but when you actually click on the green buttons, you're going to be given a VERY big tutorial on niche marketing and making money online with videos, some of which are not working. 
There is an immense amount of information on this part of the site and it's just the beginning of all the information that you get. Lots of information in this case is bad because it's thrown at you almost all at once. 
More information overload coming:
So there's also a side menu to this program which also has it's own gigantic source of information: 
Getting started: Basically a short preview of the next 3 steps to come and a number you can call for assistance.
The 3 steps about link posting. Each of these takes you to a different site where you get a whole new list of things to learn, more links, more video and a TON of more stuff to absorb. 
I want to really be precise in that it's not all bad and in this particular area, there is actually very good training in certain areas with stuff you can use, but put together for the beginner-average person, no way, in my opinion is this ever going to be understandable. 
Then we move into the Training Center:
Register: A page where again they try to get you to call their offices for consultations. They make it sound like you need to qualify. In my opinion, as long as your wallet is big enough, you qualify… In fact, here is a screenshot of the requirements which prove there's going to be a investment involved: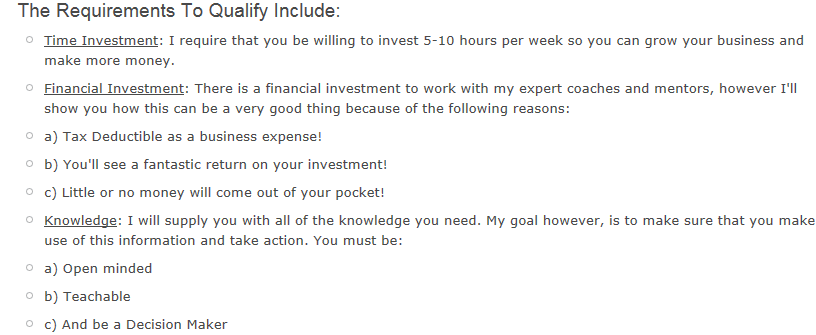 I had to make it a little bit smaller to fit in both it and the menu picture.
Social branding: Here they pitch a program called YOBSN. I would rather not explain what it is, but I have added a link to a page where I've already reviewed it.
Recorded Webinars: There must be about 20 different ones here. Each of them go over very important marketing topics and again, a lot of good information, just in disorganized and overwhelming amounts.
Advanced Training: This one looked more like another pitch to get someone to call you for consultations. There is a sign up form to have someone call you.
Print Money Pro: There are 2 training videos here that show you how to use the program called Print Money Pro which looks like a program which you add to your site that when people leave, they get a pop up trying to them to stay and sign up to an email list or just further trying to keep them on your site.
Traffic: There's 4 training areas here, all covering how to get visitors to your site. So many links, so much to understand which will not be easy.
Resources: There's 3 areas to cover.
1. Business Structure. Looks like another form to get someone to call and sell to you. There was a sign up form which included tax forms, but I think they're just going to use that to lead into trying to sell you something.
2. Glossary/F.A.Q. There's terminology here, but the thing I found hilarious was one question in the F.A.Q. Here is it:

I totally do NOT buy this for the same reason I don't believe she's real. The picture they had of Kelly on the Replace Your Job website isn't even her. What evidence do you have this person is real?
And part of running a business does actually involve interacting with your customers. Don't give me the, this person is too busy or too important to talk to me. I don't believe you. 
There are GOOD programs where you CAN talk to the people in charge. Those programs I trust way more. Everyone deserves that.

There's still a lot of other information on the Online Software Solutions site, but I'd rather summarize it by saying it's more of the same stuff. More areas with tons of information. 
Consider my #1 program, Wealthy Affiliate, where the owners are real and you get a ton more, including information that isn't confusing:
Final Rating: Replace Your Job 
0 stars
Red Flag (Scam)
0 out of 10 stars. This rating is only directed toward the Replace Your Job site. 
My final thoughts:
The Replace Your Job site is a scam because it makes crazy claims and the Online Software Solutions is slightly better (maybe 2 stars) because there are parts with information that you can learn, but the phone consultations, the questions on Kelly, the up-sells, plus all of the information thrown at you is too much. It's also bad, very bad in my opinion.