Amazon Niche Site Formula is honestly a good program and in this review, like I said, I'll give you the good and bad about it.
Quick Report on Amazon Niche Site Formula: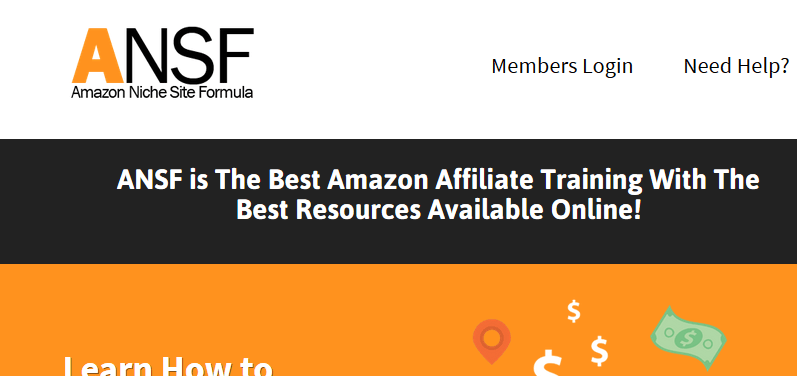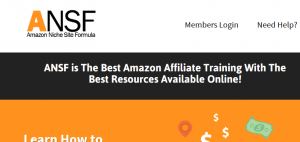 Creator: Amazon Niche Site Formula by Lyman Perrine.
Price: $129 for very basic membership (the one I tried) and $329 for a full access to the site where they also make your first site for you. There aren't any up-sells, but they do offer a done for you offer where they build you your own site and there are 3 packages there. The least expensive is $329 and the most expensive is $3,129. 
Overall Rating: 5 out of 10 stars.
This program has a big list of things that I like and fully support, but there's also 3 things I didn't.
Overall however this site and program is very well designed, organized and I do recommended it for people who want to build a site that sells Amazon products. 
Amazon Niche Site Formula (ANSF) in a nutshell:
A complete program on building a niche site that focuses on selling Amazon products. There's 10 lessons (modules) with a forum. 
The products you're selling on your site are niche specific. The right kinds of products for the right type of audience basically. You can use this system to make multiple sites.
Besides the offer to build your own site that Amazon NIche Site offers, there is also training on how to sell your site after they start making money. 
What you learn within Amazon Niche Site Formula:
I'd like to go over the 10 modules within this program, starting with the intro that you will see when you are officially registered:
In the intro, it is explained why you can make a great living with Amazon niche sites (here are Amazon success stories to prove it, but they are related to a different program I recommend Wealthy Affiliate which teaches similar things). You're shown screenshots of how much money Lyman has made doing so and what he has also achieved by selling sites that make him money.
Then you have the official 10 lessons that will take from you start to finish. 10 lessons doesn't seem like a lot, but each of them is going to take you at least 1 hour to go through, probably longer for most because it has a video, a list of tasks you need to do and a walk through of the lesson. Combined together, that's a lot of information per lesson.
Module 1: Niche research.
I do agree with the way this program begins your training and that's with niche research. You learn how to look through Amazon to find a category of products you can associate to a niche. 
The lesson then also goes over finding keywords for products in the niche and how to research which ones have low competition. You're going to find the best keywords to use and write reviews on your site for these products. 
Module 2: Understand your audience.
Another fantastic module in my opinion. Here you dig deep into your niche audience to understand what they want, what they look for and how to approach them via demographics, understanding their problems and finding the right solutions (products) for their situation.
Module 3: Setting goals.
I think this might have been the shortest module, but it presents a way to set goals for your site and income goals.
Module 4: Picking a site module.
You can create either an e-commerce site or a blog site (even both are possible). E-commerce sites will just sell products while blog sites will review them from your point of view. I personally prefer the blog option. An e-commerce site in my experience takes time and effort to see results with.
I have one blog site where I used basically the same stuff Amazon Niche Site Formula teaches (I made it before I knew about this program) and I combine both blogging and e-commerce on it (mostly blogging).
Module 5: Setting up your website.
This is probably going to the longest module for beginners, but it is very thorough about how to set it up. 
The type of sites you'll learn to set up are e-commerce ones. You get videos including one where you can copy/paste a page of Amazon products to your site. This part of the training has me a little bit worried because I am totally against any sort of copying/pasting from other sites, even if it is for an e-commerce page. I fully believing in making your own original content.
Module 6: SEO your website.
This module provides information on how to structure your website so it gets maximum value for search engines to spot it. You are taught to add a plugin called SEO Yoast, how to link your most relevant pages together and share the site. 
Module 7: Driving traffic.
The best way to provide traffic on your site is to create new content and the training here does talk about that, but in addition, it also talks about using PPC as well. I was not very happy that they didn't go into enough detail on the PPC part. It might end up being one of the biggest money earners for your site, but without enough training on pay per click, you'll just lose money. 
This module also gets into great detail on starting an email marketing campaign and collecting leads from visitors to your site. You'll find this is done a lot on e-commerce sites.
Module 8: Expanding your network.
Basically you are told to expand into another niche once your first site starts doing well to multiply profits.
Module 9: Automation. 
I talked about things that disappointed me. Well this module basically encapsulates most of those worries. You learn to create a sub domain on your website and use a plugin to automate content creation.
This wasn't explained in enough detail, kind of like the PPC thing which was my first problem with ANSF, but based on the things I did see, I don't think this is a going to be a good thing.
From what I understood, you use the plugin they recommend to create content on auto pilot but that's not your content and I do recall Lyman talking about re-writing that stuff. This struck me as black hat.
I emailed the support of ANSF and asked them about this plugin…
As I write this, it's been 3 days since I asked them and not a single reply…
Module 10: Selling your sites.
A very good tutorial (Niche Flipper is the best one for selling sites though) on what to do if you no longer want to manage your site and just want to sell it for one big price.
Final Rating: Amazon Niche Site Formula
Green Flag
5 out of 10 stars. I really liked most of what this site taught and can confirm that it works from my own sites that I've set up in a similar formula.
My final thoughts: 
So the 3 things I didn't like were:
But what about the rest? Well the rest of the site is good, even amazing in most areas. The level of detail that goes into the training there is very impressive.
It's a growing program that is worth recommending to people who have always wanted to make their own sites selling products on Amazon, but it's not the only one:

There was also 2 things I forgot to mention in my review of ANSF:
1. The forum is pretty active so you'll get a lot of support there. There is also a FB group.
2. I personally decided to stop being a member there. I just didn't need this information. I already knew most of it so for me, a lot of it was just a repeat.