Controversy surrounds Online Team Builders, which is why I looked into it, to see if it's a scam and read the reviews, and what I found, is a mixed bag.

I first heard about Online Team Builders after getting 2 comments on it, on this very blog:
One of those comments asked me if the company was a scam.

While the other mentioned that they were called up by them, and explained their story, which was a pretty negative experience (I'll post that shortly).
This led me to go out and research it and to find that it's pretty popular (and again, in a mixed way).
Naturally, this led me deeper into trying to see for myself what this company does and that is what I'd like to share with you in this review (as well as what I have found other people saying).
Let me say these 3 things regarding Online Team Builders:
Now with this said, let me continue this review.
Online Team Builders summarized (3 things I discovered):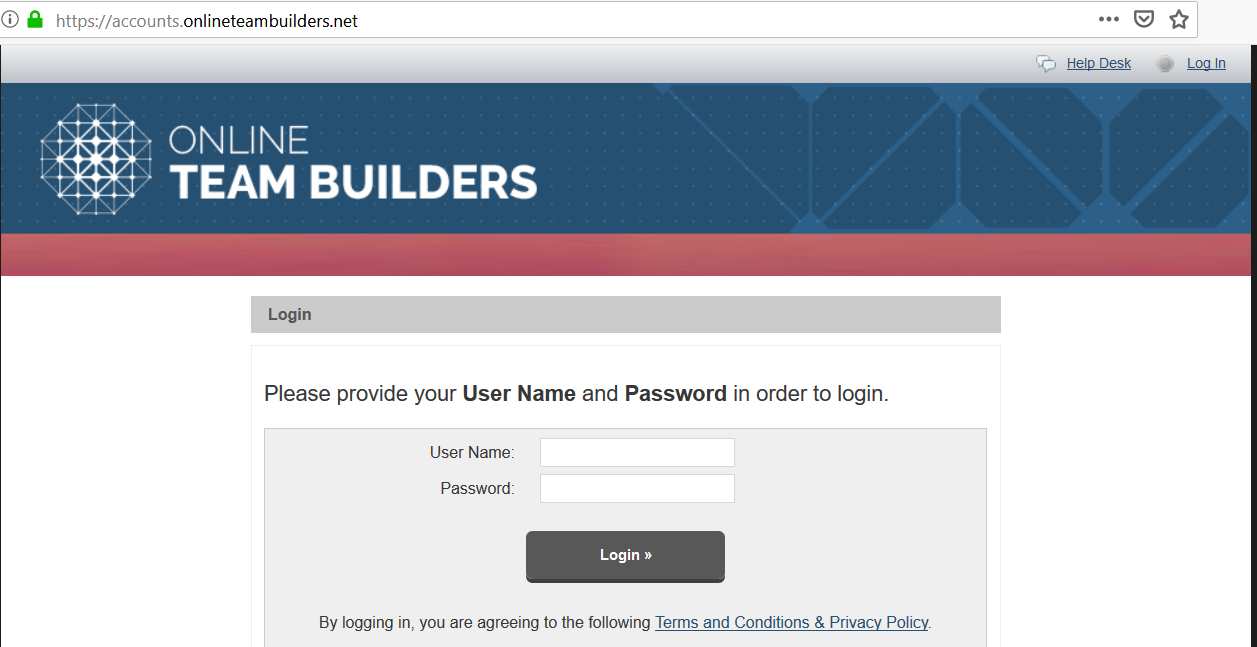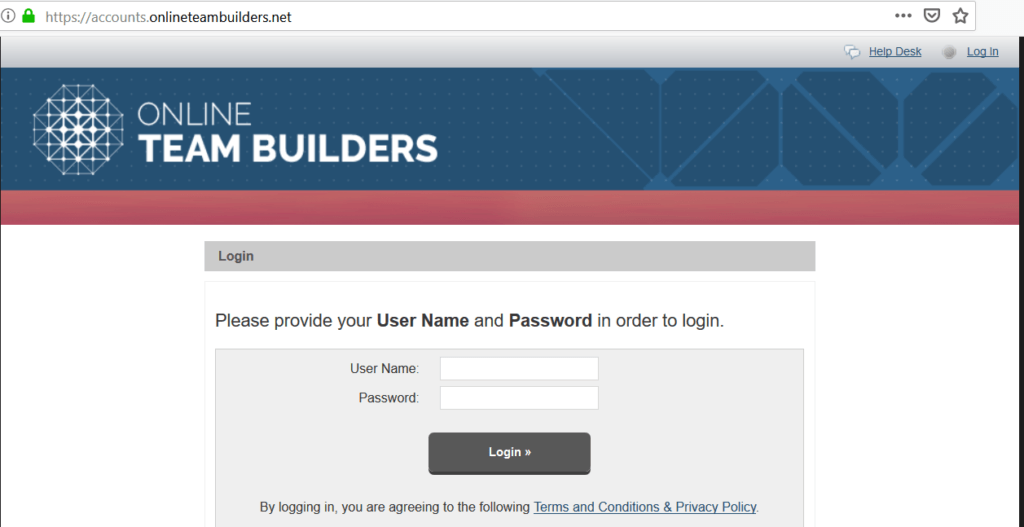 1) So the company seems to be very vague from what I saw. Their official site is just a members log in page as you can see from this screenshot: 
2) There are no official home pages that describe what this program is.
3) There is no information on any creators, nothing of that sort and that's just basic info any program needs in my opinion (Am I wrong here?).
Note: There is an update to Online Team Builders below.
Certain updates (improvements have been made), but overall, in my opinion, it still needs more of the basic info I talk about.

Now based on the reviews I read, the way OTB operates is that it:
They find leads and one of their reps call them up.

These reps talk about the opportunity, then send the person to a presentation that talks about the opportunity.

They also say how there's about 1,000 or so people waiting to join this thing, to keep you hooked into not leaving.

At the end of the presentation (which I believe is online), there's a cost to join which is about $30 a month.
This is what MOST of the reviews I found online say about this company, specifically this page.
Further, I have had people in the comments section of this very review comment on a lot of similar stuff.
I'm always open minded and if there's anything wrong in this Online Team Builders review, I'm happy to update it.
Here's a screenshot (as promised) of what one of my commentators said: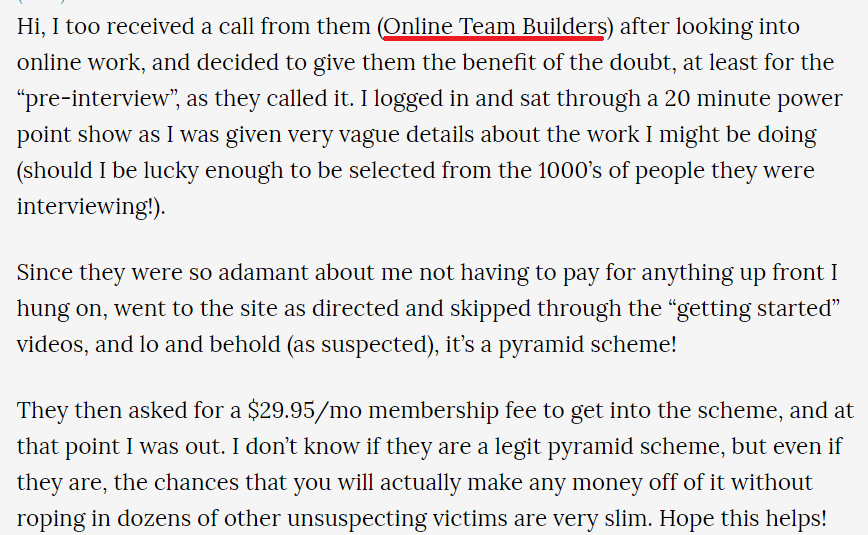 Pyramid scheme? I heard this too about Online Team Builders, but here's my opinion on that:
I don't agree with that rumor because I know a lot about MLMs and pyramid schemes and what I later found about OTB (coming up) just doesn't make the case for a pyramid scheme (which is good).
When I dug into Online Team Builders more, I figured out what was up:
One of the links on the Online Team Builders website led me to a company site called Essante Organics which appears to be a legitimate company that sells health related products.
Now the interesting thing (where it starts to come together) is that they offer a promotional program where you as an individual can sell their products, but to join, you need to sign up for one of their 3 pricing packages:
One is about $30, one time (which is the same price as Online Team Builders pitches, but they say it's a month, so something strange is going on and 2 others, one at about $200 and the other at about $500. These prices basically allow you to get and sell the products from Essante Organics.
The $30 buys you a promotional website to promote the products of Essante Organics.

The other price points let you officially start promoting their products from what I saw.
The idea is that this company lets you partner with them and start your own business via selling their health products.
Before I continue, let me share one quick thing: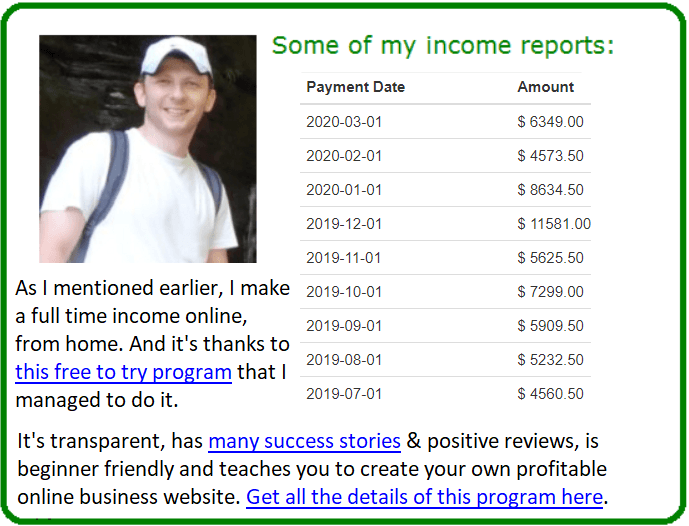 Based on all the info I found on OTB, here is what I concluded (4 important things):
All of this is my personal opinion:
1) I believe Online Team Builders (OTB) is affiliated (read about affiliate marketing) with Essante Organics.
2) I believe their presentation leads you into the opportunity of making money by joining them, which will have you connect with Essante Organics (I just wish that info was more obvious and not something I had to look for or filter through).
3) I believe that OTB tries to recruit people to join Essante Organics, but through themselves, so they can get credit and paid for the referral. If they do this in masses and a lot of referrals, they can make a lot of money.
And usually this is something I see happen, specifically with MLM programs, as in there are "teams" and groups of people who create their own learning platform to promote the MLM, amass recruits, and get paid for it.
It sounds like this is what OTB is doing (and honestly, that's not a scam, and many people and teams do this across other programs).

4) I do believe Essante Organics is a legitimate company but with regards to OTB, I need to see more to believe in them.
They seem like a middleman in all of this stuff and if you wish to promote Essante Organic's products, you can just join them directly and do that. And my alternative recommendation, Wealthy Affiliate would teach you to do that.

Do I consider Online Team Builders to be a good opportunity to make money from home?
It can potentially work, but based on the reviews of OTB, I did not like what I heard about how they promote themselves and a lack of information on the company, which I had to scrap from many sources and try and figure out on my own.
If that's true, this kind of sales approach is something I do not like. 
But what about Essante Organics then. Is that a good opportunity?
Now as for Essante Organics, that will require it's own review, which I may do in the future if enough people ask me to. But I know about these types of businesses from my own experience and usually here is what I suggest.
You have to understand that you have to put in several $100 to get started. And this can possibly rise as you continue.

If you are not experienced in sales and that includes online sales, or you can't really invest a few $100, then I would not join this opportunity.
And if you were looking for work at home jobs, this isn't something I'd classify as that. You are basically buying into a business opportunity, not a traditional job, so if you don't see yourself making an online business, then this isn't for you.
But if you do not fall under these 3 categories, then you can give this company a shot.

Update: Here is a review I did for Essante Organics.
My alternative suggestion (which I have already mentioned):
My alternative is not a work at home job either (I have suggestions for that here if you're interested), it is also a business opportunity, but one that has less risk and while I am a referrer for it, I am by no means recruiting you into some scheme. It's not an MLM, and it certainly is in my opinion, in every way better than OTB.
This is legit stuff and here is how it works: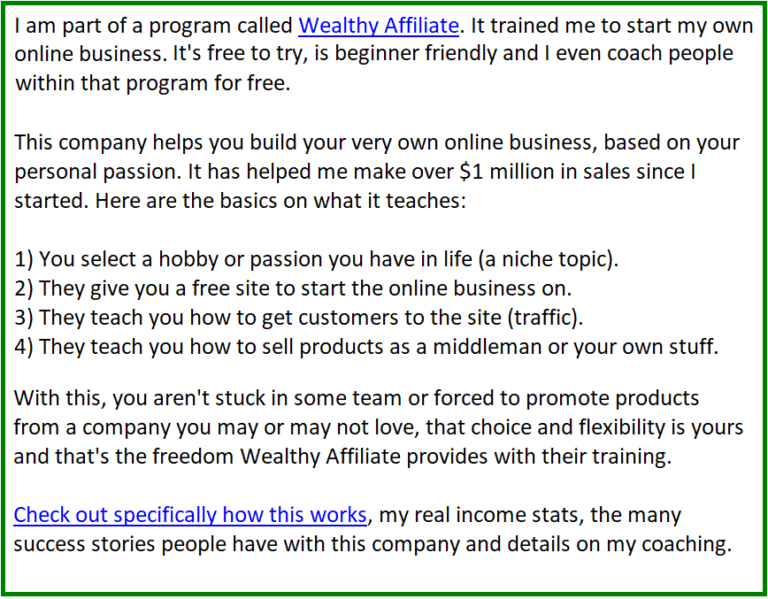 To conclude, while I am critical or Online Team Builders and not so much Essante Organics…
There are 3 things I can say about OTB and Essante Organics:
1) With OTB, the way they market themselves (based on the reviews I read), is in my experience, just not something I personally like (this is my opinion).

2) Essante Organics has potential to make you money in my opinion, but without proper experience, that's a hard thing to do.
Plus with the extra investments necessary, that is risky in my opinion. Another risk to consider is that if selling health products isn't your thing, then in my opinion you should NOT force yourself to do it for the promise of potentially making money. 
Start a business selling things or services that you love and know a ton about. And doing that online is extremely cheap to do if you know how and this is what the Wealthy Affiliate program will teach you to do.
3) And this is what Wealthy Affiliate will teach you to do. And this itself offers a lot of flexibility and you WILL see that when you get started with their first lesson. I'll be there to help too 🙂
Update: Online Team Builders has made improvements (more transparency). But is it recommended?
I had a look at the new OTB website recently, and thankfully, unlike last time, there's a lot more info about how they actually help you make money. Here is the short story:
They provide you with tools to collect and manage online leads and do things like send them followup emails. Basically this company is a good way to help you organize an online business that collects leads.
This is fine, but there are still 2 issues I see:
There's no mention of Essante Organics (are they still connected or are they just an individual company now?).
There's no mention of pricing. Why is that still missing? This just isn't normal for a company in my opinion.
This digging into companies to find out basic stuff is not something I enjoy doing and it shatters my confidence in opportunities. This is why I'm still standing behind Wealthy Affiliate over OTB.
Online Team Builders
$29.95
Pros
I could not spot any because this company is so hard to learn about.
Essante Organics seems legit.
Cons
This company has too many secretive ways it operates.
I think you can succeed with Essante Organics without OTB's help.
A lot of reviews talk about "job interviews" happening when they aren't really that (If this is true, I am not a fan of the marketing).