As an expert in SEO, I wish to say this right now: I would never recommend a program like Article Genie and in this review, you'll learn why.
There are serious cons in using this type of program and my review is going to break them all down.
Whatever you may have heard from their sales page regarding how quickly it'll help you write content and start an online business, whatever you may have read from other blogs and reviewers saying how awesome it is, let me assure you, in reality, using this kind of program will have more chances of ruining your online business than it will growing it. 
Quick review and report of Article Genie: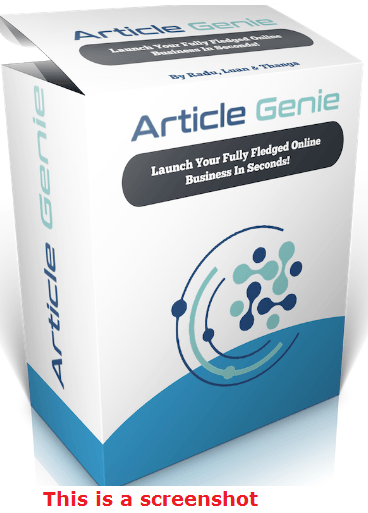 Price: $15-$17.
How does it work? You input a keyword for a topic you wish to get content on, the Article Genie Software finds it, then rewrites it and you publish it as though it's own, "unique" content.
This software also takes transcripts of any YouTube video you input in there and "lets you" use it as though it's your own. 
How it claims it'll help you: The main idea behind this program is that content is needed to grow a website's rankings and that it takes a long time to see results from this because you have to write your own content for a LONG period of time and/or hire people for very expensive prices to write even 1 article. 
To cut down on this and to make that long process a short one, this program helps you produce content at a very fast pace and through the faster and easier content production, this will help you get high rankings a lot faster, hence why they say you can start an online business VERY fast.
THEORETICALLY it's true, but hold on to your wallet because I will NOT be recommending this program.
My overall rating:

0 out of 10 stars

.
I do NOT recommend this software for websites, at all!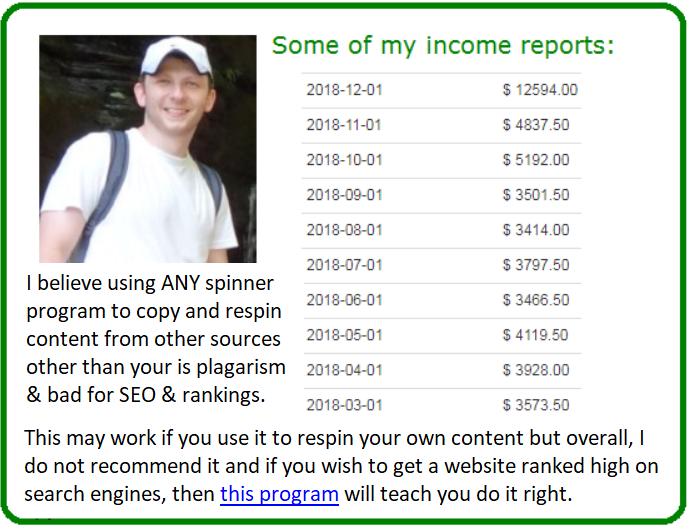 Pros and cons of Article Genie:
Pros: 
Cheap software.
Content production can really be done fast through it.
I only think that if you can use this spinner for your OWN content that you "may" get away with it.
Cons: 
This is straight up plagiarism. You CANNOT take other people's content, even if you re-write it and pretend it's yours.
Paraphrasing is one thing, but rewriting someone's work is still plagiarism. And the owners don't even hide that this is what the program does, they just don't call it plagiarism (sorry, it still is…):
This is also black hat marketing and this is known to have disastrous SEO ramifications on blogs. Google is better able to spot sites who use these types of programs than ever before so you're playing a VERY risky game.
Content spinners like this have been around for many years and they are known to be dangerous to use for SEO. In fact, I have actual proof of this coming up and the proof comes right from Google's own webmaster site where they CLEARLY explain that they don't like this stuff.
Furthermore, very often the content that is re-written is hard to read. I've looked through the work this software produces and most of the time, I find it frustrating to understand. Re-writing words often makes the content more difficult to read.
This program aims to help you rank high on places like Google right? Well Google itself has made it VERY clear (proof coming up) that it does not consider programs or tactics of rewriting content (aka scraped content rewriting) to be good for ranking high.
In fact, here is the link to the Google page which says it, but here is a screenshot of it:
If not Article Genie, then what else?
I have been writing my own content for years and believe me, I totally understand how hard it is. There are numerous problems involved with it which I have to admit, Article Genie's sales page does correctly point out (and I have mentioned it above, but I will say it again). The most common problems are:
Content production is hard to do on your own because you have to write 1,000-2,000 or more words PER article and ideally as often as you can. Here is help for what to blog about.
This is a VERY hard thing for 99% of people to do which is why they fail at it. 
And most people cannot afford to hire/outsource their work to content curators because the good ones charge a lot of money.
But their solution (their software) couldn't be further from the right answer.
Here is the real solution to these problems:
-When starting an online site with the intent to write or blog (create content), you should always try to find a topic you like.
-Without a doubt, most of the ambition I have had from producing TONS of content has come from the fact that I liked or LOVED the topic I was writing on. It will make your content production slower than if you were to use something like Article Genie, but believe me, it would be:
A) White hat and…
B) You would produce REAL, high quality content and you would rank on Google faster than you think, trust me.
-Once the blog would start to make money (And it would if you follow it this way, trust me), then you can begin to invest the profits into hiring a legit freelance writer who would help you continue the trend of adding more high quality content to the blog. 
This is how you do it. It's safe, it's how ALL the big blogs and sites do it and it's how you make a GREAT income online without worrying about Google punishing your blog/site for violating it's SEO guidelines. 

But Vitaliy, there has to be a way to get away with using content spinners right?
I see this question again and again on forums, sites and blogs asking about the "best content spinner" to use. Guys you need to understand that all of this stuff is founded on illegitimate ways of producing content and that is literally stealing other people's work. 
And as I've said every single time regarding these types of software programs: Google hates it when you use that.
The people who still push these things are those who don't know about the facts I just gave you regarding content spinners or they are liars who believe they can make you think it's still possible to rank high on Google using them. 
This is why I pisses me off to see the shameless bloggers out there promoting Article Genie, repeating the same nonsense it's own sales page says and giving it high rating making you think that rating is legit or something. Be very careful with overly high rated programs that are reviewed on "legit sites".
Even in my case, I have one main recommended program I advise people get to make an income online:
Wealthy Affiliate and yet even in the review I provide of it, I always advise people look for as many details as possible on that review so they can see it's legit and to still be skeptical. The very short answer by the way regarding that program is that it teaches people legitimate ways to blog (the way I am doing on this site) and to make money through it:

In any case though folks, there's many FAKE blogs out there which review anything that is on the market to make money, and very often the programs they review (like Article Genie) are absolutely horrible for helping people make actual money online.
I hope this review Article Genie and the proof I've given regarding my reasoning for the low rating has convinced you to stay away from programs like it. If you know of more like that or wish to ask me any questions regarding it or making money online in general, feel free to below, I make a full time income thanks to Wealthy Affiliate so I know the correct ways of reaching that point.