There is a lot of truth and misconceptions about MLM companies and pyramid schemes going around with 2 being the most prevalent: 
1) On one hand some people think all MLM programs are pyramid schemes.
2) And on the other, many people think they are 2 completely different things and that "every business" is a pyramid scheme.
The truth however is very different than both of these misconceptions and I'll clarify that for you.
In the past few years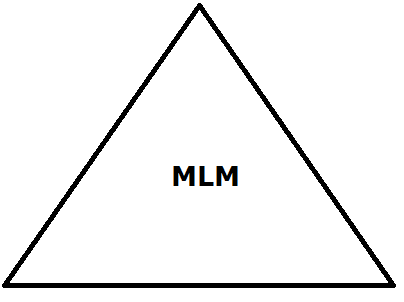 MLM's have been sprouting left and right. Many have failed. So how do you tell if the MLM you're involved in or thinking about joining is running a legitimate business or a fraudulent pyramid scheme?
There are many ways actually, but what you need to understand is that every business, offline and online, is based on a pyramid model. However, there is are major differences between a pyramid model and a pyramid scheme.
What a normal pyramid business is (not a scheme):
A business which runs under a normal and legal pyramid model functions by providing it's clients/customers (the people on the lower end of the pyramid) value. This value could come from a product or service that is being offered for a fair price. 
What an actual pyramid scheme is:
In this business model, there is no actual value or product given to those on the lower end of the pyramid.
What usually happens in pyramid schemes is that the company which runs it convinces you to join and promises to pay you only to refer other people into it. The main purpose of a pyramid scheme is to get others involved into it in order to refer more people into the scheme.
Here is a Wikipedia article on pyramid schemes for extra research. 
Within this pyramid, there is NO real value. There is NO real product offered. The only actual product is YOU promoting the business. In essence, this business model is nothing more than an illusion and in some cases a ponzi scheme. Unfortunately most MLM companies utilize this form of business.
Here is a picture describing the difference between the 2. If you're REALLY interested to learn more about the difference, I strongly recommend checking out "Lou Abbots MLM" video on YouTube (direct link to it) as he covers this very in-depth:
What about MLM companies. Which category do they fall into? 
By definition an MLM is a marketing strategy (online an offline) in which people who refer others into it are compensated for their referrals investment as well as any future investment their referrals will bring in. Here is an example:
I am person A.

I refer person B into my MLM company and get 50% of his investment.

Then person B refers person C into the business and I get a percentage of person C's investment.

This is called a "downline" and in this case, there's 2 levels. In some MLM programs, it can go far deeper and the bigger a downline, the bigger the odds are the MLM program is a pyramid scheme.
However if you're trying to find out if an MLM company you're trying to join runs an illegal pyramid scheme or a legitimate business model, you have to find out 2 things (there are more, but these are the most important):
1) Does the company provide any value to the customer?
Value means service/product which provides fair compensation for your investment.
2) Does the price of entering the company fit the value you're given in exchange?
For example, with MLM programs I would consider pyramid schemes, here's how this plays out:
If you're charged $100 for a service that normally costs $20, then you're being ripped off.
If you're being charged $100 for a product and you can get a similar product in other places for way less ($30 for example), then you're being ripped off.
On the contrary, if the MLM program:
Charges $20 for a service that also normally costs $20, then it's legit.
If you are being charged $30 for a product and other similar products elsewhere also cost this much, then it's a fair, legit product.
Here is how the answers determine if an MLM program is a pyramid scheme (or not):
If the answer is yes to both questions, then the company is legitimate.

If the answer is no to any of the 2 questions, it is a pyramid scheme. 
Note: The term "network marketing" is often used when talking about this subject, but it is not the same as an MLM. See how network marketing and MLM differ.
Examples of pyramid model businesses (legal):
Wal-mart.

Local small businesses.

Amway (This one is controversial) because in many aspects it does have the makings of a pyramid scheme, but because it offers it's members value as well as actual products to sell, it was deemed (by courts) as a legal business.
Examples of pyramid scheme businesses (illegal):
Zeek Rewards: A $600 million dollar ponzi scheme which basically lured investors into it, promising riches by sharing it's daily profits as well as getting people to refer others into it for 50% of their investment. It then turned out there was NO value or product offered. It was just investors paying investors. Full report on Zeek Rewards.
Empower Network: This is an MLM company which gets you to join it for $25, then "persuades" you to invest in it's other up-sells to the tune of $5,000+. The only "value" you get from this company is the training which teaches you to promote the company itself to others. This training even if legitimate is beyond over priced, which is further evidence of a pyramid scheme.
In reality the only thing you're really doing with Empower Network is paying to promote the business itself to others. This is one of the worst reviewed companies I have ever investigated. Full report on Empower Network.
Most MLM's: I can't speak for all of them, but the ones I have reviewed/seen all make a lot of promises without going into detail on what it is they actually do/offer. Any company which stresses more so how much you can make, instead of actually explaining what it is you're going to get (value) for buying should be a red flag to anyone.  And by the way, you paying to be able to promote a business does not count as value. 
5 more ways to tell if a MLM program is a pyramid scheme:
1) If the MLM you are in or thinking about joining pays you to only refer people into the company, it's a pyramid scheme (no actual product).
2) If the MLM emphasizes more so on you making money than actually explaining what it provides you and your customers, it's most likely a pyramid scheme.
3) No actual product involved. Most MLM's which are pyramid schemes classify training as a product. In some cases it can be, but if it's ridiculously overpriced ($100's, $1,000's), then it's a pyramid scheme. 
4) If an MLM you join requires you to join higher level memberships for ridiculous prices in order to be able to promote that aspect of the business to others, it's a pyramid scheme. Example: Empower Network requires you buy it's higher level memberships in order to make commissions of that product. If I wanted to promote their "15K Formula" which costs $1,500, I would first have to buy it in order to actually get others to buy it and make a commission of it.
5) MLM's which run pyramid schemes also have a common practice of luring you in for free or a small price, and then bombarding you with up-sells. Empower Network is a great example of this. If you ever join an MLM for a small price/free, and then are told you need to upgrade for extra to get any actual training, turn the other way and demand your money back.
Have any questions?
If you're currently interested in an MLM and can't tell if it's legitimate or not, feel free to leave a question/comment below and I'd be more than happy to answer it :). You can also read this article on succeeding in MLM for safer ways to start a legitimate business in none MLM fields.
What you need to know is that when it comes to making a legitimate second income, don't go through sources which promise you easy money. In most if not all cases, these routes are through pyramid scheme type companies or just plain old scams that take your money and leave you hanging. They prey on those special words that turn you to them and get you to fork over your money. 
What I do for business (instead of MLM):
Affiliate marketing and I promote companies that offer a fair product/value at good prices. And I make a good income from this and recommend that over being involved with MLM programs. If you're interested to see more, check out Wealthy Affiliate, which does teach people about this. The skills are also applicable to promoting MLM programs too.