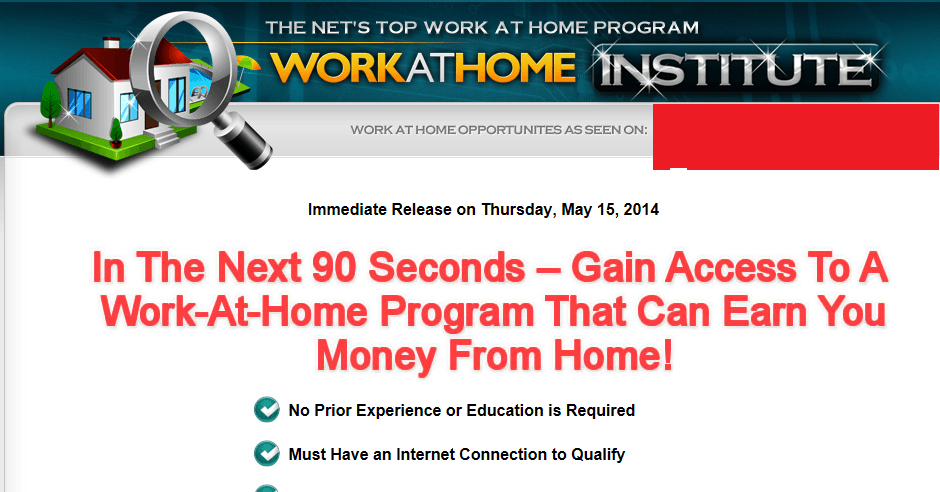 The bad new is that Work at Home Institute is a huge scam and that's because like the 10 others like it that I've already reviewed, this was the case. And this is an important connection because these 10 other programs all pretty much work the same way.
Specifically, they were really just nearly duplicate websites, just with different names.
The good news is that I think I've finally been able to catch up to these copycat link posting sites that fool people into thinking they're legit. 
Work at Home Institute explained:
The companies/people who set these sites up like to use fancy names to give themselves credibility or the impression of simplicity. In this case, we have the word institute which makes you think it's going to be educational and maybe there will be some courses available. This is simply not the case.
Work at Home Institute is just another site that promotes the overly simplistic idea of making money online through posting links for big name companies and boy do they make it sound easy "Just post links and get paid!". Sadly too many people fall for this crap. It's basically a link posting scam site.
There is really no such way to make a decent income like this. And this is the same stuff I see promised on every other site I've reviewed like this one. I've said it before and I'll say it again: I strongly believe these sites are being orchestrated by 1 person or organization who are just trying to reel in as many people are possible.
Whenever one of these scams gets exposed (and I have a list of popular work at home scams here) or gets too many complaints, they just re-copy the entire site to a different domain name and just name it differently, but it's all leading to the same source which I have yet to discover. The only real way to know whose really behind these copycat scams is to actually buy the program and then record the information/company from inside when they advertise to you. I can't risk that and don't recommend you do either. 
What I can do is warn you of the "warning signs" these sites show or how you can recognize if it really is a link posting scam. 
The link posting scam site warning signs: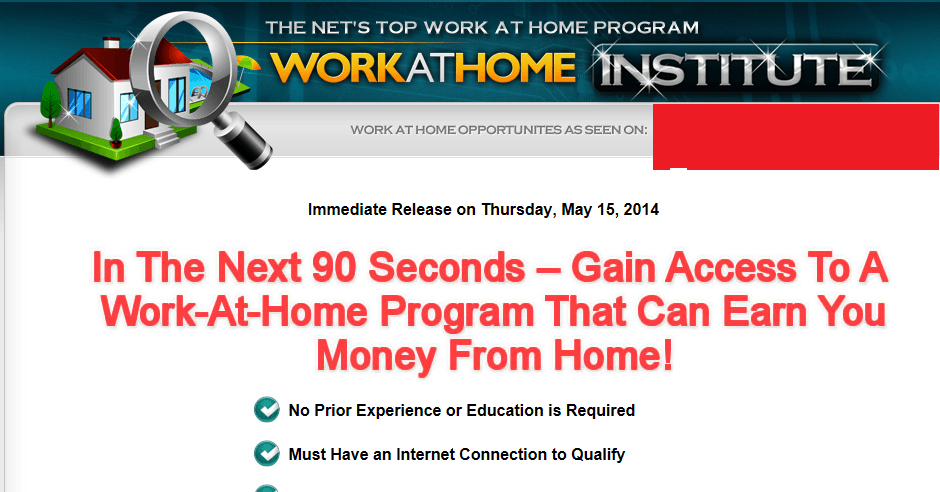 1) If you see sites that look like the screenshot I took above, stay away from it. It's likely a link posting scam site. Here is the  example again:
Other places I've reviewed like Work at Home University (sound similar don't they?) have their homepage set up in a nearly identical format. See for yourself in this review of Work at Home Institute. This also applies to many of the other link posting sites I've spotted.
Long story short, anytime you see a site that looks close to or is identical to what I just showed you, odds are you're looking at another link posting scam and should stay far away from it! 
2) Most of the time people land on these work at home special report scam pages from clicking on an ad they saw on a popular website. This ad was likely advertising how quickly someone can make money from home. I've spotted on several occasions many of these ads and in every scenario, they took me to a page that looks like this: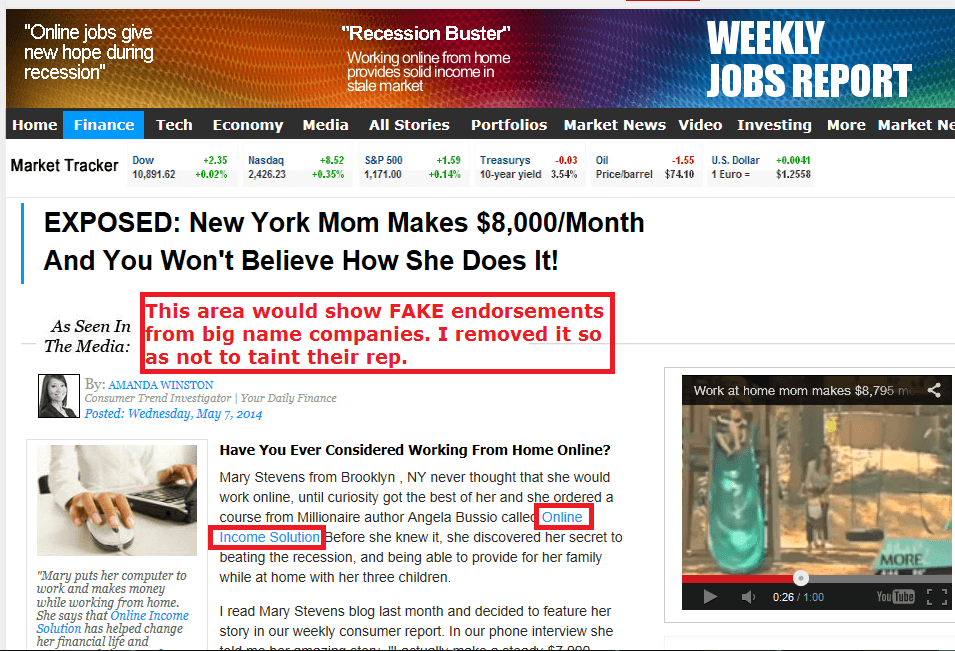 This is your next warning sign. If you ever spot any site that's a duplicate of the one I showed you above, odds are it's the same scam. These sites are made to look credible, but will then link you to the actual scam page. 
Potentially worse scams down the line.
If you do buy the initial offer which is $97 or whatever they "discount" to you if you try to leave their site, are just fronts for even bigger sales pitches down the line. 
From previous duplicate sites and research I've done, I've heard that you may/may not get sales calls from "coaches" who will try to sell you packages on making money online. These packages can end up costing you $1,000's and from what I've heard they can be very aggressive in that they will put you on the spot and ask you to make a decision right there and then.
3. The promise of easy/fast money. It's never as it's advertised, trust me. It's all a sales pitch to get you to buy, nothing more.
Never let the "act now",  "get rich quick" or shiny object syndrome mentality get you, not with these places nor any other product! Better yet, don't even get involved with these scams in the first place! Instead…
Pros:
Cons:
It's another duplicate link posting scam site.

You may be sold expensive coaching packages if you buy in the initial product.

The product is an absolute scam, no doubt in my mind. 

Same false deceptive advertising and marketing tactics.
Final Rating: Work at Home Institute
0 Stars
Red Flag (Scam)
0 out of 10 stars. Such a score is only saved for the worst possible programs and this deserves it. If you're looking for real ways to make money online, try my #1 recommendation, Wealthy Affiliate. It doesn't cost anything to try.
My final Thoughts:
I've done a ton of research into these programs and have been doing my best to try and spot all the ones that are currently being advertised. I honestly think I've caught most of them, but the truth is this whole process of finding these scam sites is like playing the whack a mole game.
You hit 1, another pops up. You hit that one and another one pops up.
This keeps repeating itself, but the machine just keeps eating my money! With each of these scams I spot and warn people about, another one rises soon after and is able to sucker enough people in to make a profit.
Because neither I nor any other person who tries to review/expose these places can keep up with them, it's your job to stay informed and ALWAYS perform proper research on these places. All I can do is give you the warning signs. 
If you personally have experience with this program and can let me know any further details we can use to help prevent people from getting scammed, please let me know!