I heard about Instant Rewards Network and decided to take a look. While it's not a scam, it is also not as awesome as the company or it's affiliates say it is.
I also want to mention that it is very difficult to find an accurate review of this company because most of the sites are made by people promoting it.
This is not one of them because I just don't think of it as an opportunity worth recommending. I will explain why in this post.
Instant Rewards Network in a nutshell:
The program works as a middleman with fortune 500 companies to get people to try out their products. They also provide a referral program for which members of Instant Rewards Network can make money by referring people into the network itself.
You can earn money through this program by either getting people to sign up to it through you OR trying out trial offers from some of the fortune 500 companies. Some trial offers are free, while others will require you pay for them and some may even charge you a monthly price which means if you DON'T like it, you better make sure you cancel your membership to avoid being billed on a monthly basis. 
Some people speculate that this company is an MLM, it is not (phew). It does in some ways share the characteristics of one, but based on how it functions, like I said before it is not. 
While I didn't try it personally, I did go deep enough into it to understand how the system works. In many ways it reminds of paid online surveys in which you also sign up to certain companies and just fill out surveys. However as I found out the hard way, that, although not a scam, does not pay anywhere near the amount it promises and requires WAY too much work to get anywhere. In many ways, Instant Rewards Network is similar to this which is ultimately the reason why I won't be recommending it, but more on that later…
Understanding how it works:
The more people Instant Rewards Network (IRN) manages to get into it's system, the more odds the people will try the offers from the fortune 500 companies. This means IRN will then be able to earn more money.
To make this happen, IRN in addition to promoting itself, also has a sort of "affiliate program" where everyday people can help make this process happen and earn a piece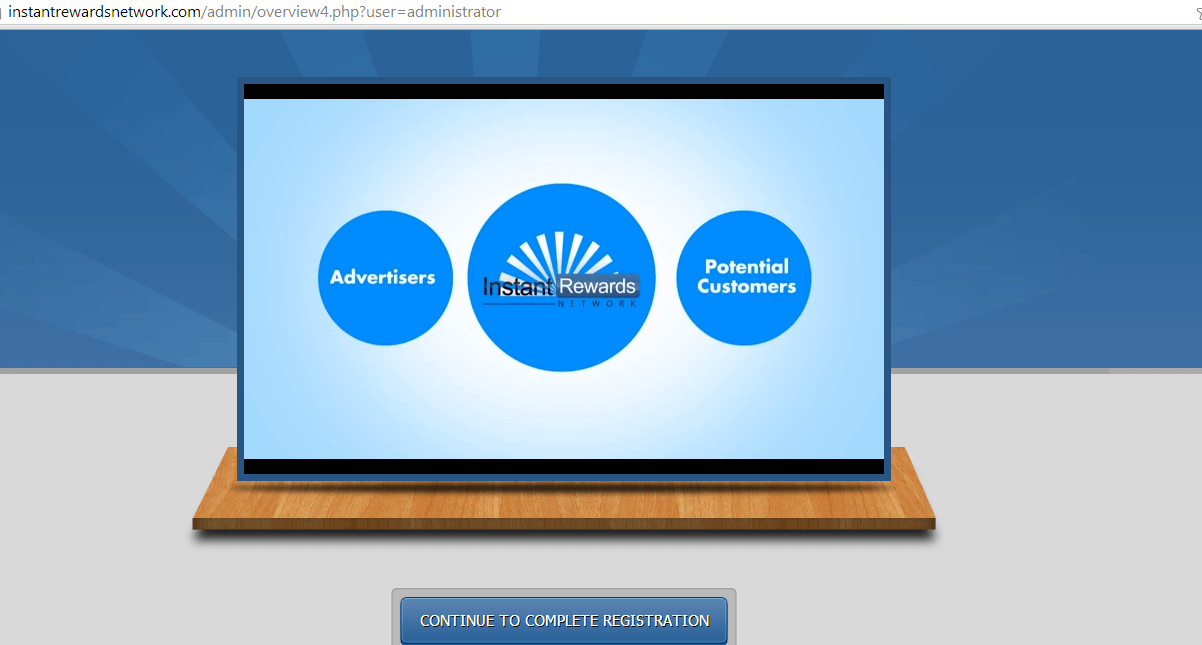 of the pie. 
As mentioned below, you can earn money 2 ways through IRN: 
1. Referring people into the Instant Rewards Network. 
Referring people to the program can earn you anywhere from $20 and up, depending on if they sign up and which particular plan they sign up with. IRN feature multiple ones so the amount you can earn can be different.
IRN has made it "simple" to help it's affiliates refer people into the network. It gives you ready made sites with an affiliate link that you can share with friends/family and create ads with to promote the network. They also say they will give you copy/paste information to place ads with promoting the company. 
In my experience, this kind of approach is bad because if many people are promoting the network using the same websites with the same texts or advertising it with the same ads, this will quickly end up looking like spam. 
I've also heard some stories of affiliates who have promoted this company on job searching networks to get fast commissions. This practice is wrong, not just in a marketing sense, but also in ethics. You should never do this and shame on you if you do. 
I've also seen recommendations on promoting IRN through social networks. This is also not recommended because doing so will (in my opinion) look like downright spam. I personally would block/remove friends who would constantly try to sell me these kinds of things.
If you honestly want to make money through this program, you need to use legitimate approaches to online marketing, but even in that scenario, you're better off promoting something else in my opinion since it can be more rewarding. But hey that's me…
2. You can also make money by actually trying out the offers yourself. 
By trying out the offers yourself, you are able to earn points/gift cards/money. From what I've heard, there are certain periods which you have to go through in order to earn points/money through the trial offers. After all, just signing up and canceling right away is bad practice so this is just not going to work. 
Most of the trial offers will not pay much or will either take a lot of time to complete, meaning in order to make any sort of decent income from this will require you try out a lot of different offers. It's basically a numbers game. 
I honestly don't like this because it requires a lot of attention for something that doesn't pay a lot. While you do earn points and they do accumulate, I believe if you run the numbers and see how much you're earning every hour, it will amount to basically nothing. Such was also the case with Paid Online Surveys. 
Pros of Instant Rewards Network:
Pretty easy to use.

You can make money through this program but this program is better for that.

It's not an MLM.
Cons:
The overall amount you make for the amount of work you put in isn't worth it in my opinion.

Some of the marketing methods recommended in IRN don't really work as well as they sound.

Contrary to the hype, you probably won't end up making a lot of money with this program.

Some of the offers you sign up for will charge you monthly so watch out.
Final Rating: Instant Rewards Network

Yellow Light (Use Caution)
3 out of 10 stars. You can earn something, but I feel it's a waste of time. There are MUCH better alternatives out there. See #1 recommendation.
My Final Thoughts:
I do online marketing for a living. I know what it takes to be successful and let me tell you, if you think Instant Rewards Network will provide you with a supplementary income, odds are it won't. If you're just looking for a rewards program that pays you for doing mundane things, I'd recommend SwagBucks instead.
I rated that company with a green light even though you probably won't make a lot with it either. At least there, it's really free and you get points without having to sign up to trial offers or anything like that.
Most of the work you put into IRN will not end up paying a lot. The bulk of potential money you can make will come from trying to refer people into the network and trust me when I say, unless you have proper guidance on how to create a website and drive traffic (visitors) to it, this will also likely not work out either. And I don't feel IRN gives you that proper guidance you need to succeed. 
My final opinion is that if you're looking to make a real income online, I would recommend starting here. If you're just looking to earn points and make a little bit extra, and I do mean a LITTLE bit, then you you should try SwagBucks instead of IRN. 
If you have a personal opinion you'd like to share on Instant Rewards Network, feel free to leave a comment below.