I'm going to show you the most practical and real ways to make money online, without scams, without any gimmicks.
This is a legitimate, and straight forward approach that absolutely anyone can do and it's also free if you follow the recommendations 🙂 
Too often the subject of making real money online is wrongly taught. A lot of people/companies who practice marketing online want you to believe this process is far too confusing to understand on your own and will offer you their services for a hefty price promising big. 
Unfortunately in my many years experience in this field, I've see that many times these same people/companies:
Do not know what they are doing.

Over complicate the process.

Charge you way to much for their services.
For example, if someone were to try and sell their online marketing "expertise" to you and show you this image (right), you'd probably take them up on their offer.
After all that picture makes internet marketing look way too complicated. But the truth is it isn't! So whatever you're been shown/told/sold, forget it all. Forget this image. It's time to start anew and this time from the RIGHT point.
Watch this video first about making money online (if you haven't already):
Part I: The summary of how making money online really works:
You make a website. This website focuses on 1 particular subject (niche) and promotes a product/products related to this subject.
Here's a few examples: 
Diet website (subject) promotes diet books/videos/programs (products related to subject).
Dog training website (subject) promoting books on training dogs, dog training supplies, ect.. (products related to subject).
Fitness website (subject) promotes fitness products (dumbbells, kettlebells, ect…) as well as fitness DVDs & programs and other related supplies (products related to subject).
Basically niches is what we're aiming for. Here are 100 niches that are great!
In order for your site to make any real money, you'll need to get as many visitors as possible. The more visitors that come to your website, the more odds the things you're promoting on the website will sell and make you money. 
Also you don't need to own your own product to sell it. You can do what's known as affiliate marketing and promote literally anything from other places and sell it on your site. If a sale is made from your site, you get a commission. This is what I do.
The most important thing to making this process work is to make website/s that help people. If you're making a website on dieting, make sure what you recommend is something that helps people. Don't spam product promotions. People don't like this and it won't help you succeed. Think people first and selling later. 
I can't stress this enough. Do this well and you'll be rewarded in many cases enough to supplement or even substitute your primary income, no joke. 

That in a nutshell is how making money online works! 
I've broken this whole process down into 5 steps:

1. Find & choose a niche (If you don't know what this is, don't worry, I'll explain below).
2. Create a site on the niche you chose (I'll show you paid and free ways to build a website).
3. Find keywords based on this niche.
4. Find a product/s related to your niche to promote it.
5. Get visitors (traffic) to your website. The 2 best ways of doing this.
If any part of the 5 step process doesn't make sense to you, don't worry. It will all become clear because I'll go in-depth into each step below. 
1) Find & choose a niche! 
A niche is a more descriptive part of a market. Here's a few examples: 
Diet = Market

Diet pills for women = Niche

Weight loss = Market

Weight loss for people over 40 = Niche

Dog  = Market

How to train your dog = Niche
Always choose a niche if you want to succeed in this business, not a market. Why? Because niche subjects have a more defined audience and it's easier to get your websites to get a lot of visitors. 
My recommendation: 
Example:
If you know pianos, you can make a website on piano lessons and tips. 
If you have expertise in cameras, you can make a website promoting cameras. 
If you have great knowledge in parenting, you can make a site that helps parents with their kids. 
If you have NO no expertise or don't know what niche to choose, simply choose one you can relate to and study it, then make a website on it. I've had many sites on subjects I didn't know much about until I did some simple research and boom, I had myself a successful niche 🙂
When I got into this business, I had experience in health & fitness so I had an easy time making a website on diets and health related matters. 
2) Create a website on the niche you chose.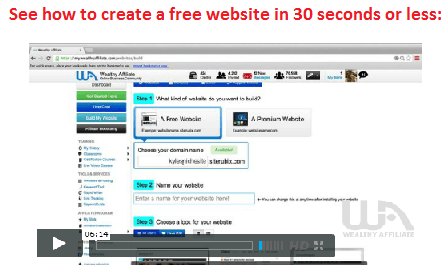 If you've never made a website before, don't freak out, it's actually very easy and I'm going to show you free and paid ways (very cheap) to do it.
After you've chosen your niche, you need to make a website that centers around that niche.
So let's take one of the examples above (weight loss for people over 40). Let's make a website that sums up the subject of this website. How about…
Weightlossforpeopleover40.com

Dietsfor40yearolds.com
The website name could actually be ANYTHING you want it to be. I just suggest titling it something that helps visitors quickly see what the site is about. Once you choose a name, register it so it becomes yours. Here's how…
Paid ways:
Godaddy.com (I use this place). It costs about $10 a year to buy a .com website. No biggy!
Namecheap.com
Free ways:
Make a blog. Here's a few places: Squidoo.com, Hubpages.com, Blogger.com
My recommendation: Make a free website here. It takes less than 30 seconds and it doesn't cost anything. Plus you get all the benefits of having a personal site.
3) Find keywords based on this niche.
Keywords are basically anything you type into Google. Here's a full tutorial on it. You're going to have to find keywords (I recommend for starters 5-10) that are all related to your website. Let's take one of the above niche examples:
"How to train your dog". Think about this for a second: What would people who were interested in this subject type into Google? Here's a few ideas that come to mind:
How to teach your dog to sit. 

How to get your dog to stop barking. 

How to teach a puppy tricks. 
Bam we've got 3 keyword ideas! And this came right of the top of my head. This is something that's REALLY easy to do. All you have to do is think what people would type into Google if they were looking for information on the niche. That's it! There's literally an unlimited amount of keywords you could discover this way!
My recommendation: Read this tutorial on keywords. It'll help make this process VERY simple, I promise 🙂
4) Find a product/s related to your niche to promote it.

It's time to find products to put on your website to sell. We'll need to make sure the product/s we choose are directly related to the site's niche (subject).
Example: 
Another example: Piano lessons website promoting piano lessons books, DVDs or even your own guide (If you posses expertise in this field).
Where to find products to promote:
Clickbank.com

. This place has a lot of products which pay you up to 80% commissions! I've made $500k with them (proof).
Amazon.com (You can literally find anything to promote here). Google "Amazon associates" to enter their affiliate program.

Linkshare.com very similar to Clickbank.

CommissionJuncion.com which is sort of like Clickbank. 
What you'll need to do is sign up to one of these websites above (could be all of them too!) and search out products
My recommendation: Start with Amazon associates.
It's very easy to use. What will happen is that you can do a search for a product you want to sell on your website and it'll give it to you. Then next to the picture it'll say  "Get link" and will provide you with your very own affiliate link. Here's more info on Amazon Associates.
Save that affliate link! If you're promoting multiple products, save all your affiliate links. Put this link in your website and if someone buys through that link, you'll get a commission! This is where the money part comes into play!
Here are many success stories of people who succeeded with Amazon associates.
5) Get visitors (traffic) to your website. The 2 best ways of doing this.
In order to make ANY money from your website, you'll need to get people to visit it! This is what we call "traffic". The more traffic you get to your website, the more money you can make. But how do we do this? Here's 3 ways:
Method 1: The natural method (SEO):
Remember that keyword list I asked you to hold onto? Well it's time to use it! Here's how:
We'll be making separate pages on our websites targeting each of the keywords. Making pages on websites literally takes 2 clicks to do. It's simple. The hard part of writing about your keyword. Always make sure your pages have at least 400 words on them and specifically talk about the subject of the keyword.
Example: 
Keyword: How to teach your dog to sit:
Write about ways to teach dogs this trick. Then provide an affliate link to a book on training dogs!
Keyword: How to get your dog to stop barking:
Write about ways to teach dogs to stop barking. Link them to an affiliate product. Could be a dog training book. Could be a special leash and something that helps dogs stop barking (without hurting them!).
Keyword: How to teach a puppy tricks: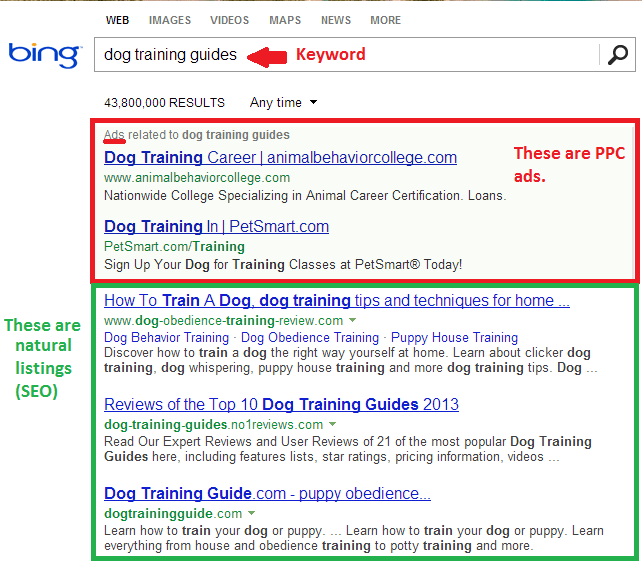 Write about a few tricks owners could teach puppies then link them to a book on learning dog tricks. Notice the picture I put up. This is a book on Amazon you could promote which fits in PERFECTLY with this subject. Easy money!
The more keywords and pages you write/add to your website, the more traffic your website will get. This process can take weeks/months, but in the end it will only get bigger and bigger. How fast you see results depends on:
The kinds of keywords you're targeting: Only target low competition keywords. Full tutorial on finding low competition keywords. 
The quality of the content you're writing about. Better quality content ranks better/faster. Learn how to write quality content. This will pay you back a 100 fold in the end and help your website rank higher on search engines such as Google.
Sites that rank high on Google and Bing get more traffic. This whole process of making content and trying to rank high on Google is called "SEO" which means Search-Engine-Optimization. Confusing term I know, but all it means is doing things to make your website rank high, that's it 🙂
Extra tip: Make Youtube videos that have the keyword in the title! This greatly helps your site's visitor count improve!
Method 2: Paid way (Pay-Per-Click aka PPC):
Pay per click is a way of putting up ads and advertising your site. Each time someone clicks on the ad, you pay a certain amount. If you can make a profit, then PPC is EXCELLENT! If you cannot, the PPC can end up costing you a lot!
You can advertise your website through Google and places like Bing. I recommend starting with Bing as it's easier to use and A LOT more flexible. Here you can make "ads" and link them to your website.
The beauty of pay per click is that you can quickly get a lot of traffic to your website and potentially make a lot of money! I personally have used this method to make 6 figures. Here is a case study on this!
My recommendation: If you want to do this, use this pay per click guide I personally made for it. 
My final recommendation & the best way to get started:
One thing I often see from people who read about this stuff is 2 things:
1. An overwhelming amount of ideas and excitement about trying this.
2. A lot of information overload and even confusion. That's completely normal 🙂
If you're considering giving this stuff a shot, don't just rely on this tutorial. Get proper guidance to help guarantee you get it right. I want to help you out with this. There is a place I recommend above all else that teaches you how to create successful and profitable websites from A-Z and is free to join. Here is that place, Wealthy Affiliate. I'm personally a member of this organization and have been for many years.
They teach you honest and real ways to make money online, using many of the same tips I just showed you, but they walk you through each little step to really simplify the whole process and help you succeed. They also provide you with 24-7 support in case you need any help 🙂
Making real money online is something that ANYONE can do. You can make an unlimited amount with this business. All that is needed is proper guidance! Wealthy Affiliate is the only place where you'll get it.
If you have any questions/comments, feel free to leave them below. I'd be more than happy to help you out 🙂
Update: More updated guides to making money online:
Here is one which is shorter, but clearly explains how the process works and helps you get started yourself with it.
I also give a full detailed explanation of my $1 million dollar affiliate marketing earnings here using this same method I talked about above.
Beware, that last article is long, but it is filled with incredible information you will be able to use to succeed yourself!