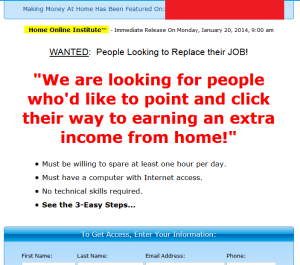 I had to look deep into Home Online Institute to see what it was pitching, but when I found out what it was, it made me write this article to warn you about it.
Quick Report on Home Online Institute:
Price: $49.95. 
Final Rating: 2 out of 10 stars (red flag).
Ok I have to admit, when I first stumbled onto the main website of Home Online Institute, I immediately though it was another copycat link posting type scam (I've found more than a dozen so far).
You see, I once reviewed a program called Online Profit Stream whose main website looked nearly identical. Here is a side by side comparison:
Yeah, so I think you understand why I believed it to be a scam. Even after you enter your credentials, both sites take you to a similar type of layout:
You see a video showing a news report on how people make money from home.

You see a very similar sales page about how it's possible to make money online.
So it's no wonder I though these 2 programs were the same. However, I was wrong. Home Online Institute promotes a completely different thing than Online Profit Stream, but in spite of it being different, I still can't recommend the program to anyone.
What Home Online Institute really is:
I believe it is a front for an MLM company called Vemma. In fact, if you carefully look at the bottom of their site, they even say it:
Now while I don't have any experience or history with Vemma, I can't vouch for it being good or bad, but I do have experience with MLM programs in general and my overall opinion of them isn't good. There are a number of reasons for this:
I feel many of them are offering false promises.

I feel many MLM companies are pyramid schemes. Based on what I've seen from Vemma,

it is not a pyramid scheme

.
Overall can see why I am not a fan of MLM programs here, but what you need to know is that places like Home Online Institute are in my opinion being made by people who are probably affiliates for Vemma and are trying to build a down-line of people.
For those of you who don't know, downlines are an MLM term where you promote a business to other people and you get paid for every one you refer as well as those who they refer. In many cases, this promotional structure looks exactly like a pyramid. The more people you refer, the more money you can make. The more people you referrals refer, the more money you can make as well.
It's a upward flow of money which is where the pyramid scheme argument comes about. However in Vemma's case, it is not so because it does feature products which can be sold. With pyramid schemes, there are no products being offered, just the appeal of making money from recruiting others.
Why I can't recommend the program:
1. When it comes to Home Online Institute, the very name itself gives one (at least me) the impression that you're learning about online marketing in an educational sense. When you get involved with Home Online Institute, you are going to learn how to market Vemma to others probably and while the education can be associated with online marketing, the naming is a bit disingenuous in my opinion.
2. The set up of the Home Online Institute site is also not genuine in my opinion. As I said earlier, I saw the same type of layouts for other programs I've reviewed that were downright scams.
3. Home Online Institute advertises on their homepage how easy it is to make money. This is simply not accurate.
4. The sign up form you see at bottom of the homepage isn't genuine either. They ask you for your name/last name/email/phone number, but it doesn't matter what sort of information you enter, the way the site is designed, you'll still enter the same page.
5. The whole "As seen on" & video you see from within the site once you enter is deceptive advertising in my opinion. They show a general video of people making money online, but the report never says it's Home Online Institute or Vemma. It's just a news report from long ago, but as I've said countless times before, people make the incorrect connection of thinking the report is associated with the program.
Overall, the way the site is marketed, I am not a fan of. It's not being accurate with it's advertising and is giving people the impression that it's easy money (at least this was my impression). But in fact, you're being signed up to an MLM company and if you're going to make money with the business, you're going to have to get others to either buy the products Vemma sells or recruit others. I'm just against this whole business model, but again, this is my personal opinion.
Pros:
It's not a link posting copycat website (I though it was because the site looked like a scam).

You can probably make some money doing this, but probably not a lot.
Cons:
It's a front for an MLM (Vemma).

I feel the marketing on the Home Online Institute is deceptive.

I don't feel you can make a lot of money with this business venture.

There's other sites I've spotted like Payday Shortcut which do pretty much the exact same thing Home Online Institute is doing, which is promoting Vemma in ways I do not agree with.
Final Rating: Home Online Institute

Red Flag
2 out of 10 stars. I don't believe there is good potential behind this program unless you possess great internet marketing knowledge/experience. If you're looking for what I consider realistic opportunities to earn money, Wealthy Affiliate my #1 recommendation.
My final thoughts:
Let me just say right off the bat that I am not rating Vemma itself. I am rating Home Online Institute. Generally I give most MLM programs (if they are legit) 3 stars which is a yellow rating that basically means it's possible to make money with it, but I don't recommend it.
With Home Online Institute, I went 1 star lower because I feel the way it advertises itself is not accurate and is giving people the wrong impression. I am against that way of marketing.
As for Vemma itself, I am certain it's possible to make money with it, but in my experience, MLM companies and most people who join them usually do not succeed. And those who do, usually don't make a lot of money. Very few people can make MLM's work for them, while the others end up trying to make it work. This is my personal opinion.
Again, I do believe Vemma is a legitimate organization, but because it's an MLM and being that I don't like MLM's, I can't recommend it, nor the Home Online Institute itself, which as I said earlier is probably an affiliate site promoting Vemma in order to get a down line going.
Do you agree/disagree with me or if you have personal experience with either this program or Vemma, let me know!