I wrote a review on the Super Affiliate Network (SAN) a number of years ago. But then Misha Wilson, the creator of it reached out to me and asked me to update it.
The reason being is that the program went through a number of changes and the old review I wrote up simply wasn't relevant anymore. And for fairness purposes as well because Misha was polite in asking me about it, I did and this current review will talk about my experiences within the Super Affiliate Network, if I recommend it and what I think of it.
Before I continue, here's a screenshot of Super Affiliate Network:


5  important disclaimers about this Super Affiliate Network Review:
1) Overall, the new, updated version of the Super Affiliate Network is substantially better than before and even in the previous review I did of the program, I did say the program was legit but I had mixed views of recommending it back then. 
I'll go over the things I saw in the members area within this review.
2) I joined this program for the $1 trial they have (something they also had previously), to get access to their Profit Boosting Bootcamp training (after 1 month, this area costs $47/month to continue having access to) and while this DID unlock a few extra modules of training and lots of content to explore (it was a good deal), I didn't explore it fully (15 modules in total) because at many points during the training, I was asked to contact a coach/mentor to move forward, and I honestly didn't feel comfortable with that, so the review I am covering will only show the areas I was able to access.
3) One of the reasons I'm usually not comfortable with calling or setting up online meetings with coaches (even though I do internet marketing coaching myself, just without appointments, get my coaching info here), is that I typically expect there to be a sales pitch of some sort.
I also didn't have the "best interaction" with the coach I contacted let's just say (Let me be clear, the coach is NOT Misha Wilson, it's someone else. Misha was actually pretty cool).
And if you look at the products page, beyond the Profit Boosting Bootcamp are other things you can buy, some of which are free (shipping has to be paid), and 2 other programs that are each $297. 
4) At the very least, I will say that the FREE and $1 trial offers a lot of content worth exploring and you should decide for yourself if you want to stay, upgrade and move forward. Here is a none affiliate link to check out the SAN program.
I will say my overall experience with the program, while brief was pretty positive and much better than the first time I was in it. But I still need more information before I can actually start recommending it personally. And this is also because…
5) There's another alternative to this program which is the Wealthy Affiliate program, one I consistently pitch on this site and recommend because of my success history with it as well as the results I've had there.
Yes, it is biased on my part, but that is a program I recommend for many positive reasons explained here. But you should still make your own independent decision on which program to try which is why I'll give you the unbiased info on both programs to help with that.
So with that said, let the official review of Super Affiliate Network begin: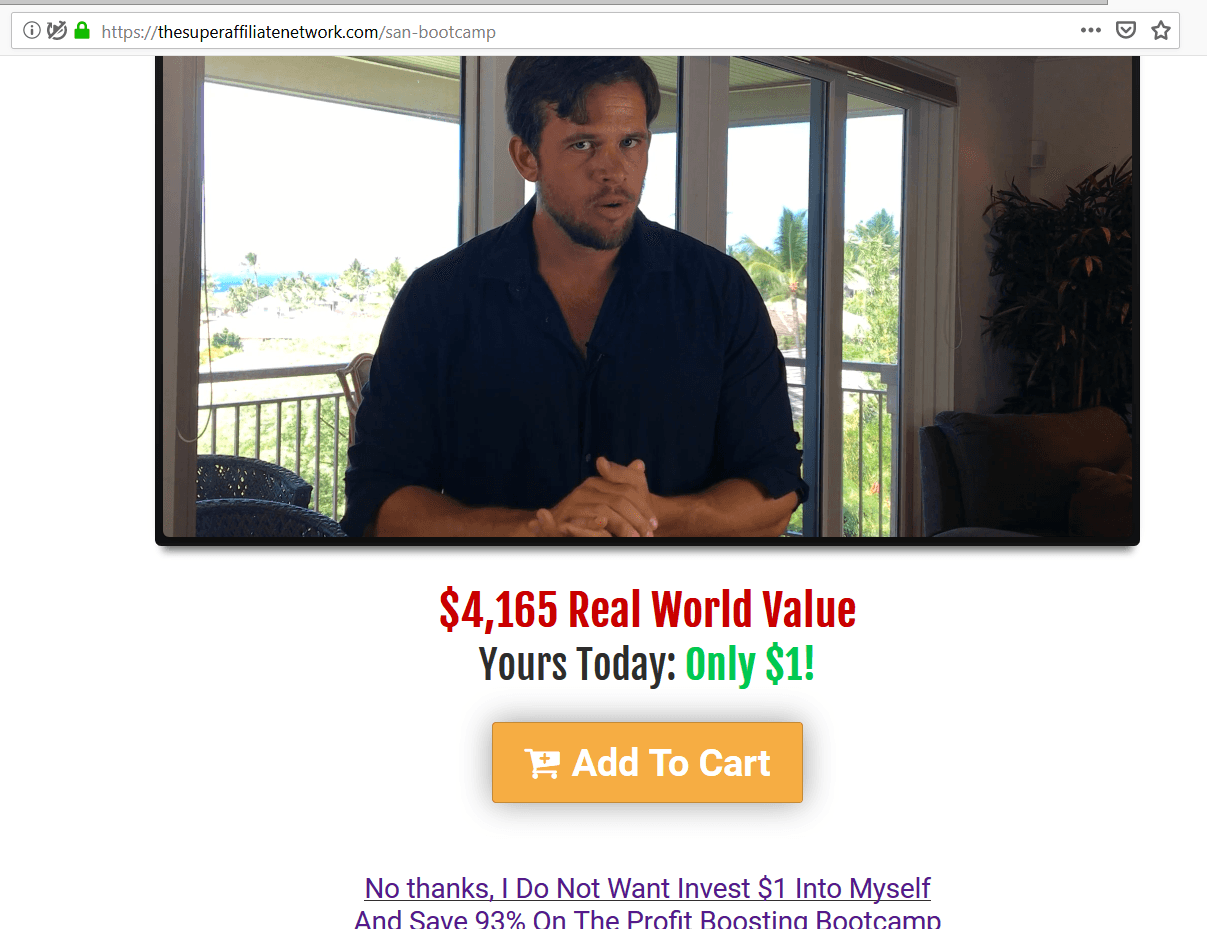 Name: Super Affiliate Network (SAN) by Misha Wilson.
Pricing: Free membership available.
There is also a $1 trial for 1 month to access advanced training called the Profit Boosting Bootcamp available, which after month becomes a $47/month cost. 
There are also 3 additional products you can get:

A program on learning solo ads for $297.

An IM Profit Formula book that costs $7 for shipping.

A Super Affiliate Inner Circle Membership for $297 which actually gives you access to 12 months of the Profit Boosting Bootcamp and coaching included. 
Also I was informed that there's 2 additional upper tier memberships/training packages you can get:
A "Maui Intensive" program for $9,997.

An "All in" Package which is nearly $25,000.
These 2 packages provide personal coaching and many other benefits, but obviously, I didn't buy it, so my review will not be rating, nor covering these programs.
What does this program teach? In short, it helps you start an affiliate marketing business. The training I saw in the members area ) went through things like:
Explaining the potential of it (which there definitely is, speaking from my personal experience).

Showing me a lot of success stories of other members of this program.

There is also a lot of tutorials on solo ads, which I don't particularly use but they do work.

There is also additional bonus training material on things like starting a successful business, traffic training & more.

They also have a list of places to sign up with to do affiliate promotions with/from.

As a whole this a pretty big program that covers starting, building and succeeding at affiliate marketing. You can also read my personal, fully disclosed tutorial on this business here.
Overall, my $1 membership to SAN got me access to a lot of content and many hours worth of learning experiences, which is why I decided to bump up my original score for this program.
Overall Rating:

Yellow Flag
4 out of 10 stars. This review reflects that $1 trial and the things I saw from it, and based on that alone, this program is not a scam. Like I said before, compared to my initial review, many years ago, this version of the program has improved a lot. 
And here is a link (not promotional) to the program if you want to try that $1 trial.
Whether you should go further with it should be your decision, and I personally decided not to, but here is also a brief mention of the other program I talked about earlier:
My overall viewpoint of Super Affiliate Network:
I was very impressed that I could join it for free, but then when the $1 offer to see more of the Profit Boosting Bootcamp came up, I took it and I'm glad I did, because there was a lot of good content to view.
There are 15 modules of training (each of which hold numerous tutorials, so it's more than 15 things) as well as tons of bonus content/training to view.
As far as I saw, the $1 membership got me access to the first 5-7 modules and some bonus content videos/tutorials (way more access than I had before).
Here's a brief inside look into the program (certain areas were locked to me unless I spoke with a coach):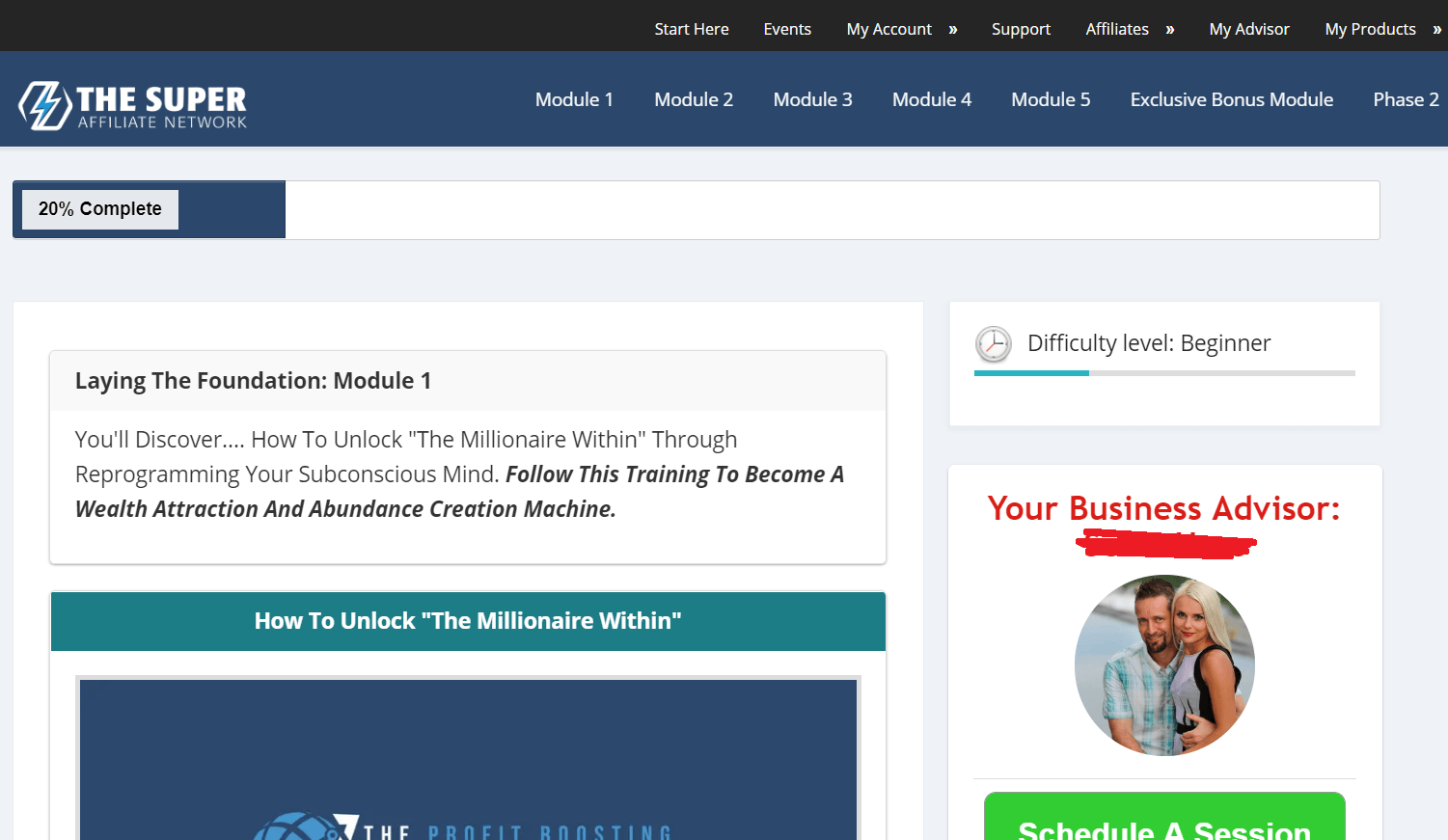 Note: You may notice a "20% complete" message. This isn't so, as I went through the modules available to me and submitted them for completion. However, each time I log into the site, it "resets" my progress for some reason. But I thought I'd mention that.
Let me explain certain pros and cons (my personal opinion):
Pros:
This version of SAN is way better than before.

I'm glad you can try it for free.

The $1 monthly trial has good things to show.

I like the success stories I saw.

There used to be a lot of

red tape

to proceed in this program, but that has eased up a lot.

You have many hours worth of training and beginner friendly stuff on affiliate marketing.
Cons:
-I still saw a number of restricted places I couldn't unlock unless I spoke to a coach. I understand that for $1, they can't really give me "All the info". Even my alternative program, despite also having a free membership, has it's restrictions, but here, constantly seeing that I have to contact a coach is not something I particularly enjoy seeing over and over. I personally hope they adjust this.
-I already mentioned how each time I log in, it always seems to show up as though I didn't complete any of the modules and in order to access any available ones, I have to go through them in sequence again.
-One of the reasons for the yellow rating is that there are numerous other pricing offers aside from the main one, and some of them are very expensive. I wish Super Affiliate Network has 1 main paid membership with access to everything and even if it was like $300 a month, I'd still be fine with that. 
Final Rating: Super Affiliate Network.

Yellow Flag
4 out of 10 stars. It's gotten way better, but I still believe that the WA alternative is a better choice for creating your own affiliate marketing business and you're about to see a comparison below this that will explain the differences and why I stick to WA. It helped me become my own personal super affiliate, without paying so much to learn/become that.
Before I do this comparison though, like I said before, this 5 out of 10 star rating reflects ONLY the $1 trial and the things I saw.
Like I said, there's lots of value, but that products page I linked above shows other programs/training modules in other affiliate marketing fields which you can get which obviously means more possible expenses. I'm sure they all offer value, but since I haven't explored them, I can't comment on them.
You can check out SAN here. And I am not promoting it, so that link is not promotional.
My final thoughts: Wealthy Affiliate (WA) vs SAN. 5 reasons I prefer WA.
I like the improvements that SAN has made, but I still like WA a bit more due to the benefits it provides, which I will list out shortly. Just know, like I said before, that both these programs are free to try now, so you can see this for yourself. But having said that…
1) Value offered in both programs compared.
I didn't check out the free membership of SAN, but I did try a bit of their Profit Boosting Bootcamp (it offers more) and while it's good, in my personal opinion, the free membership of WA offers more value, support and training. And if you take into consideration the premium membership of WA, then it's massive.
There's several modules, bonus content and hours worth of training in SAN.
But in WA, you get 20 main lessons and 100's of others, so there's more overall value you can check out and this is for the FREE membership. And just like Super Affiliate Network has a Profit Boosting Bootcamp, so too is there a bootcamp course in Wealthy Affiliate.
2) Navigation, it seems easier in WA in my opinion.
I feel like in the SAN program, the coaching thing is a bit mandatory to move forward. In WA, the coaching is just there in case you need help.
I for example contact and offer help to my referrals (and you can read about their experiences here, where they comment on it personally) but it isn't required that they use it and it certainly doesn't change how much of the WA website they are able to access.
The only possible benefit of the SAN coaching in my opinion is that you can talk to someone, whereas with WA, you would chat with your coach online through the WA website.
3) Which program has less restrictions to navigate around it?
While there's way LESS restrictions to navigate around the SAN website, I still would like to see it be eased up even more. 
Although WA's free membership has it's own restrictions and the premium membership unlocks all of them, in my opinion, you still have way more places to see, check out and learn from within WA than SAN.
4) Comparing success stories.
You can find a lot of success stories in both programs, which is great, so in that regard, decide for yourself. You can check them out in SAN , and/or you can check out success stories of Wealthy Affiliate here. 
It is worth noting that WA has been around far longer than SAN and has much more members.
5) Costs.
I strongly think WA has the BEST deal for beginner-advanced affiliate marketers, as they offer free tools, sites, support and plenty of other tools to make the free and upgraded, $49/month membership really worth it.
SAN does offer support, tools and training, but a few of them are separate costs based on what I saw, which are in the $100's each for 2 of them (but one of them is free).
And then if you include the other very expensive high ticket up-sells of SAN, the Maui Intensive and the All in package, that's a very sizable price tag and while I said I couldn't comment on them, and I am sure they offer good value, once again…
Being that I've explored the word of affiliate marketing and great money from it thanks to Wealthy Affiliate, I personally do not believe in buying such expensive programs. I truly believe WA has all you need (training, coaching, tools, services, ect…, for a free and very low upgraded premium price).
And the bottom line is that I have yet to see ANY program compete with WA in regards to these fields: 
And finally, I do want to thank Misha again for reaching out to me and asking me nicely to give his program another look. We have communicated back n forth a few times and he did give me the extra info I sought.
But overall, my main recommendation will still be WA.