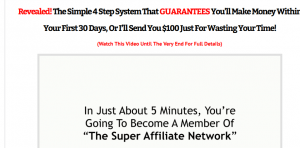 Quick Report:
Name: Super Affiliate Network by Misha Wilson. There is also an alias this program goes by which is:
My Super Affiliate Mentor.
Price: $1 trial, 10 days, then $47/month. If you don't do the trial, you can access the system for $37/month. There's only 1 up-sell that I saw in this program and that's for $297 a year. 
Overall Rating: 4 out of 10 stars. Very organized program but nearly every single step along the way requires approval from a "coach" to move further. One of Misha's webinars also showed there may be a potential for a $2,000 up-sell for a "pro" program which I don't really know anything about, but it was mentioned in a Q & A he did. I've also had comments on this price tag before, showing me it's possibly very real and another reason why:

Super Affiliate Network in a nutshell (Also known as My Super Affiliate Mentor):
This looks like a program where you learn to promote the actual Super Affiliate Network to others via Solo Ads and email marketing. I say the word "looks" because you can't gain access to the full training in this system due to there being a password required for every single lesson and you get the password from your coach. I know this because I tried the trial membership and this was my experience.
But basically, the site is a combination of webinars and a bootcamp course called "The Profit Boosting Bootcamp" where you go through the training.
I'll go into that later, but from the videos I did see, including the sales ones, the webinar videos, the parts where Misha mentions in his videos how he'll teach you to make so and so and he'll keep a small portion, it appears as though…
This is how it looks like you'll make money with this program:
You'll learn to collect leads through solo ads and then send them to the Super Affiliate Network. The training will explain how to set up solo ads, where to go, how to set up capture pages to collect emails and then get customers to pay, and so on.
Inside the program:
I want to show you the things I discovered within the program (At least the $1 trial I tried). I would have gladly paid $47/month and even the initial $37 without even going through a trial if I would have been given some indication that I would see the lessons, but because there's constant permission required, I stuck to the trial. 
Anyway I will explain the things that led me to my conclusion on the Super Affiliate Network's approach by going through what happened before I purchased it and what happened after.
The original sales video of Misha's is quite good. The person (Misha) explains that you're learning affiliate marketing which to me was a relief, because I though it would be an MLM. Then I purchased the trial because it was totally worth it.
Once purchasing, I was led to an up-sell for the $297. To be honest, I didn't pay attention too much to the video that was playing to sell me this because I just wanted to get into the members area.
What followed was a questionnaire where I was asked how much money I want to make, if I've done internet marketing before and the typical things I've seen many times on these types of things. Usually these kinds of forms appear where there's one of three things present in a program:
It's an MLM. 

It's a high ticket item.

There's a coaching aspect to the program where you're required to speak to them.
And those things usually mean there is a high price for the program that is present or will appear sooner or later. 
And for me personally, I hate to have to go through all of these things when I just want to see the program. It makes me uneasy because I feel as though I am being pressured before I even get a chance to see what's going on. I always like programs where there's freedom in free trials and you don't have to commit to any questionnaires of signing up somewhere. 
To me that would be better and I would be more prepared to go further. There's also people (myself included) who join programs who don't want to invest in anything right away but need more time and if the program is great enough, they will become loyal to it. 
Back to the review of Super Affiliate Network…
When I completed the questionnaire, I was informed I'd need to be in touch with a coach to gain access to lessons. This was a huge letdown for me because again, in my personal opinion, when I buy a trial, I need to get a good look at the program, without anyone pressuring me.
With a coach requirement, I felt that way. Plus, as I said earlier, you need ACCESS from this coach to go through the training. 
Because I had no other options available, I did email the coach this program gave me and asked if I could see the program without having to get access to each lesson. Unfortunately all I got was passwords for only 3 lessons. Without these passwords, none of the lessons will open and each one apparently has a different one.
But after I emailed my coach and awaited his response, I went into the Super Affiliate Network website to see if there was anything at all I could find without entering a password and there was, the webinars…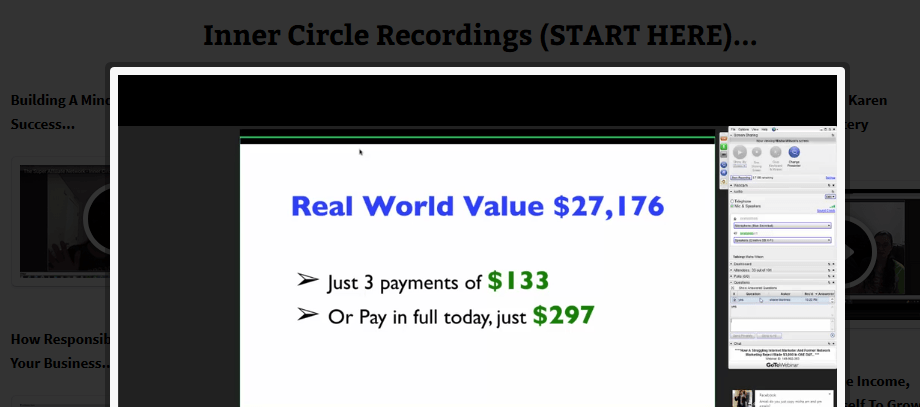 There were about 10 of them on the page, all accessible thankfully, and many over an hour long. The one you see above is the one I felt was most valuable to me because it explained the program itself a lot better and there were some good tips offered here (At last, the $1 trial was worth it!).
But it was in this particular webinar video where in addition to good tips from a member of this program, that Misha himself also jumped in and provided a pitch to his system. And it was in this particular moment in the webinar where I discovered a lot more about the program including that $2,000 price which he mentioned when he was asked about it. 
Besides that video, the others were mainly of these 2, I believe successful members of the system (they are a couple apparently) and they just gave some basic tips and explained how great the program is. Personally, I didn't see much value in these other webinars. All I really felt was that they were pitching the Super Affiliate Network. The only video I though was good was the one I talked about above.
On this webinar page, there were also some book recommendations which were mainly about getting rich. 
What I learned after my coach gave me access to 3 lessons:
Once he got back to me, (I guess the answer to me being able to see all the training was no) and let me see the lessons, I went right in…
On this lesson, there were 5 videos where Misha talks about online business through email marketing. The quality of the videos was very good and the 2 other lessons slowly revealed more and more.
I was impressed by the quality, but it was, at least from just these lessons alone, limited to what it takes to make money online. Going through them did make me want to move forward, and there were also questions asked after every lesson so I could understand it better, although this wasn't a quiz, it was more of a questionnaire again.
A quick word about the alias this program goes by: My Super Affiliate Mentor.
I've only recently discovered that this is the other name the program goes by. I don't know why there's a name change, perhaps it's a marketing move to stimulate sales, perhaps it's something else, but just know that if you enter through the My Super Affiliate Mentor website, you will be entering directly into Super Affiliate Network, it's the same program.

Final Rating: The Super Affiliate Network

Yellow Flag
4 out of 10 stars. If the training of this program is only about Solo Ads/Email marketing, you will have to pay for those things. I hope the continued training goes beyond that stuff, but because of all that "red tape" in the program, and not too much information being revealed, this program was not for me…
My final thoughts:
I do think the Super Affiliate Network is an organized and decent program, but if I were to request any changes, it would be to remove this coach thing or at least let people see some of the lessons to get them started without all this password stuff! 
I also think that Solo Ads are risky because they cost money which is why any program that suggests them, I am more inclined to recommend it to intermediate people. 
Update 5/2/18: Yep, in my opinion Wealthy Affiliate is superior to Super Affiliate Network. Here's 5 reasons why I believe this:

Based on these MAIN reasons, I fully stand behind WA in recommending it over this program. I just cannot get behind the type of controlling aspect in the Super Affiliate Network and the narrow approach (in my opinion) that it teaches.
I believe there is way more chances to succeed if you have more open ended training, a community that helps you anytime you need it and lessons that can be accessed when YOU want them to be accessed without having to go through a third party. And in my opinion, on all these grounds, WA beats Super Affiliate Network in every regard…