If you have never heard of the term evergreen niche before, I will explain what it is very clearly. And as a bonus I'll not only show you how to find them, but also give you a list of them.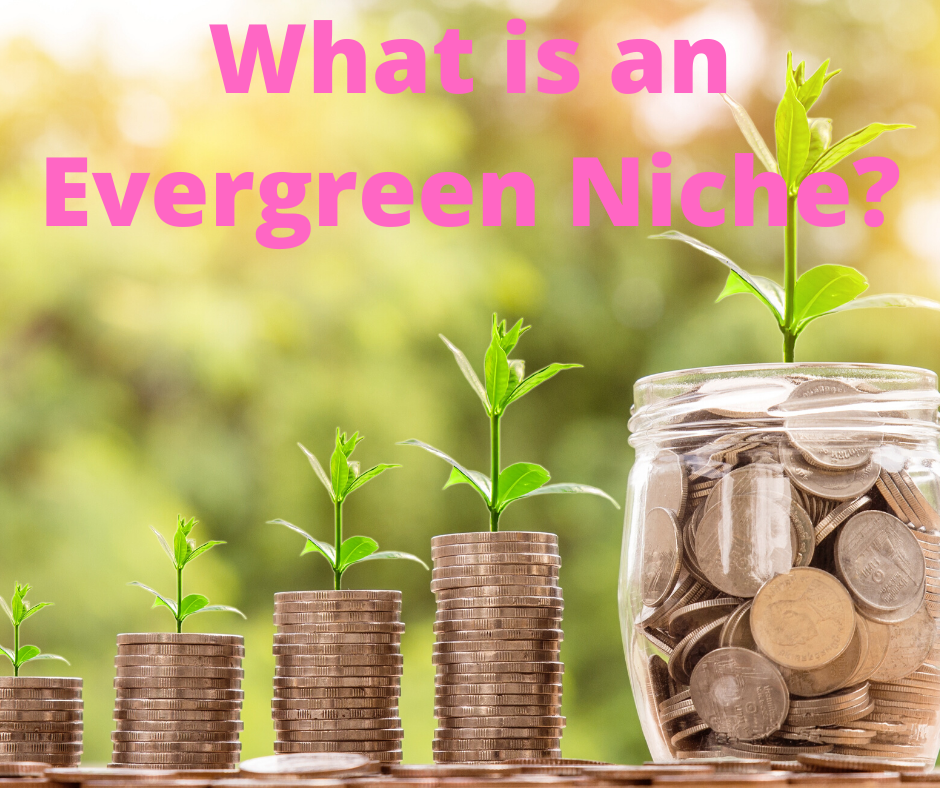 Believe me, if you understand what this is and how to properly leverage it, you can profit off the MANY evergreen niches out there LONG term, even a LIFETIME and I'll show you exactly how this can all be done.
I have found that while most people do not know what this term is, the people who "do" really don't understand it deeply enough and thus cannot properly take the right actions to make money of them. 
So what is an evergreen niche? Let's define it:
Basically it is a topic/subject that never actually gets old and is always being discussed by at least 1 group of people.
Because there is never really a period where the topic gets less interesting or dies down means there's always a way for regular an/or internet marketers to capitalize on the subject. 
In other words, the subject is always going to be fresh and evergreen niches can be recession proof too. And for business, that means you can always keep profiting from it. I explain how evergreen niches have helped me make a good income from affiliate marketing here.
Here's some examples (Over 100 actually!):
Knee problems, joint problems.

Anti aging solutions. 

Stopping diseases like heart disease, diabetes, ect…

Fat burning solutions (belly, thigh, waist, ect…).

Working from home (secondary income).

Dating help & advice.

And here are another 50, which actually connect with the 50 above, so it's really 100! 
Here are 5 more evergreen niches I share on my other site.
The above topics have that "evergreen" definition attached to them. Why?
Because they are problems that are common across the world and consistently happen (and will continue).
Note: Sometimes you can have weird niche topics be evergreen too. Here's some examples that are weird niches.
Let's take knee problems for instance:
New generations of people come along all the time who get it. People who get injured, people who are elderly, people who get that problem from over training, ect…
But regardless of the types of people who get it, it is a wide spread problem that has existed and will unfortunately continue to exist, but while this is a fact, it is also true that there are solutions to this problem and providing them to a wide audience who has them is a key component of a niche market that has the potential to make a lot money.
In fact, I tried to collect an email list based on exactly this topic and it here's how it worked out. And it's because of list building case studies like this, that I was able to figure out nearly 100% proven ways to build a profitable email list.
The rules to discovering if your niche market is "evergreen":
Rule #1: If it deals with love (dating, relationships, ect…), if it deals with health (how to get rid of any health problems, quick health fixes, diets, ect…) and if it deals with anything related to making money, aka wealth, it is ALWAYS going to be evergreen.
Many of the topics I listed above apply to this rule.
Rule #2: Search for topics that pertain to a constant problem a group of people have and will have as I kind of pointed out in rule #1. Usually these have a variety of products constantly coming out and the more popular the topic and the bigger the demand for a solution, the more products you'll have to promote.
Again, I draw your attention to several topics I listed above: Knee, joint problems. Anti aging solutions, ect…
Rule #3: Focus on the subject itself first hand when looking at if a subject is evergreen, and not necessarily a product within that subject. If you stumble onto a big product that sells, connect it to a niche audience that may benefit from it and that topic may actually turn out to be the evergreen one. 
Ex: You find that specific supplement that helps restore cartilage in knees and reduces knee pain. Promote that product, but be sure to keep the niche audience in mind when you create your website.
Many popular products "die out" as they become popular at one point and lose that popularity over time. If you focus on only promoting a product that is doomed to eventually run out of popularity, you will eventually lose money for it.
Think of diet products for example. There's constantly new diets coming out and fizzling out. 
The basic point of rule #3 is: Products are not evergreen, niche audiences and their problems are. Therefore:
Are people with knee problems an evergreen niche? Yes.
Is a product that helps people reduce knee problems an evergreen niche? No.

10+ examples of topics that meet one or all 3 rules:
I write a lot of blog posts that specifically detail evergreen niches, so what I want to do is link to 3 of them specifically that are all in that category rather than write about them all over again:
1) Here is one with 10 niche markets.
2) I also made one that covers another 3 of these, but one where you can sell some very expensive things.
3) And here's one I really liked, it may have been the first blog that covered these sorts of things and my intention at the time was just to help people understand that they can find plenty of topics to make money from if they just consider an important rule (#2 below) that I'll talk about. Anyway, here is that blog post. 
Right here we have 16 different subjects (17 if you include my rule #3 example). Are there more? Absolutely!
And you can use the 3 rules above to establish that. While I could keep giving you more and more examples, I think 16 is really more than enough to point out how they can be found.
Here's one of the BIGGEST secrets to understanding this subject:
Generally, most of the subjects you ever find are always going to be evergreen. Go ahead, name a topic in the comments below and challenge me on that. Any topic that is common among groups of people is generally, always going to have new updates to it and that is always going to keep it fresh.
The ones which typically aren't are specific products. In my experience, a product that is released onto the market eventually fizzles out because of an updated one being released or perhaps, something more advanced, cheaper and better comes out, making the old version unnecessary. 
For example: Again, I want to draw your attention to new diet ideas/fads. Some of them become extremely popular, but most of them eventually become forgotten about by the general audiences that are interested in them because something better/new comes out.
That is an example of a niche that like I just said, fizzles out, meaning if you were to try and promote an old diet or anything that I like to call a "dead product", you would probably get no sales or very few visitors who knew about it.
However, some of these diets, when popular can truly be amazing opportunities to make money from and here's a perfect example of this. 
Another example: Who still buys the ORIGINAL iPhone? Very few people, maybe people who are phone fanatics possibly, but generally, most people move onto the next model, meaning that if you were going to promote the first ever version of the iPhone, odds are you would probably not be in touch with the general niche audience interested in that phone because most if not all of them would want the most updated one. So, promote the updated one, not the old one. 
The main point I want to make clear here (again) is that…
Products come and go, but the topic is what really matters, for the evergreen niche, because as long as THAT is popular, products will always be released to meet the demand of the topic. 

Does this mean we shouldn't ever focus on finding products?
No, you absolutely should be looking for popular products to sell and promote and here's one tactic I use called the best seller list, but products rarely stay popular over the years. Promote the hot ones when they are hot and move into the new ones (and or promote old ones if they're better) when they get released, just don't depend on one hot product to constantly be fresh in popularity and make you money forever…
I made that tremendous mistake with this example and though it would work forever, then in less than 2 years, the hot product went from getting me over 5,000 visits a day to 0 and you can guess how my profits fell from that! At the time, I devoted an entire website to JUST promoting that and it was a gigantic mistake which cost me a long term business opportunity. 
Either way, when that happened, I had to move away from promoting it specifically and find an evergreen niche audience that may have benefited from it. 
When I did that, I started a new blog, targeting the topic I knew was fresh and would be fresh and that gave me a far wider focus on writing content that would always in one way or another attract my audience constantly vs having just a single focus before.
Targeting one of these niches = getting evergreen traffic.
Naturally if you pick an evergreen subject and blog about it on your site, you will be getting that type of audience to it and that means, there will always be an audience that will require your site's content to help them out.
Now in order to keep maximizing this, you will need to blog as much you can. Here's ideas for what to blog about, and it'll basically help you keep producing the perfect content for that specific niche audience to keep finding it. 
The great news is that once your website begins seeing an influx of traffic for these topics, it can last for years, but it's also important that you keep blogging about these subjects as they are always being updated and are in demand. You can be sure that there will be more competitors doing the same stuff to try and out rank you.
My final thoughts:
So let's say, given all of this information, you go out and find the "perfect" niche that is evergreen. What would have to happen after?
How can you take that idea/market you find and make a business out of it? Glad you asked. Here's a quick summary of what you can (and should) do from the moment you get/find the idea, all the way to making money with it:
I've created multiple niche sites from this very same formula you are reading about now. Here's some of my personal examples:
I have one:
On knee problems (I used email marketing for this one).

On surviving in the wild (this one is a fresh site).

On making money online (this is the site you're on right now).

And of course, here's that list of 50 niches again (with evergreen status).
And more…
As you can see, out of that personal list, only 1 was mentioned above, the rest were completely new but it goes back to what I said about finding the evergreen topics. If you explore each of them, you'll see that they are in fact that. I just also used the same 3 rules I explained above to discover if they were worth making a website/business on and I can tell you the answer is YES.
Now in my case, I've dedicated most of my time to the one on making money online since it provides me with the best results, but the other topics are there, waiting for me to build them up and profit of them, using the same formula you read above.
If you're wondering how I know about this and monetizing on evergreen niches, my answer is that I've been taught to do this through an awesome program that helped me with it, and it's free:
All this being said, I hope this tutorial on evergreen markets, examples of them, finding them and the other parts we covered in this article have better helped you understand it, including how to make money off this.
If you have an idea about one of these markets you want to run by me, I'd be happy to let you know if your idea has potential.
Also, I want to quickly mention that even if a niche is NOT evergreen, it can still make money. For example: