Hi guys, today I want to "reveal" a project I've been working on a little bit over a period of a year, a niche site which sells drones and drone accessories and share how it's been doing.
While my effort in growing it has not been as much as say this page I'm writing on right now, I have to say things have been looking up and I wanted to share the results of this "side page" I've had going. 
There are 3 reasons why it's important to share this niche case study with you:
1) This case study is going to demonstrate how a seemingly uncommon niche topic can generate money.
2) I want to help encourage people who have their own niche ideas to go with it (and to ask me if it's good if they aren't sure).
3) To show you guys that by following a universal formula to niche sites, ranking them and selling stuff on them, that you can do pretty well, depending on the effort you put into this formula itself! In this case, the method to making money is through affiliate marketing.
So let's analyze the niche page briefly. Here is the report on it:
The name of the page: TheDroneAdventure.com
Age of the page: About 1 year (almost 3 now that I did an update).
How many posts and pages do I have on it? 50+ posts.
How much traffic does it get daily? 30-50 organic. Not a lot (yet).
Update: Now it gets about 50-100 visits daily.
Which affiliate program do I promote these products from? Amazon Associates.
How many sales has it made? I don't have an exact figure, but I estimate it's around $200 (Here's one that made me way more). I also added Google Adsense to this site and it's made about $50+ overall so far.
Obviously nothing huge, but the majority of sales have actually come in 2018 since the page has grown and matured in Google's rankings in the past few months. 
Now it is also important to know that there have been some sales where the people who clicked on my links did not buy the actual product but something entirely different, but thanks to Amazon's tracking, even if they click on my link, but buy something else, I still get the referral commission.
The only problem with that is that it's often hard to tell if these miscellaneous purchases came from the drone site or another one I have up so I couldn't exactly count them in the sales report. There's also another different kind of niche site I run here, where I also make sales from.
For example, a person may click on my link to buy a wire, then decide to click to something else and buy a shampoo. I'll see the sale for the shampoo but won't know if it came from my page or not.
What kinds of things have I sold on this niche site?
Drones obviously.

Accessories such as USB cables.

Various accessories for the drones themselves.

Carrying cases for them.

And more.
So far the majority of the sales made have been on the accessories side since they are cheap. Normally, the accessories I promote give me a commission of anywhere from $0.50 to several dollars.
At this point, I don't care too much about this, as I'm still playing around with the page, but in any case, I'll explain the good and bad news about this niche topic…
Here's a quick sales overview of the niche site(not all of these sales are from the drone page):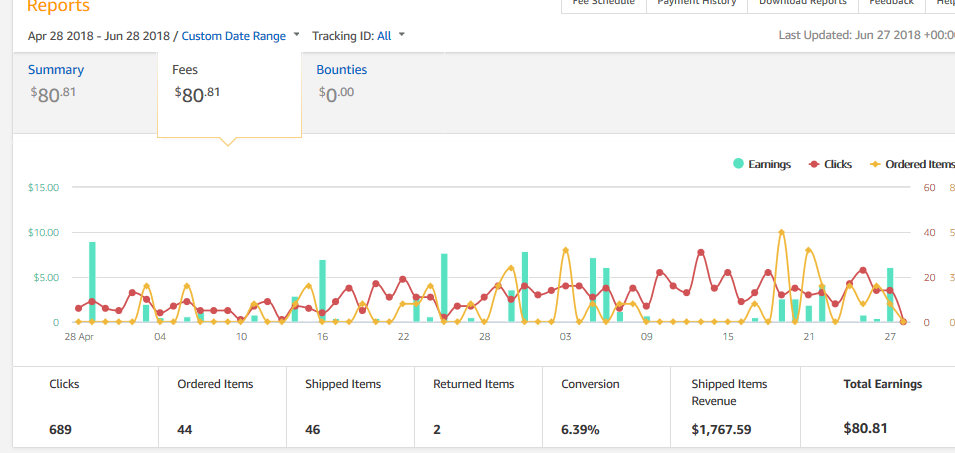 So that report is for the last 3 months. Unfortunately Amazon's reporting only shows 3 month increments so I had to estimate the $200 in sales value since it began last year, but as I said, the majority of them have come recently and that's because the page has grown and ranked much better in 2018 than when I first started. In fact, here's a chart showing that growth:
Because it has grown, proportionally, I got more traffic and more sales.
$200 in a year? That's horrible right? No and here's why:
I want to re-mention how LITTLE time I put into this page. 52 pages of written content in a year is actually quite low, as is getting 30-50 average visitors a day. 
Now if you take another example of a big page I run, then you're looking at something like years of it being up, 100's of posts and 5 figure incomes coming in yearly. 
The point of these 2 comparisons is to show that with more work on the drone page, more content and more traffic, these figures I pointed to can easily expand several times.
52 posts and pages can turn into 100, 200 or more. 

30-50 visitors can easily climb to 100, 200 or more a day.
The sales then can jump up several times and I know this since the initial stats prove the page is making sales. When a page sells many times, you know it has value and potential and that's exactly what this niche site has demonstrated to me.
Plus, since the rankings have gone up since the last few months, consider I continue in the same direction that got me to that place, these figures are more than likely to happen. The only issue is finding the time to actually do this.
And this brings me to an important point…
Are you focusing on several niche pages at once? Don't.
I'd say I have at least 4-5 active pages I'm working on at any point in time and I always set a goal to do any immediate work on the one which brings in the most money and obviously, it is not the drone page. If after I finish my daily work for the main page, and if I still have time left over and energy to keep writing, I'll focus my attention on the other side pages I have, such as the drone one.
Goals for expanding the page and sales moving forward:
There may be those of you who read this who are in a similar "predicament" as I in that the page you have set up is making minuscule profits or none at all. To solve this problem, I have a few solutions, which I will metaphorically answer in terms of how I am handling the problem on this page I'm doing the case study on:
Here are the goals for my page, which you can and should apply to your own:
1) Produce more content.
This is not a problem for me, the only issue is managing the time to write it all. The drone industry is growing and I have found MANY topics for which I can write at least another 50 articles on. Also in this niche, I have seen the competition be quite low, and I have seen many of the keywords I was chasing for this niche rank on the first page on Google.
The key for content will be to find keywords involving drone topics and writing about them. This is the formula I eluded to earlier than I follow across ANY page I make and it's what has made me the real money over the years. While the page in question hasn't exactly been a full time profit page, I've had others which have done this.
Oh and by the way, if you want to learn this specific formula too, here is the program called Wealthy Affiliate that teaches it step-by-step.
2) Possibly hiring a freelance writer.
I've considered this for awhile, but will need to find someone who is actually knowledgeable on drones and knows not to copy content to hire them. In whatever niche subject your site is on, one of the BEST recommendations I can give you is to find a like minded individual who knows that topic just as well as you do, and then to outsource the keyword/content ideas you find and have them write about it. 
I've more or less considered the second option, but to me, right now, the first one is more important because if I can get the site up to a point where it's profits can pay for freelance writer, then I'll do it.
3) Ideally, I want the page to make $1,000 a month.
While it will be tough to do this selling accessories and wires, don't forget I am selling actual drones on the site, for which the commission value can get as high as $100 per sale.
However, selling high ticket items like these is tough since most people are not ready to spend this much, so this definitely explains the usefulness of selling low cost accessories. 
In any case, this is what will guarantee that the site grows:
Content production, period. Nothing is better for growing the page and sales than doing this. If you are having issues with rankings and traffic, this is the cure guys. 
I'll keep you all posted on the progress this site is making over the next few months. I'll also be doing a post on another, even older niche site I've had up which has made more than this one, stay tuned 🙂
Oh and one final thing: Do not feel that it's necessary to start your own site on the same subject, especially if you don't know it. You can make good money with just about any niche site topic and I prove it here through Wealthy Affiliate's training. 
If you have questions on this case study or have your own site/niche question, let me know!
Update: Future plans for the website.
In 2019, I have been working so much on this main website, that continuing to run the drone one has not been easy. While it has grown, the key now is to try and get ads placed on the site, starting with possible Adsense and if the traffic grows to upgrade to Mediavine, which would allow the site to make more money and not have me rely entirely on affiliate marketing.
Update: More niches like this revealed.
Drones are just 1 of the plethora of niches I could name for you that have a lot of potential to make money from and if you need proof, I have an article on 100 niches here, which reveal those others to you 🙂
Also I did a case study on a person named Billy Kyle who actually put all his focus on making a drone niche site and YouTube channel on it's doing very well. See his affiliate marketing case study here and learn from his success!