I have a controversial opinion to share with you today on whether or not Google Adsense is worth it and if it's worth it.
My general opinion is that it isn't and while I will share with you a few case studies, of people who have made a lot and very little with it, the real bottom line (thesis) is that there's WAY more money to be made to be made on your site/blog if you use the other options. In many cases, I'd even argue that this network may actually cannibalize your profits if incorrectly used (which it often is).
So let me give you the basic and quick overview of this program before I give you the case studies on people who have made A LOT with it and others who haven't…
What is Google Adsense and how does it work?
It is a program designed by Google itself which allows you to place their ads on your blog or website. Each time a visitor to your site comes and clicks on one of the advertisements, you get paid by the Google Adsense program.
Now how much you get paid per each click varies on certain things, but the biggest factor is how much the advertiser is paying Google to display those ads on your site. Usually, the amount varies between a few cents to a few dollars in rare cases.
Do people make good money with Adsense? The

yes

case studies:
The first case study I want to share with you is from a personal friend of mine who used this network many years ago and actually grossed $20,000 a MONTH through it. I talk about him (Eddy) more in the following article where I cite other success stories if people making money online.
He had a very good website at the time which was receiving a lot of search traffic and I estimate it was in the 1,000's daily in order for the $20k a month to be possible. But in any case, this actually occurred and while his site eventually did tank for personal reasons, I want you to remember this case study because very shortly, I will explain why it was still a mistake for him to use this program despite these sick profit numbers I just told you about…
Next is just Googling case studies on this subject. You need not go far to find them. In fact, here is a screenshot (and link) the search results which talk about success stories from using this program:
There's definitely a lot of success stories out there, but even in spite of all this YES evidence to Google Adsense being worth it, I will still argue against it and give you very good reasons why shortly.
The "

no

" case studies:
I doubt anyone would argue with me if I made the claim that MOST people who use Google Adsense don't make a lot of money with it. It's not really a matter of the program itself being the issue (it's actually not that), it's just that most people:
Have no idea how to monetize websites. Here's a program called Wealthy Affiliate that teaches you how (with personal earning reports I share).
In every industry that requires effort and ambition, every single time, very few people will succeed in it, whether it be business, sports, competition, ect… 
I find that most people I interact with who try to make money off their blog or website and think of using Adsense think they can just set up a site with little work, register with the program and make bank easily (this is 100% false). These are some of my personal experiences from talking with others who have tried it.
But I do want to share my own history regarding this program (yes I have used it a few times). The first was on a weight loss site I had (this is the case study on the website itself, not the program).
There came a point in that website's history where profits started to fall (I was selling a diet program at the time as an affiliate) and because I had become a bit "bored" of working on it, I decided to leave it alone and focus my energy on another site. But it was still getting traffic (It still does today), so I figured it would be beneficial to put up some Adsense ads on it to at least somewhat monetize the page…
After being approved for the program and putting up the ads, the first click I received on that site earned me a little over $1, which I found to be amazing and though the trend would continue and that I'd make a lot of money. Well several months later, the estimated earnings were…$20+. Isn't that amazing? No…
The lessons I learned. If you want to succeed with Adsense, do this:
First and foremost you need to have a website that gets A LOT of traffic. I'm talking the kinds of numbers I referenced from my friend above who grosses $20k a month through it. To reach that point is EXTREMELY difficult and time consuming to say the least, but it's the only way you're going to get there.
I find the only websites/blogs which TRULY benefit from this program are those which target broad topics on their site. So generally websites on say anti aging topics, weight loss topics, food recipes and making money topics in general are in my opinion those who would benefit from this network.
However, even in the best case scenarios, I still don't think it's worth it. Here's why:
The bottom line is that you can make FAR more money than you can imagine if you don't use Adsense. Let me explain using math…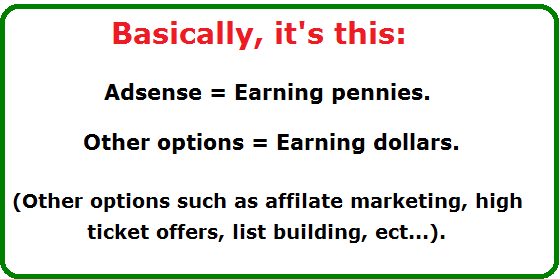 Let's say a website which targets a niche topic on getting clearer skin. The website gets a 100 visitors a day, doesn't use Adsense and promotes an affiliate product which earns the owner $10 a sale. It makes 5 sales a day and this makes the person $50 a day, and subsequently $500 a month.  
Now if that same person stops promoting that products and starts using Adsense (ONLY), I guarantee you they will NEVER reach the $500 a month mark. Let's say out of the same 100 visitors, they get 10 clicks a day on the ads they run, they'll likely, at best earn a few dollars a day and at the end of the month, AT BEST, maybe break $100.
Now you may be thinking, OK Vitaliy, why not just run Google ads AND promote the product that earns them $500 a month? Wouldn't that be the best scenario? Wouldn't that earn them the most money?
The answer is no and this is where I go back to using the word "cannibalize" to describe what is likely going to happen…
The problem with running ads on a website which pay you very little is that they often distract the visitors who come to your site. It doesn't take a lot for someone who visits your page to click away from it and if they see an appealing ad, click on it, 99% of the time, they are gone and never coming back.
Now what I am trying to say here is that there will be a portion of the daily traffic to this blog/site I'm referencing that will click on the ads and leave, which if they DIDN'T, they could have stayed and purchased the product the person is promoting.
In layman's terms…
Ads that pay little lead people away from your site and lost profits. You could be making A LOT more by not having these ads and funneling your traffic where you want it go to, where you get paid more.
And basically, having Adsense ads can often times eat the profits you would have had, were you not running them on your website.

Let's go back to the $20k a month case study and why he could have made 10X more:
If you use the example I used above with the simple math, you've probably already jumped ahead a few steps and already saw why my friend who was earning $20k a month from JUST Adsense could have been earning even more if he didn't use it. 
In fact, we had this conversation when he first told me about this story. We were eating lunch and discussing past history with our websites when this topic came up. When I heard about the $20k a month, my jaw almost dropped, but then a split second later, it actually did drop because I though to myself…
"Oh my goodness, do you even know how much you could have been making if you DIDN'T have Adsense!?". 
And then I vocally said it and he told me "I KNOW!" while shaking his head. But if you aren't with on what's going on, let me explain exactly why he could have been making A TON more money…
My friend was only running Adsense ads at the time and getting over a 1,000 visitors to his site every day. 
If he turned that program OFF and promoted a program he is promoting now as an affiliate marketer, he could have been earning $20-$30 a sale, and also earning it every single month because it's recurring commissions. 
Meaning 1 person who buys from his offer could have been earning him $20 a month, every single month for that SINGLE sale. Multiply that by 100's and 1,000's…
As a result, if he changed up the promotion on his site, turned off Adsense and enabled this promotion while his site was hot, he could have been cracking $100,000 a MONTH, and furthermore, that would have added up to $200,000 the NEXT month and that's because the first $100,000 he made would have paid him again next month (because they were recurring) and he would have added a NEW $100,000 in sales. This would have snowballed into him breaking a million EASILY.
But because he used Adsense, that $20k a month was coming from 1 time clicks with people who would have never come back to his site. You could say that he wasted tons of potential money to be made. 

Believe me, he knows this now and I also want to say that I'm not exactly a genius at this either. I've made similar mistakes in my time doing online marketing (like when I was making $100k a year from 1 site) and this is me speaking in hindsight to you right now. Don't make these mistakes people.
In fact…
Stop thinking about front end profits, it's the back end is where it really counts:
It's so easy to get distracted by the thought of easy money. Just set up ads, run them, get paid, BOOM, I'm making money quickly.
Compare that to setting up a sales funnel, letting your website grow, not running ads or promoting anything until a certain amount of good time has passed. That's a hard thing to sell to people because waiting and investing in your website doesn't sound as appealing as "start earning now", but when you look at the numbers and see how much you could be making in the latter experiment, I think you would reconsider the front end profits.
Would you rather make a few dollars on the front end or switch it up, wait a few months and be making a few $1,000 a month on your website? I would easily choose the latter option had someone laid it out that way to me.
That is basically what happens when people elect to use Adsense vs when they don't and this is really why I don't think it's worth it.
There's really only 2 time I would say you should use the Adsense program:
1) That's when you're passionate about a blog and writing for it often, getting a lot of traffic, but not really interested in trying to make the blog/website more money. If you are, then you should 100% reconsider and try a different method of making money through.
2) There are some people out there who prefer to have a blog and let it run however it should run without caring much about anything else. Those are the type of people who would and should use this program. I have some websites right now that I simply have no time to work on and grow, but they are getting traffic. These sites should use Adsense if there is no better option. 
My final thoughts:
The bottom line in this whole topic is that YES, you can make good money with Google's program, but you could make MUCH more without it, as long as you know how! 

Google Adsense is a completely legitimate program and you can make money from it, but if you reach a point where your website is getting a lot of visitors, then I honestly think it's foolish to only rely on that program to monetize off that traffic and you really should be thinking about the other various ways (90% of which are more profitable) to be monetizing your site through. 
I am making a full time income on THIS blog here and I know for certain, if I started using Adsense in addition to my current sales funnel, my profits would fall at least 50%. 
And if I switched to ONLY using Adsense, I'd probably lose 90% of my existing profits. It just doesn't appeal to me personally, but perhaps it will appeal to you if you're in the group of people who best benefits from this program.
I don't know, those are my thoughts and experiences, what do you think?
Update: An ad platform that beats Adsense by a large margin.
While I am "against" the idea of using Adsense, I recently learned of an ad platform that pays you substantially way more than it does, and it pays for every visitor your site gets, not clicks, so you can make way more. That ad platform is called Mediavine.
This kind of program pays you FAR more for ads on your site than Adsense would and it is recommend, but read the above link to see why to be eligible for Mediavine, you need to have certain quotas set up to be eligible.
In fact, the very same friend I mentioned in this case study uses it on multiple sites and generates about $5k a month in ads, WHILE also doing affiliate marketing, and at the same time, this ad display project does not interfere with his affiliate commissions.
Another update:
There is a drone and mud running niche site that I run where I rarely do anything to update and grow it and for those situations, I have found that adding an Adsense promotion to it has slightly helped the website make a little bit of money.
I would say only in these circumstances does it make sense to use this platform, otherwise, try to do affiliate marketing and/or reach a level of traffic to be eligible for Mediavine ads.