A few days ago, I discovered a fake news website pitching 3 different work at home programs and one of the was called Online Media. I've already reviewed the other 2 programs and yes, they were scams.
Unfortunately, I also consider this 3rd one, Online Media a scam as well and that's because it's literally a duplicate of the other 2 sites I've reviewed and in the end, all 3 of these programs actually lead whoever buys from them, to the same program on the back end and overall, this entire process is a scam. I'll explain why in this review.
Quick note though: All 3 of these programs have very vague names and can easily be misconstrued for something completely different. For example, the names of all 3 of these programs are:
Computer Team.

Navigate The Web.

And finally, Online Media, the one being reviewed in this post.
If you didn't stumble onto these sites or know they were work at home programs, you'd probably think the names meant something completely different, but they don't, they are all fake work at home programs made by the same fake person: Julie Clark, so just know this moving forward to avoid confusion…
So let's quickly review Online Media, by Julie Clark:
Cost of program: $67-$97.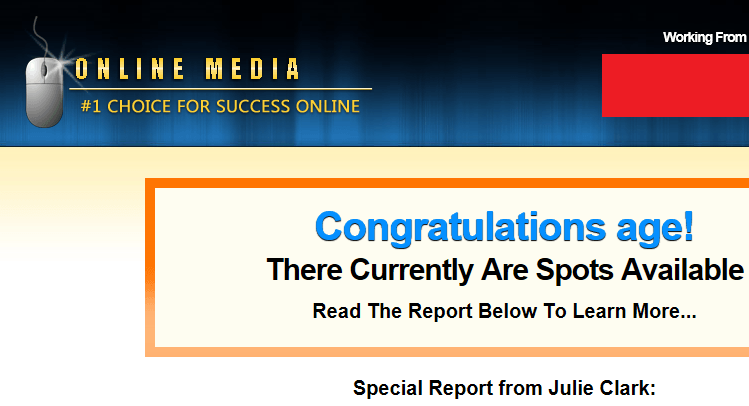 Creator: The truth is that the real owner/s are unknown. The program is pitching "Julie Clark" as the creator, but I've debunked this already in the previous 2 reviews where it's the same supposed person making it.
Do you actually learn anything/get anything from this program? Most of the stuff taught isn't really practical for making money from home. I believe that the most you learn from this place is how fake and low quality it is.
Overall Rating:

0 out of 10 stars.
It isn't real, it's just a fake work at home program sending you into another work at home program that is low quality. I've experienced this PERSONALLY since I did at one point pay to see what was inside that program so I can make this claim!
I'm about to expose all the fake things going on Online Media:
-As I said earlier, what led me to discover this program was a fake news site. Getting into specifics, I found this page called Top jobs reviewed and on it, they were pitching to me the best 3 work at home programs around. Here is what it looks like: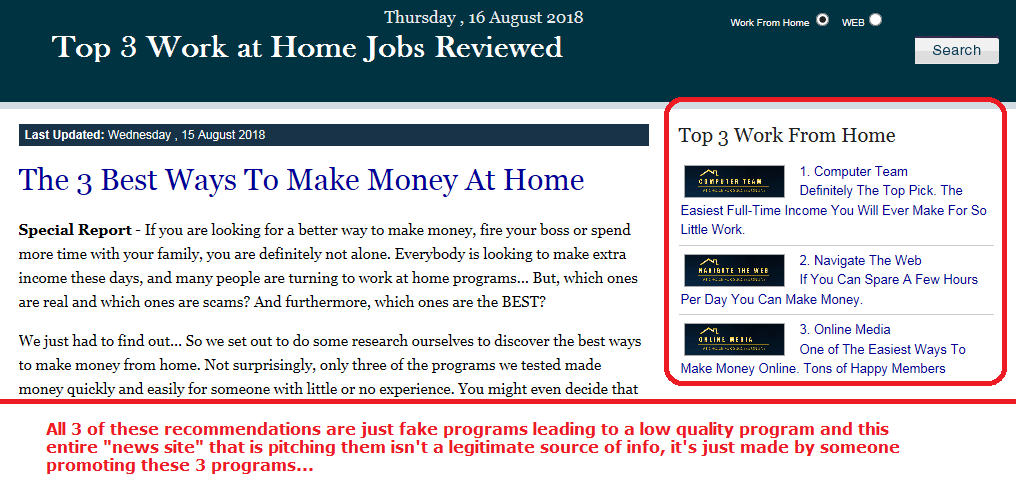 -Now all 3 of them were the same 3 programs I just listed (Computer Team, Online Media and Navigate The Web).
-All 3 of them lead the same duplicate page where the ONLY difference is the website name, whereas everything else is literally copied and pasted.
-All 3 of them are pitched to be made by Julie Clark and the same, stock photo is used to make people think it's the real her and yet all 3 websites admit to that photo NOT being her. This is why I said, the REAL creators of the program are unknown. You don't know their faces or their names and that's a HUGE red flag.
-Behind all 3 of these programs is where you really need to look to see if there's anything worthy of merit and the truth is, in my experience, there isn't. The training you receive from all 3 of these programs is literally the same, but it's low quality and it is the reason when I first saw that training, that I got out and never went back, but those programs, because they had different names made me think I'd be getting into a different program. When I found out it was the same, that's when I got to writing all the reviews on them to warn people about them.
-Getting back to the fake news site I found the 3 programs from, it is just an affiliate page made by someone to make you think all 3 of these programs are real and I assure you, if I go back to that site at a later time (maybe a month from now), there will be new scams recommended to me and pitched as being the "top 3".
I promise you guys, it's not a real site nor is it reviewing actual, legit work at home programs, it's just pitching 3 different programs that'll make the site creator some money, so they are just saying it's good to make you buy it.
Final Rating: Online Media.
0 stars 
Red Flag
0 out of 10 stars. Since this program is an exact duplicate of the other 2 scam programs I've reviewed and rated a 0, this one will absolutely get the same, deserved rating.
Which legit program I recommend you check out instead:
In the other 2 programs that are duplicates of Online Media, I recommended the same program I'm also recommending now: Wealthy Affiliate. That has been the best work at home program that worked for me personally, but there are A LOT of other success stories besides mine:

Now Wealthy Affiliate is not a work at home program where you get a job and get paid for it, it is different in that regard. It's a program which teaches you to work from home through creating your own personal internet business, such as a blog or website that attracts people to it and make money through that process.
The whole process of how Wealthy Affiliate works is explained here and there's a lot of example I'll provide to show you how this system works. Now at the same time, I do want to mention that perhaps making your own internet business isn't for you and maybe you just want to seek out salary type jobs. In that case, there's a few legit opportunities to consider, which you can find here in this post on 10 legitimate work at home companies.
But in my opinion, all those opportunities pale in comparison to the freedom and earning potential an online business can bring. I'm someone who has experienced that potential through the Wealthy Affiliate program I'm recommending and you can see my income stats here to prove that. It's achievable for pretty much anyone.
So with all this being said, thank you for checking out my review of Online Media and why I think it's a scam. If there's anymore fake news websites like where I found this program through you want to report or there's a work at home program you have a question about on it's legitimacy, let me know below.