There's a site which claims to review the top (3) jobs and work at home opportunities out there. But is that site itself a scam? Here's the page (a screenshot):
So what is my verdict on this particular page? Is it a legit page that TRULY shows the top 3 work at home programs out there?
Well here's the answer (no) broken down into 5 parts (My honest opinion):
1) I do not believe this page is legitimate because from what I have seen, it isn't actually what it sounds like (a news report page). 
2) I believe this is a fake work from home page and I've covered those before, on this post about fake work at home sites. Those other pages cover 1 product at a time, while this particular page covers 3.
3) You cannot leave a comment on that page (or perhaps the owner won't let you). I tried to leave a legitimate comment, but it didn't get an approval. I believe the existing comments on that page are copied and pasted to give off the impression that all the recommendation (the top 3) are legit.
4) I strongly believe this page is acting as an affiliate page and is being paid by whichever company pays it to promote the programs which it then puts in the top 3, this means (if it's true) that there's no actual reporting going on, it's just a page which has text that says "these are the top 3 work at home programs" and then it basically pastes whichever promotion pays it to advertise on the page. This basically makes the "report" and "review" tainted. 
Brief pause before I give you reason 5…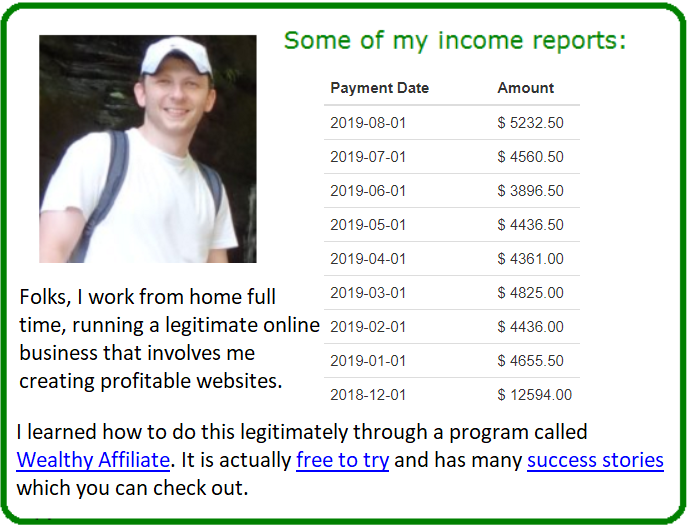 5) There have been NUMEROUS programs I've seen recommended on this very page which I purchased and didn't recommend in hindsight because they were scams. And literally (I'm being honest here), the recommendations rotate at least once a day and even multiple times a day, meaning the top 3 recommended programs change constantly.
There's no stability in what works, it's flaky recommendations constantly being rotated.
Here's an example:
On October 28th, 2018, the most recommended program on the list was this on (circled in red):
And the following day, that recommendation switched:
Notice how the text is literally the same.
The only things that were changed was the recommendation and the date and I'm telling you all, this changes DAILY. Do your own research, but you WILL see this if you go to the above page, I guarantee it. I've been monitoring this page for months and this happens daily.
Now look, it is completely normal for review pages to change their recommendations. After all, in something like the work at home industry, new programs come out very often, so why wouldn't the recommendations change right? 
Well that would be true, if the recommendations were actually legitimate and the reporting was actually legitimate and the problem with this particular page is that this isn't the case. I'm telling you folks, MOST of the time, bad programs are recommended on this page in my experience. I've actually purchased their recommendations to prove this on NUMEROUS occasions.
If there is ever a decent program recommended, I am 100% certain it isn't because it was actually reviewed, it's because by accident, the good program paid this page to promote them and that's why it appears that way, but because this happens RARELY, in in my opinion…
It is not worth bothering to take the recommendations on this page seriously.
At least that's how I would approach this page. When there's literally no vetting involved in these reports, and anyone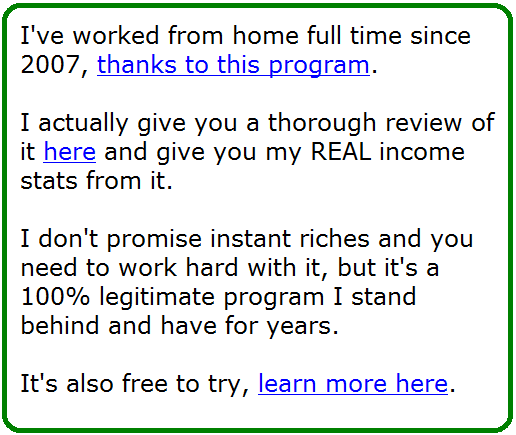 who pays can show up, what's stopping a scam page from showing there?
Nothing if you ask me, and like I've said, I examined MANY of their "recommendations" and most of them are bad by my ratings.
And let's not take this actual reporting page of the hook here. I already gave 5 good reasons why it's risky to trust this site's recommendations. I simply don't because of the history I've been following on this page for months.
In my opinion, the reviews on that page are NOT genuine, and my reasoning is pretty solid for that matter. I've seen too many work at home scams to know the pattern behind them and this place is a risky place to take recommendations from.
Now when it comes to the general subject of work at home sites and which ones you can trust, I would advise being SUPER careful with this particular one and cross researching other program recommendations on other blogs and sites, especially those which are not pretending to be "news pages", because those are generally fake.
So for instance, if you for some reason take the reporting on the top 3 jobs reviewed site seriously and see that they are recommending so and so program, head over to Google, type in that program name and read MORE than 1 blog which probably already reviewed that same program.
I am fairly certain you will find plenty of negative reviews and if they appear multiple times (negative ones), stay away from it. And should you end up making a mistake and losing money, it can be fixed, if you follow these steps to get your money back.
Another thing, most of the recommendations aren't even jobs…
9 out of 10 times, the programs recommended on this particular page aren't jobs at all, it's business "opportunities" and 9 out of 10 times, those "opportunities" are low quality programs that teach internet business and the way they teach it is incorrect. If you want job opportunities, I have a list of 10 work at home job options here.
So there, I think I've said enough about this particular website that acts as an affiliate for promoting any work at home "opportunity" that either pays it or they just choose to promote it as an affiliate, and I will say no more about this subject. 
My final thoughts: Which pages can you trust?
I have to say that generally speaking, you should avoid sites which claim to report on work at home opportunities. Rarely, will they be legitimate and honest about this and most of the time, they'll be fake.
Very often, blogs promote things and because they do, they give it favorable reviews. I even do this too, but I'm a guy who reports on legitimate ones and for business opportunities, try this one:
But even still, even I tell people who visit my page to be skeptical of my recommendations because you should ALWAYS cross check with other pages about whatever is recommended to see what other sources say. 
Top Jobs Reviewed
Free but promotes paid products.