The good news is Set my Site is not a scam but in this review, I'd like to explain it's services and the pros and the cons behind them since I know about website creation and having that make good money.
Quick report on Set my Site: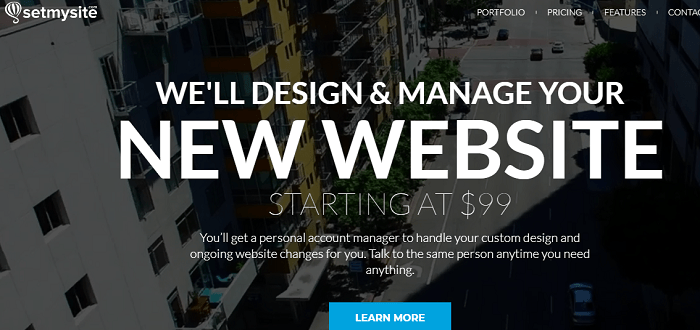 Price: 3 different plans, all monthly costs. Here they are:
$99 a month.

$129 a month.

$149 a month.
I'll go over each plans benefits and flaws. 
Overall Rating:

4 out of 10 stars

.
This is quite a legitimate service and they will make you a good looking page and deliver on their promises.
However, if you want that whole page to get great rankings and need great support, this is where this service is limited and I will provide you with what I consider better services to consider, which will actually save you a lot of money.
What is Set my Site? 
It's a paid service where you tell them what type of page you want and they make it for you. The template is created for you, and the pages are also made from what I understand and you basically get some sort of support every month from this place depending on the plan you choose.
Overall, the people who would best benefit from this service would be those who have existing physical businesses that don't have time to make up their own page and need it to be done quickly and handled for them while they focus their energy on the actual business.
For these people, purchasing a plan from Set my Site would be ideal as it cost them way less than hiring people to create a $1,000+ site. 
Pros:
1) The services that are advertised on this program are legit. 
2) The page that is made for you is through WordPress, which is arguably the BEST platform today (I personally use it).
3) I was recommended this program by someone who commented on a similar one like it (but not as good) and the reviews, are very positive. 
Cons: 
1) For one, I do not exactly feel that their services (all 3 plans by the way) justify the cost. This is made quite clear when you look at the alternatives you're about to see shortly. The $99 isn't exactly a fair price for what I consider small services provided.
2) The $149 one however is decent, but still not the best one to get in my opinion, when you compare them to the alternatives and their CHEAPER benefits. I'll explain why below when I give you the 3 alternatives I recommend instead.
3) Support is limited to the type of plan you buy and it can be from 1 hour a month to 3 hours a month based on their own pricing chart.
This is actually a problem because if you are serious about making a fully functional page and you have no experience, you will absolutely need MORE time and help to answer the questions you will have.
4) I am not happy with the fact that they LIMIT the amount of pages you can have with them. It goes from 10-20, depending on which of the 3 plans you choose with the 20 pages obviously being with the top tier plan.
You should ideally have an UNLIMITED space to make as many pages as you want. I have hundreds on mine (nearly 1,000 pages soon) and I have that thanks to one of the alternatives I will recommend shortly.
So what are these 3 alternatives & why should you care about them?
There is a stigma that still exists today that making your own pages is hard. It's really not. In some cases, you just click a few buttons, fill in some info and it's done for you. That type of service should be free and it is through the 3 alternatives I am about to mention.
And in addition to that, some of these services, including the one I rate #1 provides even more support and training that will help you take that page you made so easily to new heights in terms of SEO rankings (getting high exposure to mass audiences on search engines).
3) WiX.
I like WiX for how easy it is to make a page with them. They offer a free one for you to play around with and it's a simple system that beginners would love. The only cons with it in my opinion are that they don't use WordPress and that their platform isn't exactly great to use for rankings on search engines, but for people with physical businesses that just want to have that online presence, it's good.
2) Square Space. 
This is one of the more popular services today. While they do have their own limitations, the good news is that they offer a free site for you with what I heard is unlimited support. Pricing is quite low compared to Set my Site and the benefits are quite similar. So overall, there's a same or better service with SquareSpace.com, but for less cost.
1) Wealthy Affiliate's web creation program.
This is my personal choice out of the list and the one I use. While you do have to make the page yourself, it's a far better deal because the creation of the page is SIMPLE. Here's the quick info on the benefits: 
1) There's an online program that teaches how to monetize websites, it's called Wealthy Affiliate. 
2) They offer a free page creation program which is called Karbon. It's included once you become a free member of Wealthy Affiliate.
3) With this program, you are allowed to make 2 websites with which you can create an unlimited amount of pages, and all for free.
4) In addition to this awesome perk, the same Wealthy Affiliate program provides optional training that is great for beginners which explains the process of creating your page so that it gets rankings and sales.
This is a HUGE missing piece in most services that make pages for you, as this part of the service is often incomplete and it basically hinders the success of the page to be successful. You won't have that problem with Wealthy Affiliate, guaranteed.
And that training helped me achieve over $1 million in earnings through affiliate marketing.
-Now with the training, also comes another MASSIVE perk which I criticized the other program for: Support. With Wealthy Affiliate, there's WAY more provided.
-In comparison to Set my Site, you're looking at a free service with MORE support with Wealthy Affiliate and like I said, it is the program I use. Their training also helped me take the pages I made with them and make them profitable:
Final Rating: Set my Site.

Yellow Flag
4 out of 10 stars. Overall, the main issue I see is that you can really handle a lot of the work this service does on your own, quickly and quite effortlessly, while saving a lot of money if you use one of the alternatives I recommend.
It's not hard and I would at least recommend those alternatives to see how easy it is before you decide to join this service or not. I'm telling you, making your own page is A LOT easier than you can imagine if you've never done it before. 
My final thoughts and which service I'd advise using:
My #1 pick would be Wealthy Affiliate out of the list you just got for simple reasons:
You are getting a service that's simple to create websites with.
You are getting coaching and support for a MUCH longer time period than the other programs.
You are getting this all for free and while you can upgrade, even if you do, the cost is several times SMALLER than any of the ones I listed above, and the benefits are exponentially bigger. 
The only "con" is that you make the pages yourself, but you're going to see that this whole thing is SIMPLE to do, so much so, that I can tell you that you'll have a page created as fast as under a minute. 

While I do consider Set my Site a legitimate service, I have been around this type of industry for a long time, have seen numerous programs that are similar, have experienced many of them and know how to see if the services are legit and worth the price. This program is good, but the alternatives are better, especially the last one, Wealthy Affiliate.
Now at least you have 4 to choose from!