Wow, it's been a very long time since I reviewed a product that I rated 0 stars, but after buying Auto Chat Profits, it deserved this score. It is a scam.
Before I even purchased it (and I will show you proof that I did), I already knew this was going to be bad, as the sales page hit every single bullet point of red flags I warn people about, but the reason I did purchase it was because:
The program is part of Clickbank, which gives refunds without question, so I was "insured".

And second, I do these reviews and often lose money in the process to help you avoid scams and show you what to truly rely on to make money online (and I will be giving you that solution in this article, it's coming up).
Here's what you need to know about Auto Chat Profits: 
Creator: A lady named Samantha.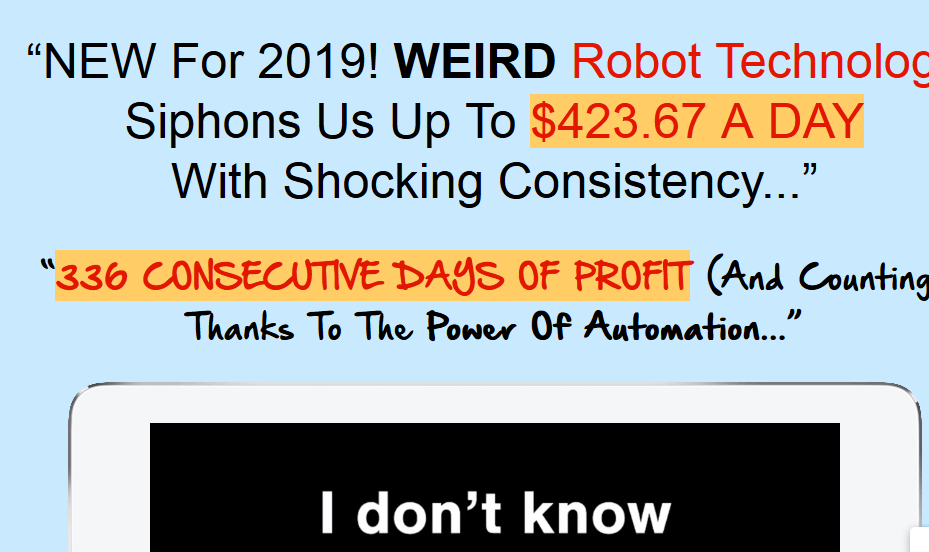 Price: $37 and they also have the nerve to hit you with a few up-sells that cost $100's together.
What is this program about? This ladies and gentlemen is what we call a hosting scam, where you're sold a lot of hot air and hype, only to enter and find out that there's more to buy and do if you want to get "full access" to the program.
Specifically, this program does what is known as a "hosting scam" where you're told to buy hosting for a website that will make you money from their "robots". Not only that, but there's other up-sells inside the members area that are locked until you purchase them.
Overall, your $37 purchase gets you access to buy a hosting scam, and then use some little of value training to monetize that website you get. 
Rating:

0 out of 10 stars.
There is a lot of deception on the very sales page, a lot of double speak (basically lies), and the very members area is another gateway to spend more money, which negates the promises of the sales pitch in the first place.
One big scam. That is what this program is. Stay away, but if you want something real, that's legit, I know a lot about that too, here's what you need to know: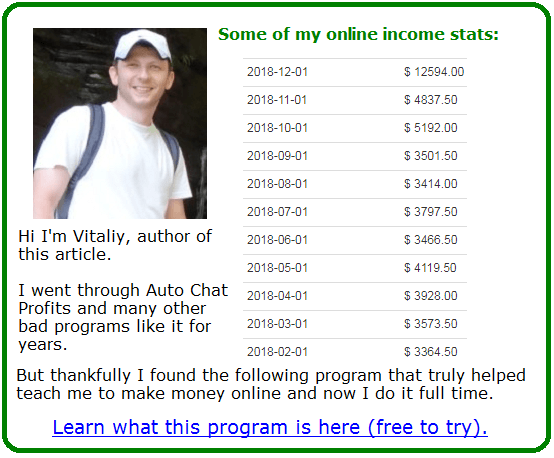 Breaking down specifically why Auto Chat Profits is a scam:
If I haven't done a good enough job of convincing you yet of why you should stay away from this program, allow me to provide bullet points, evidence and more deeper reasoning on why this program is one you should stay away from.
1) The very sales page engages in incredibly deceptive, double speak, where there is a lot of verbal hot air being spoken about how much money you can make with this "secret" system. The old shiny object way of selling things.
2) This claim about how there's no money being made to suddenly being made and then telling you that the key to this success is in the system is also a very deceptive way of selling. No money is made out of nothing, and quickly unless you work hard for it and I explain the truth about making money online fast here.
3) One of the biggest things that nearly made me click away and NOT buy the system was the request for me to enter my email for a "free license", but to pay $37 to even access it. That is one of the many examples of that double speak I'm talking about: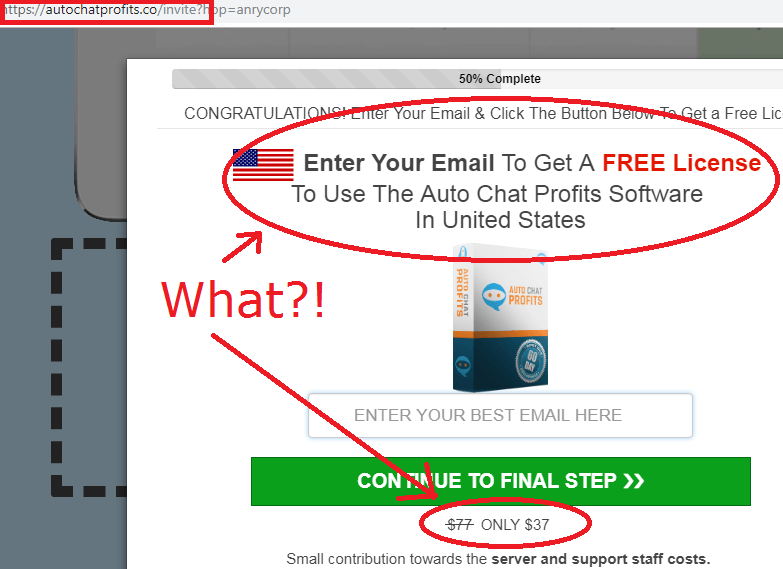 4) After purchasing it, one would be led to believe that you're getting all that value that was hyped and talked about on the sales page. No sir, that's not the case. What happens after the purchase is that you're led through several up-sells talking about how if you "upgrade", you'll get even faster value.
This is another example of double speak in my opinion because all the fluff and hype you see on the sales page makes you think it's for $37, then as you start going through the up-sells, suddenly that initial value is lost.
5) Now for the members area (look at all the locked stuff).
Auto Chat Profits (the members area):
So let me summarize it by saying the members area of this is bad, very bad and here's why:
For starters, most of it is locked.
There is also a deceptive free webinar that actually leads you into another promotion of another product. In other words, more stuff to buy on the back end. 
The only training inside this members area that is accessed for the $37 purchase is the Auto Chat Profits "full access" and I quote that because the training is itself small and deceptive, here's why:
To actually "do" any of the training, you have to buy the hosting for a "free website" and that goes back to the hosting scam I was talking about earlier, so you can't move forward without paying more. 
Second, there is very little and dare I say, LOW quality training on getting traffic and money onto the site, which itself holds LITTLE odds of working in my opinion and I say this as an EXPERT in this topic. Traffic generation is such a vague term and in this business, the best kind you can get is laser targeted because it converts best. But this isn't the kind of info you'd find in Auto Chat Profits.
I could keep going and going, but let's stop wasting time, I think I've given enough proof and explained why this program is a scam:
Final Rating: Auto Chat Profits.
0 out of 10 stars.
Let me just say that even low quality programs I review, I often try to give them the benefit of the doubt and find reasons why they may work.
In the case of Auto Chat Profits, I have nothing positive to say, it just feels like a giant black hole system that takes your money and I WILL be refunding my $37 once I finish writing this review, as well as complaining to Clickbank, the company that allowed this program to even be hosted there to rethink ever approving it. This tarnishes their good reputation.
My final thoughts on Auto Chat Profits: 
There are many people who are viewing a program like Auto Chat Profits for the first time who are unaware about the tricks these types of program use to get your money, but I've been exposing them for years and years, having also been scammed more than a few times in the process.
The good news is that now you know what's really going on behind it and I'm certainly glad that I WILL be getting my money back. 
More importantly, the main message I want to get across from this whole review is that it is possible to make a good income online, as long as it's from the RIGHT sources and you actually understand that you need to work and not click a few buttons to make it all work.
There are more than a few people that I know who despite knowing that it takes work to get results online, still cling to and look for scam work at home programs like Auto Home Profits to find shortcuts in this process and these shortcuts are almost ALWAYS scams.
Please don't make these mistakes, I've given you what works, and I did mention that it takes work. That's what I learned and it's because of this that I am able to now sit here, at my computer, day to day and make money online, FULL time:
Now if you are reading this and HAVE purchased Auto Home Profits and want to know how to get a refund, comment below and I'll explain the process. It's not difficult, thanks for reading!