Webinars have become the new funnel strategy for many online businesses to get clients and customers, but most of them in my experience have turned out to be scams in that they promised to "reveal" certain things, generally related to making money that then turned out to be nothing more than a lead into a call to action for you to buy something very, very expensive and in the end you really learn nothing.
Most places and people who host these things typically catch people (and myself) like this:
We get asked to sign up (usually opt in) to a free webinar that will give us valuable information. 
In my case, when I buy make money online products, inside them are also more webinars aimed (some recorded or some that are promised to be shown live on so certain date/s) at giving me more information.
However, speaking personally, I have noticed that the progression of these webinars (which I originally assume are supposed to be online workshops or lectures) seems to follow a similar formula and that formula has become my personal reference for noticing if they are scams:
Here is how the typical, hyped and low quality webinar works:
In the beginning, they (whoever is hosting) will tell you about how much money they'll teach you to make. 
In the middle, they will tell you about their history about how they went from being broke to rich (while still pointing out those bullet points on how much you can make if you follow their system).
In the end, (and if you're lucky because this happens rarely) they will only give you a brief and vague strategy they used to make money. And it'll just so happen that this moment was really the only part of the whole thing you came there for. They will also typically follow up by telling you that they will teach you the same if…

BAM, you pay money. Usually around this time, to keep you watching, they'll also go through a checklist of valuable things you get from buying their program. Usually there is an "act now" or a discount to keep you there.
But for the most part, this webinar sales funnel eventually leads people into high ticket programs, which I mostly advise staying away from.
These are also common schemes that take place in the MLM world as well. You will be given a link to access some sort of "special presentation" very often instead of having a single person talk about their success, you'll get a pitch about an opportunity, success stories, and then the pitch to what is commonly an MLM scheme. Beware of those too!
So in most of these cases, all I usually extract from these is the brief, yet questionable history of the host, that somehow money can be made if I follow their system and of course, that I can only get it if I pay for it.
Thus everything that I listened to and saw turned out to be in my opinion just a roller coaster ride that didn't lead anywhere but to a sale.
Unfortunately many bad programs and few good programs have used this type of formula to get people into their horrible systems. Some even continue using them after you make a purchase to further up-sell you to more offers…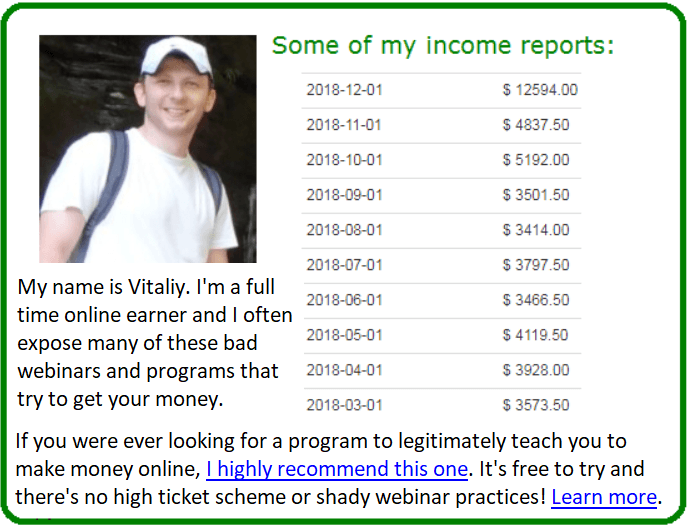 Back to the topic: These are not informative webinars, they are just sales pages which are scams!
And to spot them, you should look for the same flow I just showed you when you're watching. The reason being is that almost all of them follow that same progression and in my case, every single program I've purchased afterwards based on that model has turned out to be a very low quality program.
In other words, the quality of the webinar usually indicates the quality you'll get from the program.
If in the beginning and middle of it goes along without providing any value other than secrets to how money was made, that you should stick around to learn how it was done and of course there is mention of the background of the person that mentions them "making it", assume you're about to get involved with some kind of scam.
Workshops, AKA seminars do this a lot too:
In fact, they were in my opinion the original model for what I see today being done in webinars that I disagree with. Hype is presented as value and value is only given if you buy something.
In fact, while I was writing this article, a memory of business event I went to long ago popped up and when it did, it hit me how universal, genius and deceptive the sales angles are with many programs that are supposed to host workshops, not sales funnels.
That business event was a 2-3 hour real estate seminar which also tried to get me to buy their training after it was done. 
I took about 5 pages worth of notes which I considered to have incredible value, but when I left the event and had people that knew I went there ask me what I learned, I literally had no other information to give other than the most common knowledge everyone knows about real estate which is to buy houses at a low price and then sell them for a higher price for profit.
Isn't it amazing how suddenly 2+ hours worth of presentations and 5 pages of note taking amounted to nothing but general knowledge? Well it's carefully designed this way to keep you interested and thinking that you're going to get more if you buy. 
Note: And by the way, I did say they tried to get me to buy something right? Well at the end of it, they were offering attendees a $500 "offer" to sign up for their real estate courses. 
I also occasionally meet people who have gone through these types of "workshops" and I can quickly spot if they learned something or not based on their reactions when I ask them questions. Usually if they give me some kind of vague information, speak in an exaggerated way or act pretentious, it is a sign they attended a bad event because the hype they were fed is now something they are believers in.
Webinars have unfortunately been using this same scam structure, except in the digital world and they are being done so often because they are cost effective and easy to set up for people but unfortunately the same low quality passed for high quality information is spread to get people hooked which is why I showed you how to quickly see them (based on their beginning-end structure).
How do you identify a good webinar?
Generally by the specific value they gave you when you watched it. The bad webinars mainly provide hype and less than 10% value in my experience, if any, whereas good ones provide far more value than hype.
I'd say a one which has 50% valuable information or more with the rest split between hype and a personal story to compliment the value is good in my opinion and it is also one of the signs that you are making a safe investment.
And as for the hype, in good ones it should only be there to get you to take action and while generally the good ones also try to get you to buy something, at least they actually show you specifics on how things are done so you aren't entering into whatever is being sold blindly.
There are also cases of seeing good webinars, but with promotions that I would not necessarily recommend.
For example…
Sam Ovens does a good job of this, and do places like Authority Site System, but in comparison to this one, they aren't as good in my opinion. And it's from that program that I earned this much in sales.
Furthermore, there are 2 more things that raise the value of it immensely:
A low price, without up-sells. Be very careful of BAD webinars which try to get you to buy something for a low price because usually they also have up-sells.
Should be attending a live event, ask questions about the prices, and if there are up-sells. If the event's host isn't providing that information, it is a bad sign, but for your own protection, I would specifically ask the host about ALL the prices within their program.
Should they ignore the question or state that there's products that are beyond, say a $1,000, be very careful. I would see that as a very bad sign. 
As for good webinars, they may have up-sells further down the line, but they give you enough usable and valuable information to put to use and make money with before you will be sold the next thing, but at least by then, you already know that you're getting involved with someone/something you trust. 
In the end as long as there is an actual online workshop where you get to actually learn things you can use and it is transparent, it is generally good, but if it turns out to be nothing more than just a sales page which many of them are, then it is bad.
A great example of places where you can get great value from webinars is Wealthy Affiliate: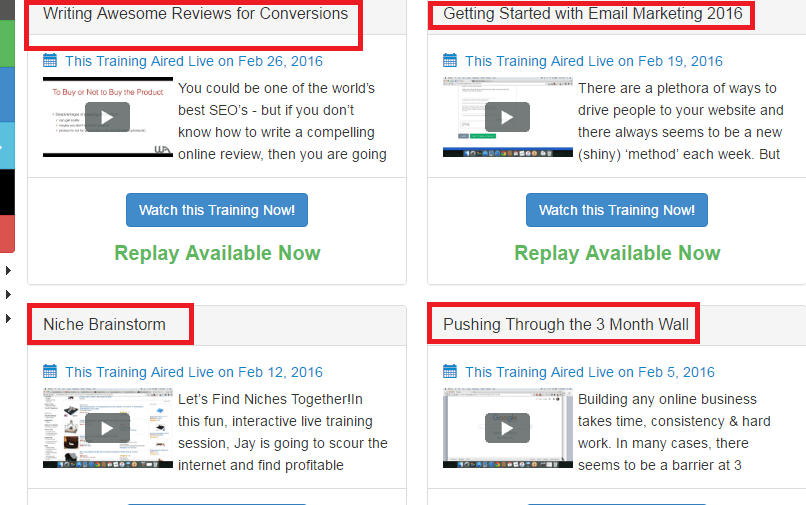 In just 1 month, just these 4 gave incredible information that helped those who viewed them with their online businesses ans right now I would say out of all the programs that have webinars, Wealthy Affiliate has the most high quality ones.
Now to be fair, to access these webinars, you need to join a premium membership level they have at $49 a month, but you can check a large chunk of the website and even do a lot of their training, for free, so check that out first.
Now that I've listed how to avoid real webinar scams, I'd love to know if you have seen programs and people try to pitch them to you and if so, what were the names of these programs?