Based on what I saw inside the IM With Jamie program, I was really disappointed about a lot of things. In this review, not only will I explain them but I'll also tell you about a better alternative that is not a disappointment like this program.
Quick Report on IM With Jamie: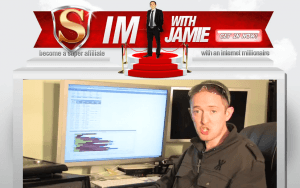 Creator: IM With Jamie (apparently in it's 3.0 version).
Price: $39 for basic entry to members area with 3 big up-sells, the last one led me to think the whole thing is a scam.
Overall Rating:

1 out of 10 stars

.
About 5% of what I found in this product was good, but the rest, oh my goodness, it's either disorganized or a scam in my opinion.
You will see very soon why I gave this system 1 star. And frankly…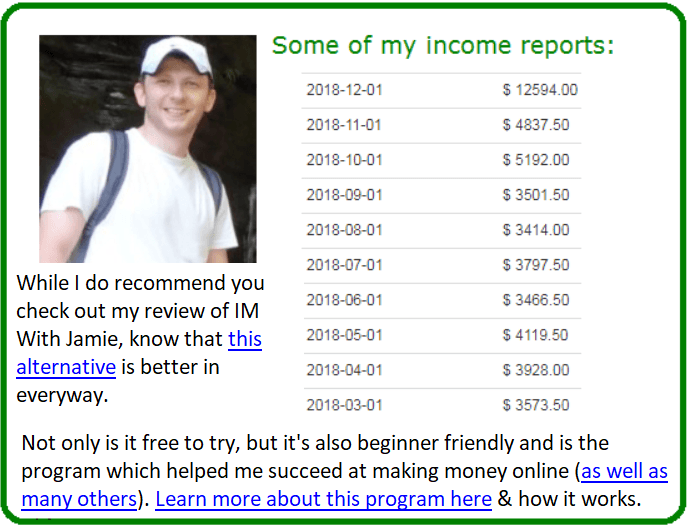 IM With Jamie in a nutshell:
There's 2 parts of this program, the cluttered and mostly, in my opinion bad training and the up-sells which I think overshadow the whole program. 
The training is a combination of making your own products, selling them on Clickbank, list building and also sending people to your product page through Bing Ads and Google Adwords. 
The other stuff on the site is just a bunch of webinars, but that's where a huge part of the clutter comes in because I believe by giving that information, that it can confuse people and possibly lead them away from the main training. 
Then there are the up-sells. In fact, while heading to the members area, I did a lot of research on one of the up-sells that I almost completely forgot I was supposed to review the members area. 
Let me first explain the members area and then the up-sells. 
The members area of IM With Jamie (It's so broken!):
Home: Provides a welcome video where Jaime talks about what you'll learn and this is basically him talking about email marketing and traffic to grow a list. There's also a pop up here that asked me to register for an upcoming webinar on…December 31st. Today is May 30th…
Oh and the "register now" button does not work…
Instructions:
This is where I consider the actual training to be that I talked about above (list building, advertising, creating your own product, ect…) and it's where I said I found 5% to be good.
The good part of this training is where he talks about creating and being an affiliate in niches you're familiar with. He also provides some decent tips on gathering information if you plan to create a product. 
But the not so good part is that this training is all cluttered together and there's webinars that I felt were not helping the training "flow". To summarize, it starts with explaining the basics of internet marketing, then niches, then list building and then advertising online. But it's all of this mixed together and not broken up that makes it so hard to process in my opinion.
Lessons should be given out in segments which cover different topics. Here it's all together which looks lazy and again…cluttered.
Webinars:
You only get this message…
But there's no link to register here. You can find the videos in the instruction section and later on the site. But this is again an example of how disorganized and broken this site is. And about webinars in the make money online niche, I wrote a warning article about webinars to be aware of just in case!
Free Money:
Yeah, it's not free. You click on it and it'll take you to a program called Commission Machine and it's $19.95 so again, not free.
Downloads:
You just get 3 PDF eBooks here that give you HTML codes, but nothing really useful.
Videos:
This is where you'll find a majority of the webinar videos. 
Campaigns:
Apparently Jaime set up some sort of auctions or products to sell on this page which you can promote for high commissions.
My websites:
You will not have access to this page unless you buy the up-sells.
And now the up-sells! 
Keep in mind these came before I got access to the site and I spent some time figuring out if they were legitimate. Frankly, I couldn't find any good reasons to believe any of the stuff they pitched, but there's 3:
Up-sell 1:
You get a lot of webinars from Jaime. On the video where this is sold, you see Jaime in a club or on a yacht pitching this to you while there is loud music and a crowd around him. The price is $147.
Up-sell 2:
A program where you get many things included such as a website, a checkout cart, a sales page, support, hosting and just other things you'd need to have a functioning online business included for you. It will cost $197.
However, I know what you have to have to run these things and while a lot of these are optional if you've never run an online business, experience has taught me never to outsource someone to build it.
Up-sell 3: The biggest

red flag

in my opinion!
While the first 2 up-sells are questionable, the third is where I really felt like the whole IM With Jaime program was a scam.
Here you get pitched something similar as up-sell 2, but bigger. Basically you get a custom website with a product and all the other features you "need" for $1,497. 
The product you have made for you with the site is then put on Clickbank to be promoted by affiliate marketers so it's believed that if you purchase this offer that when people promote it for you that you'll make money. 
And Jaime shows a number of "successful" websites he has build for people using this and a few screenshots to show that they are selling well, but I decided not to go by that. 
I decided to see it for myself and I found things weren't what Jaime said they were…
What I started with was looking at 3 of the websites Jaime used as examples:
I've marked the websites I looked at in red. These sites all look good so I will give Jaime credit here and they are all supposed to be on Clickbank and making money supposedly. 
So I literally went into Clickbank's marketplace where you're supposed to find these products and did a search…
I did not find a SINGLE one of these products there. Here's one example: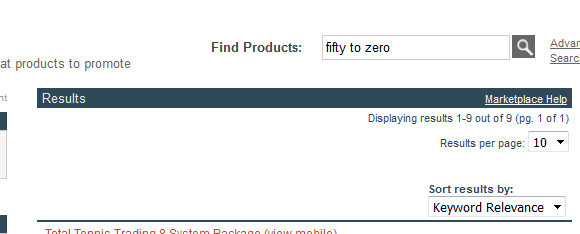 There were 9 results shown on this page and not one of them was the actual product or the page. I did a general search, I did a specific search, but neither showed this site. 
Later on within the same up-sell page, Jaime says that that particular product is on the first page with another claim:
So we have 2 claims I pointed out. Guess what? Neither of them are true, at least not this year:
That first site is NOT on the first page. Furthermore, I wanted to see where it was actually ranked. MAYBE it's been awhile since the product was out so it may have slipped in rankings, so I used my Jaaxy tool to spot it:

Then the next claim about that other product being #1 for music lessons is broad because it can either be on Google or on Clickbank's marketplace, so I checked both:
Google doesn't show that program or site and Jaaxy also couldn't find it. 
Finally, there was one more example I took a look at because I was trying very hard to prove that this may be real, but yet again, I was disappointed.
The last example is him showing a screenshot of a site he made that makes a lot of sales. Here's it is:
This is again straight from Clickbank supposedly. And wow, that arrow he puts up shows a "Grav" or 548 which indicates over 500 affiliates are making sales with it! You'd imagine the product owner is really happy about that!
So if I go to Clickbank and look up that EXACT product for that category, naturally, I should get the same results right? Apparently not…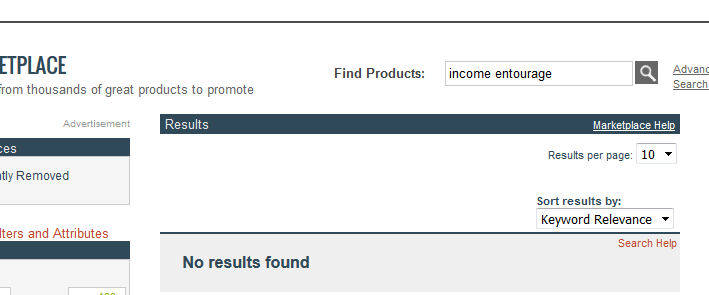 Absolutely nothing is found there! So what happened?
Did this product go out of business?

Are all the other products I couldn't find all out of business as well? 

Did they even exist?
Well the websites are still up so maybe, but Clickbank couldn't find it so either their marketplace algorithm is screwed up and not showing me the results or the websites and products I looked at which Jaime claimed were apparently making a ton of money isn't true.
I do wish whoever owns these sites to make money because they do look good. I did analyze those pages a lot and believe they maybe a few years old so they may have at one point been around and POSSIBLY were making money. 
They might be working right now, but I have not seen any accurate stats that indicate their success today so if I were thinking of buying a site with Jaime and saw those things I researched, this would really worry me.
Final Rating: IM With Jaime
Red Flag
1 out of 10 stars. In my opinion, there are a lot of broken parts of this program and I could not find any evidence that one of the up-sells he pitches being as successful as he says. Bottom line: In my opinion, I feel like this program is either outdated or a scam.
My final thoughts and choosing something way better:
With (in my opinion) there only being 5% of this site that had good things, how can anyone be expected to succeed? I've shown you that there are broken things on the site, that there are cluttered training's and webinars. 
I've also shown you that the sites Jaime says he'll build are (at least today) not anywhere close to what he says. 
I really believe with the way Jaime pitches his whole program, the way he does up-sells and the way he "organizes" his members area, that the whole program is just a big scam. 
Update: Another program Jamie came out with recently and yeah, it's not good either:
I'd like to mention that Jamie has released a new program called Profit 365 and I did review it.
The spoiler is that like this one he made, it also has similar issues I found, and I also did not recommend it.
So the point is that if you run into that one and want to know more about it, I included a link to the review of it and still recommend the alternative above, this and Profit 365.