If you landed on this article and were wanting to know more about Digital Altitude, the updated info is that the FTC took it down. Yes, it was a scam.
I'll be going over the details of why this is the case, because even before the FTC stepped in, I was calling this place out for the very same things the FTC did eventually.
I will also provide you with actual legit alternatives to Digital Altitude and how to never fall for another bad program like it ever again.
Quick Report on Digital Altitude: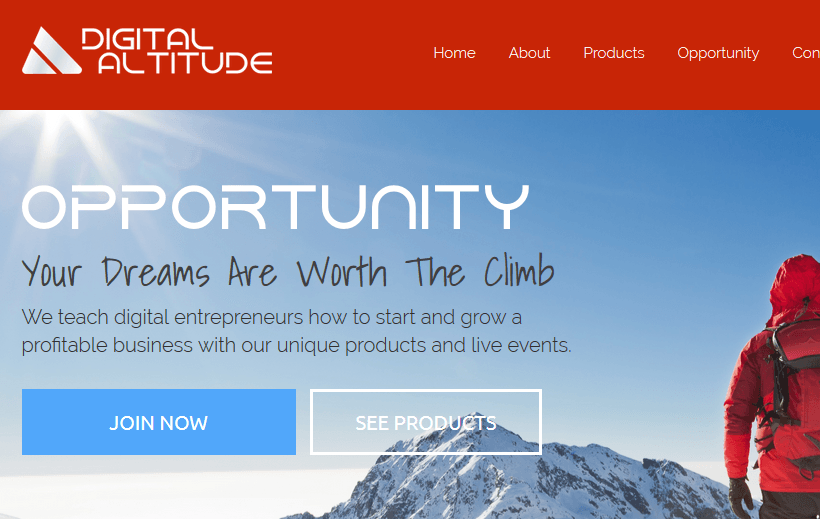 Creator: Michael Force.
Price: You can check out a little bit of the program for $1, but that only works for 14 days, then it's $37 a month. There are also extra 5 up-sells, one of which is free, and the others cost over a $1,000 each.
Note: Although this program begins at $1, it can end up costing well over $50,000 and I will explain why. I have also made a few updates to this review because some people who are a part of them clarified several things.
Although I haven't gotten all the answers I wanted to so far, my opinion of Digital Altitude hasn't really changed much and everything I have provided in this review is based of the personal experiences I had when I tried several of their training lessons.  
Overall Rating:

0 out of 10 stars

.
Although this program is as I understand it, not an MLM, the training programs they sell are so incredibly expensive with other fees that I just can't find any way that I could ever promote it personally or recommend it. 
Here is the FTC article on this matter.
From this point on, the review will cover the article I originally wrote, so it'll be in past tense context, however, it's still just as relevant because I ended up being right about it (and the alternative program you should try instead):
What if you were scammed by Digital Altitude?
From what I have researched, this is the Digital Altitude receiver site, but it has no official submission form, and being that I have seen similar take downs happen to other high ticket scams like MOBE, the people who lost money there were told they didn't need to do anything. Perhaps this is the same protocol for people who lost money with Digital Altitude.
And now for the original review I did on this company when it was still active (and I did correctly call them out on being a scam before the FTC stepped in):
Digital Altitude in a nutshell:
Basically it's 6 different levels of products and training you get to learn how to make money and most of the training I saw was talking about how great it can be to promote this program. 
I didn't really see the word "MLM" used within the site, and I did have moments where I though there was some MLM element, but there's really no indication of that since I didn't really see any down line example in their compensation plan, only a regular affiliate program which pays per sale.
If this program was an MLM and had a down line, I would have called it a pyramid scheme. 
What I think is going on inside this program is just one of those proven to work formulas where you get a bunch of expensive products, then re-sell it/them for high commissions, aka high ticket item products (the unethical kind, here are the ethical high ticket items and niches) and I don't know if the value will meet the price range. From what I have seen in the parts I tried, in my opinion it did not, but I am hopeful that the more expensive packages they have are not like that. 
Digital Altitude's products. What kind of questionable stuff did they sell?
The structure of this program resembles a climb up a mountain where the higher you go, the more money you can make, but to get to each level, you have to pay a new price for the product that is ON that level.
The products weren't really physical products, but educational programs that taught you pieces of the internet marketing world and also gave you an opportunity to promote those same programs back to others.
Now in that context, it's not a problem. But when you examine HOW MUCH these programs were priced at, this is where the scam element of Digital Altitude began to take shape.
That's how the scheme in this program worked in these systems and while buying each course in Digital Altitude offered it's own opportunity, it came at the expense of you putting down A LOT of money, so despite this mountain analogy, I'd argue there's an opposite, downward mountain happening each time you get to a new level, because now, you're in a negative financial hole.
Note: I will go over all the prices of each level's packages but I was also informed that apparently the other way to make it to the next tier level within Digital Altitude is to make the sales necessary to equal that level's price. I do not know whether or not this is true, but I'd rather provide that information.
I personally believe it makes sense, but the incentive is to buy the more expensive packages since it will qualify members for higher commissions.
In total there are 6 products that are inside the Digital Altitude program:
Aspire:
This is the $1 trial entry (then $37/month) where I started with them. You get 6 steps which are in my opinion just a basic teaser for selling to you the next level of products. I say this because in every single step, Michael, the creator of the program basically explains his history, how selling high ticket items is the best way to make 6 figures as well as how great the marketing system is. 
When you finish the steps, to move on, you will need to upgrade and contact a personal coach. While it is mentioned that you can email them, when I went to the coach's page, he mentions on it that he doesn't really want emails, only Skype and phone call. 
You can promote Aspire to people for a commission, but again, if you want to earn higher tiered commissions, you may need to upgrade (or the other part where you make the sales necessary to cover the price of the other package/s) and that's what the 6 steps do which is try to lead you to it. 
I am disappointed by these types of programs all the time, because really all you get is a chain to buy the next product without in my opinion getting the kind of value you can use on something OTHER than re-promoting the very same product you purchased…
It's like I buy something and expect it to do something for me, but I'm told that it's not as nice as the other, greater product I can buy and obviously, that one costs more. And if I buy that, then there's more products for more expensive prices that keep it going. This is why I personally stay away from all high ticket programs, because they always do these things and I really do not believe it's right. 
Base: 
You can get base for free if you buy…
Rise:
This is the "hook" in Digital Altitude to start you on that climb up the mountain and it's the first COSTLY program you can buy. For $1,997 and $67/month you can get this program (and base included).
Within the Aspire videos, there was a short explanation of what you'd learn from Base and Rise, but really all I think you'd get is training on traffic generation to get visitors through your affiliate link into Digital Altitude to also start them off on Aspire and move their way up to this program.
Note: I'd love to hear from any Digital Altitude members reading this that have purchased Base, Rise, ect… and if they can tell me more about them.
Ascend, Peak and Apex: 
There was not much info on these products, but in general high ticket item rules, the higher up you go, the more expensive the products get, meaning, if you get rise, you'll probably be sold into Ascend which will take you into Peak, then Apex and I have no doubt they will cost several $1,000 at least. 
But with each new product you buy comes the opportunity to also re-sell it and earn the big rewards. 
Note: I may be right…
Ascend is…$9,997.

Peak is…$16,997.

Apex is…$27,997.

Total: Over $56,000.
And…there is also a possible 3% fee for each of these, which adds to up to several $100 extra to pay. 
2 reasons I gave Digital Altitude a low rating (before the FTC thing even happened):
Even before it was taken down, and this program was still in it's early stages where there were many people buying and promoting it, I had massive doubts about it and that's when I originally wrote this review.
So let me give you my 2 personal reasons I originally gave Digital Altitude a low rating:
1) Anything in my personal opinion that has THESE crazy kinds of prices carries a big risk when you look at it from an investment point of view. Yes you can get higher commissions by spending more and yes you can probably get people into the lower level of this program and make money, but what do they actually learn in the first level?
When I tried it, only really showed me how awesome it would be to just keep promoting those other expensive things. 
I do not believe in building a good business through this type of model. I would never make or charge a ton of money for training and I have made profitable websites that have earned a lot and never put in the kind of money Digital Altitude's higher tiered programs are charging. 
2) Oh my, is this program a copy of MTTB or is it actually associated with it? You see, MTTB was and is a popular and questionable program I reviewed a long time ago and the way Digital Altitude is structured looks very similar to it in my opinion.
There's also 6 teaser steps which also lead to a similar high cost up-sell. In MTTB's case, it was once also $1,997, but now it's more. 
Both MTTB's site and Digital Altitude's sites look very similar.
I really believed that when I first landed on Digital Altitude's website that it was an affiliate of MTTB. It maybe, it may not be, but they might just be using a business model they saw worked with that program so they are doing something similar. Either way, both programs in my opinion are too expensive. 
Oh and they also charge you to be an affiliate:
I didn't even see this until I started looking to cancel my membership, but to be a regular affiliate inside Digital Altitude, you will need to pay an "affiliate fee" every month:
And that's apparently for just being a regular member. You can earn higher commissions, BUT you'll have to pay more.
Apparently, there are 3 affiliate tiers in Digital Altitude where each one has a climbing name like Walker, Hiker and Climber and each of them costs you every month, but entitles you to higher percentages of commissions:
The walker is possibly the one that is priced at that $17/month above and up to $153/year.
The hiker is $67/month and up to $603/year.
And the Climber is apparently a bundle where you also get hiker included and that's $127/month and up to $1,143/year.
How much would being a member of Digital Altitude cost you if you joined?
At minimum, being a REGULAR Aspire member and promoting looks like it may cost you over $50/month.
At most, if you pay all the way up to Apex (and it may require you buy everything else), you may be paying nearly $60,000 eventually with several $100 more to be an affiliate every single month. 
And I though MOBE which at one point was the most expensive program (and a sibling of MTTB) I ever saw, then Digital Altitude comes along…
Final Score: Digital Altitude
0 stars
Red Flag (Taken down by FTC).
0 out of 10 stars. People who love high ticket programs may dislike this review. People who don't like them may agree with it.
Really my whole issue is those prices after Aspire. I personally can't spend this much on a program or recommend it when I already know that it's possible to make good online businesses without investing these kinds of high prices.
My final thoughts:
Whether this program is ONLY a high ticket item or has some other model I didn't see, it is still THE most expensive online marketing program I have ever seen and again, even if I can make crazy commissions, I can't sell this kind of stuff to other people when I know from doing online marketing for so many years that there's better ways.
"But hold on Vitaliy. It's a business investment (Say the skeptics)"! 
Most critics of my high ticket program reviews which I usually don't rate high always say that these big prices are justified because of the commissions and that you're creating a business which always requires a big investment and therefore, it must be worth it. I tend to disagree because with an online business, the price of starting one is so much cheaper as is learning about it. 
I also really do not like how an element of "secrecy" is very commonly present in these types of programs where rather than giving you value you can use, you are kept interested in the program by them giving you numbers on how much you'll make without going too much into details on what you'll have to do, to do it. 
That's really all I found in the Aspire portion of Digital Altitude. There are no "secrets" told other than sell high ticket items and the program itself being a great option to do it with. 
Are those higher level products, specifically in the Digital Altitude program as high in quality as they are in their price? Well honestly, I don't know because from what I have seen, many of them are teased as being that great without showing me a list of things I would learn. Again, for these answers, I want to hear from the members of this program. 
I am totally open to the training with the high tiered levels of this program being VERY high and good but once you add the $1,000's (and in this case, $10,000's!) and the other things I mentioned to access it, that's it for me. 
I'm been with a program called Wealthy Affiliate for many years now where I spend less than $50/month and in my opinion, get the best education in online business which by the way has helped me make more than one successful business already.
Back to a more present update on Digital Altitude:
When the FTC first stepped in and stopped this company, it set a precedent and I'm glad this happened. Companies like Digital Altitude have popped up in large proportions and I'm hoping that if the FTC labels the model DA used as a scheme, it'll go after the many other companies and programs that have popped up like DA since. These scams need to be taken down faster.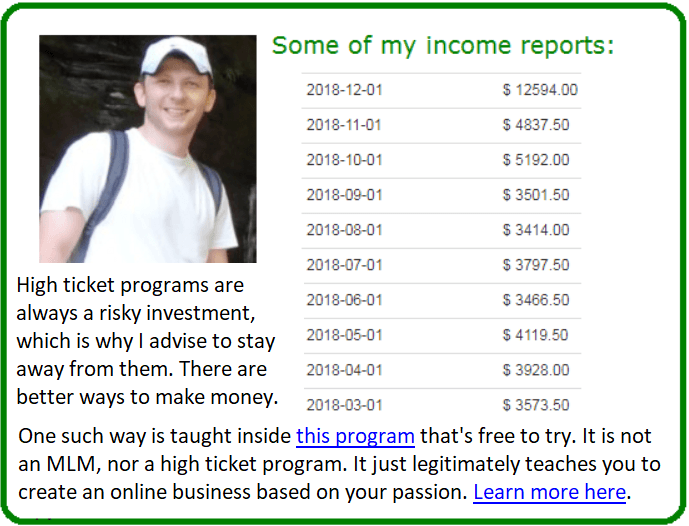 And to finish up this topic, I'd like to know if you had dealings with DA when it was still around or know about other high ticket systems like it you would for me to check out.