I've decided to start a little series of posts where I'll show you specific niches that all have low competition with generally high search volumes of traffic.
Here's a little preview of at least 10 of these:
I've done very basic posts in the past on this subject and even some case studies, but this particular series is going to be a sort of blueprint where everything is going to be very specific.
I've had so many niche ideas running through my head which can all make good money and while it's normal to experience that when you're an internet marketer, I am already busy with current sites so I can't really take time of yet to work on them.
I can technically pay someone I know to do it, but I estimated that I would probably have to pay them at least $1,500 to write the necessary content to get ranked, and then it'll be about a year before the site breaks even on that type of investment. It's not an investment I've completely given up on and I really think I just might go ahead and work on this idea, but I'd rather share it with you first.
So what I'll basically do in this post is this:
I'll give you 1 great niche I've considered making a site on. 

I'll give you keywords I've found that prove it's very low competition.

I'll explain how I'd use them and how I'd organize the site.

If you wish to use this idea and make a page on your own, do it.

In the future, if this post gets a lot of requests, I'll keep doing these types of posts and revealing more niches.

As I said before, I'll also help you find a perfect niche for you that has low competition that you can start an online business with.
The big niche with low competition is…mud racing supplies!
Ever heard of mud racing? It's a "sport" where people run through obstacle courses that stretch from several kilometers to even marathon long distances. Through these events, people run through very difficult challenges. I've done them a few times and after each one, I've always though about what I could have done better:
Maybe I could have trained better in one area vs another.

Maybe I could have had better sneakers or wore something that would make running and going through the obstacles easier.
Those kinds of things led me to find this niche. And it is gigantic…
If you're a big enthusiast of these races, you need to make a niche site on this ASAP. Here are just some reasons why:
The niche is extremely popular:
The term mud racing gets about 500 searches a month. 
However, there are many different types of mud races, and they are very popular. For example:
The Spartan Race which is one of the MOST popular in the world gets OVER 50,000 searches a month and that's just for the main keyword. Look it up on Jaaxy or any keyword tool and you'll see.
Then there's another popular one: Tough Mudder, over 40,000 searches monthly. 
Then we also have some that aren't as popular as those, but they're rising and there's a whole bunch of others coming out every year. 
You're looking at a niche that has a popularity of 100,000+ people/monthly.
Things you could sell in this niche:
Now I did say the niche was mud racing SUPPLIES, not the actual race, but given the different sorts of opportunities, you would have to be crazy NOT to chase some of the great keywords I found. 
For example:
Spartan Race, while having a HUGE amount of traffic is very competitive. However, search terms such as:

Have SO little competition. And you'd get the same results if you took the other races and plugged in the accessories:

In fact, you can do a few different things:
You can create 1 single niche site on mud racing and discuss which supplies are best for which races. Think about it, gloves, sneakers, shirts, headbands, jackets, socks, workout routines to prepare to these events are all things you can find and sell.
I'd just go straight to Amazon and find all of them there. In fact, here's what I did find: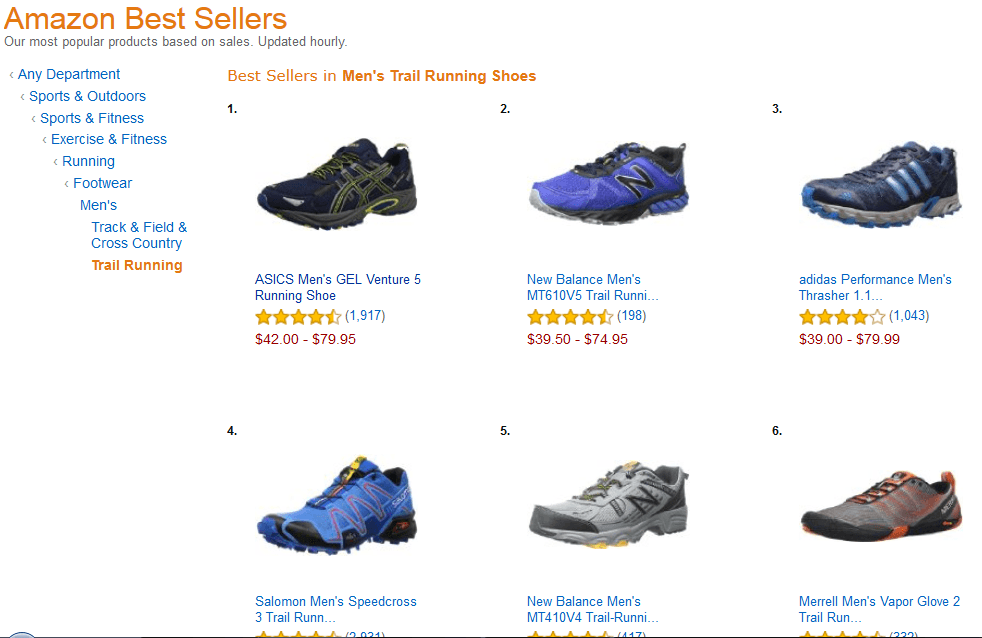 And I did find the most popular ones using the Amazon idea I shared awhile back. These shoes are expensive, but they are perfect for mud racing and they are perfect to recommend on your site.
I calculated commissions you'd get from selling them and you can make anywhere from $3-$12+ for each one you sell. 
And that's just ONE accessory. Each of those sneakers is it's very own low competition keyword meaning you can do reviews on each of them. That's 1 article each. There's at least a dozen articles you can write on these accessories.
Multiple the potential with every other accessory that is related to this niche and you have well over several hundred articles you can write. 
Now besides products, you can also review the actual races. There's terms there that are also very low competition: Strategies to finish the race, workouts to prepare for it, maybe you can personally participate and share a video or do a review post on it. I'm not going to dive into every possible thing you can do because I just don't have time, BUT you can do it if you're seriously considering this niche. Here's just some keywords and ideas you can use:
Plus, what about selling GoPro cameras?
How are they relevant to this niche? Well think about all the people who wear those cameras when they run.
Don't you think there's also people in this niche who look for the best cameras to use for these races? There are!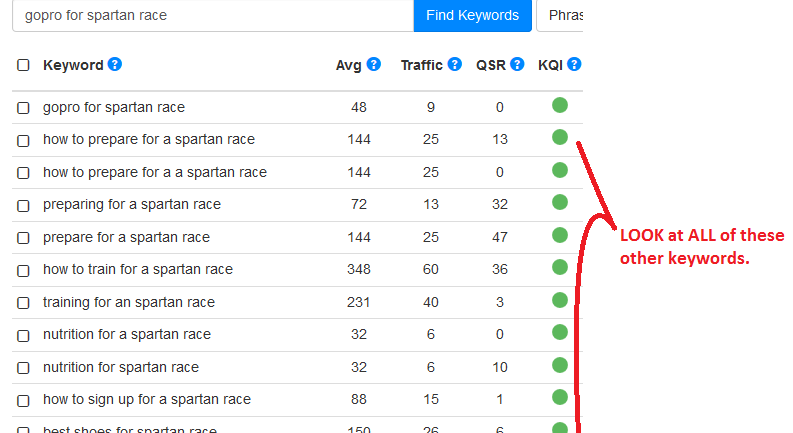 And those cameras cost a few $100, which means high commissions. You may want to consider buying one of them, using them, then uploading a video to YouTube sharing how good it is!
You may also notice that when doing that search, I also was given even MORE ideas for more keywords I could write. I must have found over 200 keywords doing this. 90% of them are VERY, VERY low competition.
My final thoughts:
I am not very interested in the mud racing niche, but if you are, you'd have to seriously be deranged not to make a niche site on this. I would not be surprised if a site like this that FULLY takes advantage of all these keywords and more can make six figures every single year. Yes, six…figures.
Update: How did the website do?
I started the page and it did indeed grow and makes sales. But I wasn't as dedicated to building the page as I wanted to be, because I had more important ones like this making me the serious money.
Either way, you can see from that case study that this giant niche with little competition CAN make money.
What about that part about helping me find my own niche?
So there are 3 resources I have to help you with this. Here's the first.
And the second is more of an additional help where you can get training to take that choice and turn it into a business. This is the program that'll help you do it.
And the third is a list of 100 of them I wrote up recently.