After purchasing Profit 365, there is honestly no reason I'd recommend it. It isn't a scam, but the value it contains, which I'll talk about in this review is so low that I can't justify recommending it.
As an example, if you saw the sales video of Jamie Lewis (Profit 365's creator) showing off his sales figures ($1,000's a day) to people in a mall, let me ask you to look past those numbers and explain why making them yourselves with what he teaches in the program is much more difficult than it looks. 
Profit 365 review, the summary of the program: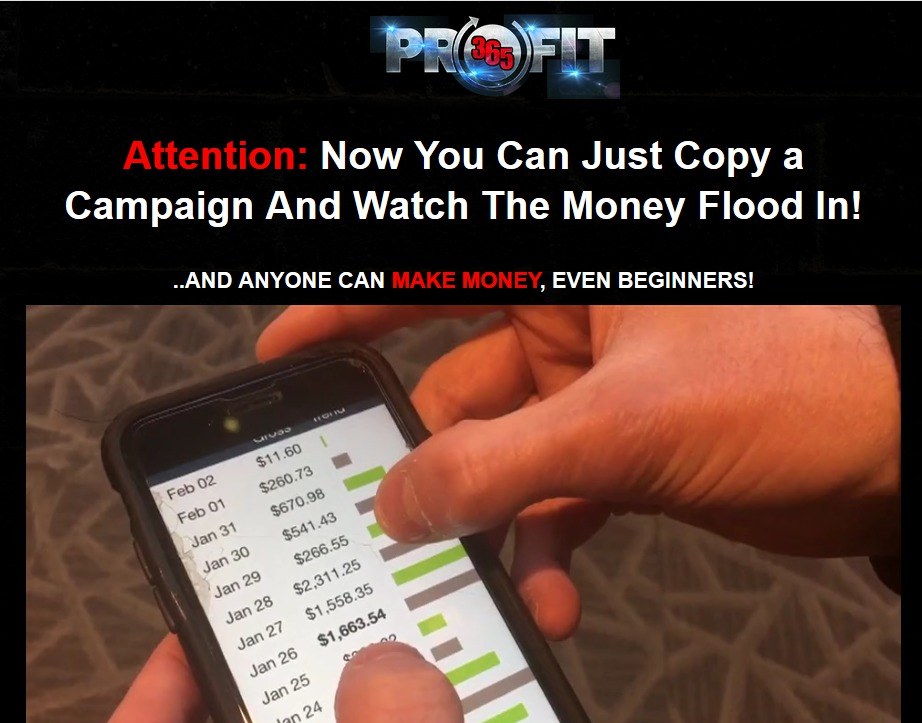 Creator: Jamie Lewis.
Price: $37 one time (this is the only one I purchased). There are 2 upsells:
1 is $194 with a $100 downsell to $94 as a discount.

And the other is for $174. 
There are also things you have to pay extra for inside the members area if you wish to proceed with what Jamie teaches. 
What do you learn? 
Jaime teaches MAINLY how to do solo ads where you basically pay people who have email lists to promote you.
He also very briefly talks about Google Ads, Facebook Ads, and promoting his Profit 365 Program. Overall there's 3 methods, but 95% of all the training is on solo ads.
Jamie also provides email samples you can copy and paste for different niche markets. These are promotional emails and you can input affiliate links in them from places like Clickbank. There's about 10-20 different niche topics with keywords, emails and so on.
The goal of these email samples is to pick a niche, pick a promotion (from Clickbank) use mainly the second method (solo ads) to collect an email list, and then copy/paste these emails Jamie offers, input your affiliate links in them, and send them to your subscribers.
Overall Rating:

1 out of 10 stars.
I've reviewed one of Jamie's products before, called IM With Jamie. I also didn't rate it high. I was hoping this new program would change my view of Jamie and it has a little more value, but overall, I do not see beginners being able to do well with this program and it does cost a lot more to try what it teaches…
Now from this point, I will be going into the members area of Profit 365, breaking down what I consider to be the few good things about it, but overall covering the reasons why I do not recommend it.
I personally feel there are more cons with Profit 365 and overall, I would not recommend using the strategies it teaches. But let me get into all of this now:
First, the few good things about Profit 365:
For starters, I do believe that the emails you can copy and paste have some uses, but not much. I do like that he offers actual niches on the list he provides. And the thing about Clickbank can work too.
If you are an advanced internet marketer and have email lists in one of these niches, it might be worth it to try and copy and paste these promotional emails to them and see if they convert into sales. But if you don't, I would not get this.
Jamie has a section in his members area which offers you text, training and recordings of him offering his personal tips. There's a lot there, but personally, it's very clumped together, so I didn't really bother checking that out.
Now my opinion on what's bad:
1) I don't like the whole promotion of solo ads.
I have always found the concept too risky, too expensive and if you're a beginner, those risks and expenses are increased because there's just too many ways to do solo ads incorrectly and lose money.
While there is training on how to "get solo ads right" in Profit 365, I went through it and personally didn't find the tips to be that useful, since I heard them before.
I explain solo ads in detail here if you've never heard of them, but the idea is that you pay people who have their own email lists to basically link to your site. The idea is that if they do this, you can get a lot of traffic and sales.
Sadly, most of the time, when this plays out, it's not like that and people lose a lot of money. Again, I explain all the risks in that link I just put.
2) I don't like the Jamie is also promoting training on solo ads ($134).
Yes, there is an added cost besides the up-sells.
Within the members area, like I said, they do teach solo ads, but they also promote guides on learning solo ads which costs over a $100. Here is a screenshot of that promotion: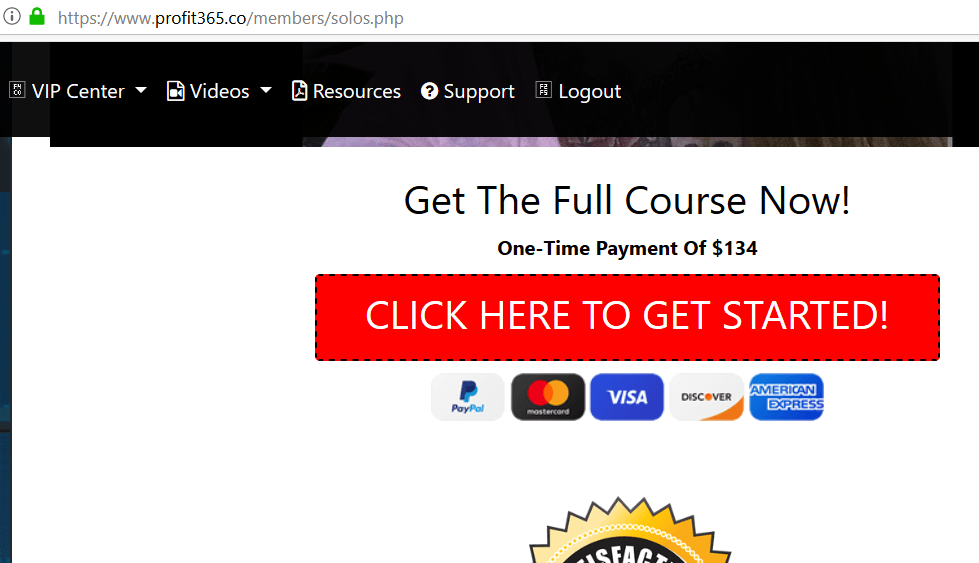 I really do not like how the training gives you basic advice on solo ads which I consider to be faulty in many areas, and then pitches this $134 up-sell if you want to know more. And this isn't one of the up-sells, but it is an extra thing.
3) Solo ads are also another expense.
To pay people who have emails to send their people to you costs money, often times a lot and there is this perceived notion that solo ads are easy ways to make money online. I happen to think differently and consider them to be a waste of money and often not having the chance to work out.
4) Jamie doesn't really teach unusual stuff.
I've never kept count of how many programs I've reviewed and purchased that taught this same way of making money and each time, I assure you, they were low quality programs. I do not see anything different in Jamie's.
5) Again, I've seen Jamie's teaching before and I didn't like it then.
Like I said earlier, I have reviewed Jamie's earlier program (IM With Jamie) and I didn't like it. In my experience, product creators who make one low quality program generally do not make improvements with the new ones they put out and in Profit 365's case, that is the case.
Final Rating: Profit 365.

Red Flag
1 out of 10 stars. The 5 main points against this program are why I will not suggest Profit 365 to you.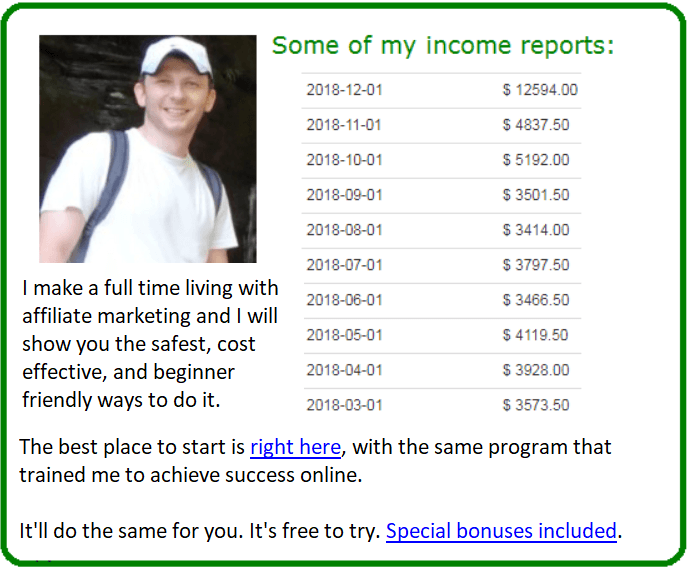 My final thoughts: 
I really believe Profit 365 to be one of those shiny object internet marketing programs I tell people to stay away from. The way Jamie sells his program makes me perceive that what he teaches will be easy, but I just know better and I went into the program to prove that.
At least within this review, I've given you the information on the program, the risks with solo ads, which way to go if you're a beginner and how to really achieve success.