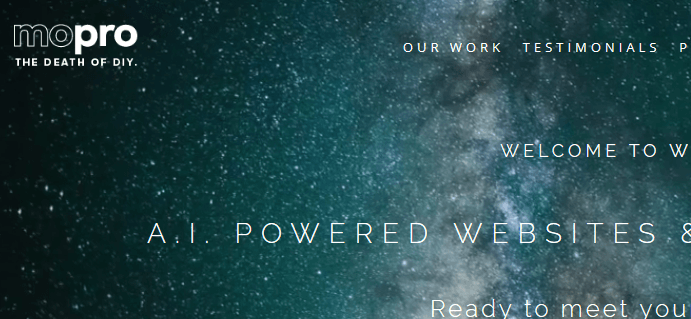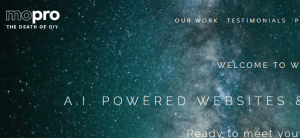 If you're considering expanding your business into the online world, one option is to hire Mopro to do it.
Promising great looking web pages for decent prices as well as SEO services, this company does offer a lot for a pretty good price. 
But will they design something that can truly benefit your business?

And are the prices fair enough to hire them?
To answer all this, I will personally go over their prices, what they provide for it and if there's competitors or alternatives, such as you making your own site vs hiring them.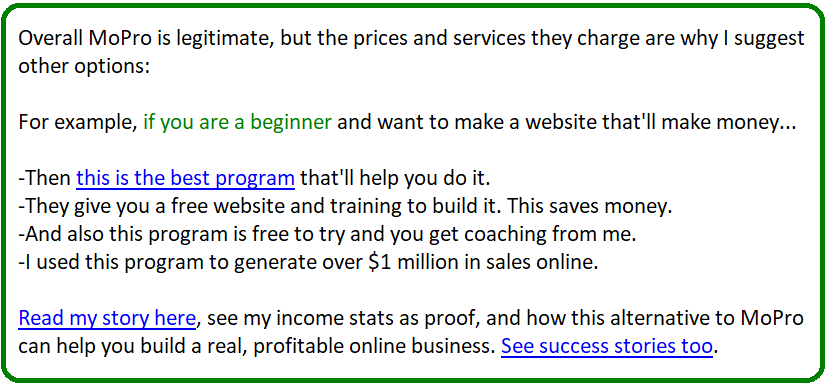 Comparing Mopro vs the competition: 
Mopro is a combination of an SEO and web design company.
They don't just make you a website, they also set it up so you can analyze your visitors, set up social pages so you can build a reputation and bring in more traffic to the site to acquire clients. Here is info.
Now this isn't the only company that does these things. There's plenty of SEO companies around who also have similar services. How does Mopro compare to them? 
In most cases, it is better. I have analyzed many companies that do similar things and while in most cases I do not encourage hiring them unless you meet VERY strict requirements I'll go over, this company is better than most of them, their prices are cheaper up front, and what they give you is pretty good. 
3 benefits Mopro offers and if there are better options to them:
1) The website they build you.
Will it really be as beautiful as they show it on their home page? Yes absolutely.
But the thing is that the beautiful sites you see them make aren't really things that are exclusive to just this company. What I mean by this is that YOU regardless of experience can actually make something similar without having to hire them. How do you do this? 
If you buy your own website and install a platform like WordPress or Wix (WordPress is preferred), you'll have TONS of template options available to you that resemble a lot of the options Mopro offers you.
The way I recommend you buy and make the site is through Wealthy Affiliate. Essentially, you make the site for free there through their site builder known as "Karbon", and they provide hosting, security and a bunch of other SEO and website serving tools for $49/month, whereas with Mopro, similar things would cost you a lot more.
2) Let's analyze the package perks they provide your website with.
How good are they and can you do without them? Here we are going to cram a number of added features to the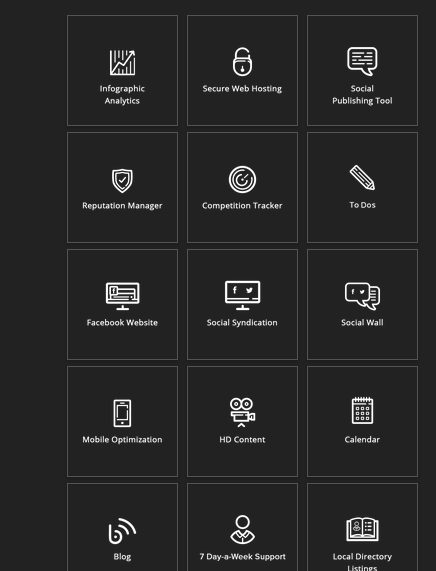 $199/month price: Overall, there are 17 of them (screenshot to the right shows most of them), but I'm going to summarize what's necessary:
Your website look isn't the really important thing, what is very important is that it actually gets clients. For this this company offers several important things such as SEO and citations.
SEO is basically a set up of the site such that it gets ranked on Google and citations are your business information appearing on big listing websites like Yelp. 
For these types of services, it is not uncommon to see companies charge $1,000's so obviously in this case, Mopro is a better choice, but keep in mind that if you continue using them, the monthly price may exceed the competitors initial prices in the future.
Overall though, the price here is good on their end.
They also provide you with analytical tools to examine who comes to your site as well as social pages like on Facebook. What about this?
Well this is actually free if you do it on your own. Setting up a Facebook page is simple and as for analytical tools, Google analytics is all you need. 
They also say they give you a blog, which is actually another feature of just about ANY WordPress website you make, there is no need to charge extra for this. Literally, blogs are by default available on ALL WordPress sites you make unless you manually remove them appearing. 
For the most part, in my opinion a lot of the perks this particular company offers in their packages are really things that websites you build on your own can have without having an extra fee for it. 
Most of these things come down to default settings available and in the case of analytical tools, just installing them to your site or adding what are known as "plugins" which add extra features to the site which make it simpler to share on social networks and make the site look/run better. 
3) How good is the support you get from Mopro?
Honestly, this is a feature I really liked about this company. On the very homepage you land on, a pop up for a chat appears and you can talk to one or more of their people right away. 
You would not be able to get support if you built a website on your own without anyone's help. 
However, through the method above I mentioned (The $49 one), you do also get similar support as well as any technical issues handled for you as well. The only difference is, with Mopro you can talk to someone the phone, on the option I personally use, it's through chat/email, but in both cases, responses are VERY quick.
Final Rating: Mopro
Green Flag
5 out of 10 stars. Good company with good support and recommended if you fit a certain criteria I'll go over below. If you don't meet that criteria, then you may want to look at the alternative I recommend instead as it's cheaper.
My final thoughts: Would I recommend you use Mopro? 
This is where we get into that criteria I mentioned. What is it?
Well I only recommend Mopro in 1 case:
1) You are very busy, have money and can't afford to spend time building your own business website. In that case, you can totally do it through them.
However, there are several cases where I feel this company may not be the most suitable and here they are:
1) If you are seeking to JUST build a website for personal reasons, not something necessarily business oriented. Then you can just build a free site and not worry about anything else.
2) If you don't have a lot of money to spend and $199 may be a bit much for you every month.
3) If you are a business owner, but want to be in FULL control and understand how to grow your business through the internet. In this case, you may want to go through special training that teaches you all this so in the end, when you have the knowledge, you can get the best results.
I went through that type of training with the Wealthy Affiliate program I suggested and you can see my income reports there.
This is a VERY important thing. I never liked outsourcing my business when I had the knowledge to do it myself. 
In all 3 of these cases, I recommend:
Making your website and/or business through the following approach:
Joining a program I am personally apart of called Wealthy Affiliate and building a free site there. 
You can maintain a free site there OR if you wish to be serious about it (business oriented), upgrade to the $49/month option and you'll get similar support as in Mopro, including things like hosting. 
The only thing is that instead of outsourcing all of the stuff to build the business, you do most of it yourself, but honestly, it is not something that is difficult provided you have some time and interest in doing it. The training to make it all work is provided within the program.
In short:
In the end, through Wealthy Affiliate, you can do most of the things (and much more) for your business website than through Mopro in my opinion for cheaper prices. 

Choosing this program is really a matter of not just preference but how much you're willing to spend and learn. I know you'll spend much less and learn much more about online business with it. 
The main point:
In my opinion, through Wealthy Affiliate, you will get just as awesome looking sites as with Mopro with the added support perks of help. But the difference that while in Mopro a lot of marketing work is done for you, in Wealthy Affiliate, you will have to do it yourself.
But the beautiful thing is that there is easily understood training there to do this and it is much cheaper overall. Plus you get knowledge from that program which in my opinion is far superior potentially to your business than ANY SEO company can offer.