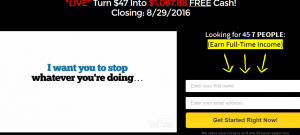 My experience with Millionaire Biz Pro ended up being a major waste of time and in this review I'll be showing you what happened, but I won't waste your time in the process, because I'll show you a good program that I trust instead of it.
Quick Report on Millionaire Biz Pro:
Price: $47 with 3 "great" up-sells.
Overall Rating: Pending an actual rating (though I really want to rate it low) because they never gave me access and technically, that itself should justify a bad rating, but I'll wait, technical mistakes happen.
What this program did give me was a bunch of nonsense sales marketing I dislike a lot and an annoying period of getting in touch with their support only to eventually get a refund without any actual resolution…
I can't give an accurate estimate of the quality of this program, but I will give you 3 guarantees about it further below…
Before I explain all of that, if you came here seeking a good review of the program, sadly, I must disappoint you. 
However, I can 100% tell you the following about making money online:
Millionaire Biz Pro in a nutshell:
I always have a major problem with sales pages like the one in this program because they always do a fantastic job at saying…nothing.
Nothing about the program.

Nothing about the details of it.

Not even a single clue as to what the strategy is.
And worse, they force me to sit through it until their countdown timer stops and a checkout link appears. I actually went to make myself dinner in the time the main sales page finished in combination with the timers on their up-sell pages after I "purchased" the program.
And trust me, I didn't miss anything special since I could hear from a distance what the sales person was saying. I didn't use the word "nothing" carelessly. There's also many programs which use webinar funnels like these to get you into them, and most of them also say nothing.
While the main sales page (after you sign up) and then later the up-sell pages also do the same thing in talking a lot and saying nothing, all I can really do is:
Buy the program, which you already know I tried and when that didn't work…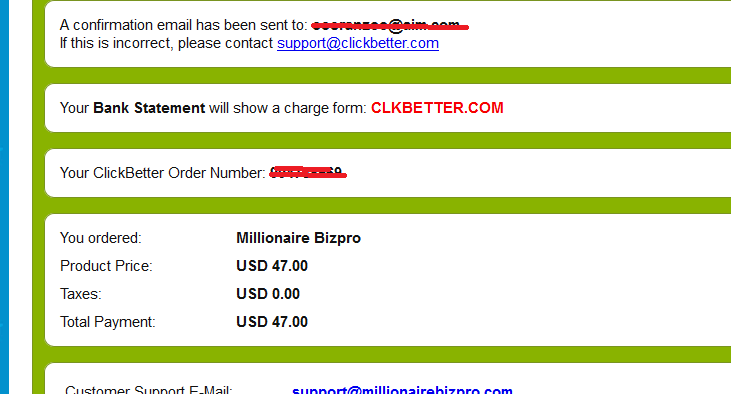 I hopped on YouTube in hopes of finding an actual, legitimate review of it and that was also hopeless because the videos either also say nothing about the program and/or just promote it or another program. More people saying a lot of nothing…
By the way, this program is or was part of Clickbetter, a site I am very careful with when it comes to buying stuff since from.
What happened after I bought it. Oh what an incredibly pointless experience this was:
First I sat through all the sales videos. With the main one and the 3 up-sells, that's 4…long…forceful videos I had to watch.
1) The first one is obviously the main Millionaire Biz Pro program. What is it? I wish I could tell you.
I am guessing they give you some sort of websites that either already have checkout carts or are meant to funnel people in. But I didn't really figure that information out until I saw the first and then second up-sell videos…
2) The initial up-sell was for a "Platinum Team Package" they sold to me for $97. It was there that they mentioned how much more awesome this deal was than the regular Millionaire Biz Pro which led me to believe you'd probably get things from the regular program that wouldn't work as well unless you'd try the platinum thing. This was down sold to $67 when I said that I didn't want it.
3) A "Delta Club" upgrade of some sort $34.95 which adds more benefits to the membership such as hosting benefits and better support. 
This is where I started to think what you'd get in the main membership was probably just 1 or several websites that in my opinion probably wouldn't come with enough instructions on how to use them unless you'd buy the up-sells.
4) The final up-sell was 2 traffic packages, one for $85 a month and the other for $197 a month. This further indicated to me that I really was supposed to get websites from the main purchase…
But because I've come across these up-sells so often, have tried what these things have promised, I always know better than to buy them until I at least get something (I want to see the main program first!) and remember, up until this point, from the original sales page to the end of the LAST up-sell, I still didn't know what the product was. I only speculated! 
Finally, after all that, it was time for me to get access, but then this happened:
Well as you can see, I was asked to enter a log in. But where is it? I figured it might have been sent to my email since typically that's how these programs work. I check my inbox and the only thing I had was a confirmation of my purchase (the picture above this one).
The 3 different ways I tried to get access, without success:
1) I tried to use the option to resend a password. I tried this twice. Nothing.
2) I tried to email their support desk. No responses.
3) I contacted ClickBetter, the company which Millionaire Biz Pro operates under. There, a representative actually picked up, heard my situation and said they'd contact the vendor. A support ticket was opened: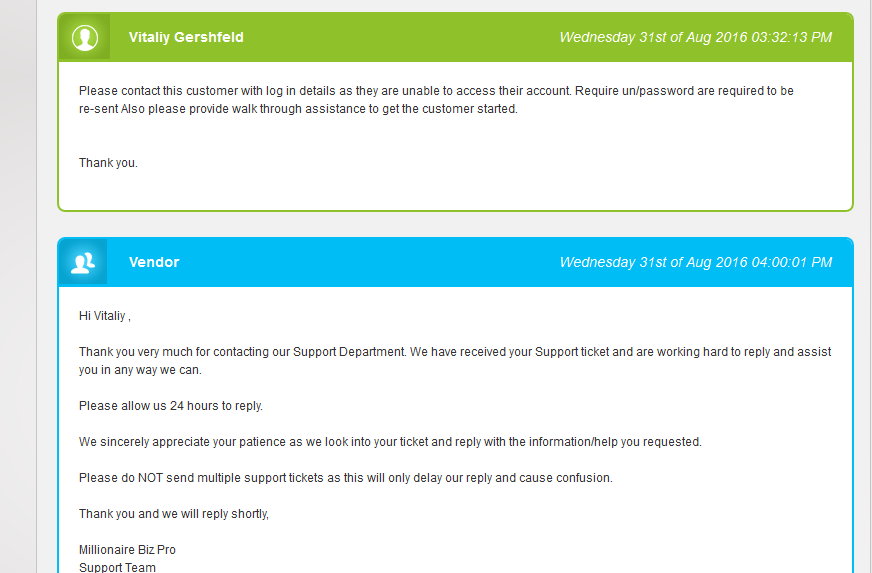 This was the LAST chance Millionaire Biz Pro had to prove to me that they had SOME kind of legitimate system. (here are 7 legitimate affiliate programs I trust).
So far, all they were proving to me was that in my opinion that they were another scam company. After the support ticket was placed, I waited a few hours only to see this message show up:
Well this is a strange surprise.
Apparently, there was no attempt to even tell me what happened. I am grateful that Clickbetter got me a refund, but honestly, I at least wanted to see the inside of this program before I made that decision and now I guess I can't.
Thus, this is why I said this whole experience was pointless…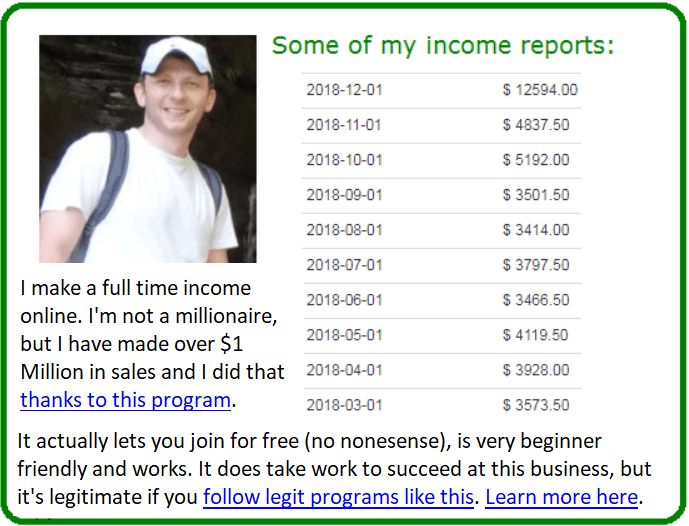 3 guarantees I can make to you about Millionaire Biz Pro:
1) It's a waste of money because you're probably going to get the same dead end experience I did in not getting a log-in or response to why it happened. 
2) Knowing what was said in the all the sales pages, I strongly doubt that this program is good. In my article on spotting actual online scams, I would say Millionaire Biz Pro has too many bad signs…
3) Even if there is anything about this program that is good, it's in my opinion nothing compared to Wealthy Affiliate, an actual GOOD program that doesn't give you these problems.
My final thoughts: 
Typically I'd give a score for the program, but as we all know now, there's nothing to review until there's actually a login given to me…
There's a reason I rarely do product reviews anymore, it's because of programs like Millionaire Biz Pro and the way they say things that I know from personally being in the business cannot be true!