I don't think I've ever heard any marketer, good or bad teach what I'm about to show you and that is how to make a lot of money using the best seller list on Amazon.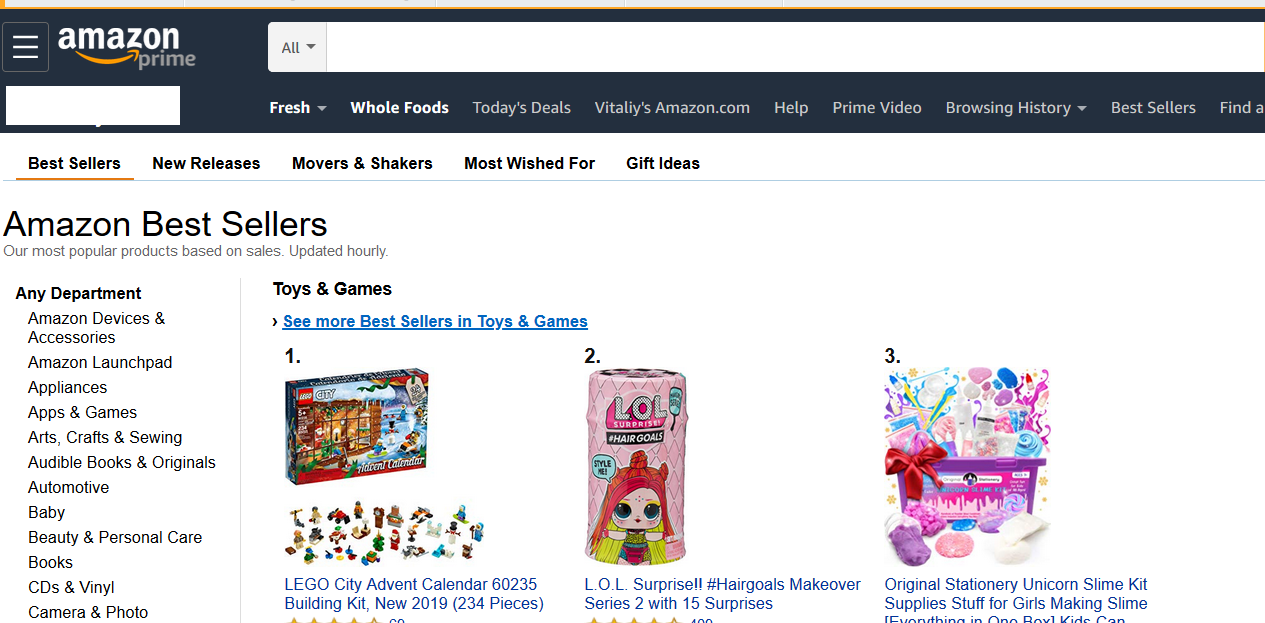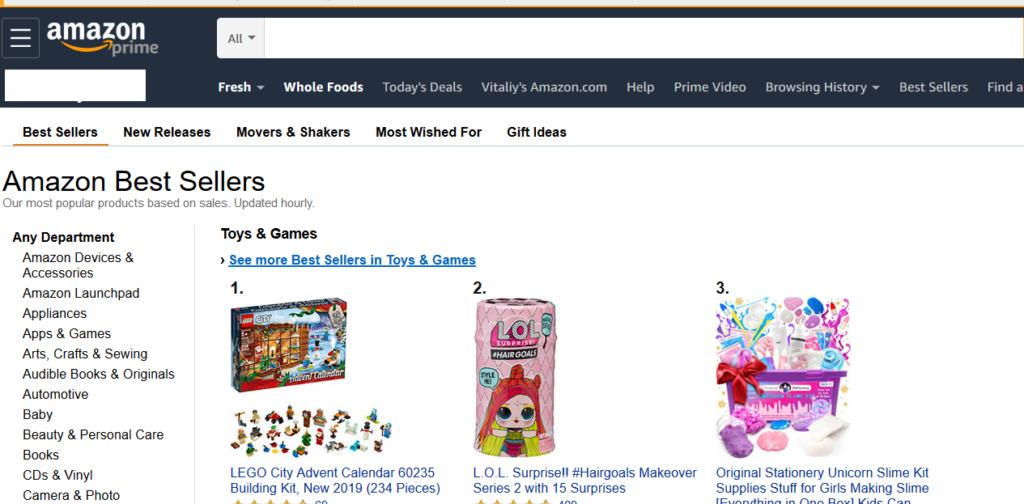 I've used it a lot, though not as much as I should have, but it can work for any marketer and any niche they are promoting through. 
Although this guide is intended more so for affiliate marketers, if you do things like drop shipping, you may also find this tutorial very useful! So let's begin:
Amazon's best seller list: What is it? 
There is an official "all around" list of the best selling items on Amazon. BUT this is NOT what we're using to make money. Instead, there's something even better, which many people do NOT know about and here's how this works:
There are millions of products being advertised, sold and purchased on the Amazon network. What they do is they categorize all products into different subjects and rank them on a scale based on how many are sold. 
The ones which get sold the most hit the top 100 list and of that, the top 10 are the best seller list. Now again, it's very important that we distinguish that there are DIFFERENT types of best sellers:
There's the regular one which if you type in the search bar on Amazon, you'll get a list of various different products being sold well. This is the general one. Let's call this the yellow option.
Then there's the one we're going to focus on and that is the best sellers in each category. In other words, there's a bunch of different best sellers there. Let's call this the

green option

, aka the one which makes money.
How we're going to use that best seller list to make money:
If you're doing affiliate marketing, in MOST cases you will absolutely need to have a niche site. It's one of the most stable ways to earn an income. If you don't have one or do and don't know if it's good enough to work, try this program called Wealthy Affiliate as it's the best in teaching about niche monetizing. 
Now the goal of this tutorial is to help you find products related to your niche that are on Amazon's best seller list. Remember, we're using the second category (green option).
Once you find them (it is going to ALWAYS be multiple ones), you can then use those topics/products, write about them on your niche site and make money through it. 
5 benefits of using the Amazon best seller strategy:
Anyone who has trouble with finding products to sell on their niche site can always rely on this method.
Anyone who complains of too much

market saturation

won't once they start using this strategy.
Every product you will find using this method is HOT and always selling.
This list always updates and new products hit the market, meaning there's always something new and fresh to promote.
How I've made money through this method:
The niche I used to apply this method to was the weight loss one. There's at least 3 different case studies I can point to where I found diet books that were selling very well on Amazon which I used to write articles on, get ranked for and the popularity of those products led a lot of traffic to my website which led to many more sales being made. 
Now 3 doesn't sound like a lot and the truth is that it isn't. I have not been using this method as much as I should because I've been focused on other niche sites, but even writing this right now, I am reminded of how important it is and I will be doing that right after I finish writing this article. 
But here's something very cool: All you need is 1 good product to sell and that can provide you with all the profits you need. Obviously the more you can replicate this, the better and in my opinion, you should fully maximize on this opportunity! 
The 5 steps to implementing this best seller strategy: 
Step 1: Identify your niche topic. 
Step 2: Go to Amazon.com and in the search bar, type a keyword that is very vague but relates to the niche topic. I'll go over a specific example further below. 
Step 3: Find the product which gets the most reviews. Click on it. Note: You can use that product as one of your topics to write about.
Step 4: Scroll down on the product page to where it says "Amazon best seller rank" and select a SUB topic on that list to open up the REAL best seller list in that category.
Step 5: Take every product you see on the best seller page, do keyword research on it, write articles about the most popular ones and this is what will bring in the traffic and money! 
How to use these steps. A specific example:
Step 1:
Let's use my weight loss site. That is the niche.
Step 2:
I visit Amazon and type in terms such as "diet" or "weight loss" in the search bar. Typically I'm looking for weight loss books. You can also use this to find supplements and fitness products, but preferably if your niche site deals specifically with those things. In my case, diet books are perfect. 
Step 3:
After doing a search for diet, I find a book: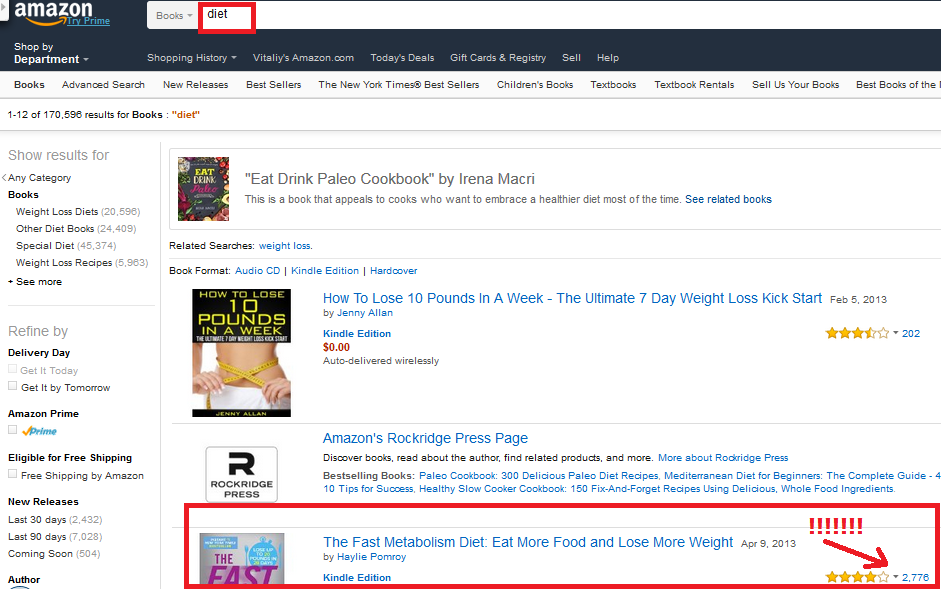 This was the 2nd result and it's a product with nearly 3,000 reviews! And by the way, I don't have any specific range of reviews you should look for, but typically several 100 means it's very popular.
But anyway should you encounter one like this (several 1,000), mark it down because it may very well be one of the best sellers and if not, it's still popular enough to write about on your site. In fact, not only did I do that, but I also wrote an article about it on my website. It ended getting nearly 3,000 visits since the beginning of 2016:

We'll go over how to write articles on that later, but imagine taking more than just 1 of these products you find and getting results like these? Add those potential numbers up and think about the money you could be making!
Anyway, besides saving that product to write about later, I did click on it which is what you must do!
Also note: if you don't run into a popular product like I did here, don't worry about it, the important thing is using ANY result you get to help you reach the best seller list which is what we'll be getting into next…
Step 4:
Now on the actual page of this product, you will need to scroll down. Find this area:
As you can see, I have put different colored rectangles around each area. This is to show you which ones apply to me more. In my case, the red rectangle is the most relevant topic to my niche site. Thus, I will click on it to see the top seller's list in that category.
If your site is about a different topic which fits into those types of categories, you can also click on the other options to see a different, yet more relevant list to your niche. 
Step 5:
After clicking on the option which best suits me, I get the following best seller list for my topic: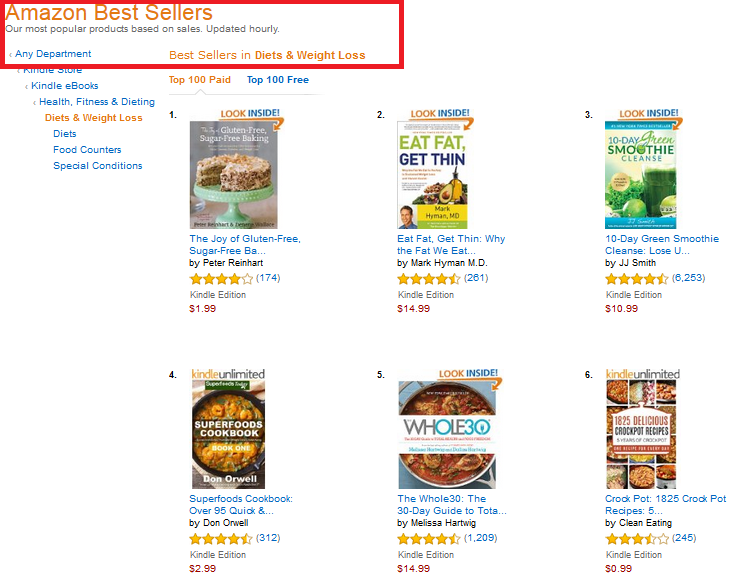 Now what you're seeing is 6 possible products I can promote but on that page, you have 20 of them! So that's 20 popular products you can write about. Also look at how many reviews they get. Some have over a hundred and one has over 6,000! And by the way I also did write an article about that one. Look at how many visits it go:
But how do you know how popular it will be for you to write about? Well the only way you can really tell is by writing about it and before hand doing research on an accurate keyword tool. So just to show you how I did it, let's take as an example those  products that appeared and find out how popular they are:
Note: If a product is new to a market, it will not get a lot of searches at first, so you have to sometimes take a risk and write about it with the hope that will become popular. I often do that. 
If you analyze the popularity you see on those products on Amazon vs the keyword stats, they look proportionally accurate. Now some of those terms I found are competitive and you don't really have to worry about that.
If you're doing SEO, the whole purpose of looking over these products is just seeing if they are popular and if they are, write about. If the keyword you find for a product is competitive, find a lower competition version of it.
But with possibly up to 100 different hot selling products for my niche topic alone, I have A LOT to write about. And I did say earlier that this list always updates because new, fresh products come into the market constantly, thus that list will change and new, possibly less/more popular products will come out. You will never see a decline using this method and will always have products to write about.
And like I said, you can use this for any niche topic. Amazon is huge and they have enough categories to fit into your niche topic.
This is almost as good as using Google trends, but through this method, you'll always find products whereas with that one, it's rarely going to be a huge goldmine if you're niche specific.  
My final thoughts: Making the money from this strategy.
I've already shown you how just using one of those products and writing about them leads to more visitors coming to your site and as I said before, imagine doing this for several of them and even all the time. You WILL have a lot of visitors on your niche site.
And if you're starting out with a new website and have little authority, this fits in perfectly because these products do not have a lot of competition right away, so you have time to act and put up a high quality article about the product/s so Google can spot it and rank it high. It won't always work like this, but the more you do it, the faster your authority will rise. 
When the traffic comes, the way to make money is either by:
Directly promoting the product from Amazon.

Promoting another product from another affiliate network but using the popularity of the Amazon product to funnel the visitors there.
Update 4/6/16: $160 made in 3 days due to this idea!
After writing this post and seeing just how many great products and keywords there were, I chose one of them and wrote a post about it on my weight loss site. 
After finishing it on 4/3/16, I decided to create a PPC campaign for it. It received 55 clicks in 3 days which led to 7 sales:
Now there are a few more sales earlier, but I am only measuring the period after I set up a new article on a popular keyword I found through Amazon's best seller. It brought in more traffic and this I believe led to more sales. 
I also know this worked because previously, my sales weren't as frequent as they are AFTER I set this up so it can only be because of this. By the way, these sales reports are reflected of this website I've had which I once though was failing!
Bonus strategy to make this idea work even faster:
If you have some money, make sure to set up a PPC campaign with EACH of the articles you write when you find these best selling products. The reason you want to do this is because it'll get you traffic very quickly and help you find out if there's good money to be made.
Even if you don't make any sales, use this strategy to save money (as you saw, I only spend about $4 for 55 clicks!). Now if you do this and see clicks, that means the keyword/topic is popular and you made the right decision to write about it and plus, if you chased the low competition keyword, sooner or later it will rank high organically on Google and it will bring in more traffic. 
Update: More proof this method works (With YouTube)!
Just recently I put up a YouTube video and tutorial on this website that showed how I took a best selling item (a backpack) and sold it over and over. In that tutorial, I provided a step-by-step guide to using the best seller list to find the most popular backpacks, and promoting them. Here is that tutorial on YouTube. 
And again, this strategy can be used to promote Amazon items directly.

And you can use blogs, paid ads, and even create YouTube videos to utilize this whole method.
And it can also be used to piggyback off popular items on Amazon, to promote items that are better and pay you more if you promote them.
Update: Amazon made a big boo boo in 2020.
A major situation has occurred on Amazon's end in that they decided to make some big and negative changes to their commission structure, so if you are an affiliate for them, it may very well affect you.
Does this best seller strategy still work despite this issue? The answer is yes!
This is a major setback for many Amazon Affiliates, but despite this situation occurring (and I explain why the Amazon affiliate situation isn't so bad on this site), the best seller strategy I talked about in this article can still work just as well.
Remember you don't have to promote actual Amazon products to benefit from this strategy. You just have to USE the best seller list to find the most popular products and then however you decide to monetize from then is up to you.