Quick Report: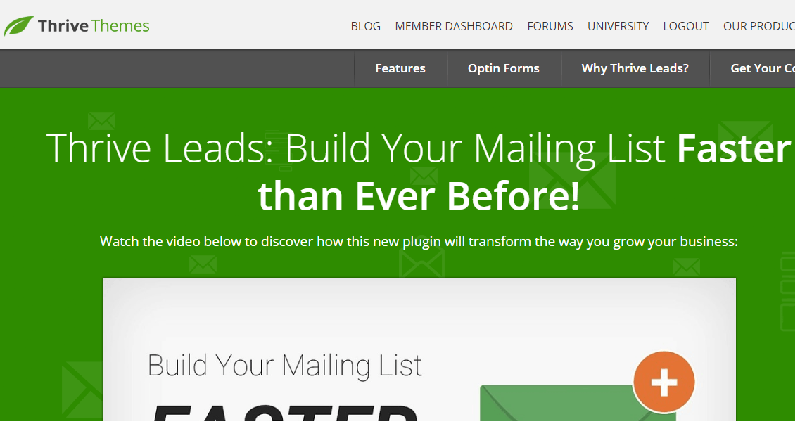 Name: Thrive Leads.
Price: You have 3 options with this program, you can use the system on:
One site which is $67 one time.

On 5 sites which is $97 (my personal pick).

Or you can get to use this system on 15 sites ($147).
Overall Rating:

7 out of 10 stars

.
I'm very impressed by this service, the support and the results I've had since I started using it. While I have had some rare issues with this tool, overall I am very happy and will explain my full experience with this service, why it is legit, but perhaps not for everyone. Here is the link to their site if you want to try Thrive Leads.
Recommended? If you have a website that gets a lot of traffic and you're engaged in some sort of email marketing, then yes, I would recommend this. 
Yes, Thrive leads really did make me an extra $5,000. Here's how:
So I have 2 main exit pop ups activated on this very website that I created thanks to Thrive Leads:
1) First case study:
One that leads people to my MAIN offer that is Wealthy Affiliate (highly recommended if you're new to making profitable websites, it's free to try) and while I do not have specific income stats about how much extra money I made with this exit pop up, I do have reports on how many clicks this exit pop up got:
It "popped up" over 164,000 times since I implemented it and out of those appearances, I received 6,241 extra clicks to my MAIN offer.
I am not able to track how many extra sales I was able to make with this extra traffic to the offer, but I presume it is several extra $1,000.
2) Second case study (more accurate numbers and proof):
So I have a secondary exit pop up set to display on my Wealthy Affiliate review page. And that one is actually tracked all the way to the sale. This exit pop up got 286 clicks, of which 10 sales were generated, each having a $100+ value, giving me over $1,000 in sales for this.
Overall, the sales figures for just using these 2 exit pop ups are at least in the several $1,000, likely over $5,000 and growing almost daily.
And this is an honest assessment of my experiences with Thrive Leads. I already had a profitable website (this one) set up to make this happen and this program helped me add to the profits.
So now let me talk about this program and help you understand it better:
What is Thrive Leads? 
Basically it's a service which helps you collect email lists from people who are on your site in the form of pop ups. You can edit what sort of pop up you want, it could be things like:
An exit pop up.

An in site pop up and this is where you have many options (it can fill up the page, a small portion or on the side).
Now this service needs to be connected with an autoresponder if you're going to use it. Luckily I have Aweber, so connecting it was easy, but Aweber acts as the list building software, while Thrive Leads acts as the system that helps you customize HOW you build your list. I can't make pop ups with Aweber, but I can do it with the other program.
Who this service is for (why I got it):
I strongly advise using this service if you have a website which gets over a 100 visitors a day and you are serious about building an email list. Let me explain my story to showcase why:
For the longest time, I've avoided building an email list on this site. Yes I know high level marketers will call me a fool for not doing so and they are right, but my reasoning for not doing this was that I had a good sales funnel in place, on say this site, and the process was netting me about $60,000 a year. 
I was and am promoting a service which once my traffic signs up to, they enter their email there and then the program I recommend takes it from there. So my whole goal with this site for the longest time was to get as many people into the program as I could. Not only is it legit and awesome, but I didn't want to bother the people with my own emails.
However, things have evolved and here's what I mean by that:
So there was a period where this site would get 1,000 visitors a day. Then I started getting lazy and now I get about 400 visits a day. Regardless, it's a lot of traffic.
Now out of whatever number I'm getting today, the LARGE majority of people on the site leave it. Some return later on, some bookmark it, but it's safe to say most never come back.
Overall, my conversion rate on the site where I was selling the program I talked about was around 3-4%, which could be a lot better. And that basically means that 97%-98% of people are just clicking away, and most likely never returning. That's lost money and in 2018, I decide to take more risks with this site.
So how could I salvage that 97%-98% of people leaving? Well the answer is…
Using Thrive Leads.
I didn't want to interrupt my existing sales funnel. My basic formula was to create tons of content, consistently and to link it to my promotion, or as many call it, affiliate marketing. And this is a formula that's working well for me.
So I had to be careful with how I used this service. I didn't want people on my promotion page to click out, sign up to an email list when they were ready to buy.
The way I decided to use this service was to create an exit pop up and target the traffic on my site which was already planning on leaving. In the process, I would be targeting people that wouldn't be interested in my promotion anyway and thus I would not cannibalize my profits. 
And so this is what I did. It's been 2 days since I activated this program, connected it to Aweber and BOOM, we have a nice little side sales funnel that's collecting an email list, not interrupting my main promotion and I am using the newly collected list to re-promote the same system to.
Want to see an example of how Thrive Leads works? Just do this:
Try to hover my site URL and change it.

Try to click the back button.

Try to hit X on this page.
What will happen is that a pop up will be triggered known as an exit pop up. 
Another Thrive Leads case study:
This is what I set up through Thrive Leads and while it's very easy to get rid of this window (just hit X on the pop up), this one simple update to my site has made me collect dozens of people on my email list, and as far as I know, this has not negatively impacted my sales. 
Now that exit pop up above was set up on another page on my site where I talk about online business. The goal was to collect a list and give people a 7 day course on online business.
The 7 day course also aims to promote the same Wealthy Affiliate program towards the end of the course.
How did my project do? So, so…
I ran the exit pop up for about 2-3 weeks and I was able to gather over 300 subscribers from which I made 2 sales (value close to $200),

And the bottom line is that these sales would NOT have happened had it not been for the Thrive Leads program helping me re-funnel exiting visitors from my site back into another sales funnel.
Now I stopped this particular experiment, but I am still running the 2 main exit pop ups on my site that earned me $1,000's.
Customization options and ability to improve the sales funnel, it exists with this service:
As of now, my initial 2 day stats show that the exit pop up I installed through this service is converting at nearly 5% (Basically out of 100 people who leave my site, 5 sign up). This is just a first time report and I can always improve the exit pop up I've made to test if it'll convert better.
The great news about Thrive Leads is that it gives you default templates to work with which are already good converters, but you just edit them to make them relevant to your site. Here's an example:
Now is this 10 of well over a 100 examples on that same list you can choose from. I just decided to go with one that was closely related to what I wanted, and there's some others I will test as I keep using this service, but all you do is pick one out, edit it, connect it to your autoresponder and let it run, then see if the results are good and if they aren't, you can always re-edit them or make a new one.
In any case, the coding is done for you and all you really do is add your own stuff to it.
Final Rating: Thrive Leads.

Green Flag
8 out of 10 stars. Terrific service that is highly useful for any email marketer with a site that has traffic. The support and tutorial videos on the site itself are also excellent. Overall, I am happy with the $97 I spent on this. I still have 4 other sites I can replicate this service on.
My final thoughts: Do you really need this service?
I already mentioned for whom this service is most beneficial to, but I want to stress how important my point on that is. While I love Thrive Leads, I know that there will people who read this review, who:
Do not have a site with good traffic numbers.

Who don't understand email marketing…

Who don't understand sales funnels correctly enough to use this program.
And I think many people who are in these categories will incorrectly buy Thrive Leads, set up the what they think are good sales funnels and then will wonder why they are not getting results.
It won't have anything to do with Thrive Leads, but it will have everything to do with their understanding of internet marketing and you believe you fall into those 3 categories above, don't get Thrive Leads.
You'll first need to improve your understanding of internet marketing, get a good site up and running. Only after that is done, will Thrive Leads be useful to you.
Don't have a healthy site with good traffic? Here's what you need to do:
Too many people jump into email marketing and using services like Thrive Leads too early. You need to have a good site, with healthy, relevant traffic and you need to have an understanding of sales, sales funnels and all that. To do this, here's what you need:
This is the program from which I generated the traffic numbers I eluded to above and that wasn't just regular, junk traffic, it was actually highly relevant traffic and it is because I have these core things set up, thanks to that program I just linked to by the way, that I can successfully utilize Thrive Leads and use it the way it's MEANT to be used. 
So I highly recommend that training program to get your online business rolling and have those core things in place before you start engaging in more advanced list building tactics. 
Pros
Thrive Leads did help me earn more sales.
Their support forum has consistently provided me help if I needed it.
I think the Thrive Leads tool in general is a very powerful add on to websites, if used properly.
Cons
There is a learning curve to understanding how to set up and use Thrive Leads.
I would not recommend Thrive Leads to beginners.